UGC: Changes to the way assets are ingested from Instagram
Release date: 12th November 2018
In this release we've made some changes to the way that assets are ingested into Amplience User Generated Content (UGC) from Instagram. Rather than creating feeds to ingest assets from Instagram based on hashtags, assets from the mentions of your configured instagram accounts will now appear automatically in the moderation section of the Social app.
These changes are required as a result of the upcoming deprecation of the hashtag search feature in the Instagram APIs. If you are an existing user of the UGC service the changes you will need to make in order to continue to ingest Instagram assets into UGC are minimal, but you may need to configure your Instagram account differently and you'll need to provide us with some configuration information. Your Customer Success Manager will contact you to ensure that we have the information we need and to help you make the necessary changes.
In this release note we'll provide you with an overview of what's changed and include links to pages with more information.
Configuring your Instagram account for UGC

Link copied!
Setting up an Instagram account to use UGC requires the following steps:
You'll need a Facebook page for each Instagram account you want to capture images from.
Ensure your Instagram account is converted to a business profile and is associated with your Facebook page. Further Instructions Here
Send the URL of your Facebook page and your Instagram username to your Customer Success representatives
You'll receive a request from Amplience for Moderator access to your page. You'll need to accept this request and grant Amplience moderator access.
Once Amplience have processed this we'll send a test Instagram post to ensure it's working and then you should see Instagram assets flowing into the Moderation step of the Social App
Assets from the mentions of your configured instagram accounts will appear in the moderation section of the Social app automatically and you do not need to set up a feed.
Ingesting assets from Instagram

Link copied!
Assets are ingested when an instagram user mentions your account in a post- for example @anyafinnstore. The entire post is imported, including the media and any additional hashtags.
In the example below we have set up the anyafinnstore Instagram account to ingest assets from UGC. The user mentions our Instagram account in their post. The asset is automatically ingested into UGC and is available in the Social app.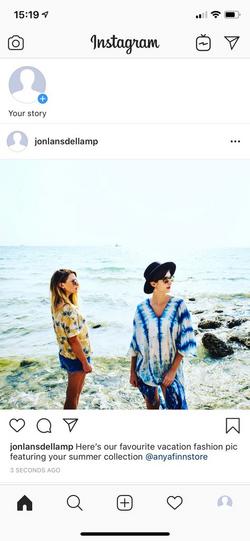 The asset is shown in the moderation section of the Social app and once accepted can be enriched and added to a stream.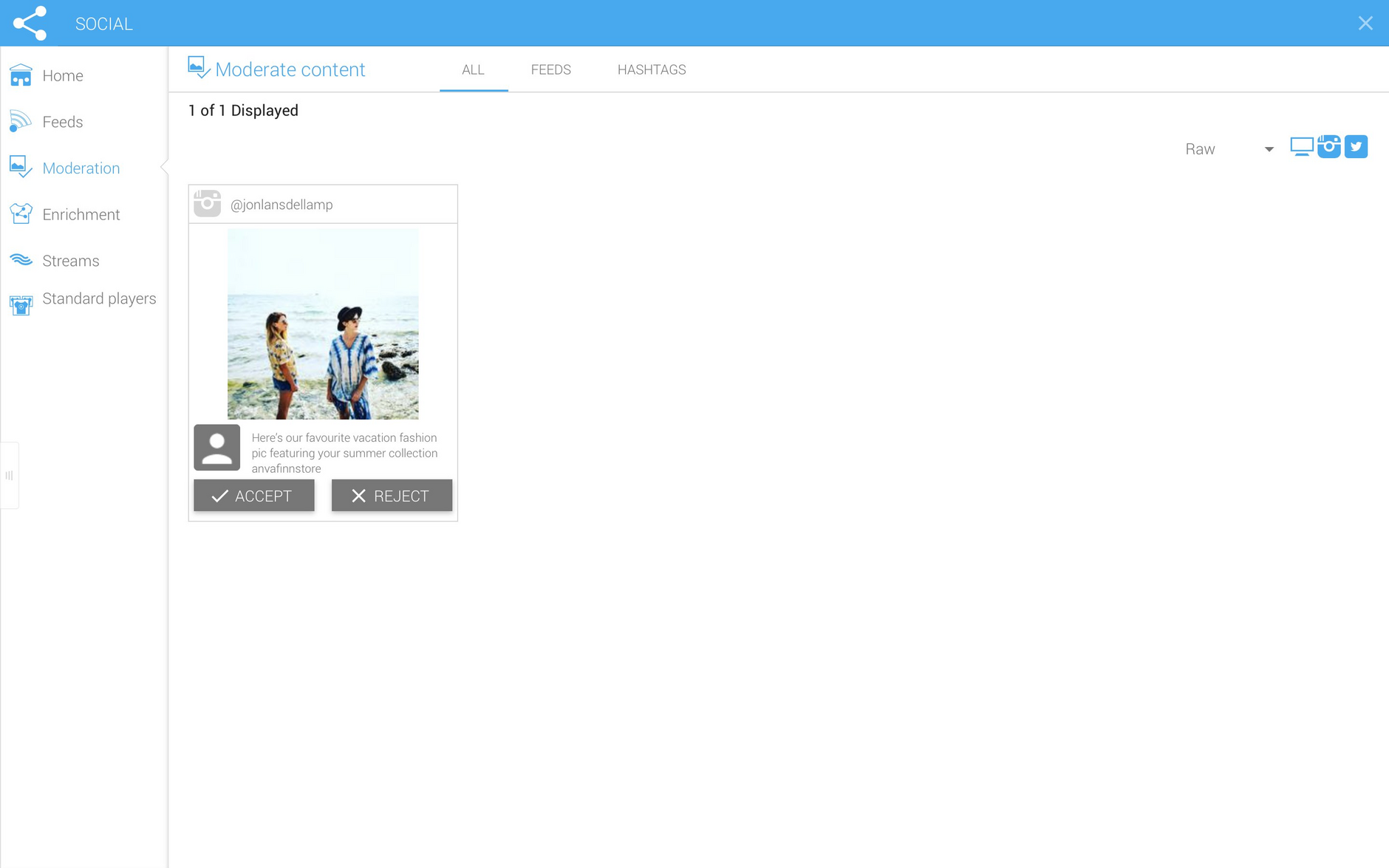 Creating a stream from Instagram assets

Link copied!
If you create a stream using a hashtag that is the same as the Instagram account name, it will retrieve moderated images from the mentions of that account. In the example below, a new stream is being created including the hashtag "anyafinnstore" and assets will be retrieved from the mentions of the anyafinnastore account.
Any other hashtag that the user has included with their posts will also be ingested, so you may wish to use other hashtags that users have included in their posts rather than retrieving all assets from your instagram mentions.