Content item statuses
You can define up to 100 statuses per hub, each with its own label and color and assign these statuses to content items.
Statuses are flexible enough to support a workflow such as translation and fit in with your content production process. Statuses provide a visual indication of an item's state and you can filter using status in the Content Library, focusing on those items that require review, translation or new images, for example.
On this page
Viewing content statuses
To add, view and edit a content status, choose "Status" from the settings menu.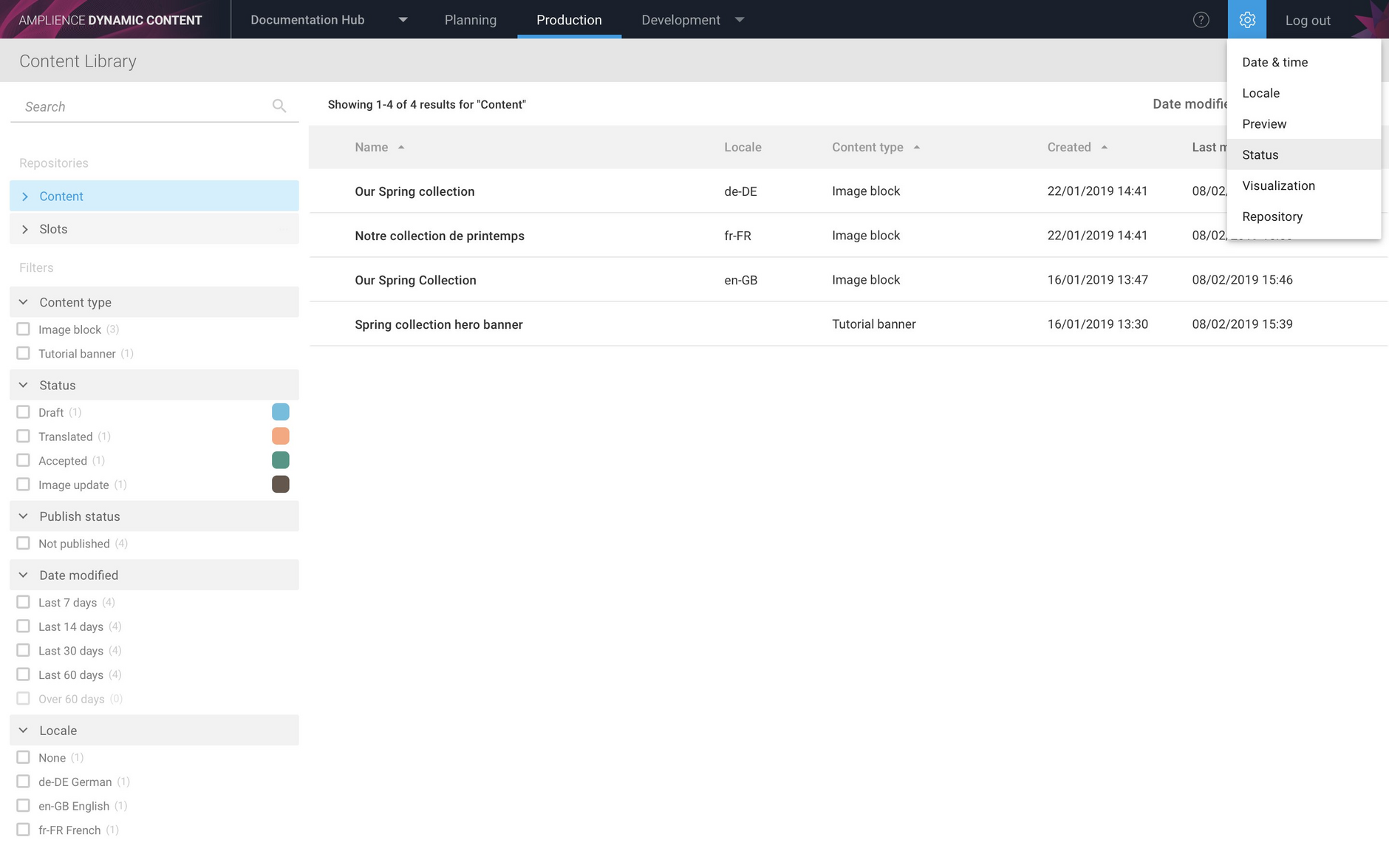 The Status settings window is displayed listing any statuses that you've set up on this hub. From this window you can add a new status or edit an existing one, updating its label and color.
In the example below we've defined a set of statuses to support a translation workflow and assigned a different color to each one. You can define as many statuses as you like, up to a limit of 100.
If the status feature is not available on your hub, contact your Customer Success Manager to have it enabled.
Adding and editing content statuses
To add a new status click the "+" icon at the bottom of the status settings window. Give the item a label and choose a color. In this example we're adding a status of "Image review" and assigning a dark blue colour to it.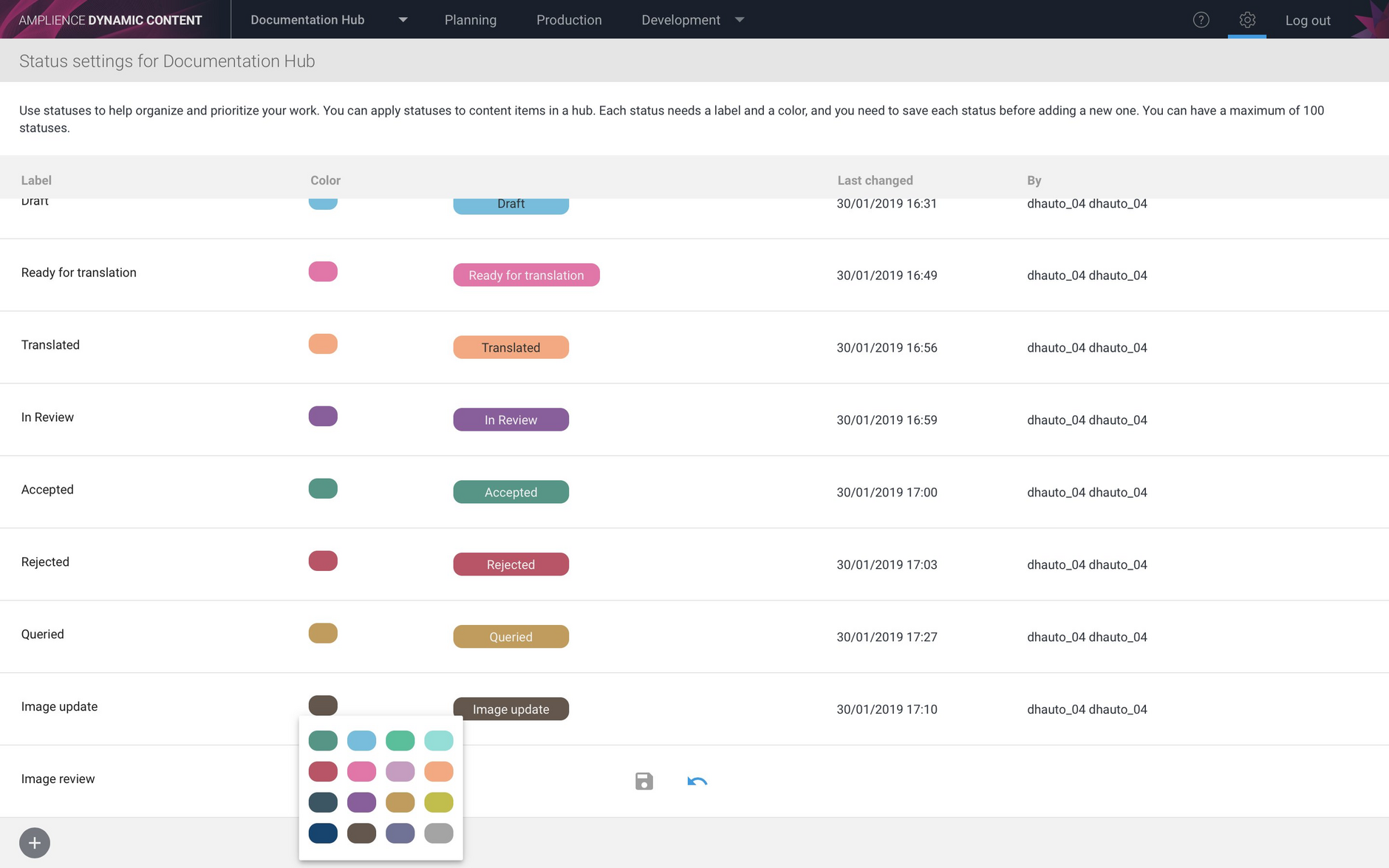 When you're happy with the label and color, click the Save icon to the right of the color.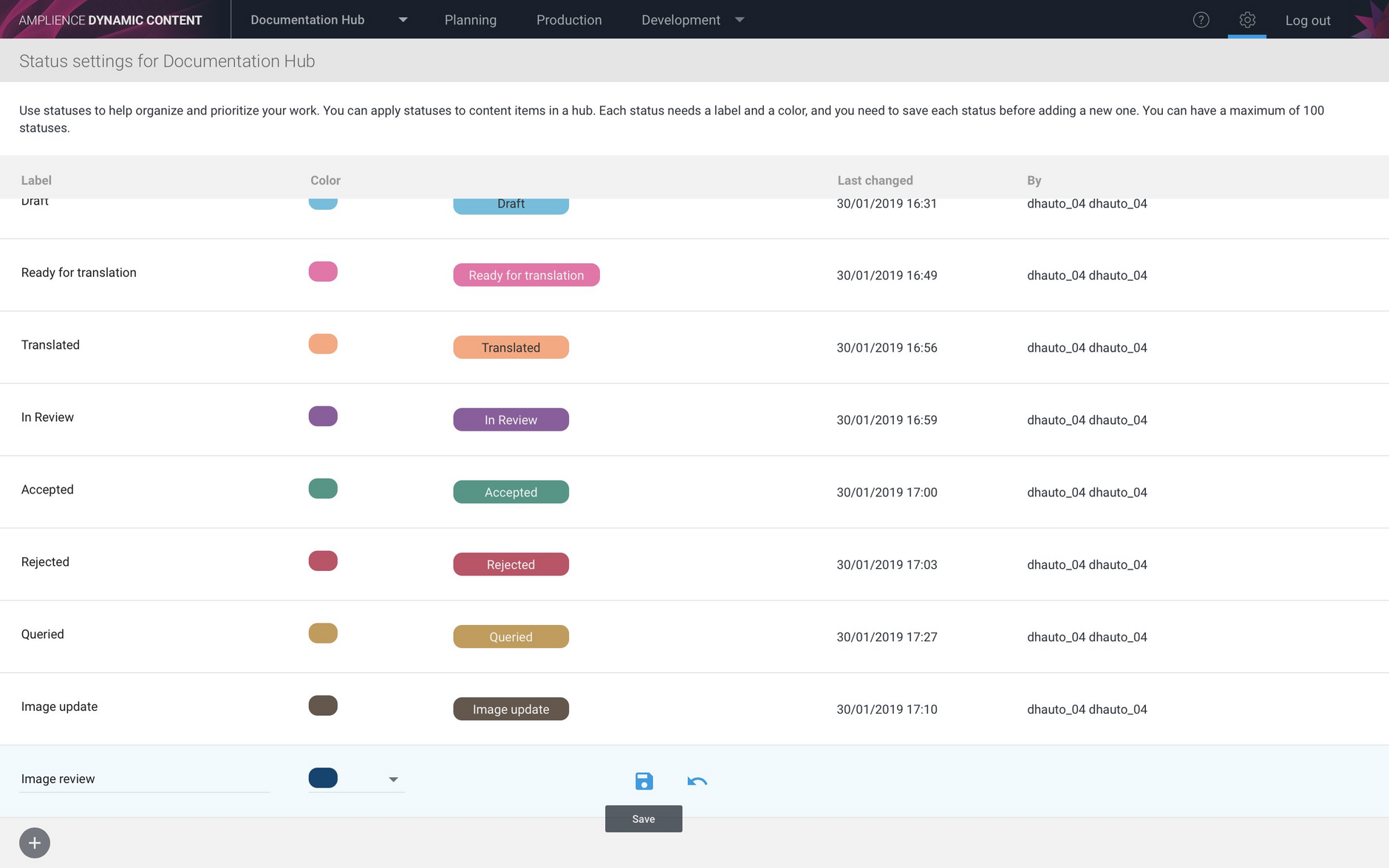 The status will be added to the list and available to add to a content item.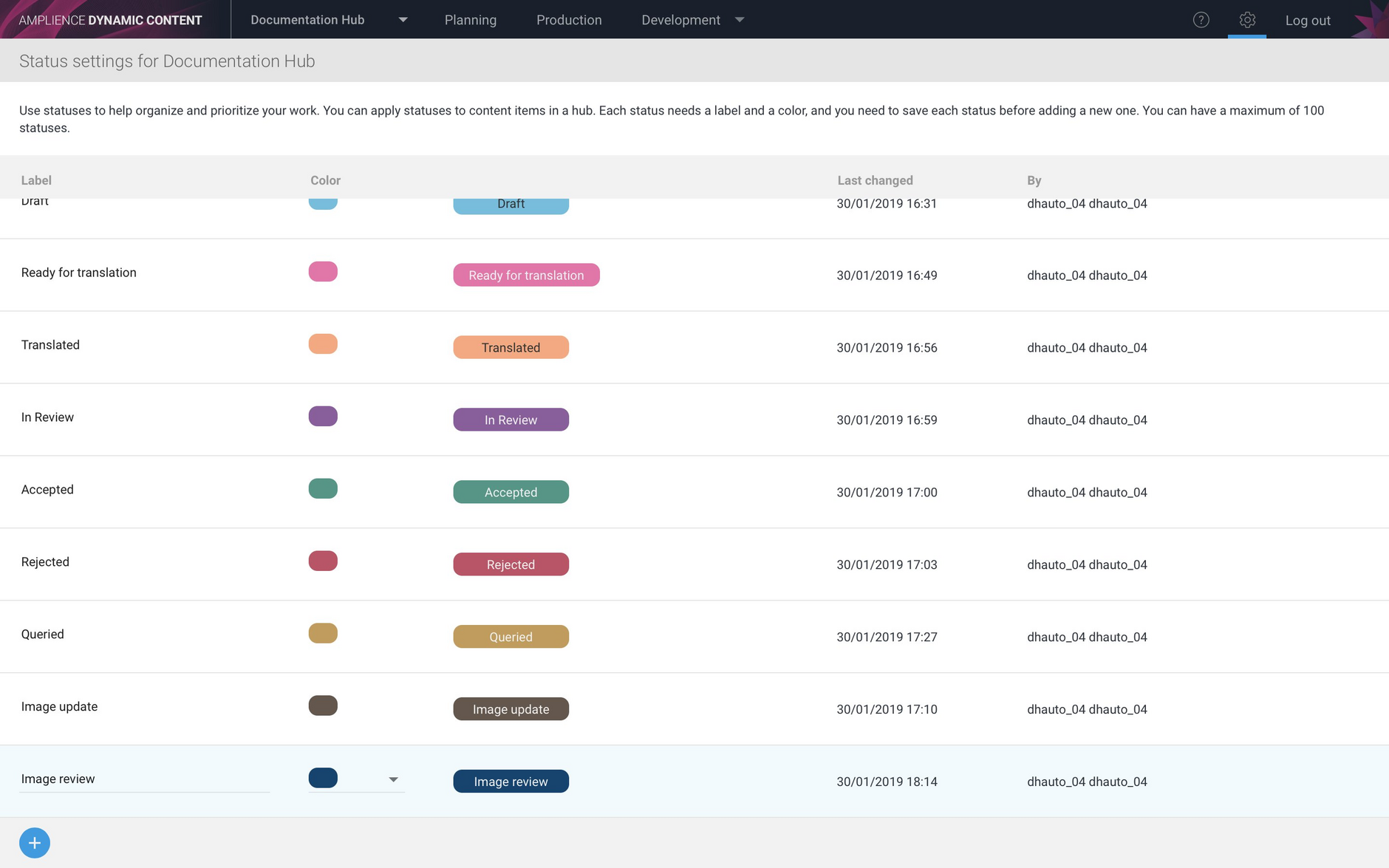 To edit an existing status, just change its label or color and click the Save icon to save changes. Note that it's not currently possible to delete a status.
Assigning a status to a content item
Once you've set up statuses on a hub, you can assign a content item's status from the save dialog or from the content editing window.
When you create a new content item and save it, the status menu is displayed in the save dialog as shown in the image below. Choose a status from the list to assign it to the content item when the item is saved.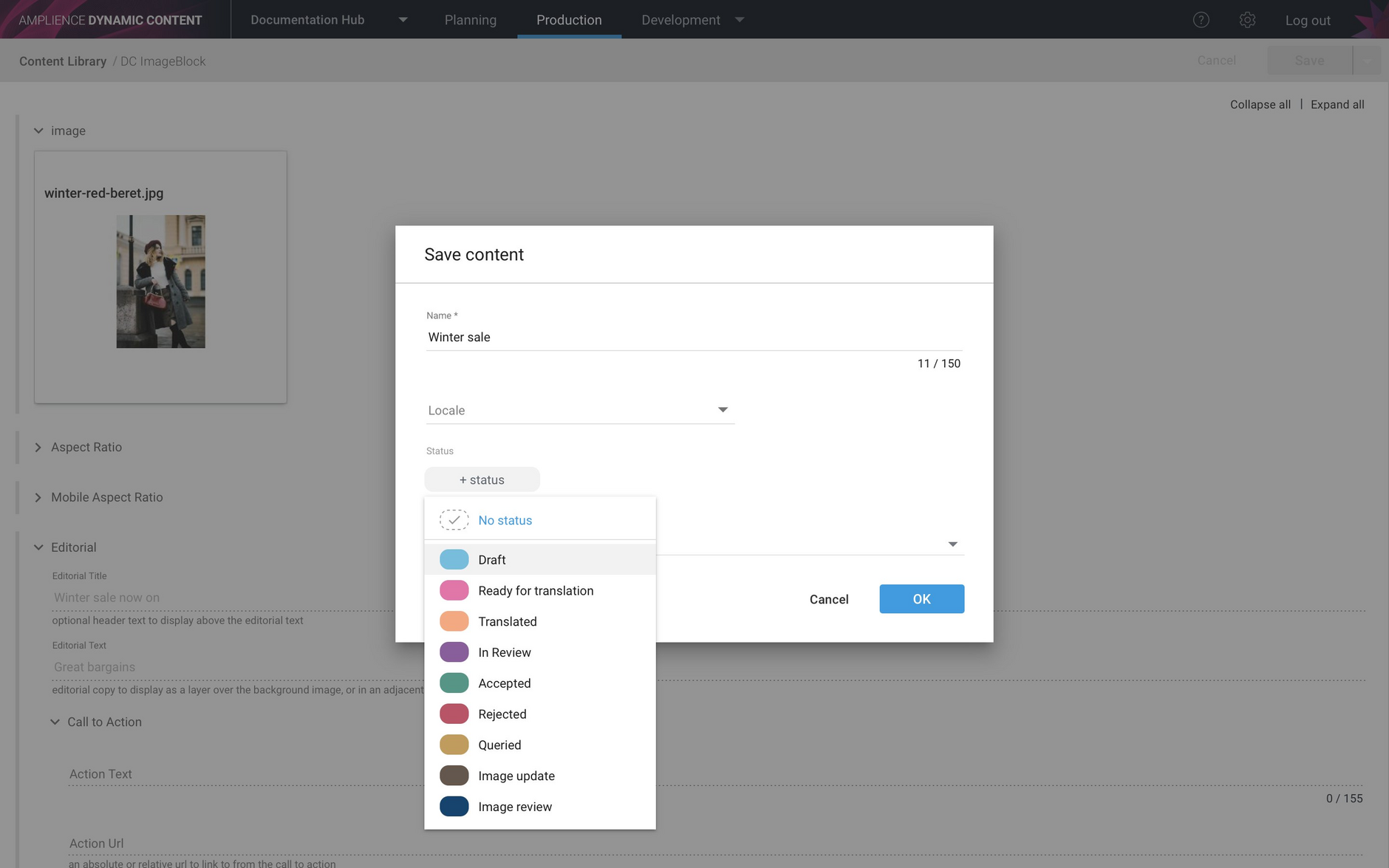 You can also view or edit a content item and set its status from the menu.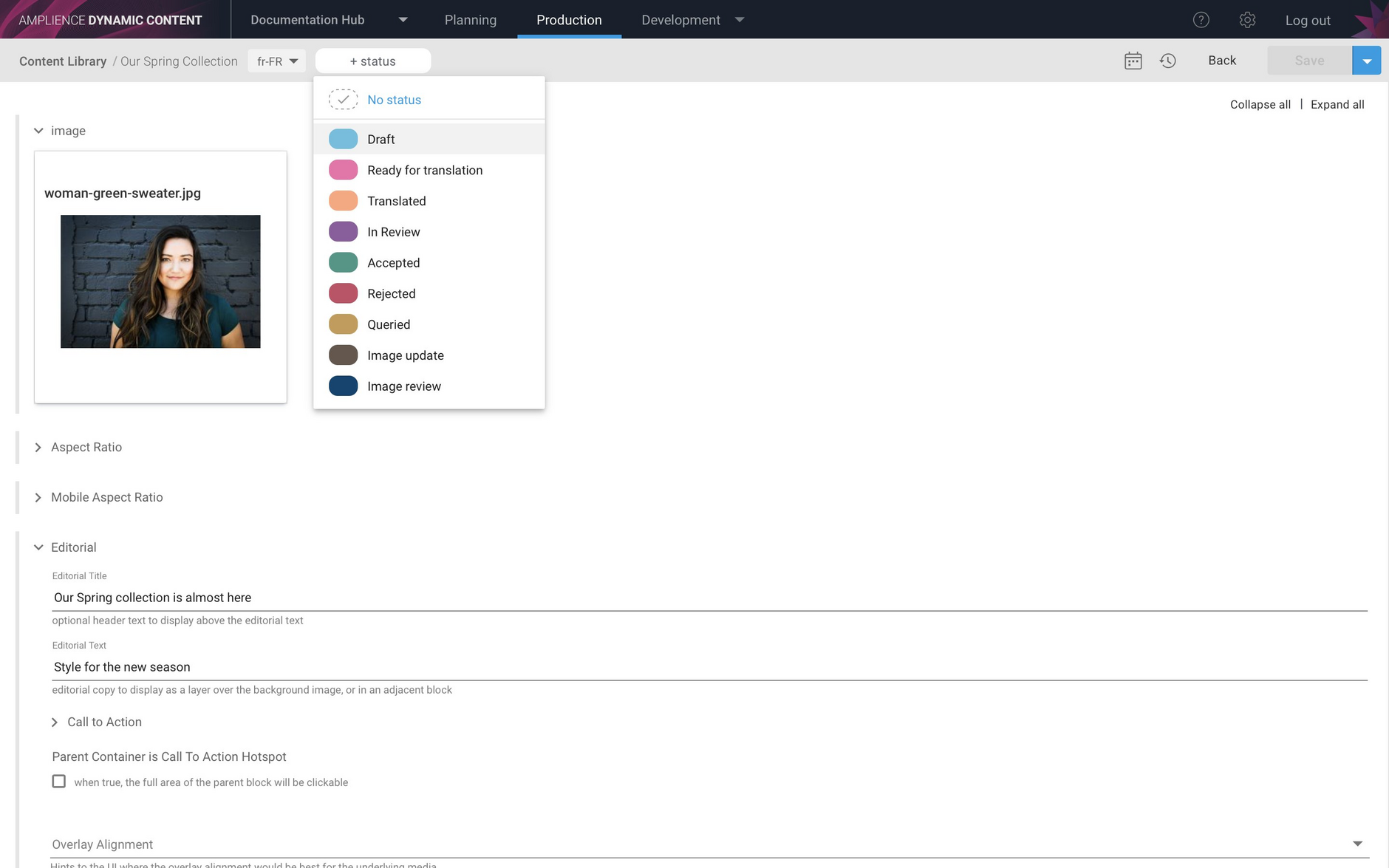 An item's status is shown at the top of the content editing window. Setting a status does not enforce any functionality and is only included as a visual guide to help your workflow. In this case the status has been set to Draft.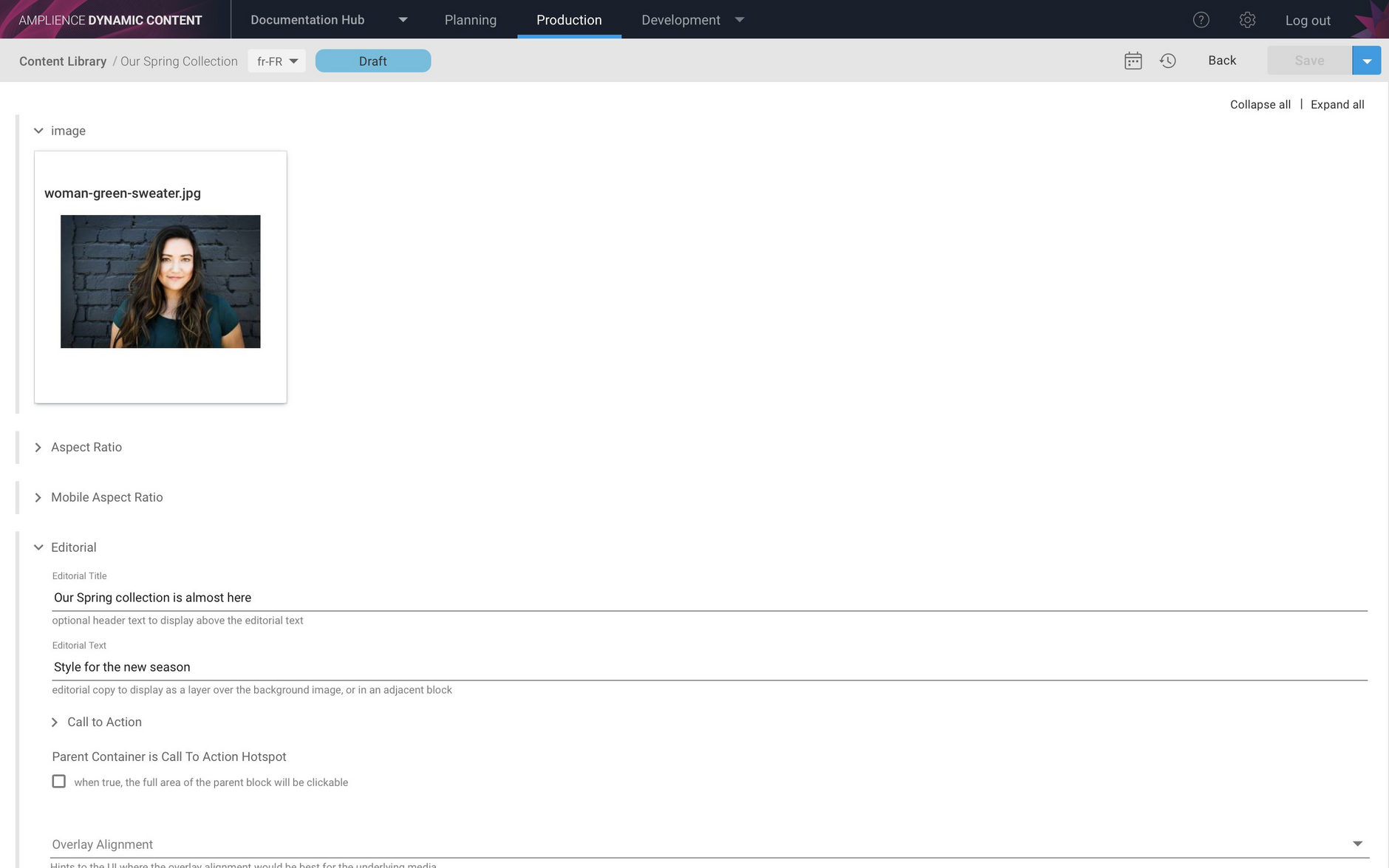 In this example workflow, when the item is translated we set the status to In Review and the reviewing user can use this as a filter to focus on items that need their attention.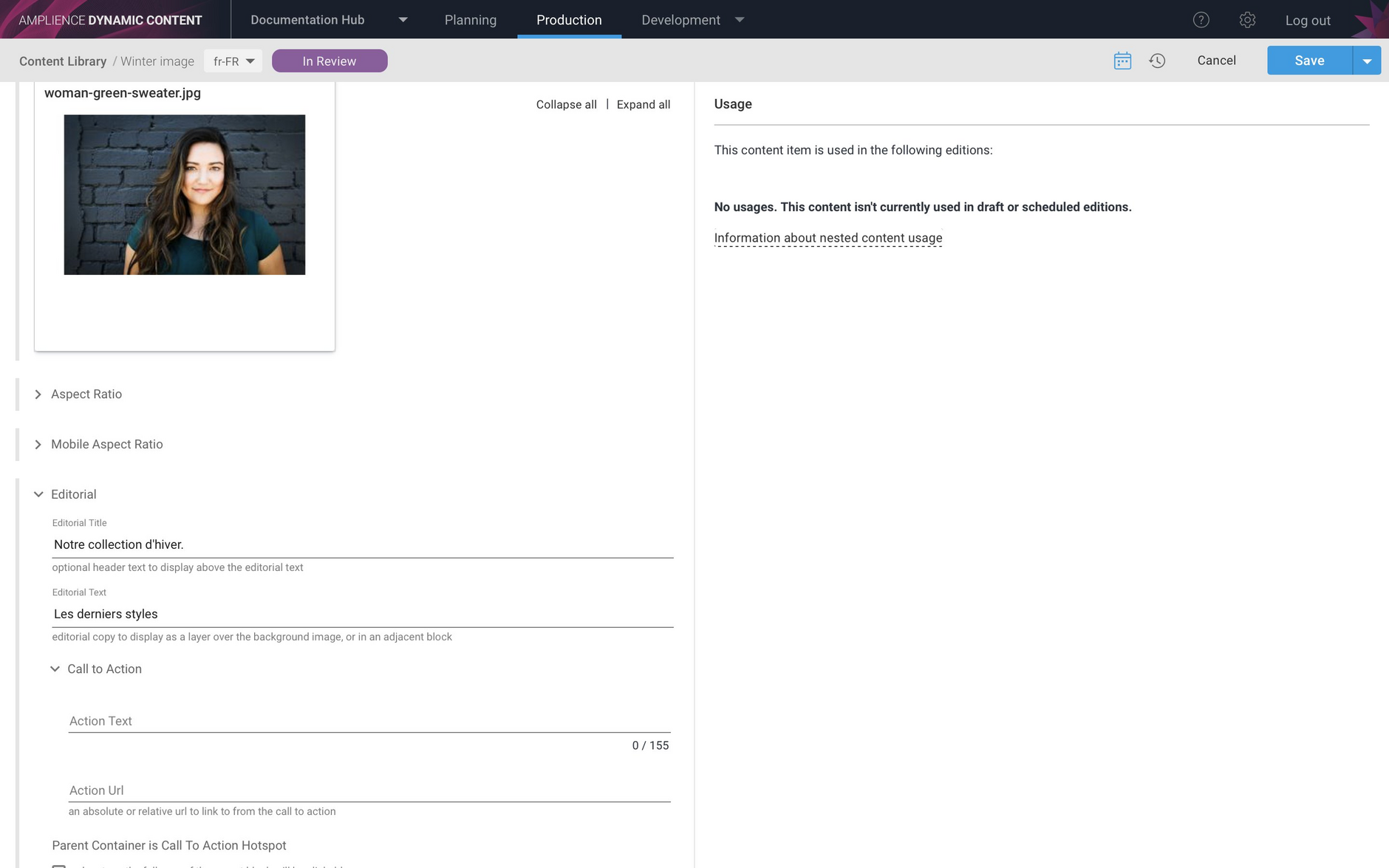 Viewing and editing a content item's status in the Content Library
A content item's status is shown on its card in the Content Library. From the card you can also update an item's status or assign a status to an item that does not have one set.
The example below shows how to update an item's status from the contextual menu on its card.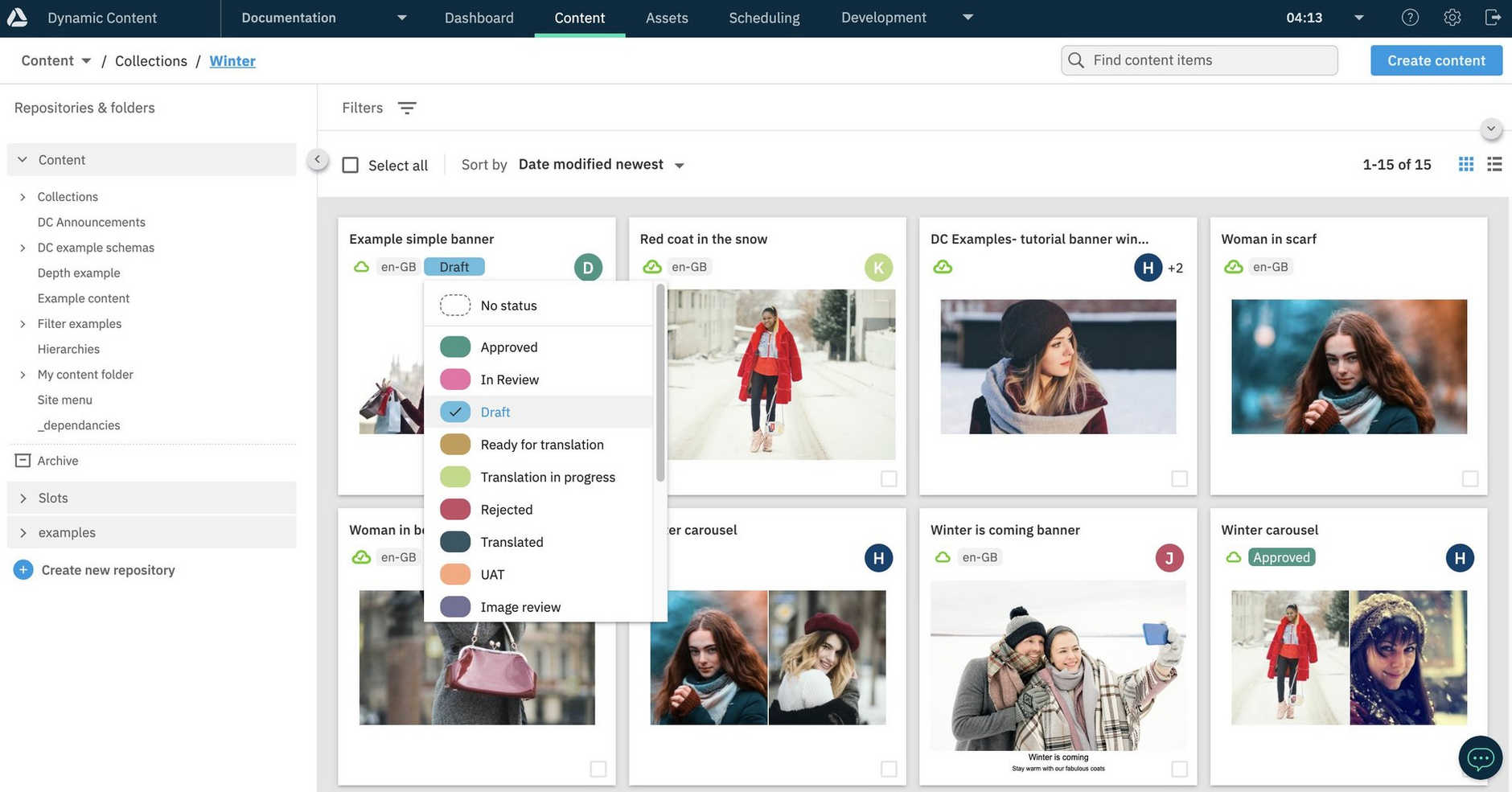 Filtering content items by status
The "Status" section in the left hand side of the Content Library shows the content statuses that are in use on this repository. You can select one or more content status to use to filter the Content Library view.
In the example below, the Draft and Ready for Translation status filters are selected, so only content items that have one of these statuses assigned will be displayed.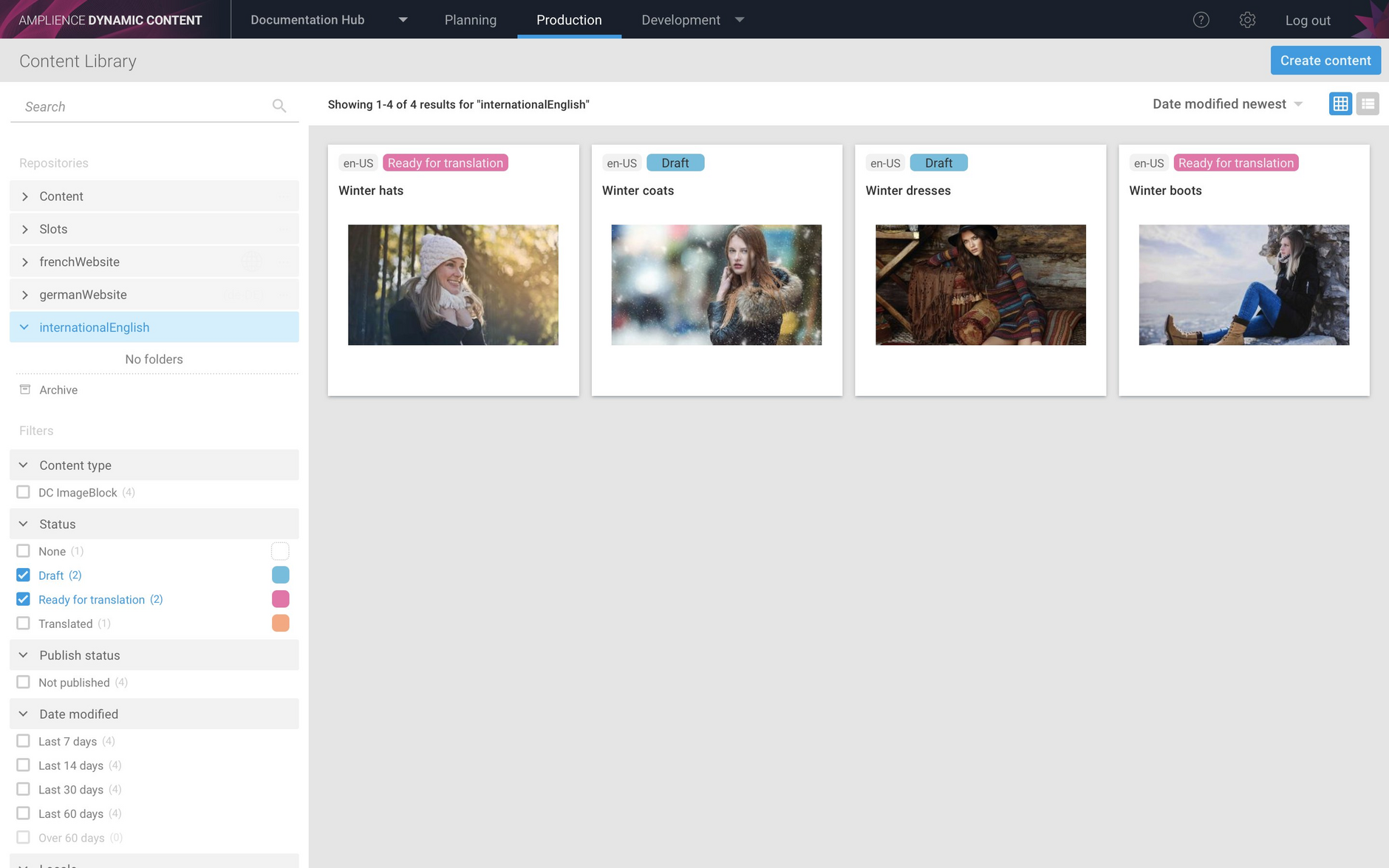 You can also use the content item status in conjunction other facets, such as publish status and date modified.