Scheduling overview
Dynamic Content lets you plan and schedule your content in an easy to use scheduling calendar, using the concepts of events and editions. While the events and editions represent when you want content to be published, you specify the content itself and where it should be delivered using slots.
On this page we'll explain these concepts in more detail. To get started with creating your own events and editions see the planning and scheduling process overview page.
To start creating content go to the content production user guide and if you're a developer visit the development section for more details about creating content types and slots.
Events are the top level organizational grouping representing a particular project or campaign. You might create an event to represent a major campaign such as Black Friday, Valentine's Day or the January sales. Events have a start and end date that covers all the activity for the entire project, which might be from a teaser campaign to a "last few days remaining" promotion.
Within events you'll create one or more editions. These represent your 'drops' of content and bring together the content itself, with the date it is scheduled to go live and where it should be delivered to. You can create an edition as far in advance as you'd like and start populating it with content, and it can be scheduled to go live up to 100 days ahead. When an edition is scheduled, it means that the content contained within it will be published to our Content Delivery Network (CDN) on the edition's start date. Your customers can then view the content on your website, app or any other channel you support.
Events and editions are created in the scheduling calendar, within the scheduling view of the Dynamic Content app. There can be many events on your timeline, so we also provide the option of viewing the events as a list.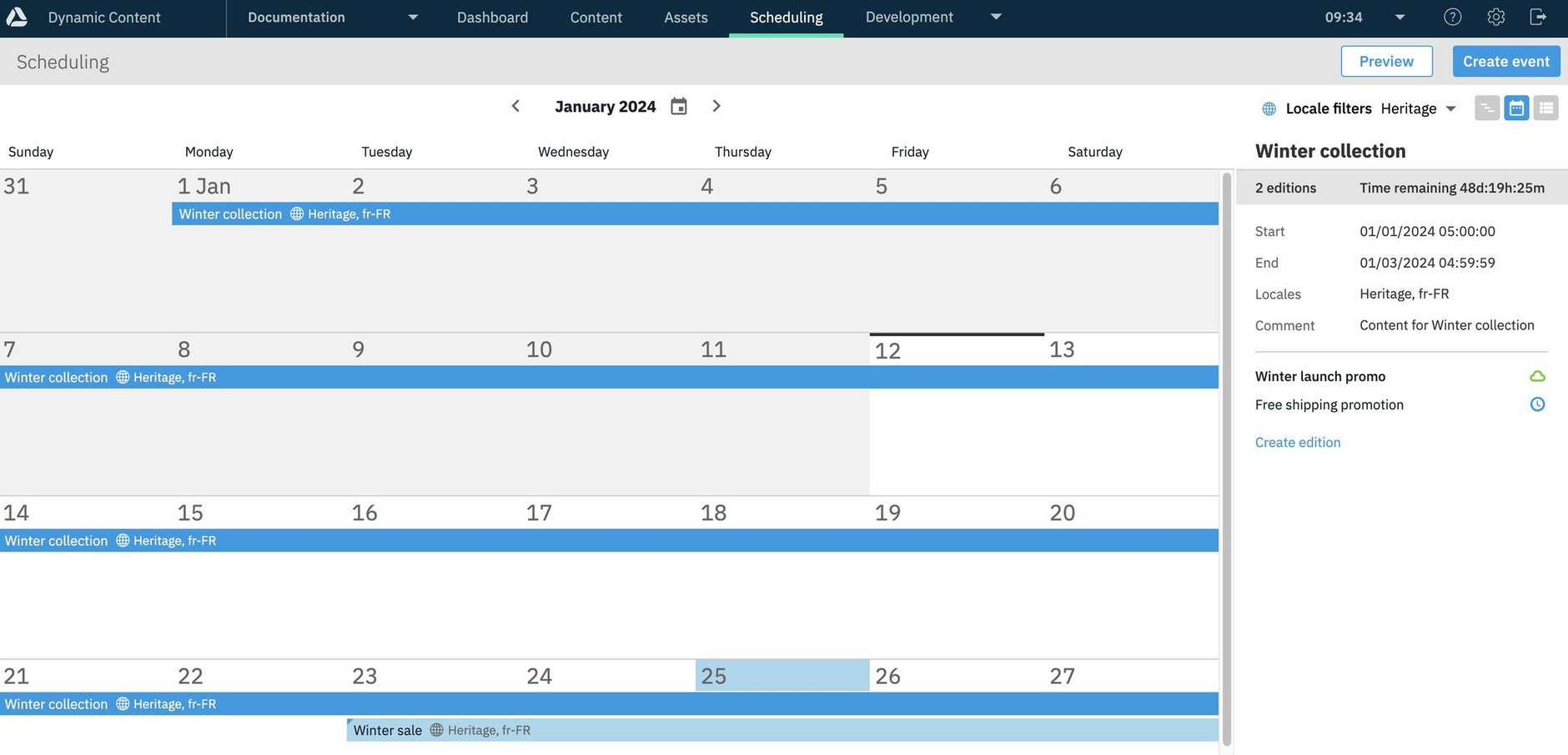 While editions link together the content with when it should be delivered, you use slots to specify where the content should be delivered to. Slots are very flexible and represent areas of your website, app, kiosk or other channel. A slot can be anything from one area of your website to an entire page.
Note that you can also add content directly to an edition, particularly user experience content such as page hierarchies or content that doesn't need to be included in slots such as blog posts.
Let's consider an example.
You're planning a content drop for one part of a sales promotion. This particular set of content is focused on women's fashion. When you set up the edition to plan this content you would decide:
Which areas of your website (and other channels) you want to create new content for
What content is required
When this content should be scheduled to go live- this will be the edition start date
Next you would:
Create the edition. In this case it might be called something like "women's fashion Spring sale edition"
Add the slots to the edition corresponding to where you want the new content to be delivered
Once the content producers have completed their brief and you've reviewed the content, you'll populate the slots with the content and schedule it for publication. At the edition start date, the content will go live.
The image below shows an edition containing two simple slots, each containing one item of content, a banner and a carousel. Once the edition is live, the content will be published to these slots. In the example below, the content is published simultaneously to a mobile app and to a website. The same slots contain the same content, but represent different areas of the page when shown on the web and an app. A standard carousel is shown on the website, while on the mobile device this content is rendered as a grid.
Of course this simple example is just one way that you can choose to configure your slots and when you start the implementation of a Dynamic Content project, we'll help you choose the method to match your requirements.