Development
On this page
On this page we provide links to more information about the features you'll need when developing projects that integrate with Amplience Dynamic Content. You'll find an overview of creating content type schemas and content types, the content delivery APIs, and enhancing the user experience with extensions.
We also cover technologies that you can use to build you own integrations with Dynamic Content such as webhooks, and off the shelf integrations including our Dynamic Content Salesforce Commerce Cloud (SFCC) integration. There's also links to sections covering localization and our search index feature that makes it easy to create and manage search indexes for your content.
Content type schemas
Content type schemas are the JSON templates for your content, including its structure, format and validation rules.
You can create schemas using the Schema Editor or store them externally.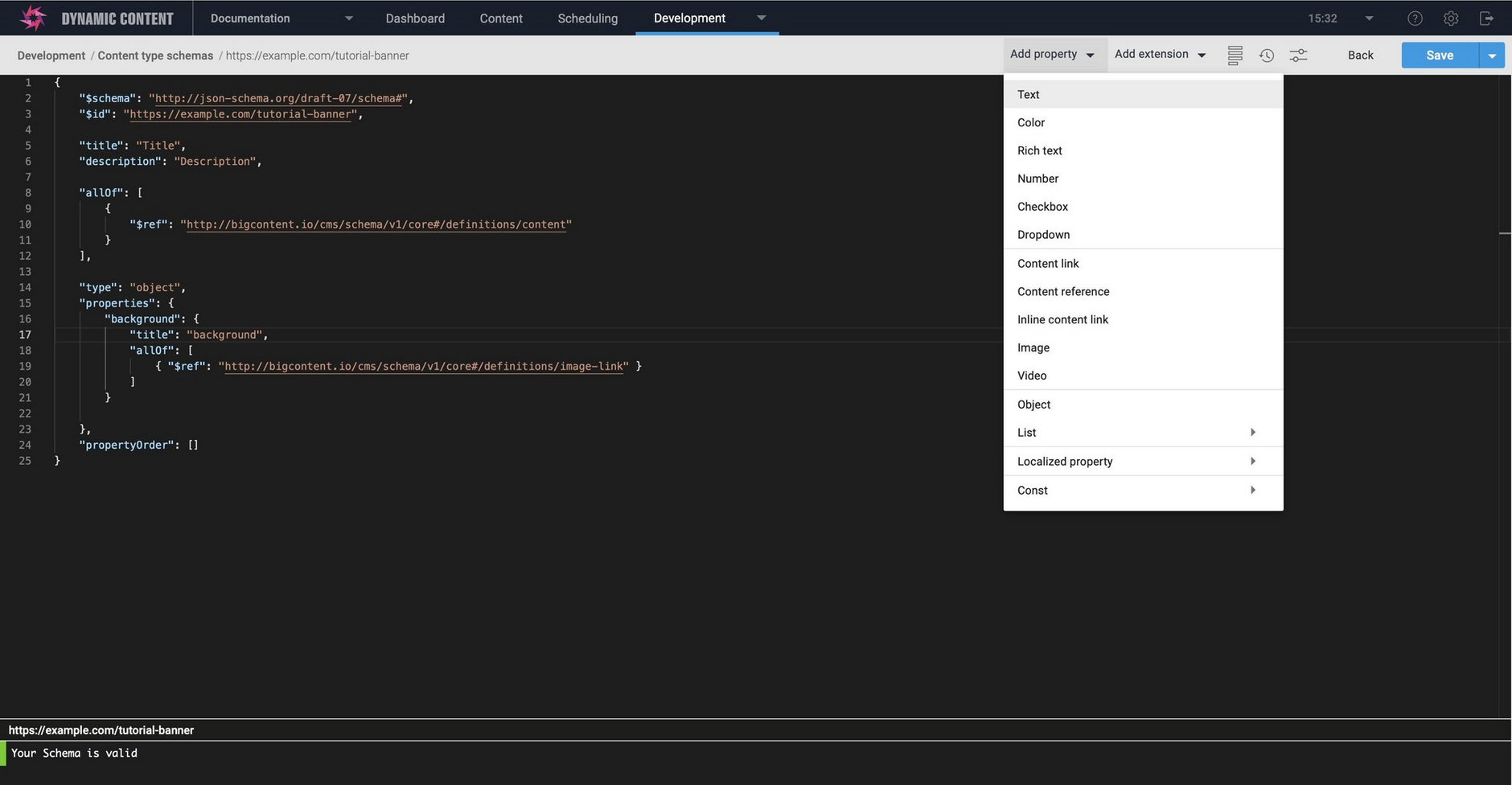 You can also choose from over 50 schema examples, covering core concepts such as strings, numbers, validations and localization.
Find out more
Content type schema reference. Includes schema format, validations and adding images and video.
Using the schema editor This page shows how to create content type schemas with the schema editor, use the form preview and view sample output.

Simple banner example Walks you through creating a simple banner using the schema editor.
Slot example Shows how to use the schema editor to create a slot schema.
Using partials Shows how to use the schema editor to create schemas with reusable definitions.

Schema examples A list of schemas covering core concepts, slots, localization and using extensions. It also includes the schema examples used in the filter and hierarchy pages and the tutorial banner and carousel.
Content types
Content type schemas are registered as content types from which the user can create content. Content types can be enriched with icons, cards and visualizations to make it easier for users to work with content.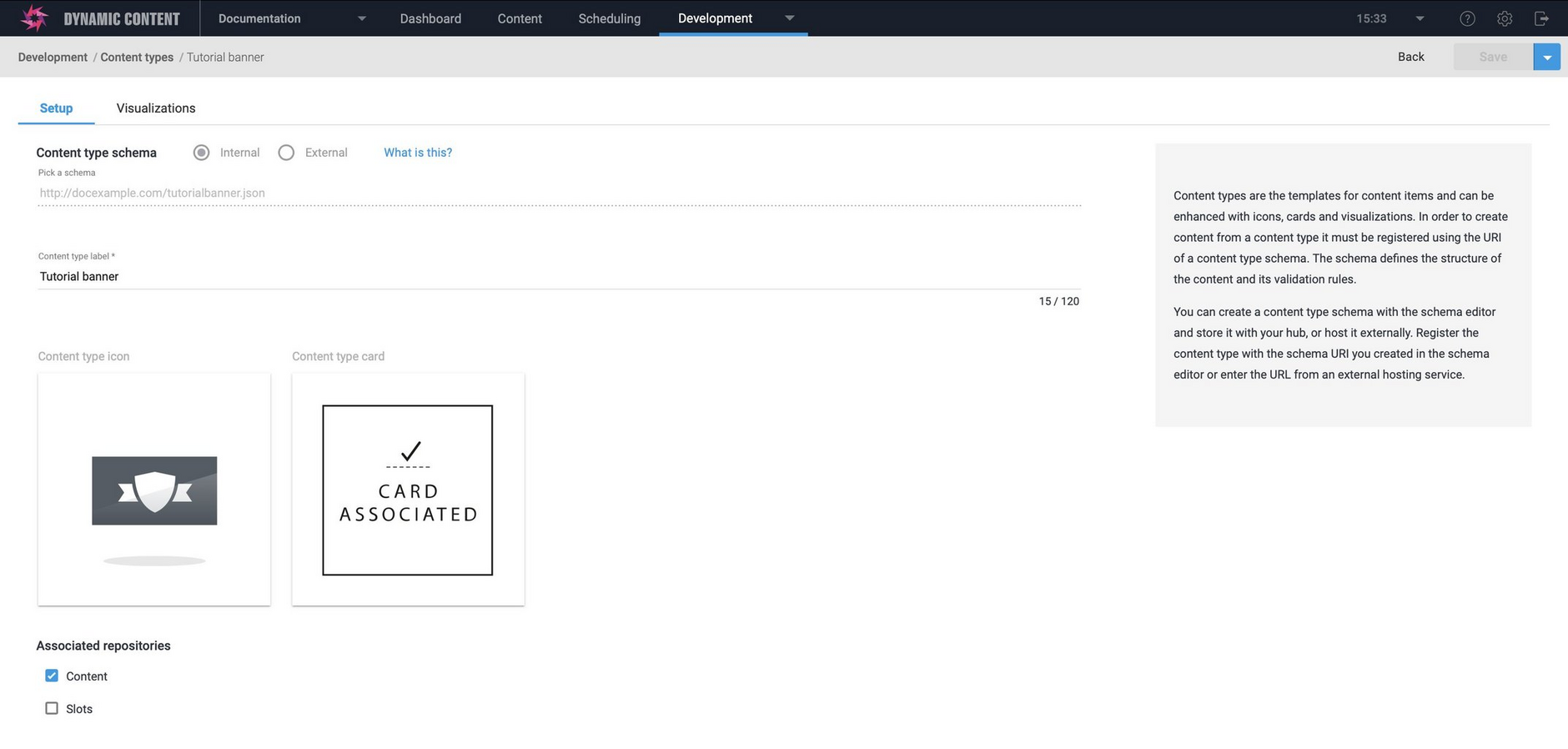 Find out more
Content delivery
Content is retrieved from the Dynamic Content CMS in JSON format using our delivery APIs.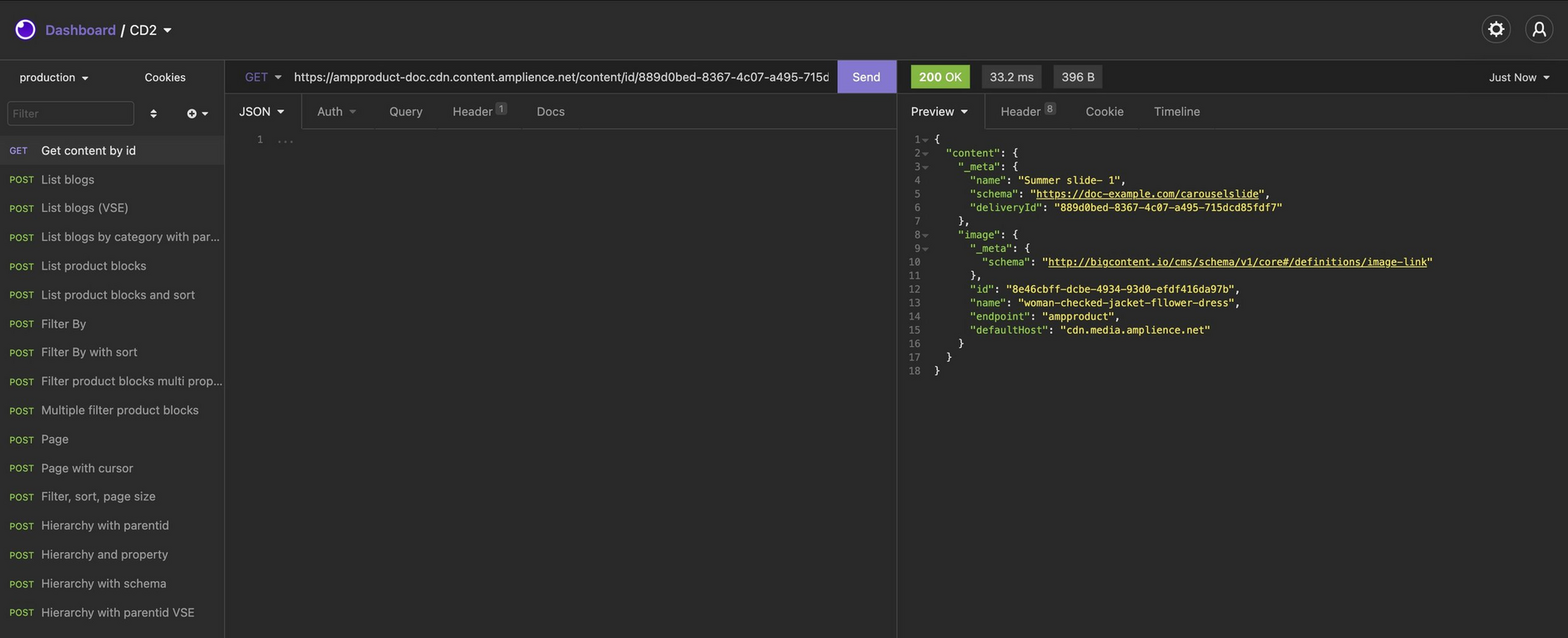 Find out more
Localization
Dynamic Content supports two types of localization: field level and content item localization. Both methods of localization use locales, an ISO standard combination of languages and country codes. With field level localization, you define a content type schema with localizable properties. Users then create a single content item with fields for each supported locale.
Content item localization allows you to create a separate content item for each locale.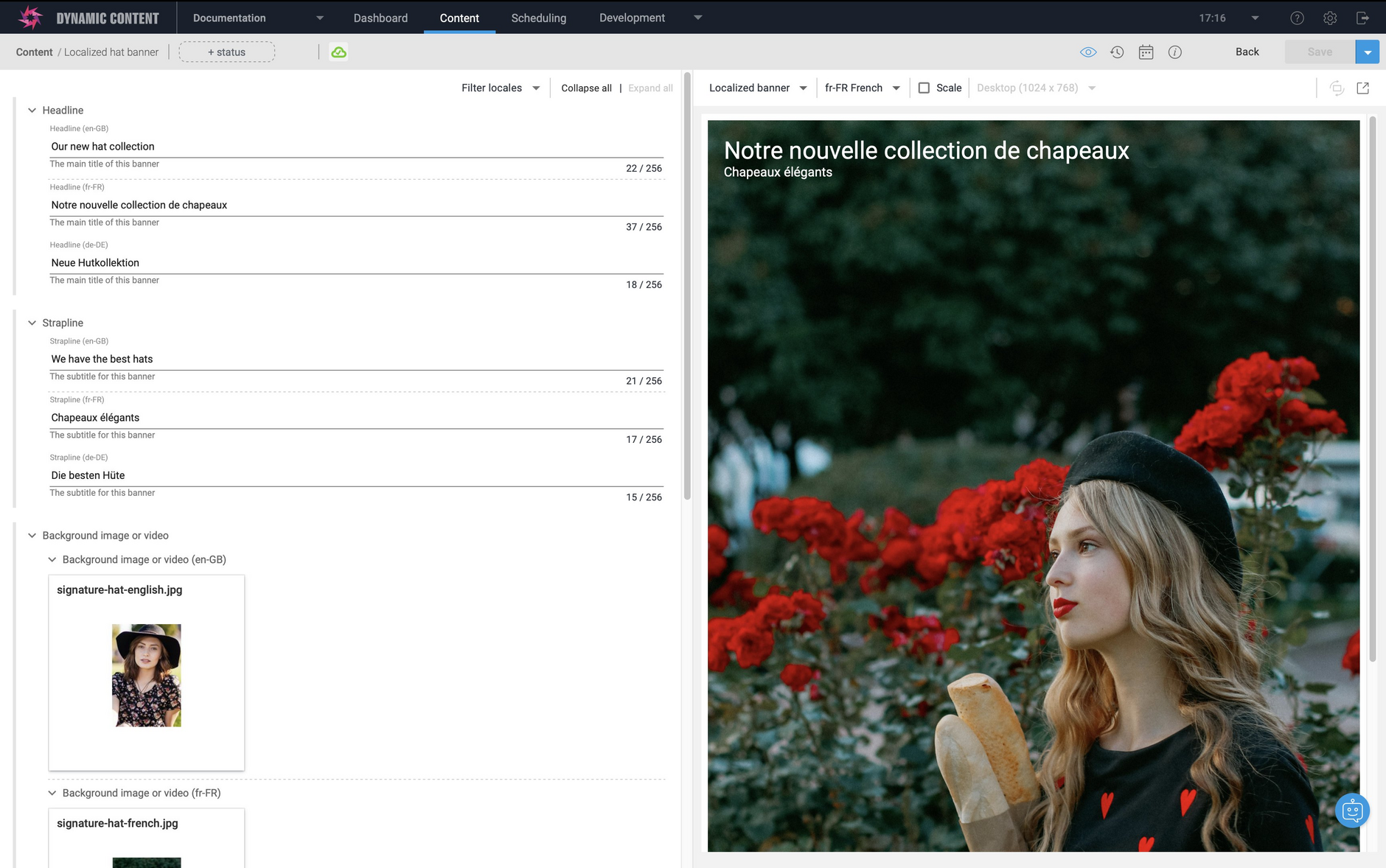 Find out more
Preview and visualization
Preview and visualization use our virtual staging features to allow you to display unpublished content to your users.
Preview works with the Dynamic Content scheduling features. You can develop content preview apps to display the content in your website or app exactly as it will appear at a specified date and time in the future. You can also preview individual editions.
A visualization lets your users preview an individual piece of content by embedding your app in the content editing interface. The visualization is displayed in an iFrame side by side with the content the user is editing in the content form. You can also use our Visualization SDK to develop realtime visualizations which update as the user changes the content.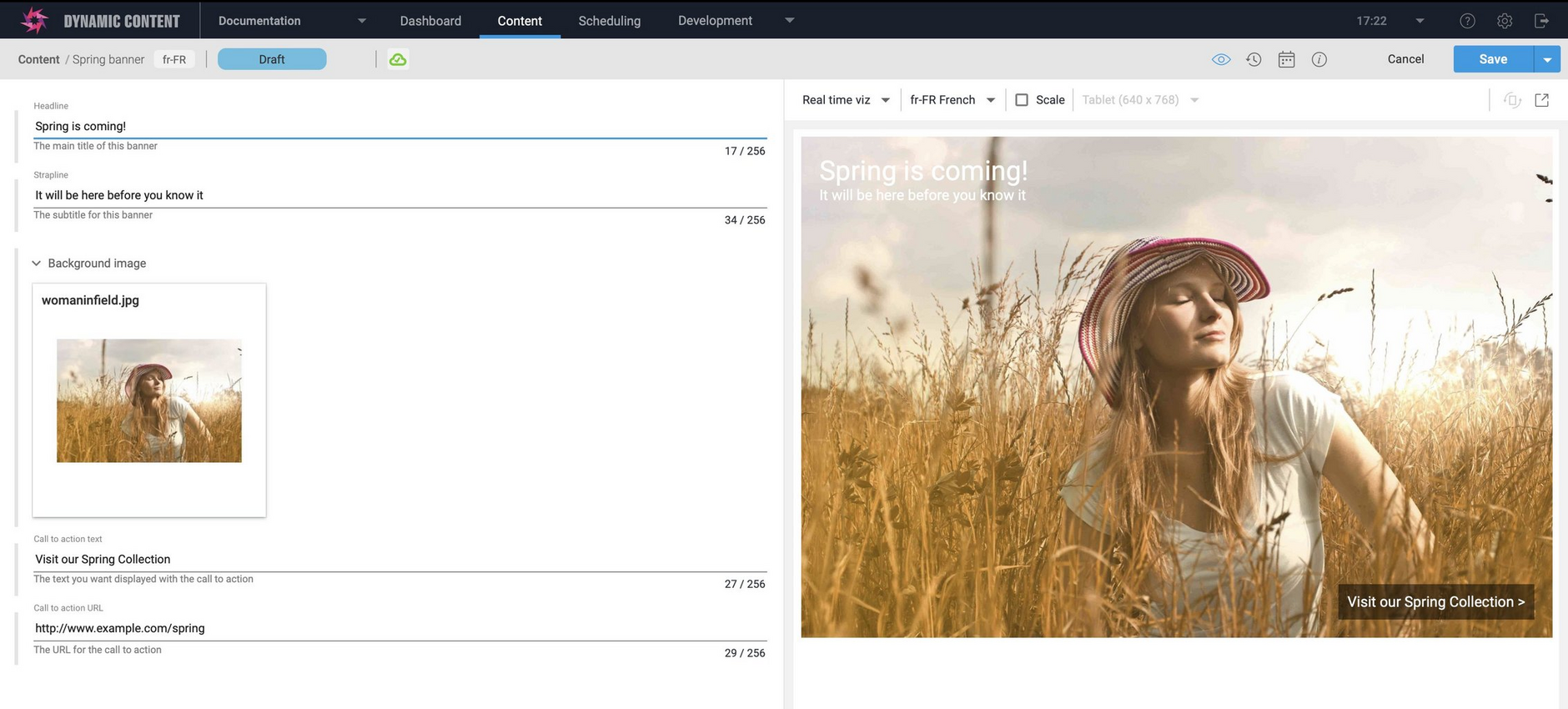 Find out more
Extensions
Extensions are simple web apps that extend the functionality of Dynamic Content. There are three types of extensions: content field extensions, content editor extensions and dashboard extensions. Content field extensions are used to extend the features of the content form, content editor extensions are shown in a tab on the content form, and dashboard extensions are full screen extensions displayed in a tab on the dashboard.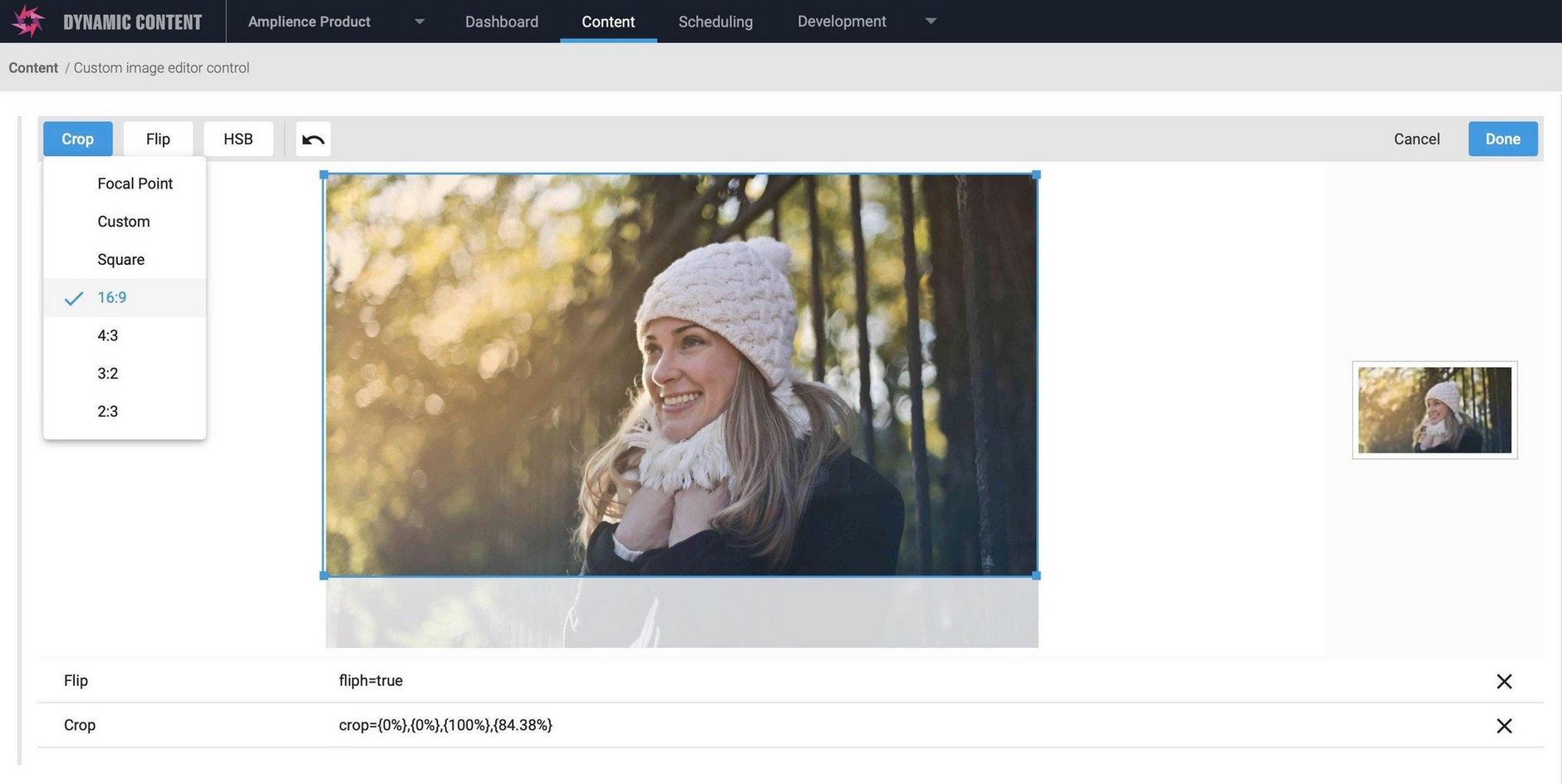 Find out more
Hierarchies
Hierarchies are used to model relationships between objects. You can use hierarchies to model any kind of tree structure, from a list of store locations to a structured list of product content. Dynamic Content makes it easy for users to add and manage hierarchies and includes support in the delivery and filter APIs for retrieving hierarchical content.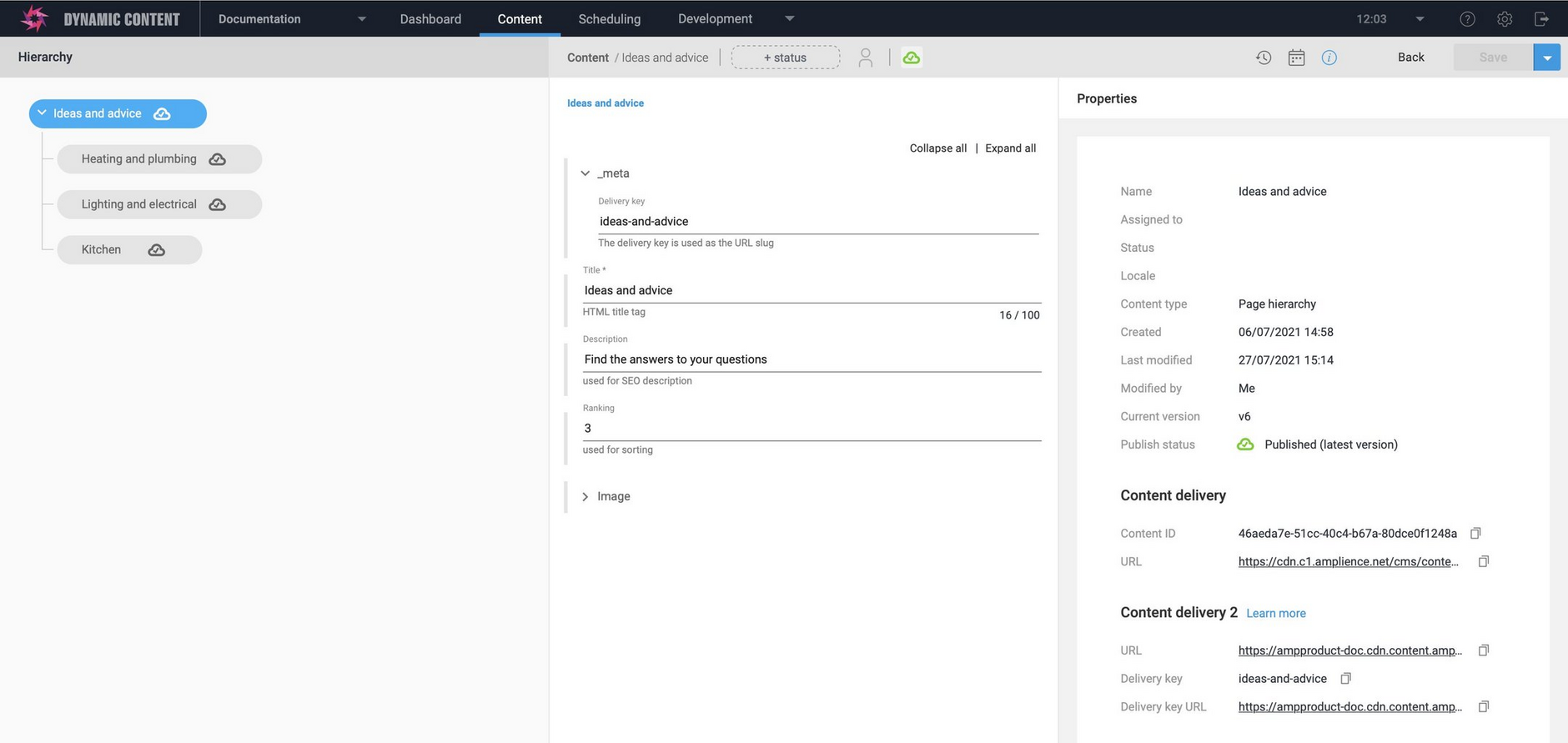 Find out more
Webhooks
Webhooks provide a way for developers to integrate their software with Dynamic Content. Developers create webhooks that are triggered by specified events in Dynamic Content. These events usually correspond to an action performed by the user such as creating or updating content, scheduling editions or changing a content item's status.
You can create webhooks with filters, custom payloads and custom headers and send POST, PUT, PATCH and DELETE requests. All these features combined reduce the amount of code you need to write in your webhook apps.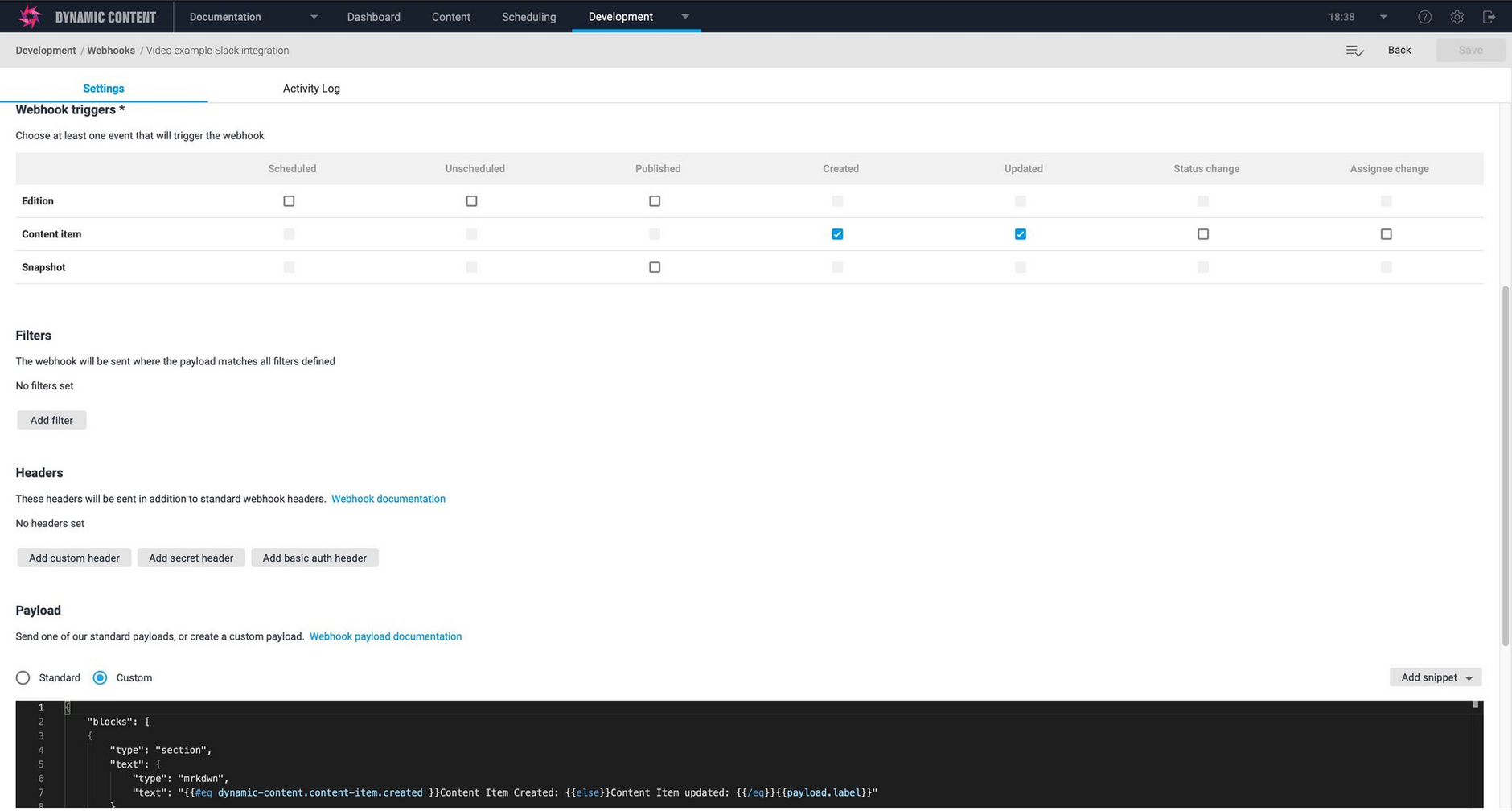 Find out more
Search
Amplience search makes it easy to create and manage search indexes for your content so that content can be queried from your app. We've included a wizard to make an index simple to set up, configure, and populate with content, and you can customize an index to meet your needs.
Amplience search is powered by Algolia. Indexes are created in an Algolia account managed by Amplience and can only be managed using the search indexes features. You can use Algolia's search APIs to query content and use their SDKs to build your search UI.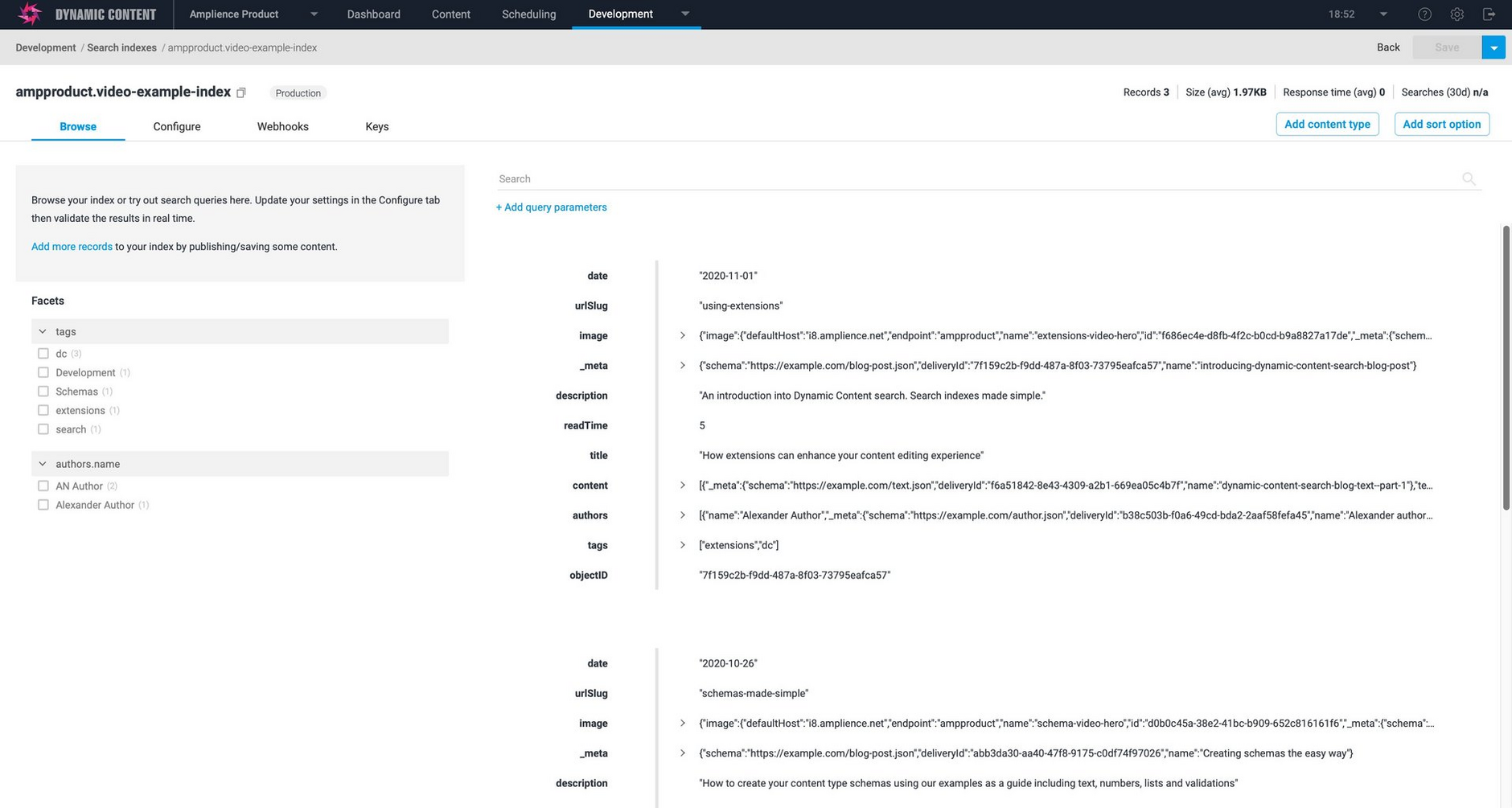 Find out more
Integrations
Amplience provides off the shelf integrations for Salesforce Commerce Cloud (SFCC), Salesforce Marketing Cloud (SFMC) and Zapier.
There are two types of SFCC integration: a slot based integrations and a content asset integration. The slot based integration maps slots in Dynamic Content to content slots in SFCC and use editions to create SFCC campaigns.
The content asset integration maps content items in Dynamic Content to content assets in Dynamic Content. These content assets are created when the corresponding content item is published.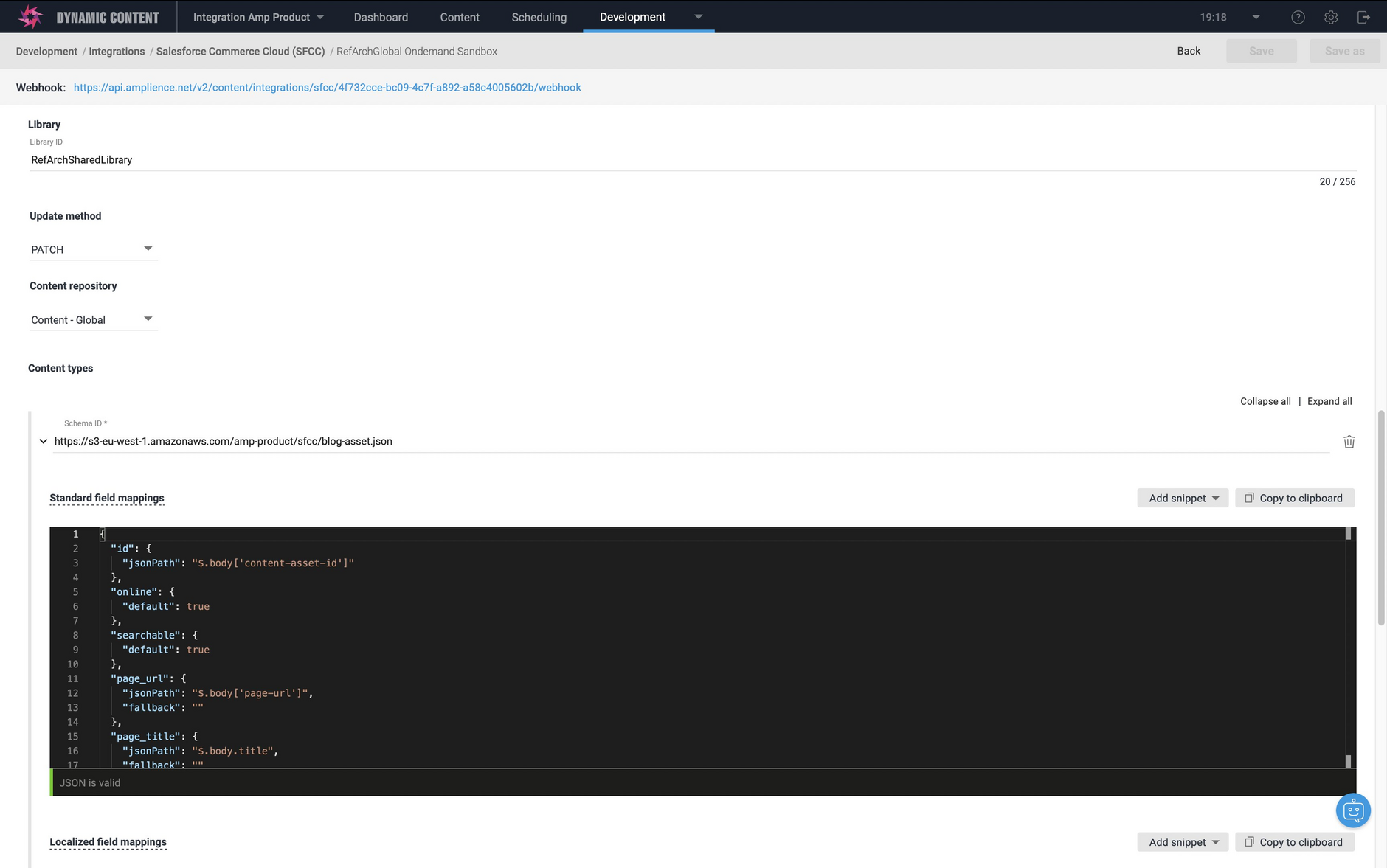 Find out more
SFCC integration
Other integrations
Code samples
The code samples page includes practical examples demonstrating many of the features of Dynamic Content including: content delivery, the filter API, visualization, preview and search. The examples are written in JavaScript and Typescript and include Progressive Web Apps (PWAs) written using the Next.js framework for React, a webhook integration and a simple blog app that uses the NuxtJS framework for Vue.js.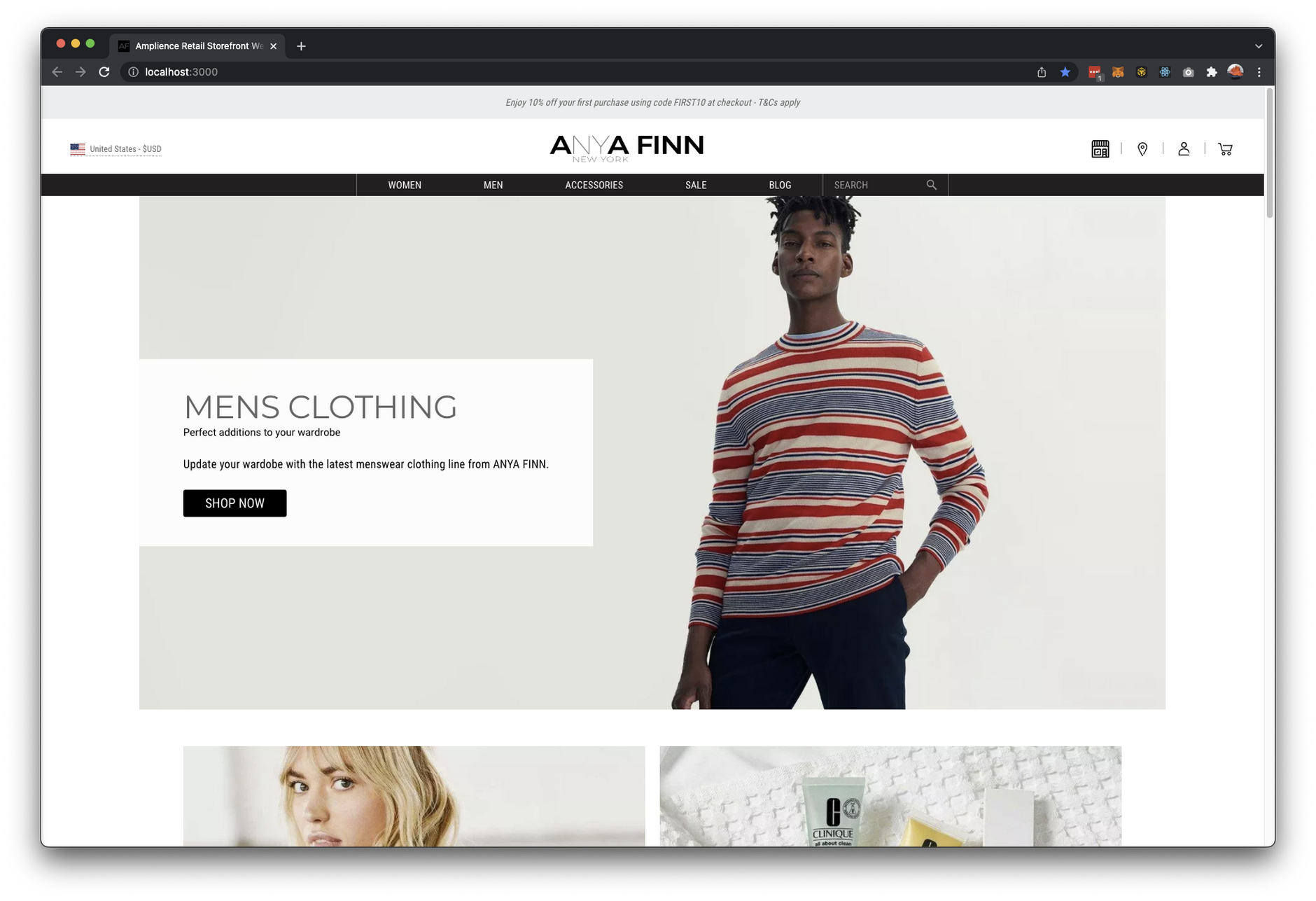 Find out more
Code samples. Includes GitHub links for each of the code samples.