Grouping images in streams
Once assets have been moderated, followed by enriched, a stream needs to be created. A stream is the collection of assets which will be published and then consumed from your site.
On this page
Creating a stream
Clicking on the 'Add new stream' icon will open the right hand panel.
Enter a stream name, in this example we'll call it "newstream".
Select the Hashtag(s) or Feed you would like the moderated assets to be pulled from. Feeds will only contain assets ingested from Twitter. The search functionality will pull through the used hashtags or existing feeds from which you can choose. Multiple hashtags can be selected.
For Instagram accounts, if you create a stream using a hashtag that is the same as the account name, it will retrieve moderated images from the mentions of that account. In the example below, a new stream is being created including the hashtag "anyafinnstore" and assets will be retrieved from the mentions of the anyafinnastore account.
Any other hashtag that the user has included with their posts will also be ingested, so you may wish to include other hashtags that users have included in their posts rather than retrieving all assets from your instagram mentions.
If "Show all approved assets" checked, then all assets meeting the specified criteria will be available to add to the stream, otherwise only enriched assets will be shown.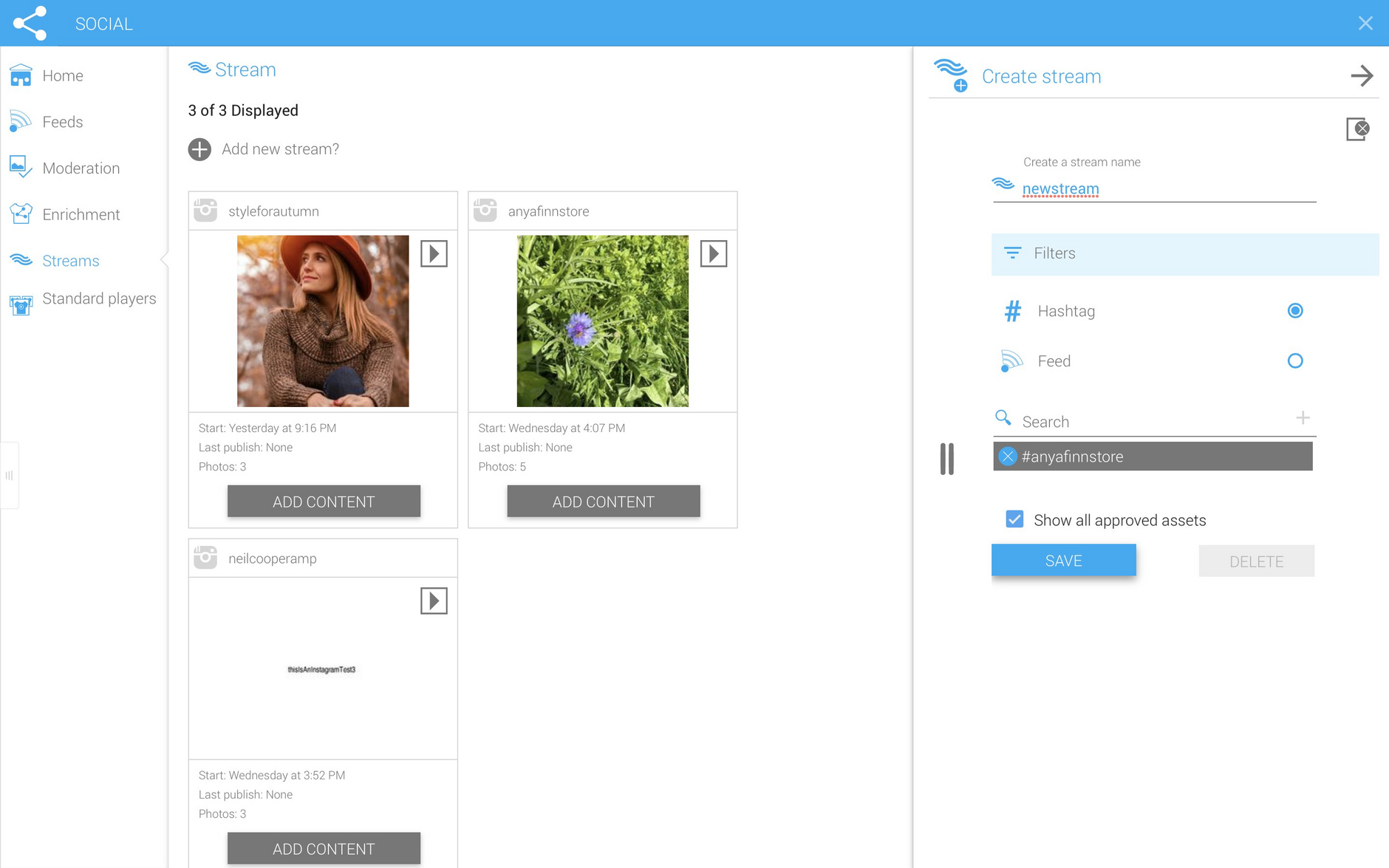 When the stream is created it will show in the main window.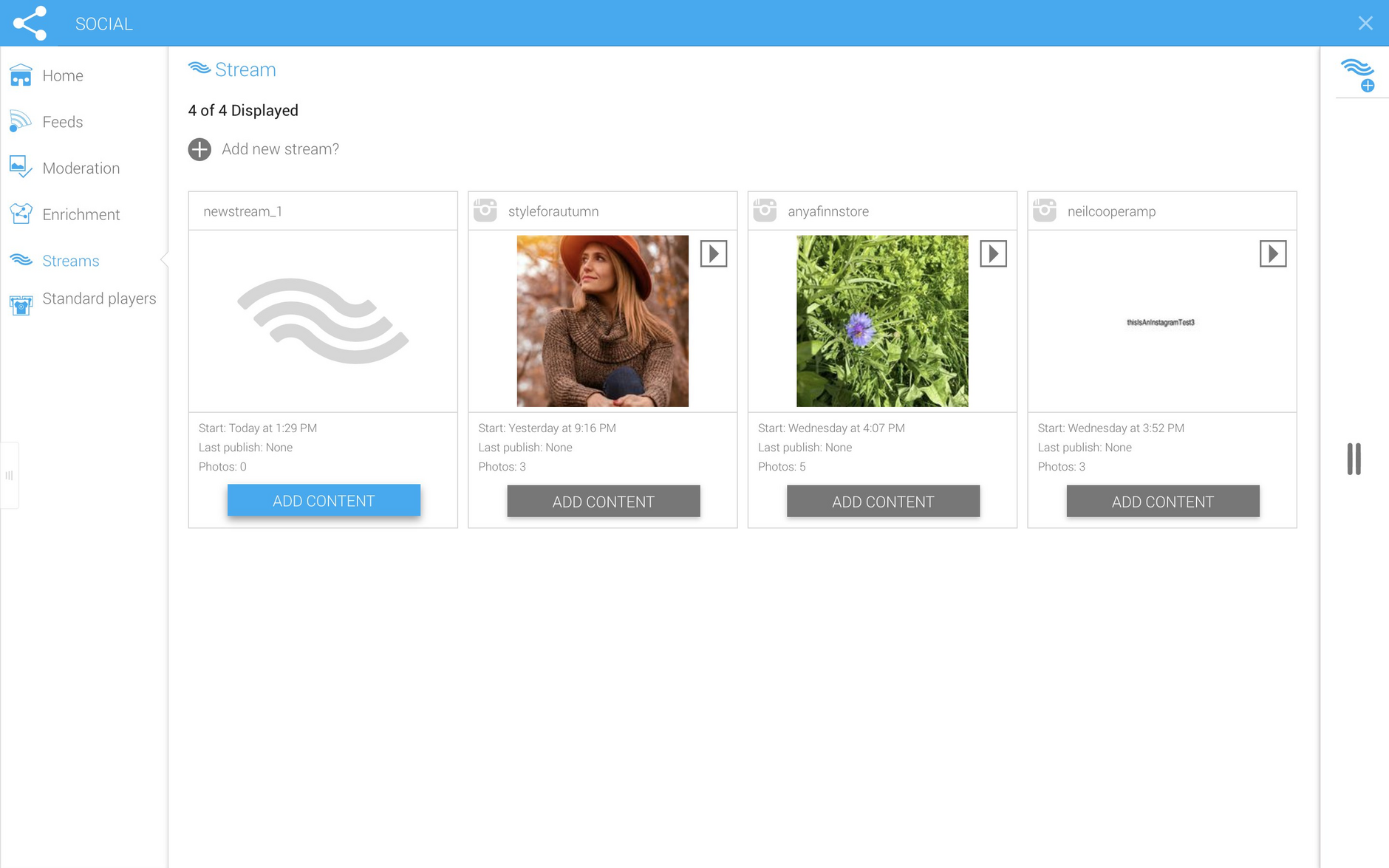 Adding assets to a stream
On the main page, click on 'Add Content'. This will show a page with all assets with the specified hashtag(s) in the stream where the images have been accepted and then enriched.
Click on 'Add to Stream' for each image you require to show in the stream. For any assets that have already been added, these will be highlighted in grey and appear in the right hand panel.
Clicking on 'Reset' will reset all of the changes since the last publish.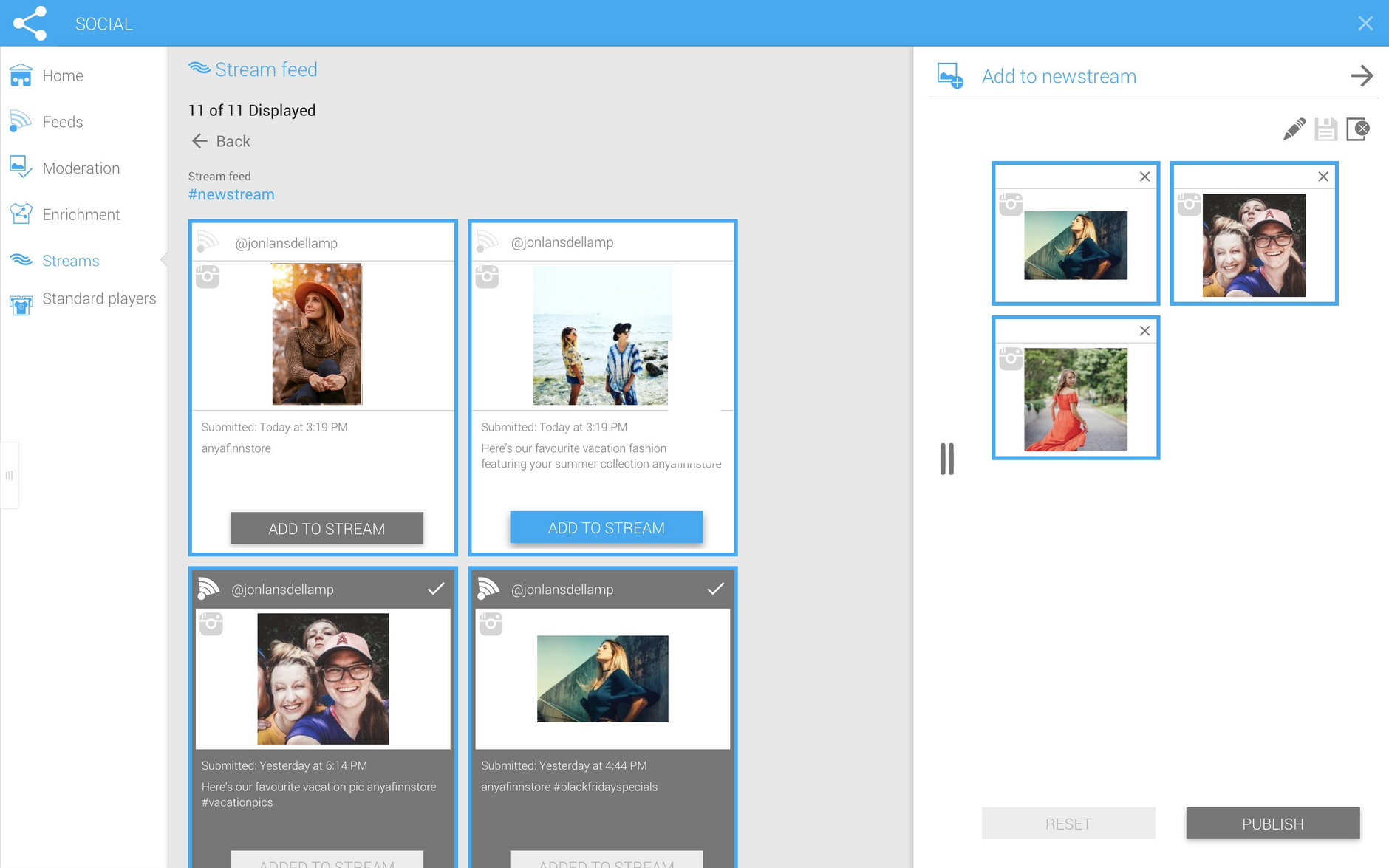 Clicking on 'Publish' will bring the following toolbar up at the top of the panel:
When the stream has been published a confirmation message will be shown.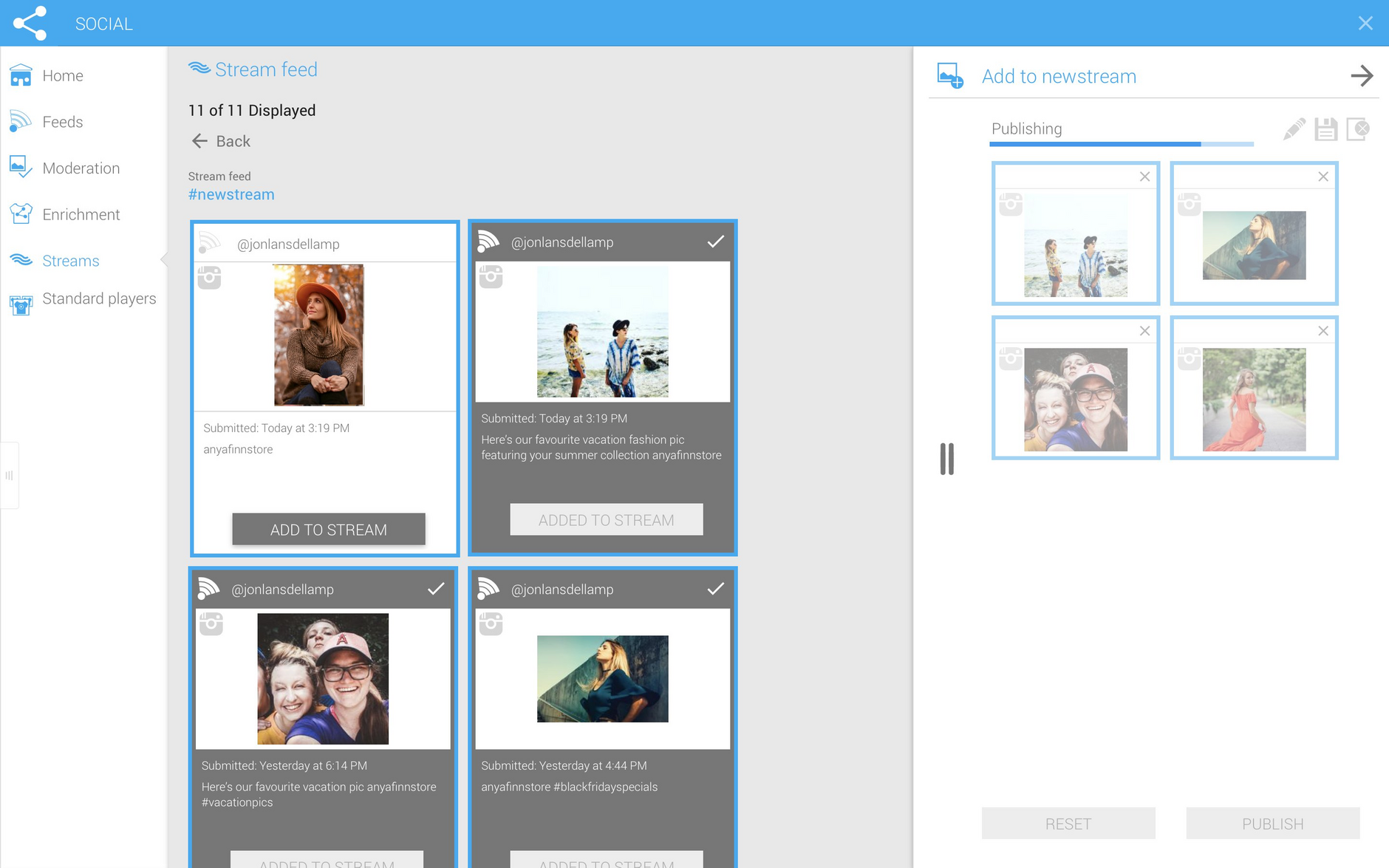 Editing a stream
A stream can be edited on the 'Streams' page by clicking on the thumbnail. This allows you to remove or add hashtags or delete the stream.
'Clear all' will remove all hashtags from the stream. These can be re-added.
Click on 'Save' to save any changes.
Click on 'Delete' to delete a stream.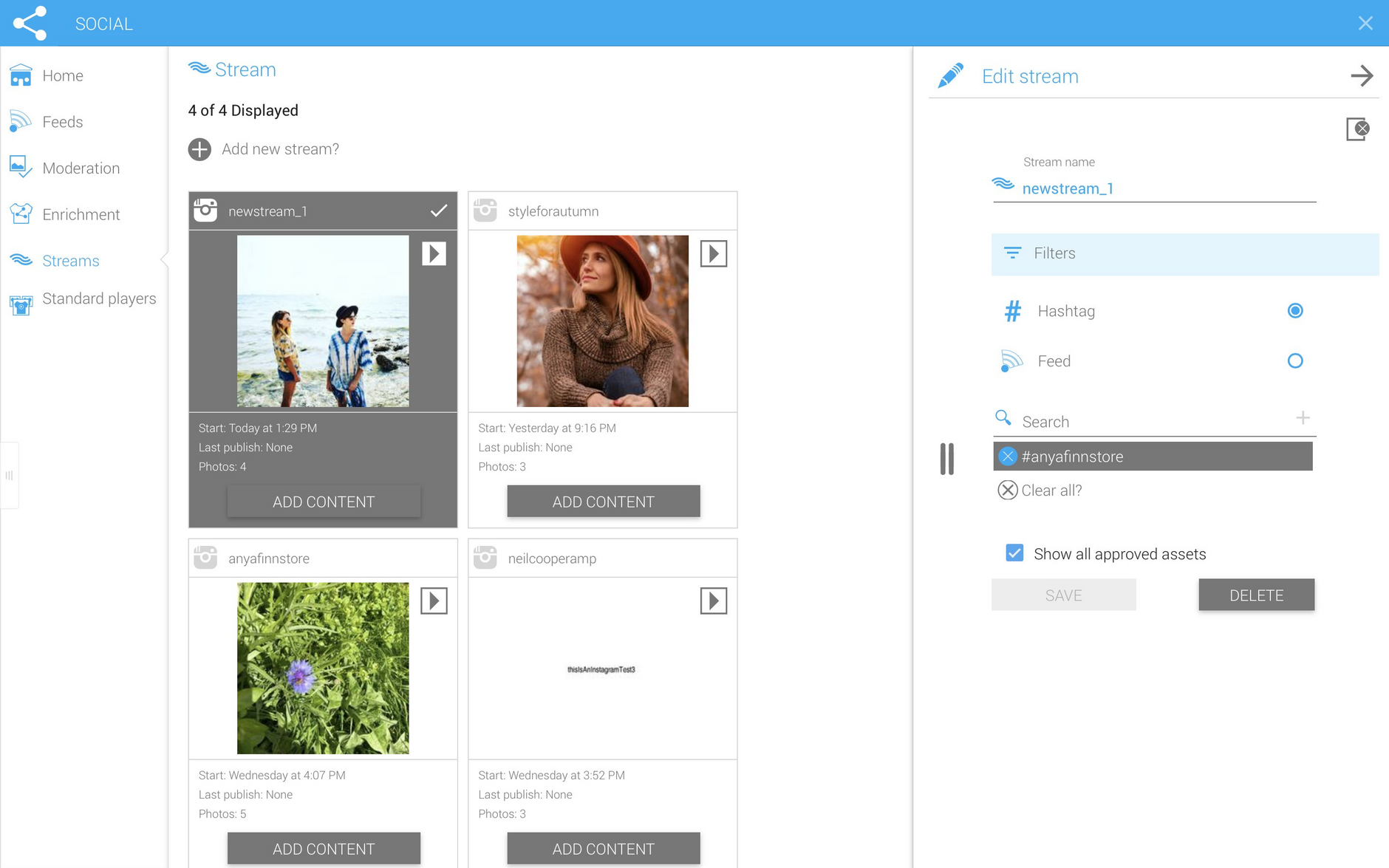 When adding content, a stream can also be edited by clicking on the pencil icon on the top left of the stream panel. You can remove images or continue to add images by selecting the image and clicking the "Add to Stream" button.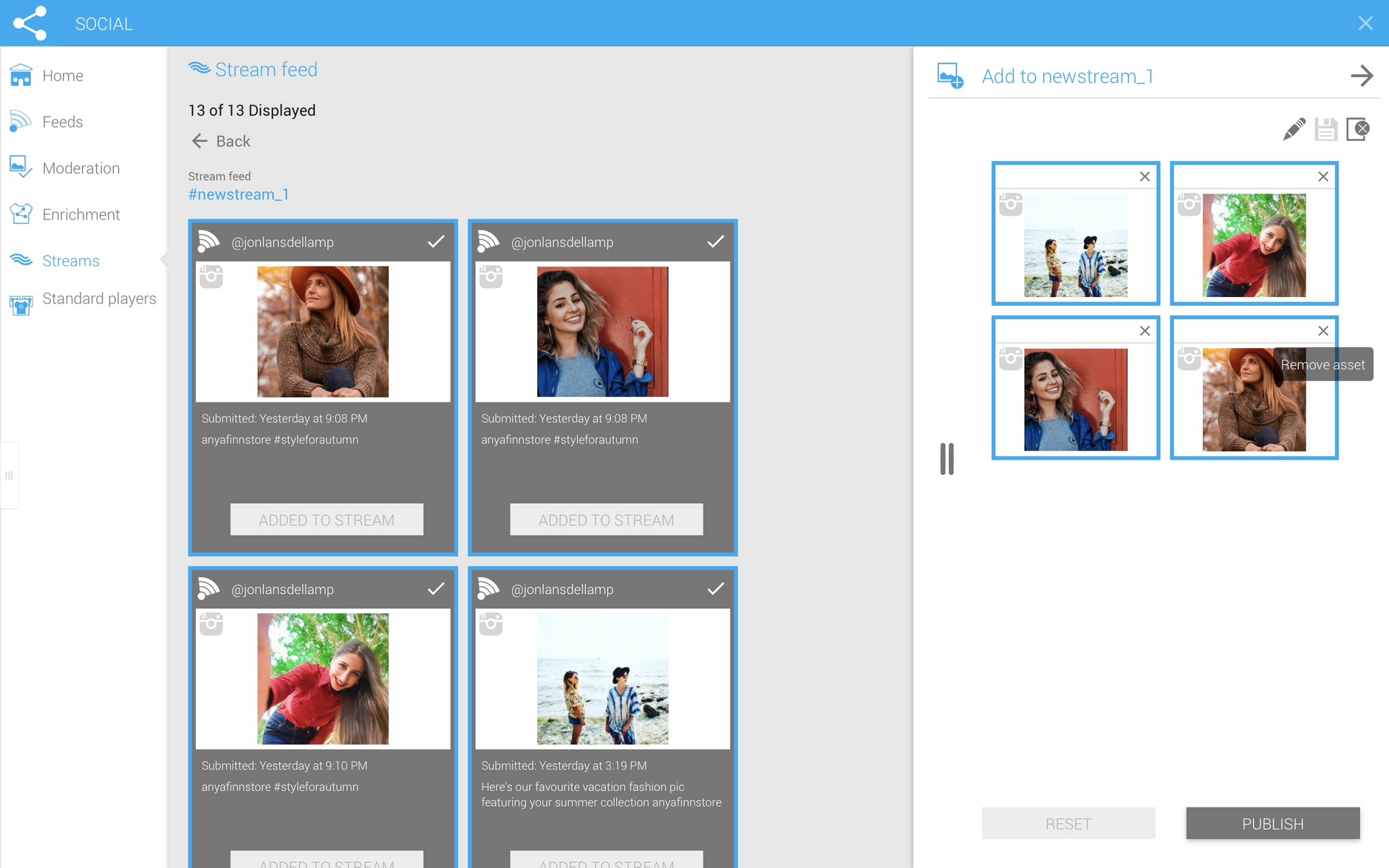 After adding or removing any content from your stream you should click the Publish button.