Commerce Success Requires a Transformation
Delivering on this promise requires a new Commerce Engagement Strategy to tackle the key challenges of delivering deep consumer engagement at scale.
A successful Commerce Engagement Strategy comprises three key components:

Content Strategy
A refreshed Content Strategy defines the plan, process and resources required to deliver a consistent stream of content, mapped to buyer needs, across all phases of the buying cycle.
As part of the strategy definition process, key challenges in the customer journey are identified and mapped to the kinds of content that are required to support the customer at each stage - from consideration through to purchase. In addition, brand marketing and merchandising objectives are analyzed to define the content needed to support campaigns, promotions and key selling events like Black Friday.
This analysis defines a catalogue of content types e.g. banners, panels, images, shoppable look-books, videos, UGC, editorial, blog and product copy, that are required in each channel for major, minor and BAU type content projects, as well as their frequency and reach. The process maps the production workflow for each content type, and defines a resourcing requirement by role.
"We've invested in our eCommerce proposition and have been rewarded with high levels of engagement."

-Sarah Lukins

Head of eCommerce, L.K. Bennett

Content Factory
It is only through the adoption of new ways of working that it is possible to effect an order-of-magnitude change in Content Velocity - to deliver enough content to power millions of personalized and targeted customer journeys, optimised for Reach, Quality and Agility.
The Content Factory is where the content assembly lines that produce the experience live. Just like their industrial counterparts, modern Content Factories use statistical methods like Six Sigma for quality control, and methodologies like LEAN to increase productivity by optimizing the flow of work through the system.
Amplience enables the Content Factory by defining content-as-data - turning the basic content types identified in the Content Strategy into the building blocks of the experience. This approach enables content to be assembled into the editions and events defined in the Content Calendar in a predictable and measurable way, transforming Content Velocity.
"Web architecture is dead, long live digital architecture!"

-John Williams

CTO, Amplience

Technology Roadmap
Modern Content Strategies call for the production and delivery of many new and complex content types, at higher frequency and greater reach to maximize performance. This new Commerce Engagement specifies agile, responsive experiences that work to seamlessly join multi-device and multi-channel customer touch-points into a single coherent shopping experience.
This has profound implications for outdated and inefficient content production processes - they must be transformed into a high-performance Content Factory. For this to be successful, the underlying technology platform must evolve away from dated and inflexible web architectures to encompass modern, API first Digital Engagement Architecture.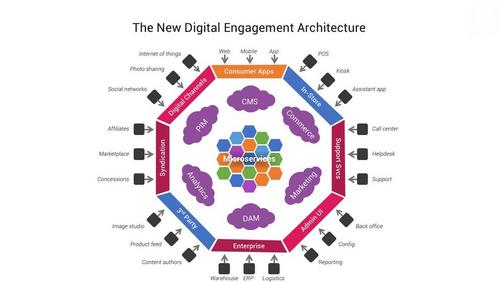 Implementing a Digital Engagement Architecture requires a rapid evolution of the systems that support key business process and that enable high-performance content delivery. Aligning this change to the priorities of the business is the role of the Technology Roadmap - which defined the key implementation projects along the digital transformation journey.
"Consumers expect to buy anything, anytime, and anywhere. The same [expectation] holds for content."

-Scott Lux

VP Digital & eCommerce, John Varvatos
Amplience works with leading consulting firms, agencies and system integrators to deliver the business transformations required to engage deeply at scale with the new consumer.