Today's consumer behaves very differently than even a few years ago-she is accustomed to more choice, has higher expectations of the shopping experience, acts "mobile first", and connects with her peers on social media to make more informed decisions. Amazon is replacing Google as her product search engine of choice, and while she still loves her favorite brands, they have to work much harder to gain-and keep-her attention.
As a result, the KPIs that drive the eCommerce business model-customer acquisition cost, on-site-engagement and sales-conversion-are all in decline. Shopping Crisis
The new consumer is always on and always connected.
She flows across multiple channels. She controls her relationship with brands-engaging whenever, wherever and however she wants. She shops-on her own terms-in a visual-social-mobile-first reality:

Visual
Visual is the language of today's consumer. She expects high-quality, engaging visual content in the vein of Instagram's high-fidelity lifestyle media, with the same consistent look-and-feel in every channel - otherwise her experience suffers.

Social
Twenty percent of all time online is spent engaging with social media-an engrossing activity that competes with your brand for attention-and it is through this medium that peer recommendations drive brand and product preferences.

Mobile
"Mobile is the front door" with eCommerce traffic on smartphones now exceeding desktop traffic, but retailers are struggling to drive mobile conversions. 84% of online shopping carts on smartphones are abandoned.
The toll of the Digital Shopping Crisis is evident in declining industry KPIs. Time-on-site and conversion rates are falling, while the cost of customer acquisition, content production and time to produce content are all rising. "Stickiness" - a measure of visitor's engagement - on retail websites has plunged 42%.
The higher expectations of the new consumer have minted a new currency: attention. Consumers already visit retail websites less frequently (1.31 visits/month) than any other industry studied. In part, this is because the content refresh cycle has shortened. It no longer follows a seasonal rhythm, but it is now a weekly, daily or hourly content flow more familiar to the production departments of media organizations.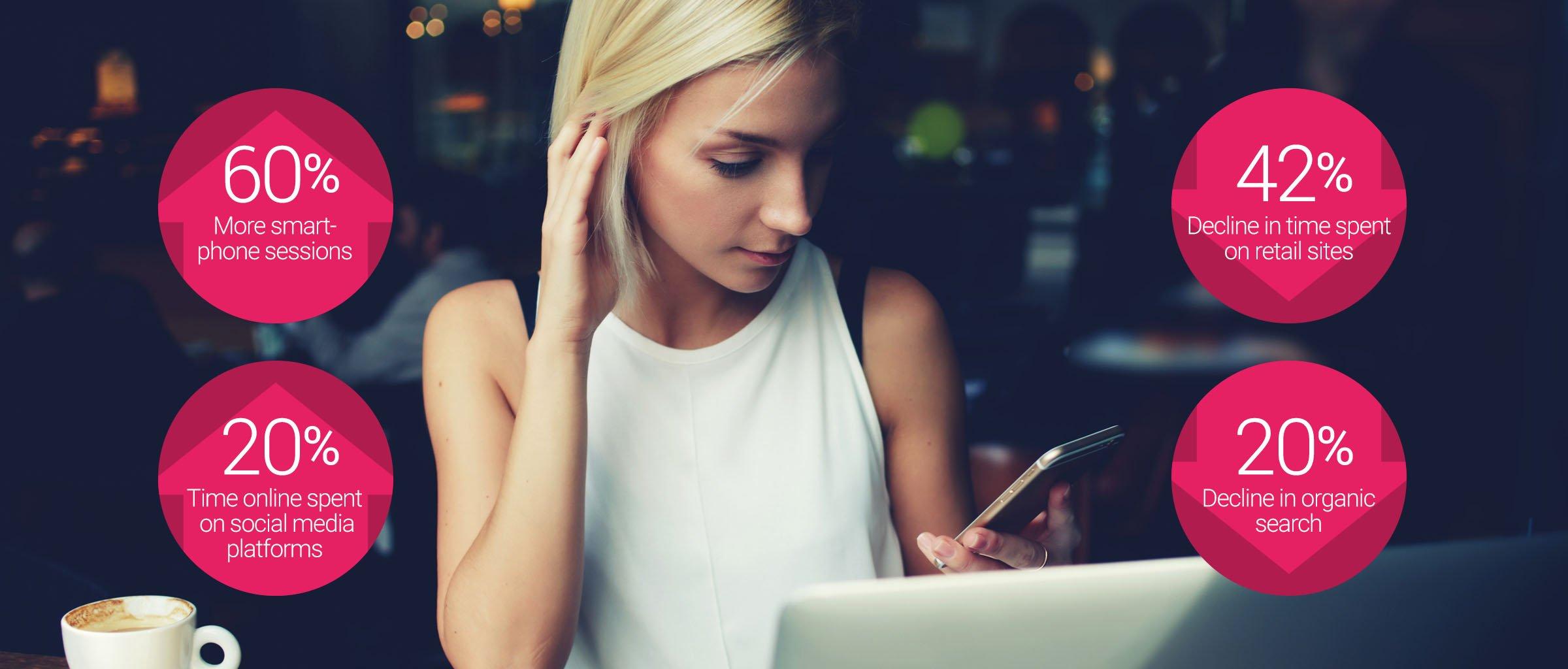 Retailers must work harder to differentiate themselves amidst the explosion of shopping choice - or risk irrelevance. They must provide inspirational and engaging experiences for their shoppers, with relevant and timely campaigns across web, email, and mobile properties, on all devices with dynamic content driven experiences.
Relevant and targeted content is required to maintain customers' fleeting attention, engagement, and avert the consequences of today's Digital Shopping Crisis.
"Customers' expectations are continually increasing. The market's becoming more competitive. There's more exciting and engaging kinds of technology and shopping experiences springing up all over the place. We have to ensure we are cutting edge and we offer a great experience across any device."

-Paul Hornby

Head of eCommerce, Shop Direct Tsunami of Content
Solving the Digital Shopping Crisis is also an unprecedented content production challenge.
Average site statistics obscure an important truth-actual shopping journey results vary significantly. When content is fresh and relevant, properly targeted and aligned to great product offers, conversion-to-basket can be as much as 5X higher than the average. So the key question for eCommerce teams is: "How can I replicate the success of my best campaigns, across more journeys, and more often?"
The answer is to leverage behavioral, location and marketing-driven segmentation data to better target offers, promotions and creative to drive higher engagement and, ultimately, conversions.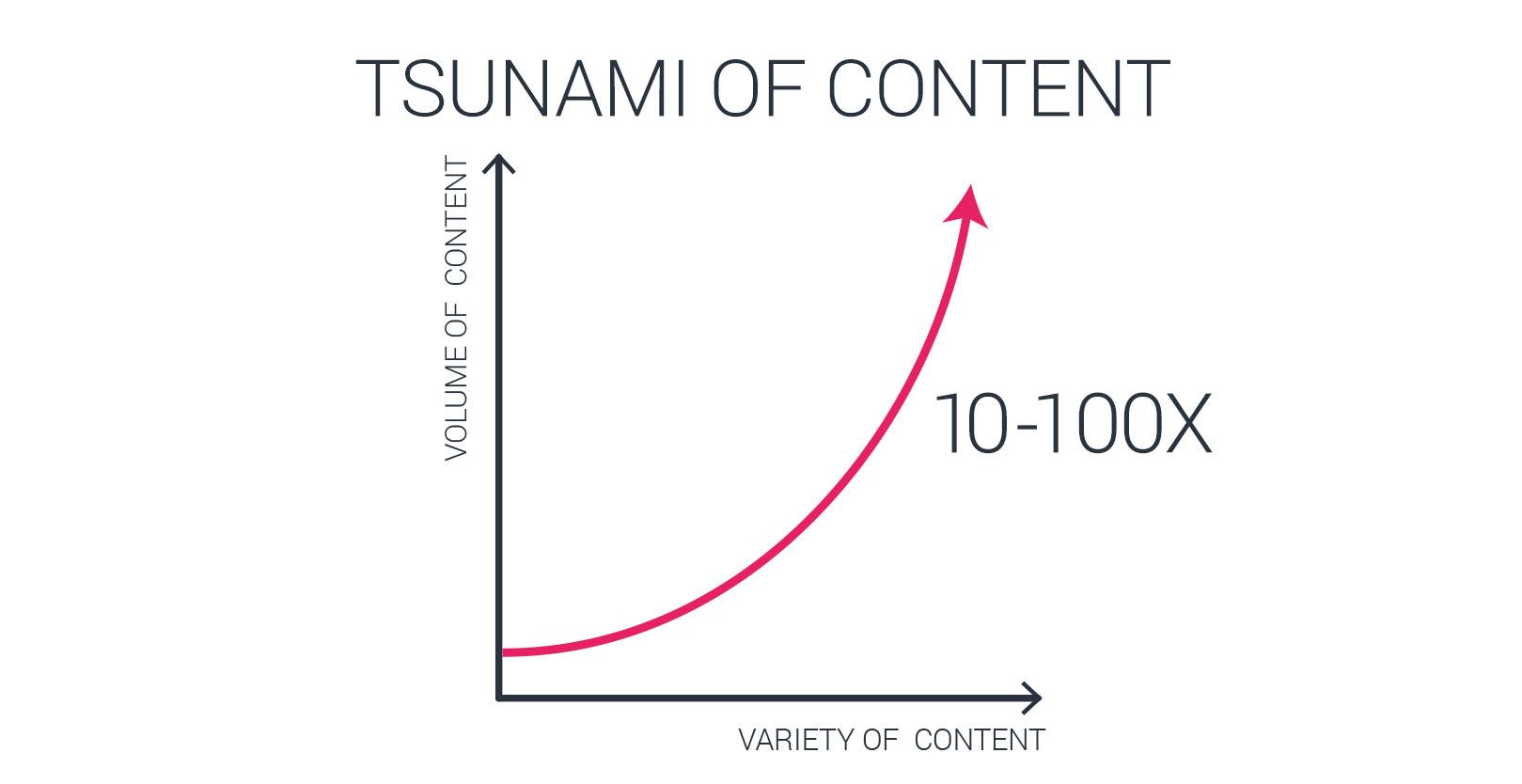 But that is not all: the analysis that leads to an effective Content Strategy helps content teams to better understand how to solve shopper challenges throughout the journey-and modern Content Strategies demand a different range of content types.
For example, curated social media-such as Instagram images featuring brand product can provide social proof that encourages higher order-values. Shoppable look books and videos can combine brand media with product data to drive engagement and conversion. Additionally, blog and feature content can provide brand context and inspiration at key stages of the shopping journey.
As a result, eCommerce teams consistently underestimate how much content-in volume and variety-they need to deliver consistently high-quality outcomes. The reality is that successful online retail requires a way to scale-up content production by as much as 100X current output-a real "Tsunami of Content" that will enable relevance, engagement, targeting and personalized experiences.
"When consumers have new devices or use new channels, they force retailers to create new systems to support them. That complexity slows retailers down, so they are no longer as agile as they once were, and they cannot create content as frequently as they once did."

-James Brooke

CEO & Co-Founder, Amplience

Outdated Content Factory
Content production teams struggle to satisfy the existing demand for fresh and engaging content.
A combination of poor tools, incomplete integrations, siloes of content and broken processes result in compromised customer journeys that are optimized to deliver on only one dimension of Reach, Quality or Agility.
However, that is no surprise-the current product system was designed to support the requirements of the last retail era-the first of eCommerce-which consisted of a single web channel serving a less sophisticated consumer, typically on a desktop web browser.
Since then, new tools and content platforms, tactical solutions implemented to address new content challenges brought about by mobile device adoption, or migration to emerging social and sales channels have all been added to the mix.
The result is poor productivity, caused by broken processes at every stage of the production lifecycle: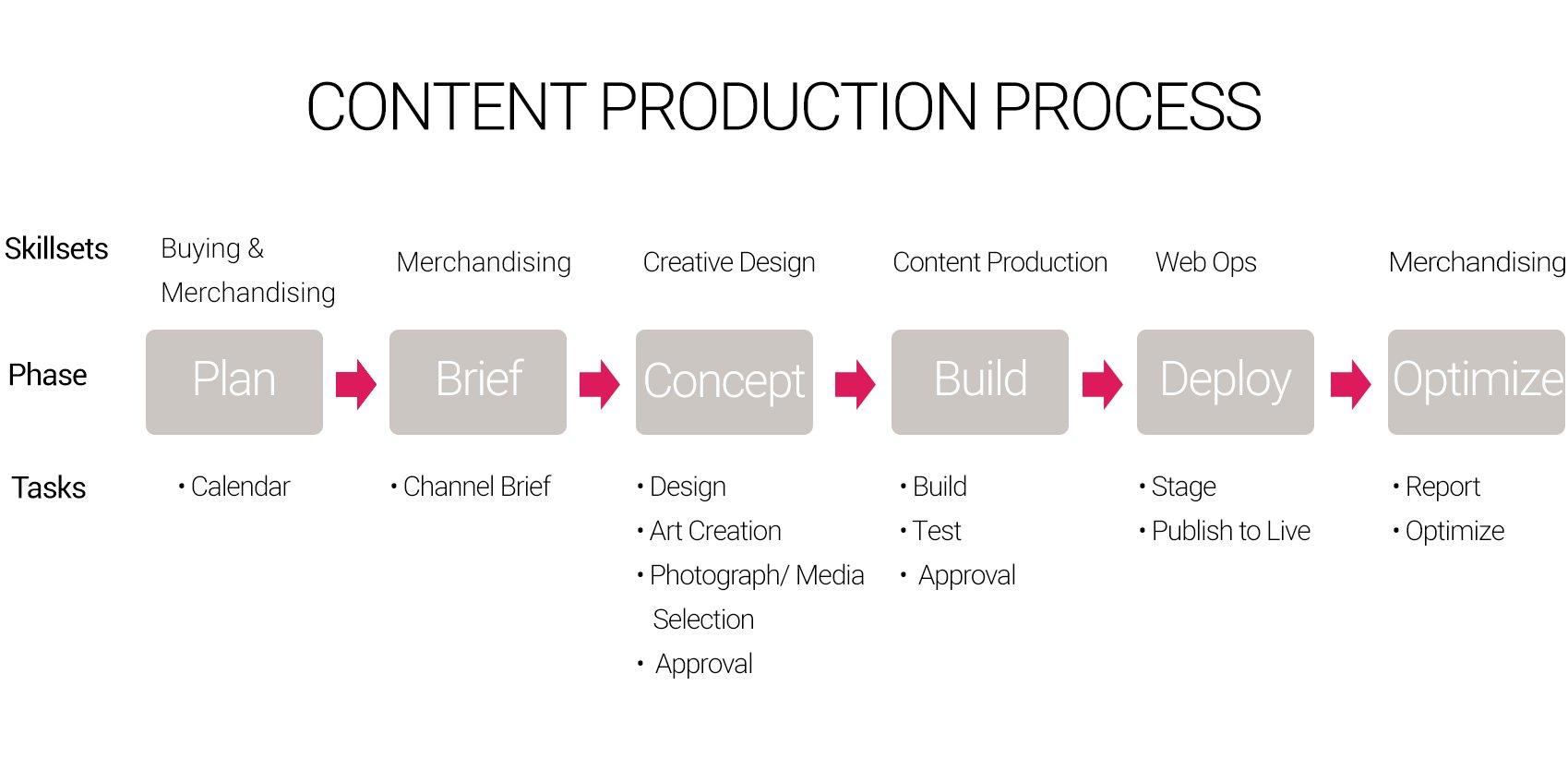 Bottlenecks exist at every phase, whether planning, briefing, producing, deploying or optimizing. Too often, creatives spend their time producing media variants and developers are required to build custom HTML for every content module.
And these challenges are multiplied when content is required across dozens of segments, channels and content types. It takes too long and too many resources to deliver the most engaging experiences, so the experience is compromised, leading to reduced engagement and sales performance.
Addressing the Digital Shopping Crisis requires the adoption of a new content strategy. The winning strategy recognizes the shift in consumer behavior drives fundamental changes to, not only, the Content Strategy, but also to the Content Factory people, processes and technologies that ultimately enable the production of 10x-100x more content that deeply engages consumers, and converts them at the exact point of inspiration.
"Consumers expect to buy anything, anytime, and anywhere. The same [expectation] holds for content."

-Scott Lux

VP Digital & eCommerce, John Varvatos