Top retailers, technology vendors, and partners came together at the inaugural Retail Engagement Summit
Voice commerce, content strategy best practices, and "boring is sexy", among the highlights at the inaugural Retail Engagement Summit Tuesday, March 21, 2017
We were pleased to welcome over 60 companies from top European retailers, technology vendors and partners to our first Retail Engagement Summit at the Institute of Engineering Technology (IET) Savoy Place, London.
The IET is one of the world's largest engineering institutions with over 168,000 members in 150 countries; so it seemed fitting for us to host our Inaugural Retail Engagement Summit at the venue to celebrate innovation of Engineering and Technologies.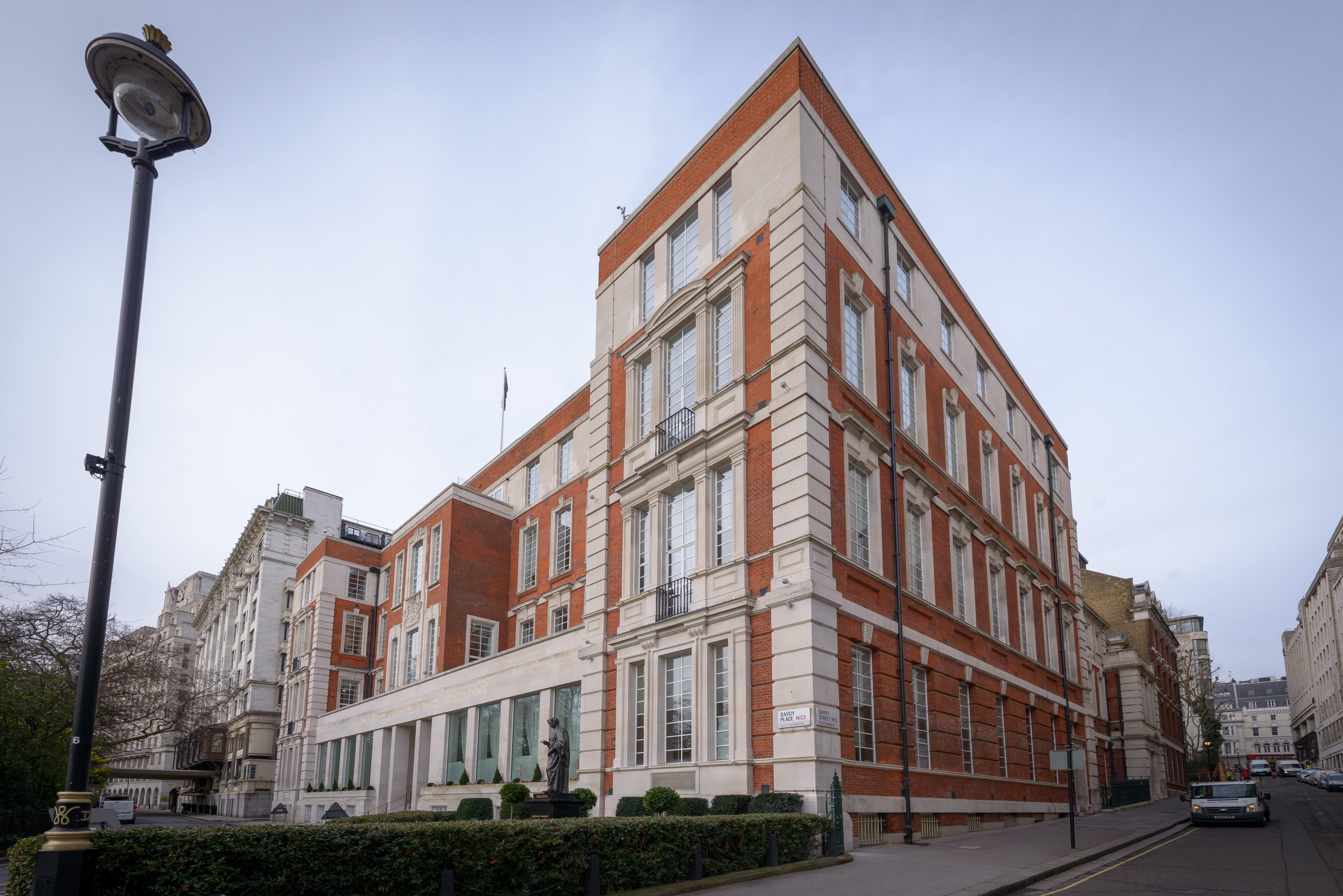 The Summit kicked off with a user session designed exclusively for customers to look under the hood to learn how to get even more out of the Amplience Content-as-a-Service platform. The Amplience Product & Customer Success teams also shared a sneak peek of the product roadmap and question & answer session.
During the networking lunch that followed, Amplience showcased an Amazon Echo programmed with Amplience content by Amplience CTO John Williams.
Below is a collection of some of the tips and tricks from top industry thought leaders at the Retail Engagement Summit:
"Retail Engagement Strategy"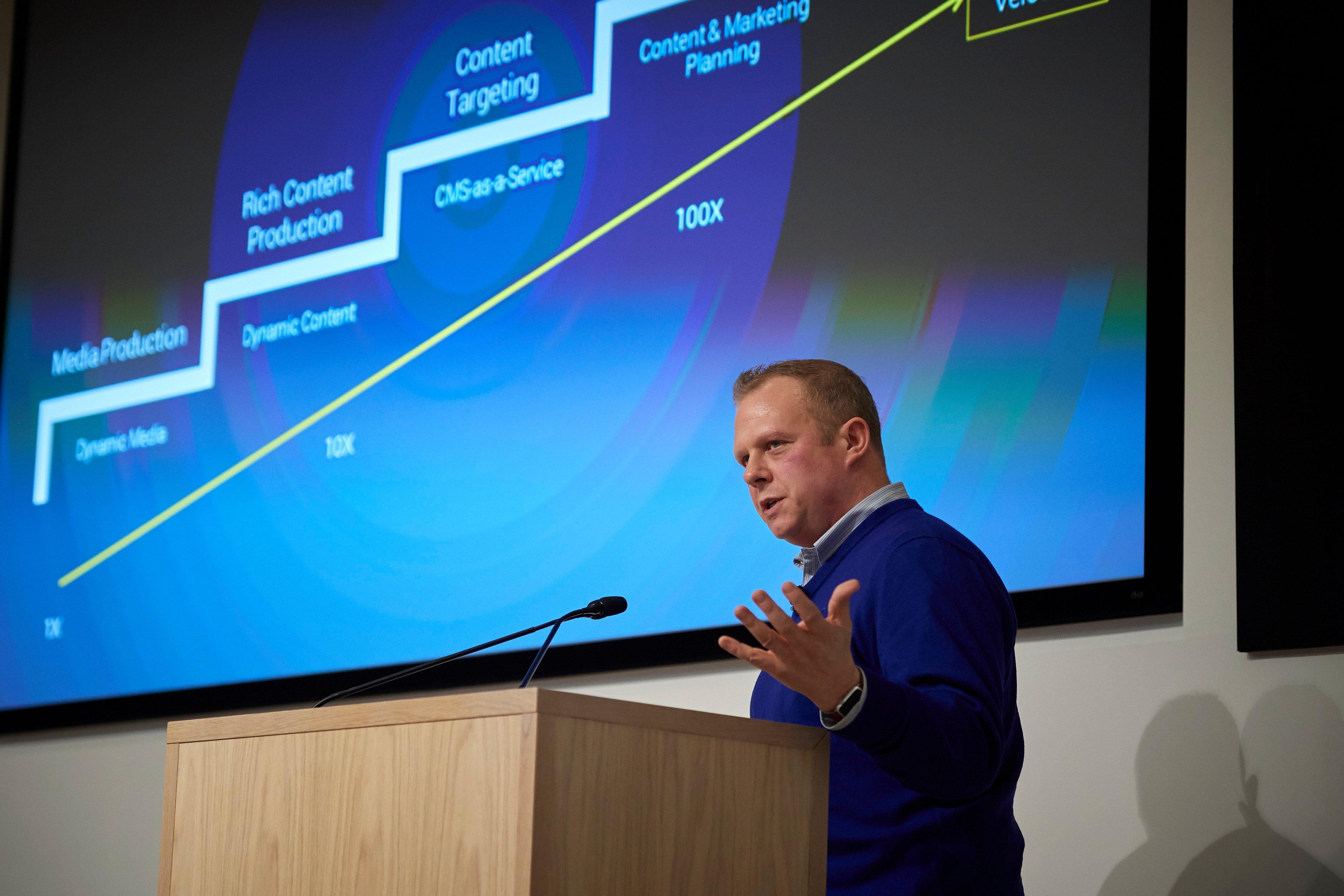 Following the networking lunch, CEO James Brooke welcomed the attendees and described how retailers are awakening to a new era of retail. The customer of today acts entirely differently, with more expectations and choices than customers of the past. eCommerce and retail companies must accept they do not control the relationship with the customer. Retailers are invited to join shoppers' world, but they cannot direct it.
Delivering on this promise requires a new Retail Engagement Strategy to tackle the key challenges of delivering deep consumer engagement at scale. A successful Retail Engagement Strategy comprises three key components:
1. Content Strategy: A refreshed Content Strategy defines the plan, process and resources required to deliver a consistent stream of content, mapped to buyer needs, across all phases of the buying cycle. As part of the strategy definition process, key challenges in the customer journey are identified and mapped to the kinds of content that are required to support the customer at each stage – from consideration through to purchase.
2. Content Factory: The Content Factory is where the content assembly lines that produce the experience live. Just like their industrial counterparts, modern Content Factories use statistical methods like Six Sigma to increase productivity by optimizing the flow of work through the system.
3. Technology Roadmap: Modern Content Strategies call for the production and delivery of many new and complex content types, at higher frequency and greater reach to maximize performance. This new Retail Engagement specifies agile, responsive experiences that work to seamlessly join multi-device and multi-channel customer touch-points into a single coherent shopping experience.
"Content is still king… but context now shares the throne."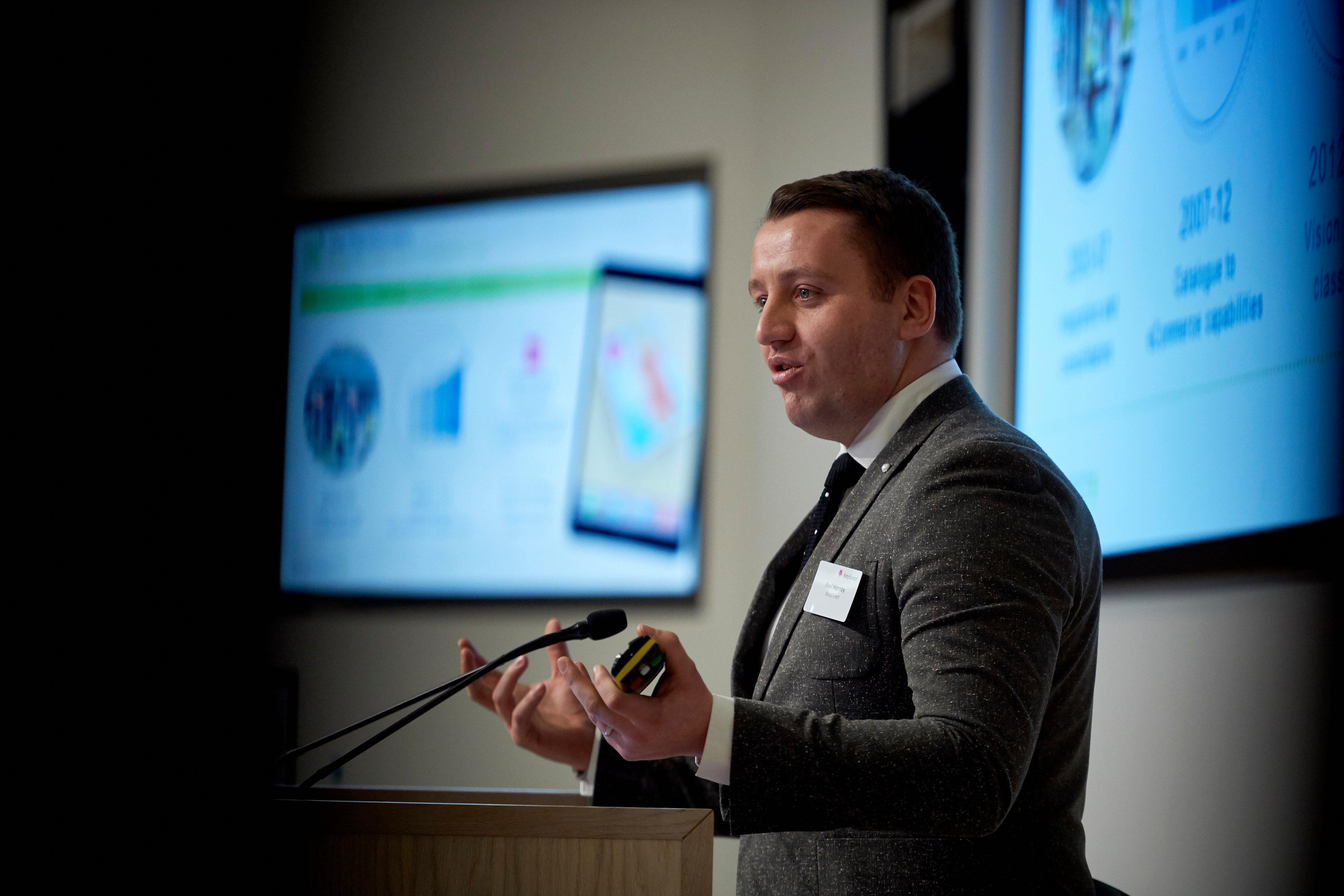 Paul Hornby, Head of eCommerce at Shop Direct, guided attendees through the transformation of Shop Direct from 2003 bricks (in-store and catalogues) to 2012 clicks (pure play eCommerce retail).
Hornby described the discovery phase where the team tested different technologies to evaluate the providers for their eCommerce and the change in ethos they intended on driving within the business to create a new content development process. After their six week discovery phase, they chose Amplience.
Hornby explained a pyramid framework through which to scale Personalization, and, in turn, making the customer journey as easy as possible:
"If you think about ease as a pyramid, the bottom of the pyramid is making the customer journey—regardless of price or touchpoints—making it easy for everybody. And then you start thinking about how you make the journey easier for specific segments of customers, and then, as you move up that pyramid, you start thinking about how you can make the journey and the content within that journey contextually relevant at a more granular level until you eventually get to a level where you are ultimately personalizing on a one to one basis."
"If customers aren't getting the answers, then we are losing them…"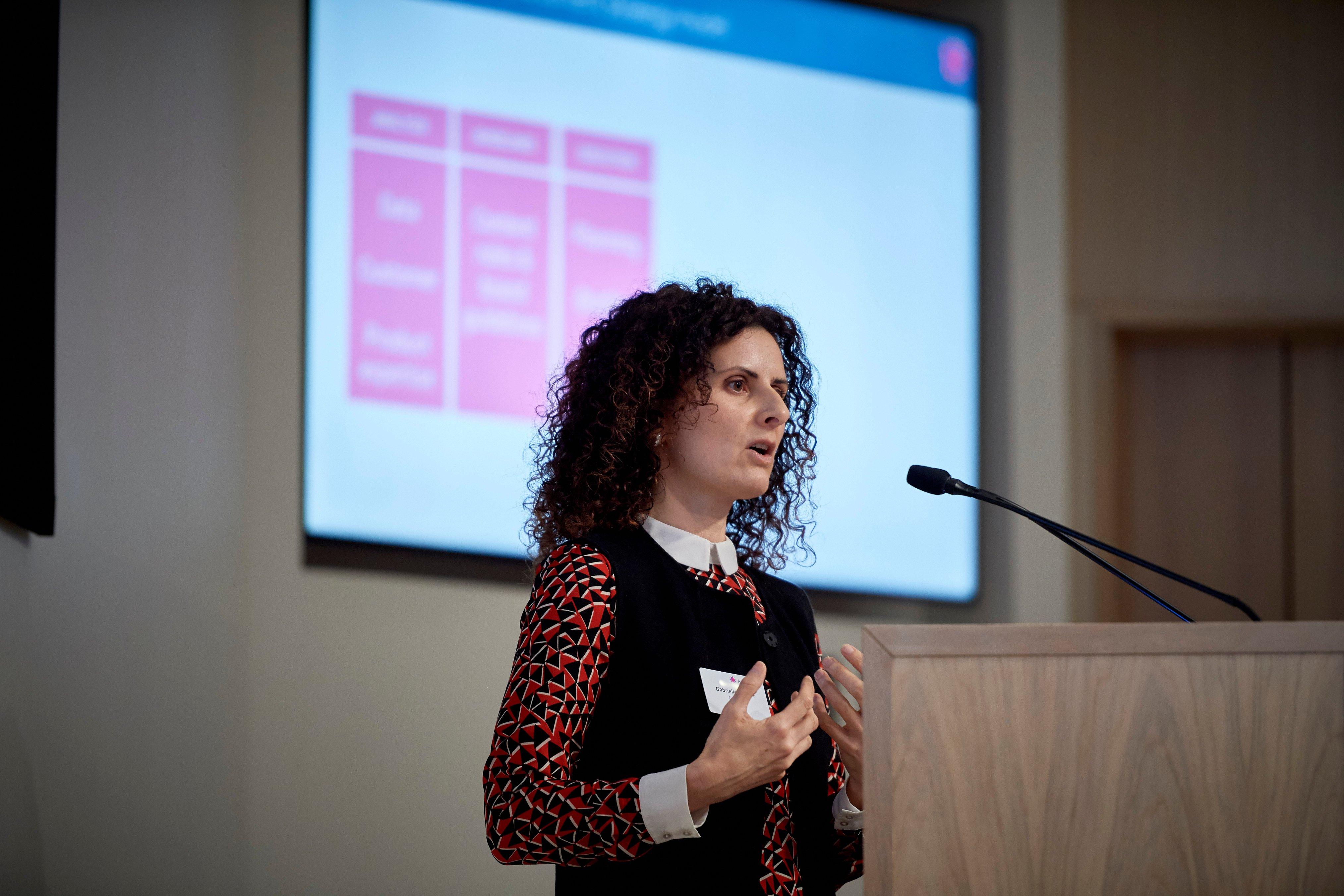 Gabrielle O'Hare, Content Strategy Director, DigiVoxx, then took to the stage and shared the importance of Content Strategy in driving shopper engagement. She explained how the use of data is required to analyze and create content targeting to fulfill customer needs and how product pages need a depth of information to help consumers make a decision on purchasing the product.
"It could be if consumers are buying a piece of furniture, you're not talking enough about the materials that it's made out of. If customers aren't getting the answers, then we are losing them," O'Hare reflected on Content Strategy blind-spots. "There is a real problem where we don't anticipate all the customers' questions. We don't understand what's really important to them. And we're not able to provide that for them in that environment to work out if that product is right for them or not."
"Boring Is Sexy!"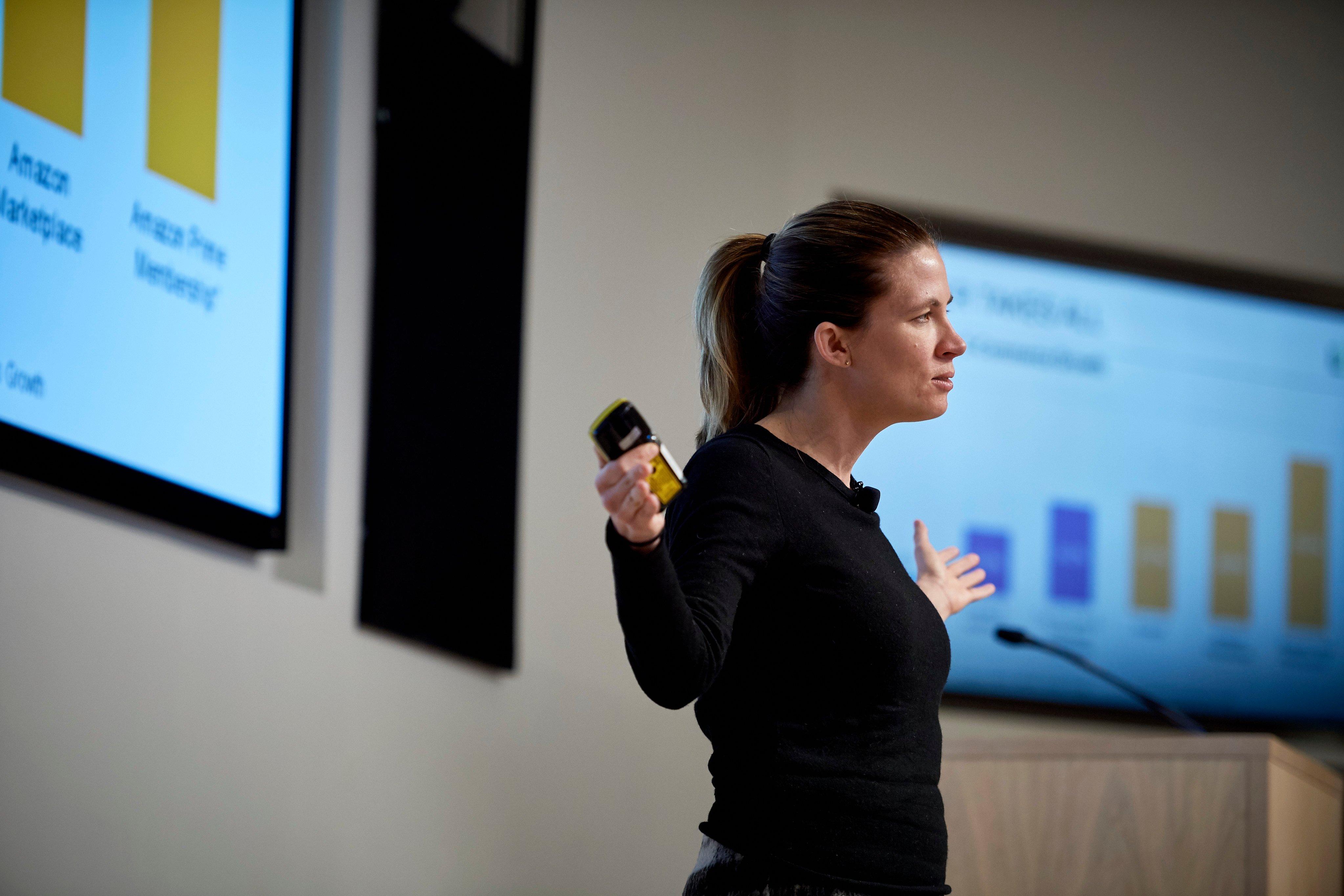 Maureen Mullen, Co-founder and CSO, L2, summarized the L2 Digital IQ Index findings, where top brands are measured for their digital performance in relation to their peers and gave insight into eCommerce growth. Mullen highlighted the common mistakes made by retailers in eCommerce and gave the best in class examples of how retailers can merchandise their products online using dynamic content.
Mullen noted, paradoxically, "boring is sexy" when it comes to eCommerce best practices. She explained, "One of the biggest gaps between best in class digital strategy is execution. Organizations that really do a good job of this stuff is they prioritize the things that nobody even necessarily sees. They're not focused on sexy content strategies or focused on how do you create a world class content campaign. They are focused on broken links. Making sure content integrates well with commerce. Making sure a lot of the tactical execution on sites, apps, and properties is quite strong."
"Build or Buy?"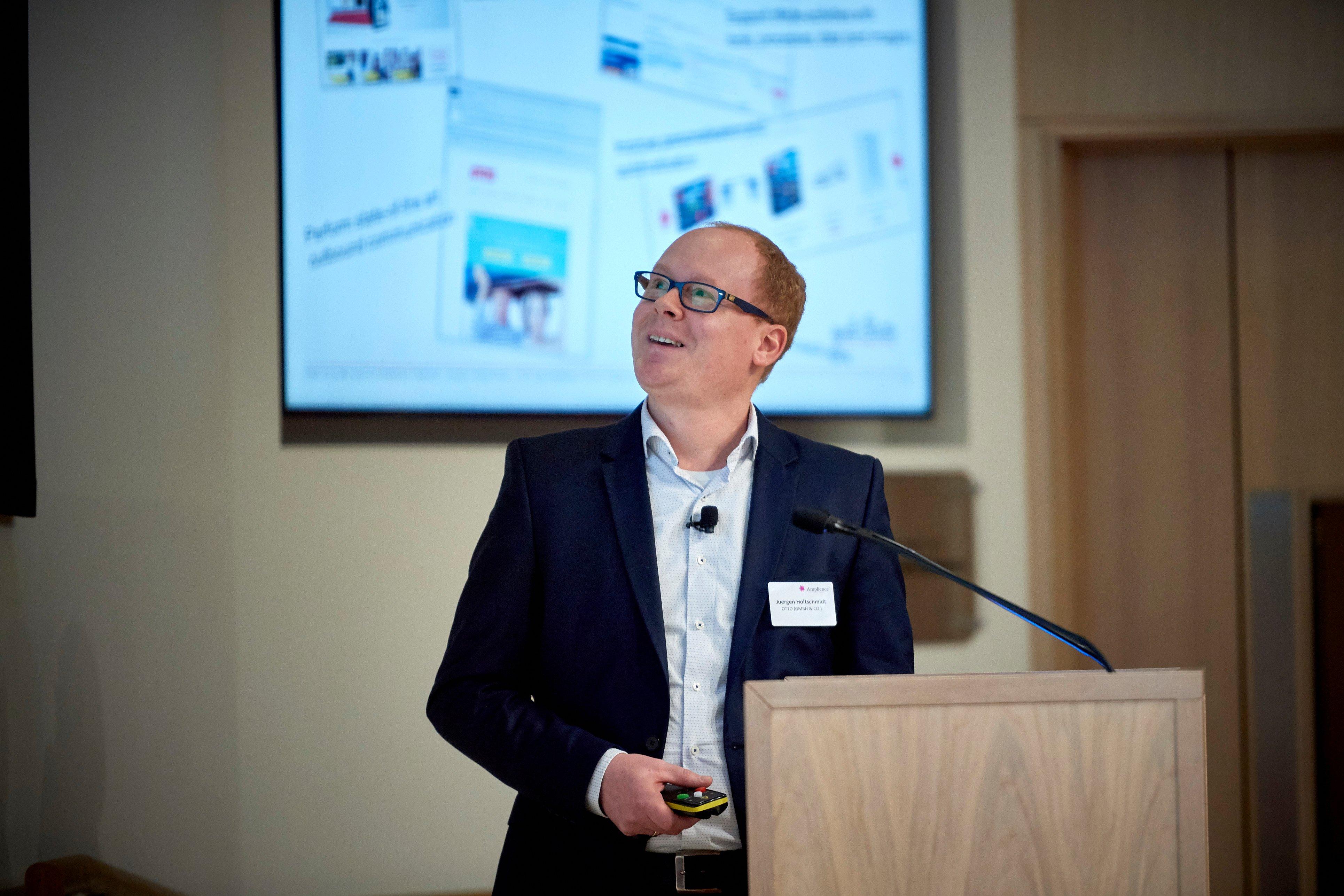 Juergen Holtschmidt of Otto.de recounted the challenges Otto had faced with their old technology architecture—a lack of responsiveness on their sites, fragmented eCommerce approach and architecture that failed to support the needs of the business.
He explained how and why Otto.de decided to migrate to Amplience after assessments had been made on whether to 'build' their own or 'buy'. After researching Amplience's capabilities and working with the team, Holtschmidt found the new approach motivated employees by giving them more responsibility than before. He finished by showing the 'Amplified' Otto.de site.
"The important thing in omnichannel customer experience is…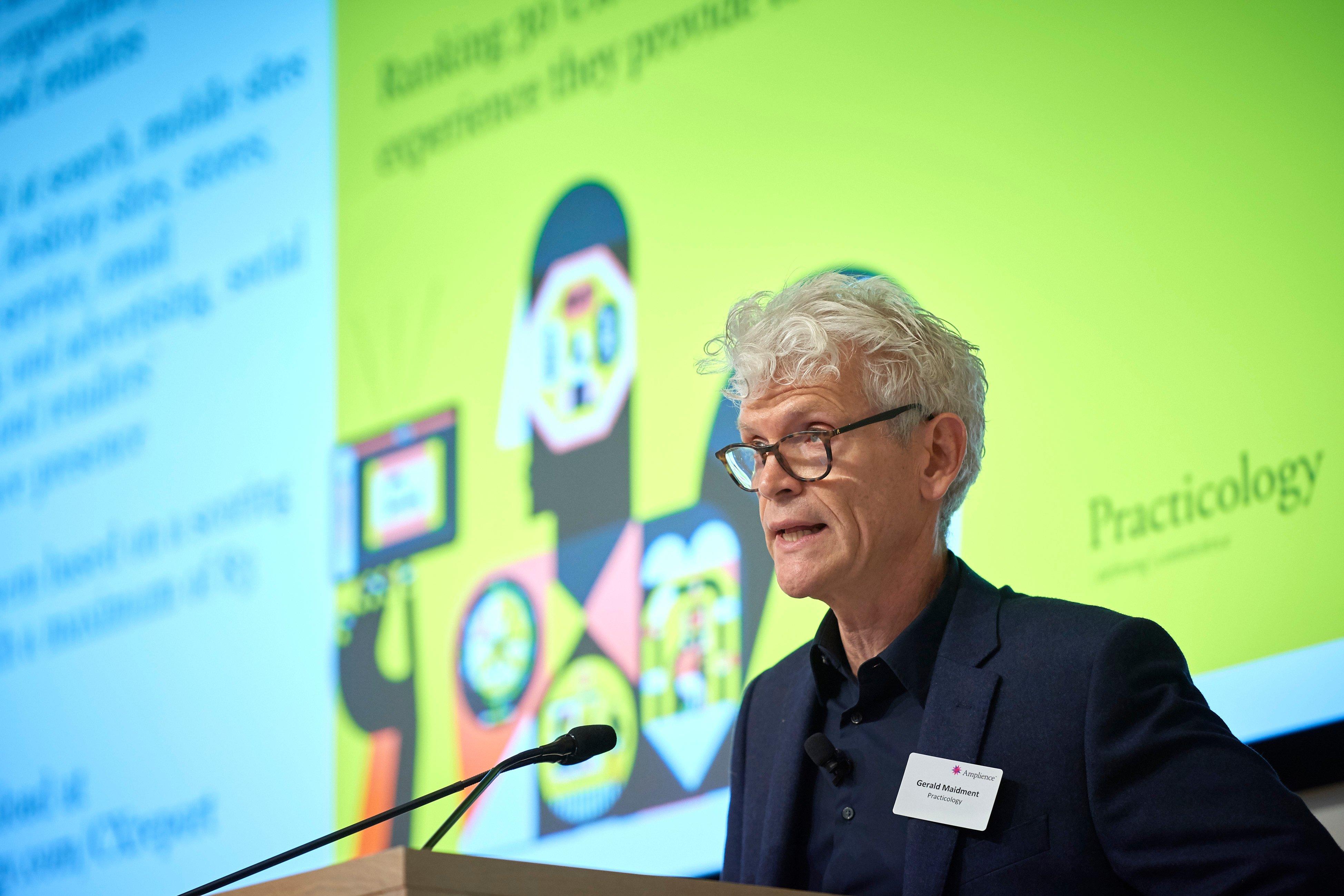 Gerald Maidement of Practicology, a multichannel and eCommerce consultancy, presented the results of the Practicology omnichannel CX report – designed to benchmark retailers based on their mobile sites, apps, desktop sites, stores, customer service, email marketing, advertising and social channels.
Maidment provided examples of retailers earning high scores in their report and those who have areas that can be improved on. He rounded out his discussion with best practices and recommendations for retailers to improve their online presence.
"The important thing in omnichannel customer experience is to make sure your channels are tied up," Maidement explained. "It's about making sure when you're on your mobile there's click to call so you don't have to wait around and fiddle for your number. And also, that the content is consistently displayed."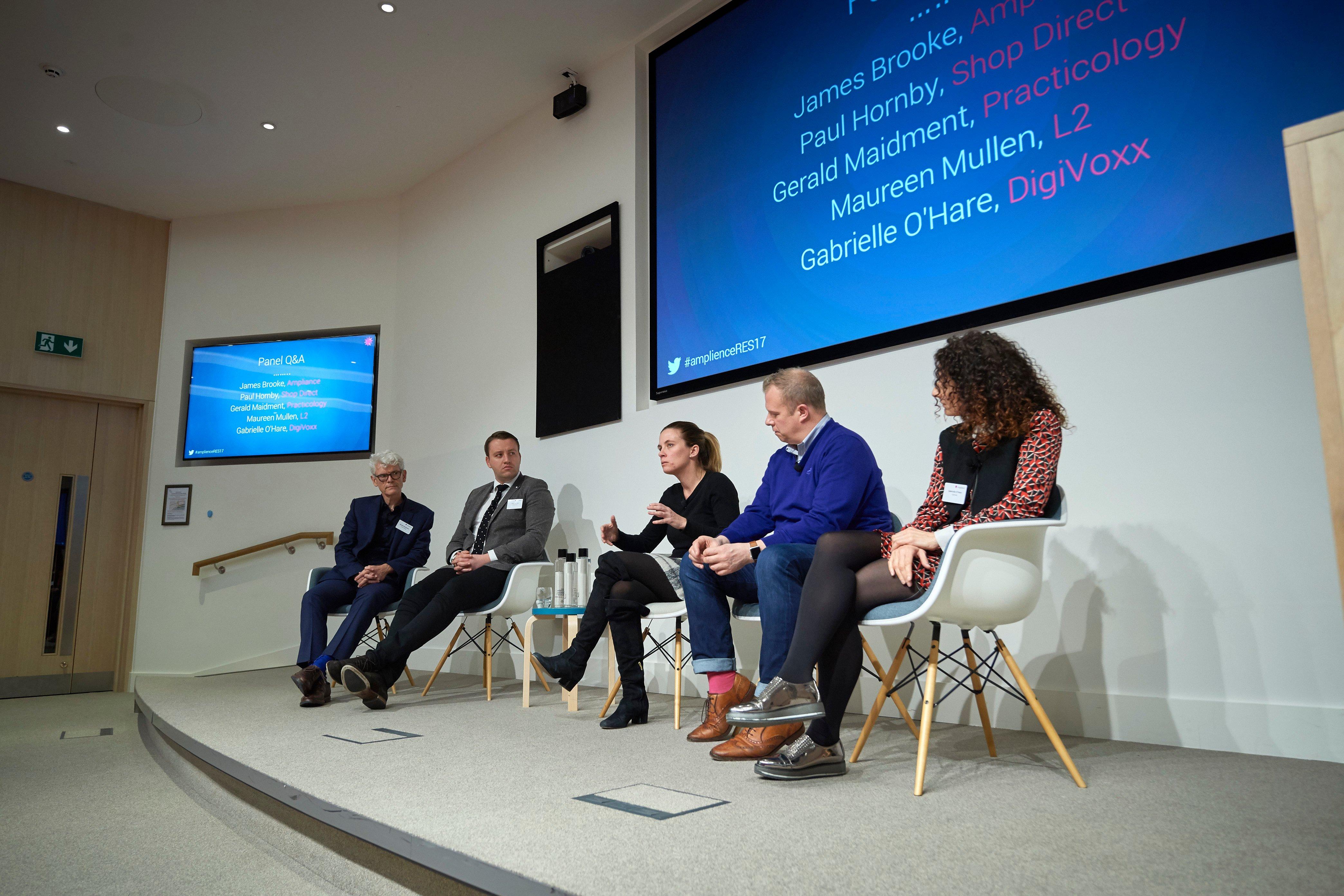 The last stage event of the day was a Q&A panel led by Rory Dennis (Amplience) with James Brooke (Amplience), Gabrielle O'Hare (DigiVoxx), Gerald Maidement (Practicology), Maureen Mullen (L2) and Paul Hornby (Shop Direct).
The summit wrapped up with our drinks reception (kindly sponsored by SAP Hybris) where our delegates and presenters had plenty of networking opportunities.
We thank our guests and speakers for your time and contributions in making the inaugural Retail Engagement Summit truly memorable, and we look forward to taking the show on the road and hosting our New York Retail Engagement Summit on Tuesday, May 2.