In this release, we've made it easier and quicker for you to create and manage your content type schemas within Dynamic Content. We've provided shortcuts to save you time and a new preview feature to make sure your schema is exactly the way you want it.
New developer landing page
We've added a new developer home page to provide easy access to the features in the development section, as well as documentation, API references and SDKs. You can access the home page by clicking the "Development" menu title. However, if you do not currently have access to a feature listed on the development home page, the link to the feature will not be enabled.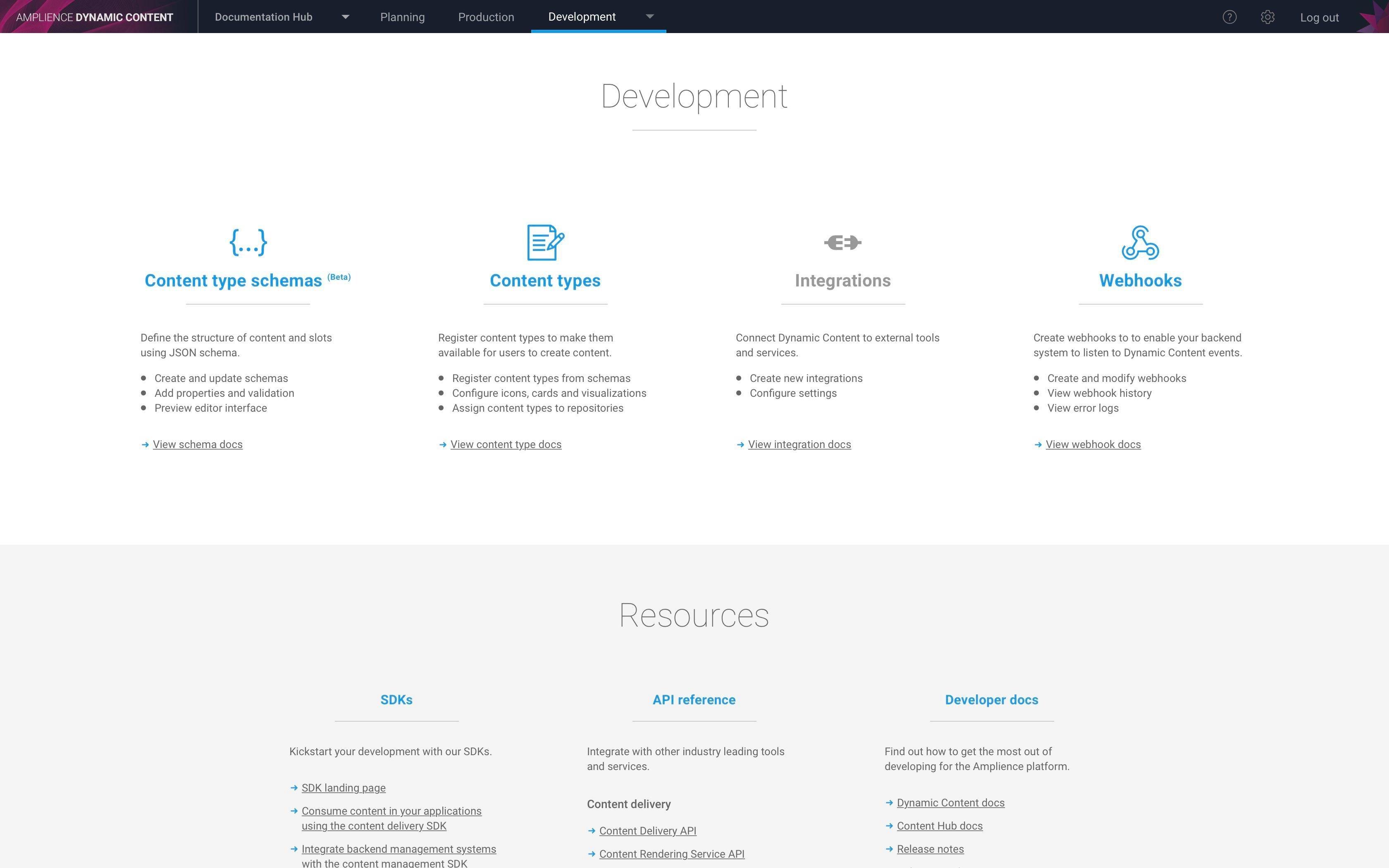 The Schema Editor
With the new schema editor, the ability to create and edit content type schemas has been made easier. All schemas are still able to be created and stored in the hosting service of your choice - but the with the editor, you can manage schemas within your Dynamic Content Hub.
To create or edit a content type schema, choose "Content type schemas" from the development menu in the Dynamic Content app and either open an existing schema or click the "Create schema" button to create a new one.

When creating a schema, a valid URL must be provided in the right format so that the schema conforms to the JSON schema standard. This URL is then used to register the schema as a content type.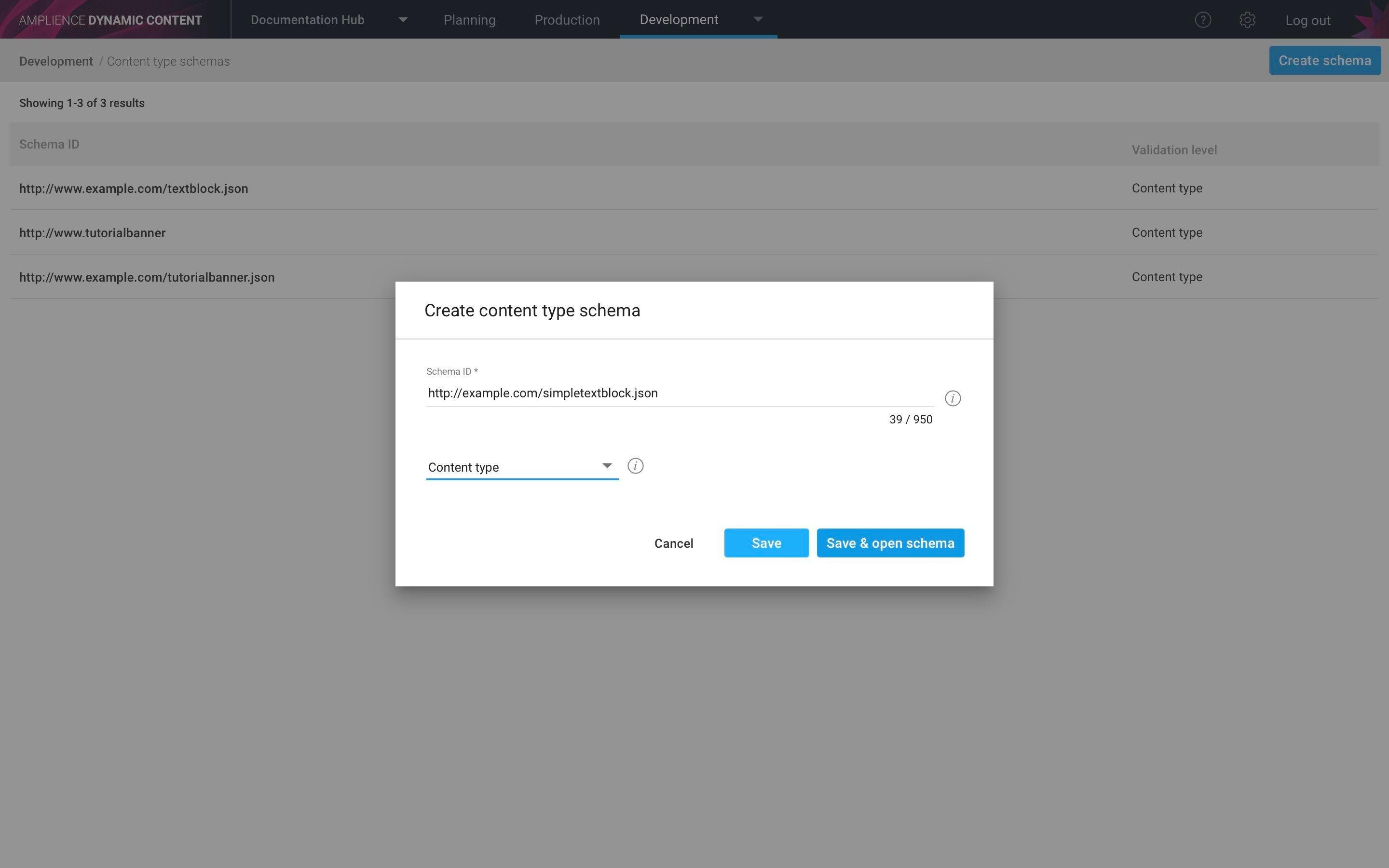 The schema editor includes snippets for most common property types, validates your syntax as you type and includes a preview feature that lets you see how content created using a schema will look in the content editing window. You can also use the editor for creating slot type schemas, as well as managing partials, or common definitions that can be used in many different schemas.
The image below shows how you can add a property to a schema using one of the built in snippets. You can add simple properties such as text and numbers and more complex properties including arrays and localized properties. Choose a property from the menu and it will be added to the schema with some default values which you then edit.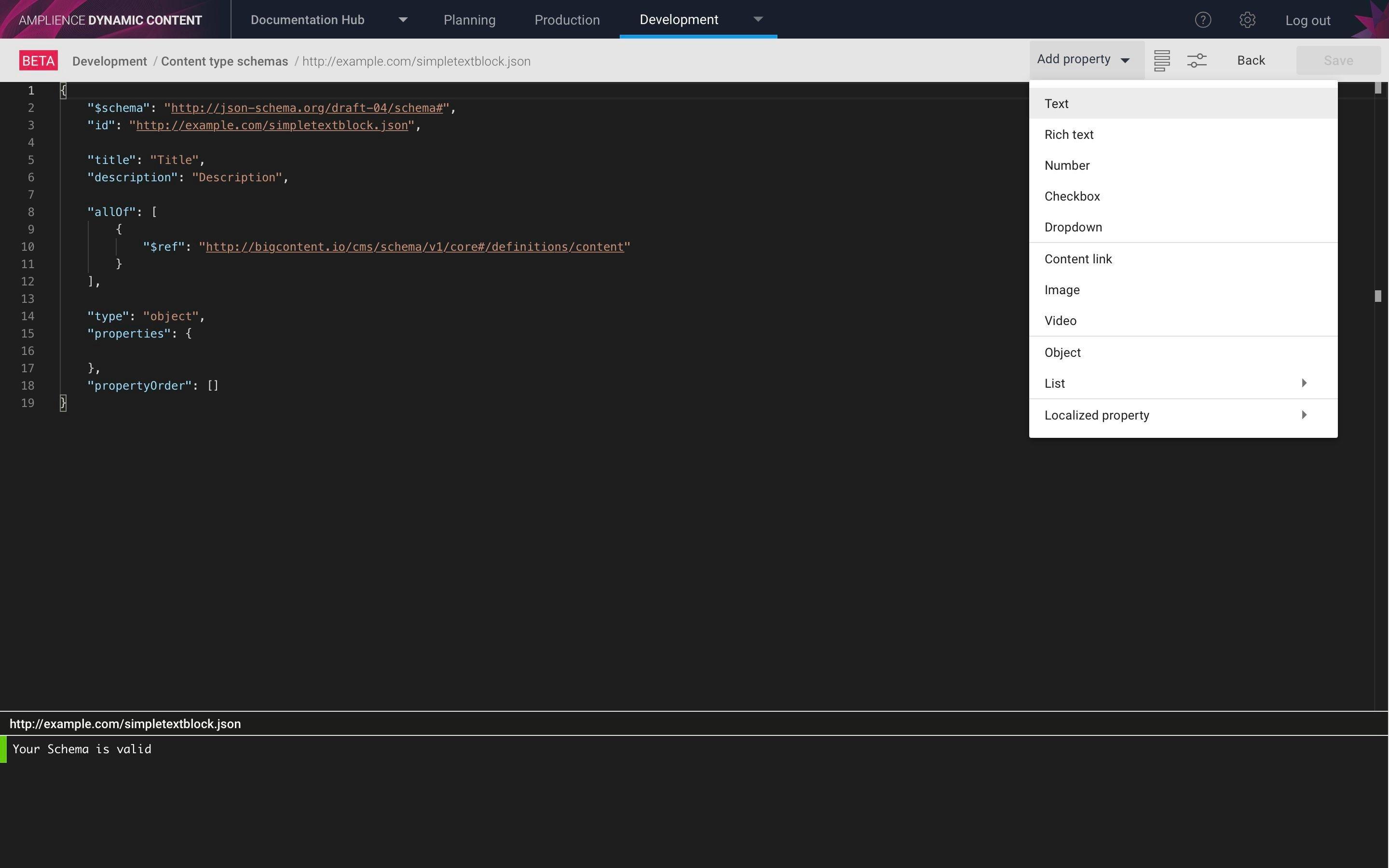 You can show a preview of how a content type registered from this schema will look in the content editing window by clicking the "preview" icon shown below. The preview also applies any validation that you have defined for a property.
After you've created your schema, the next step is to register it as a content type from which users will create content. We've updated the "Register content types" window (available from the "Content Types item in the Development menu) to support registration of both internal schemas created using the schema editor and schemas hosted on external hosting services.
Registering a content type from an internal schema is shown below.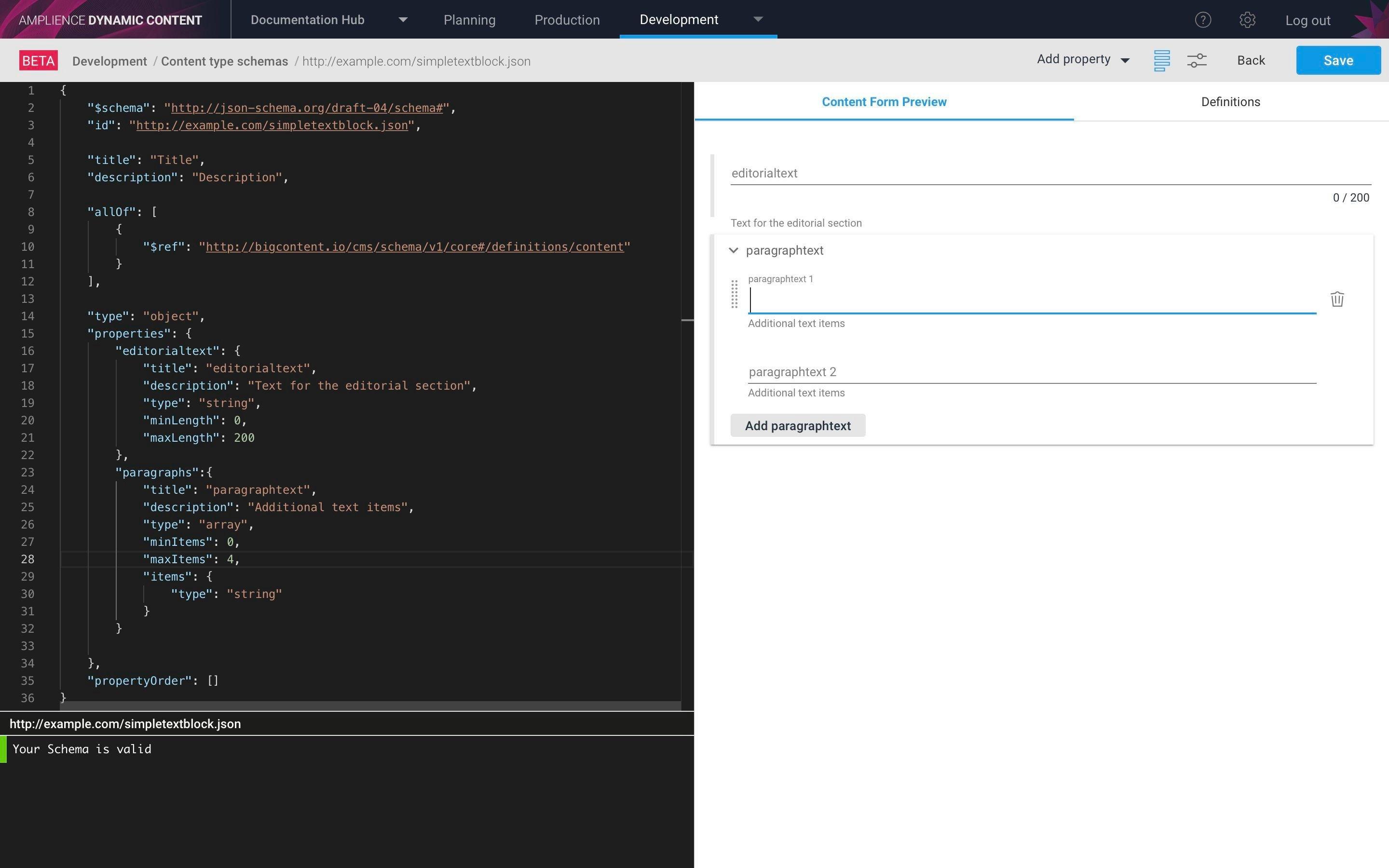 Salesforce Commerce Cloud integration setup user interface
You can now create a new Dynamic Content SFCC integration or edit an existing one via a user interface. Choose "Integration" from the Development menu in the Dynamic Content app and from the integrations home page click "View or add Salesforce Commerce Cloud integrations" as shown in the image below.

A list of the integrations set up on your hub is displayed. From here you can view and edit integrations and add a new one. The user interface provides fields to enter the settings you need to configure, including field mappings for content asset integrations and locales for supporting localization in both content slot and content asset integrations.
The set up of a content asset integration, including the mappings for a supported content type, is shown below. When you enter mappings you can also make use of shortcuts provided by the code editor to help you get the syntax correct.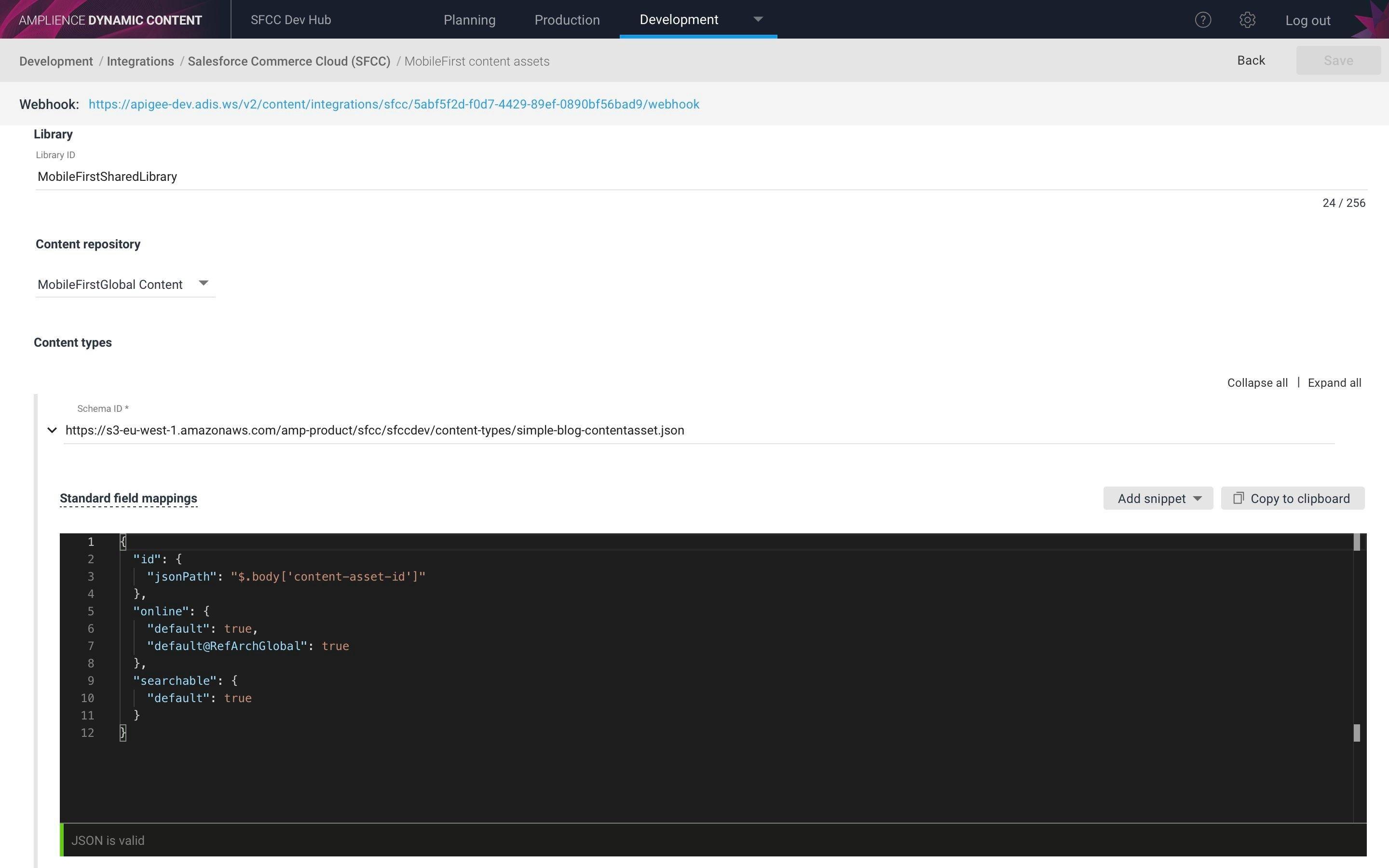 Color picker
We've added a color format to strings that will display a color picker in the content editing window or schema editor to allow the user to choose a color rather than having to enter the RGB values themselves.
To use the color picker add a string property to your content type schema and specify the format as color.

This will then be shown in the preview window of the Schema editor as follows: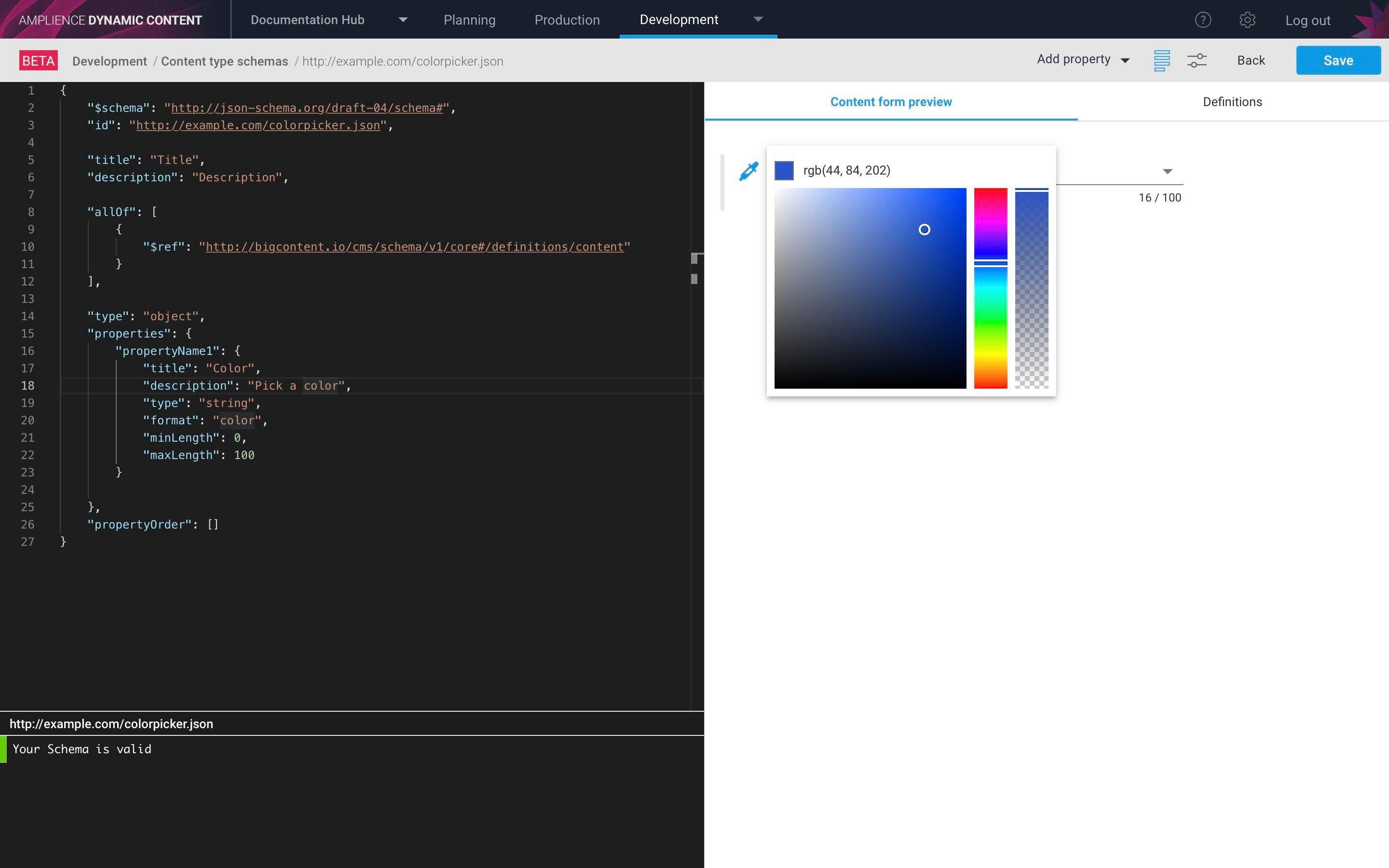 Content Delivery SDK
The new Dynamic Content Delivery SDK gives you a head start for writing both client side and server side code that consumes content using the Content Delivery API.
The SDK is designed to be used with JavaScript, Typescript and Node.js. It includes features to help you fetch content and slots using the Content Delivery Service, retrieve localized content, work with unpublished content, making it easier to create visualizations and preview apps, and make use of the Content Rendering service to transform content to HTML.
Content item status enhancements
In this release the content item status feature has been enhanced: an item's status is now shown on its card in the Content Library and you can assign a status to a content item when it's created. From the card you can also change an item's status or assign a status to an item that does not have one set.
The example below shows how to update an item's status from the contextual menu on its card.