Amplience and L2 Highlight Cost and Complexity as Key Barriers; Retailers Must Transform the Economics of their Own Content Production
New York, September 16, 2015 – Research from L2, a firm benchmarking digital performance, in partnership with Amplience, the leading on-demand Big Content platform, has found that production complexity and high costs are forcing retailers to limit the markets in which they deliver relevant and localized digital commerce experiences.
The research, which assessed 67 brands ranging from Apple to Zara, found that just 57% of their local sites are ecommerce enabled, while only a third or less operate sites in important markets like South Korea (34%), Russia (28%) and Brazil (31%). You can download the research.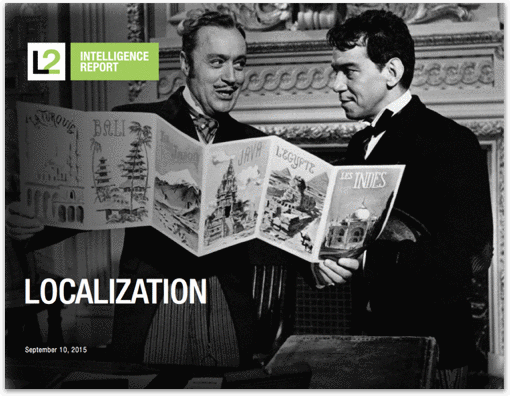 However, even in markets where the retailers operated ecommerce sites, localization of content was inconsistent, with the content types most likely to engage shoppers faring worst:
Only 17% of the retailers localize editorial content
User generated content is localized in only 7% of cases
The rate of localization falls to 5% for look books and product guides
Fewer than one quarter (23%) were able to localize reviews
Video content was the most likely to be localized, but less than half of retailers did so worldwide (45%)
Only 39% of homepages were localized, suggesting it is a significant challenge for retailers to localize their most valuable digital real estate.
This lack of merchandising sophistication is widespread. For instance, localized interactive guided selling tools remain rare – only the U.S. employs them on more than 6% of sites – while ratings and reviews are present on well under half of product pages worldwide (U.S. – 49%, UK – 38%, China – 23%).
However, retailers are well aware that this failure to localize more widely represents a missed opportunity. According to the L2/Amplience report, "83 percent of marketers who localize content believe that it improves customer experience, highlighting a widespread belief that brand messaging should adapt to local nuance by market."
Reflecting this belief, 70% of global marketers report increased content budgets for 2015. What's more, a majority (66%) want to do more than just localize. They want to deliver localized high frequency content – high quality content that is refreshed more often: weekly (40%) or monthly (26%).
Realizing this aim will, however, require more than increased budgets. At present, the report found, only half of retailers use a consistent information architecture across global ecommerce sites. Meanwhile, a fragmented array of channel-specific tools and content siloes creates a content complexity problem that drives costs up and makes it practically impossible to localize content across the board.
James Brooke, CEO of Amplience, explained: "Retailers must transform the economics of content production by driving down production costs, increasing exposure and measuring performance, to maximize returns on every content investment. As retailers seek to engage and drive sales through high frequency content, they will consolidate diverse, channel-specific solutions and siloes, moving to single digital content platforms to streamline content production and automate channel and locale syndication."
Mabel Mclean, Commerce IQ Director of L2, explained: "Cost constraints force most brands to balance efficient content syndication to scale investments with local initiatives to ensure relevancy. Those brands prioritizing large global scale must sacrifice attention to local nuance, such as pricing, culture, and regional vernacular. To succeed in e-commerce localization, brands with the capacity to do so should allocate budgets to localize content in priority regions, centralize technology and site information architectures, and distribute digital talent."
Further key findings from the report include:
On average, the brands indexed operate 32 sites worldwide, with 80% translated into local languages
67% of the brands indexed have brick-and-mortar footprints in top ecommerce countries outside of the U.S. and Western Europe, but only 47% have an ecommerce presence
Google does not deem a quarter of global brand sites in Brazil, China, Russia, and South Korea "mobile friendly"
Most luxury brands choose to standardize their global content to broadcast a consistent brand experience worldwide
About L2 Inc. L2 is a member based business intelligence firm that benchmarks the digital performance of consumer brands. Our research currently spans 16 regions and covers 10 industry verticals including: Luxury, Beauty, CPG, Retail, Sportswear, Food & Drink, Consumer Electronics, Hospitality, and Auto. L2 helps senior leadership assess their digital performance and shape their digital roadmap to achieve greater ROI on human, creative and financial capital.
Back to top