Towards an Agile Content Factory
So where to begin? The search for answers starts with framing the problem in sufficient fidelity that the 'answers' are obvious to creatives, producers and their managers alike. This comes from gaining a deep understanding of your content production system - its people, processes, tools and technologies - and a detailed catalogue of the issues and constraints that are the root cause of low productivity and long content production SLAs.
Content production teams struggle to satisfy the existing demand for fresh and engaging content.
A combination of poor tools, incomplete integrations, siloes of content and broken processes result in compromised customer journeys that are optimized to deliver on only one dimension of Reach, Quality or Agility.
However, that is no surprise—the current product system was designed to support the requirements of digital commerce-which consisted of a single web channel serving a less sophisticated consumer, typically on a desktop web browser.
Since then, new tools and content platforms, tactical solutions implemented to address new content challenges brought about by mobile device adoption, or migration to emerging social and sales channels have all been added to the mix.
The result is poor productivity, caused by broken processes at every stage of the production lifecycle: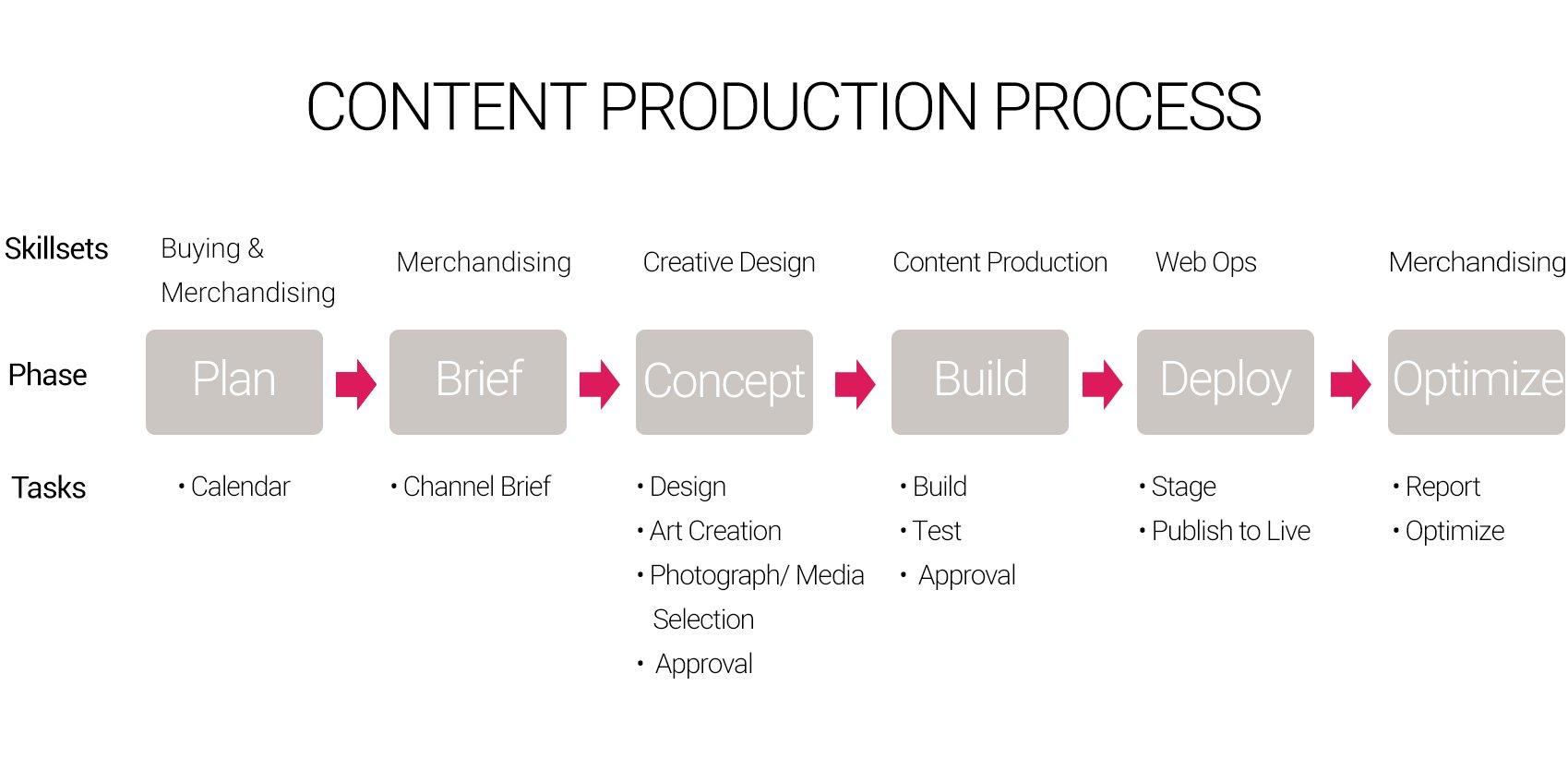 Bottlenecks exist at every phase, whether planning, briefing, producing, deploying or optimizing. Too often, creatives spend their time producing media variants and developers are required to build custom HTML for every content module.
And these challenges are multiplied when content is required across dozens of segments, channels and content types. It takes too long and too many resources to deliver the most engaging experiences, so the experience is compromised, leading to reduced engagement and sales performance.
Addressing the Digital Shopping Crisis requires the adoption of a new content strategy. The winning strategy recognizes the shift in consumer behavior drives fundamental changes to, not only, the content strategy, but also to the Content Factory people, processes and technologies that ultimately enable the production of 10x-100x more content that deeply engages consumers, and converts them at the exact point of inspiration.