Why Charlotte Olympia chose Amplience
"Using Amplience we can quickly and easily pull together animated carousels, interactive look books or creative inspirational content within an hour… in contrast to the week or more it used to take when relying on external designers and coders"

Tara ffrench-Mullen

Global Marketing and PR Director, Charlotte Olympia
Charlotte Olympia, luxury shoe and accessory designer has completely overhauled its online presence with the help of the Amplience Content-as-a-Service platform to revolutionize its online merchandising. This allows Charlotte Olympia to create a far more engaging experience for customers that matches the playful brand image.
conversion to product page
Average engagement levels
Challenges
Charlotte Olympia were looking to improve the time it took to create interactive content. Using its previous platform, the team would usually have to spend a week or more with external designers and coders.
Browsers navigate through the world of Charlotte Olympia from exclusive shoppable campaign imagery to showcase carousels of eye-catching designs, with elaborate product categories and listings.
On top of this, Charlotte Olympia were looking for ways to make the process of creating a responsive experience simpler.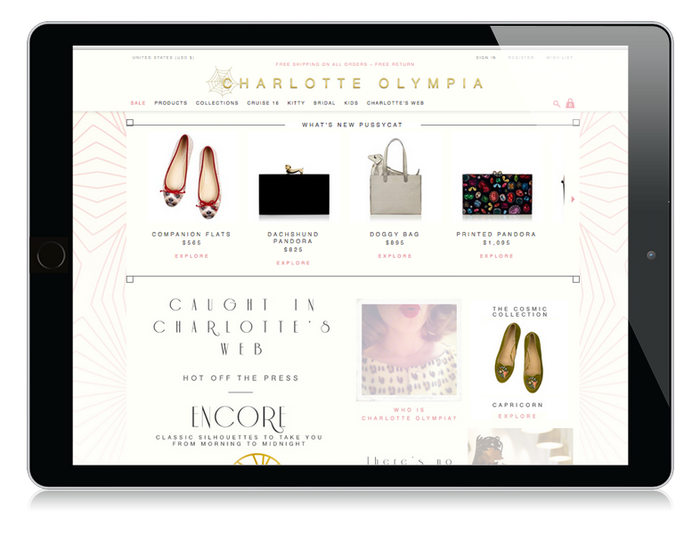 Solution
The Amplience Content-as-a-Service platform enabled a small eCommerce team to create detailed, rich, interactive eCommerce layouts, and publish them to the site without technical training.
This new capability has enabled Charlotte Olympia to collapse the customer journey. Browsers can use a 'quick view' of products or add directly to their bag from carousels, video or other editorial layouts. The adaptive templates have also allowed Charlotte Olympia to integrate social channels such as Instagram into the homepage.
Interactive media, images and videos such as Charlotte Olympia's 'Made in Italy' video on the homepage, are automatically rendered in a size and format appropriate for the requesting device.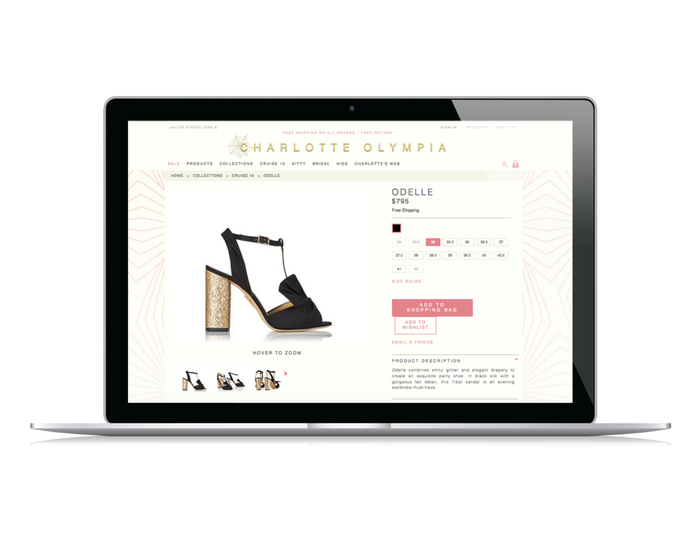 Results
We've been very pleased with the results," said Tara Ffrench-Mullen. "Our feature 'Who's wearing Charlotte Olympia' for example has seen average engagement levels of 34 per cent, whilst conversion to product page has been up to 10 per cent.
Instead of manually creating hundreds of different image variations for different uses on the site and across different channels, images and videos are dynamically rendered on-demand from one master asset.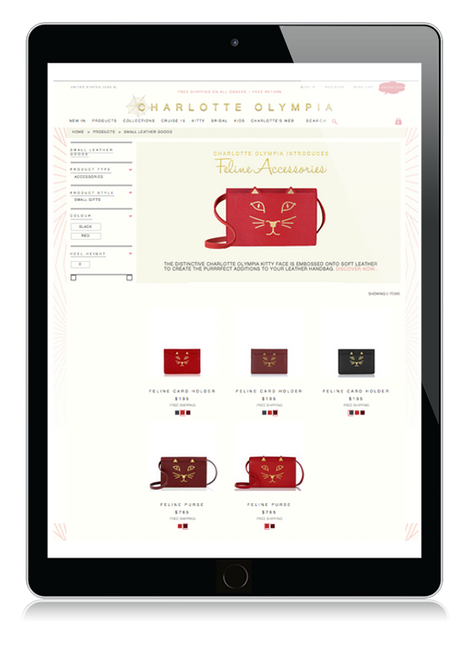 Charlotte Olympia Case Study (PDF)
Learn more about Charlotte Olympia's success with the Amplience Content-as-a-Service platform
Download