Why Brown Jordan International chose Amplience
"Many of our customers have very specific requirements for their products. The ability to interact with our furniture by adjusting color, fabric or pattern variants is a huge differentiator, and a capability that delivers a much more personalized purchase journey."

Rob Morris

Former Director of Software Development at Brown Jordan International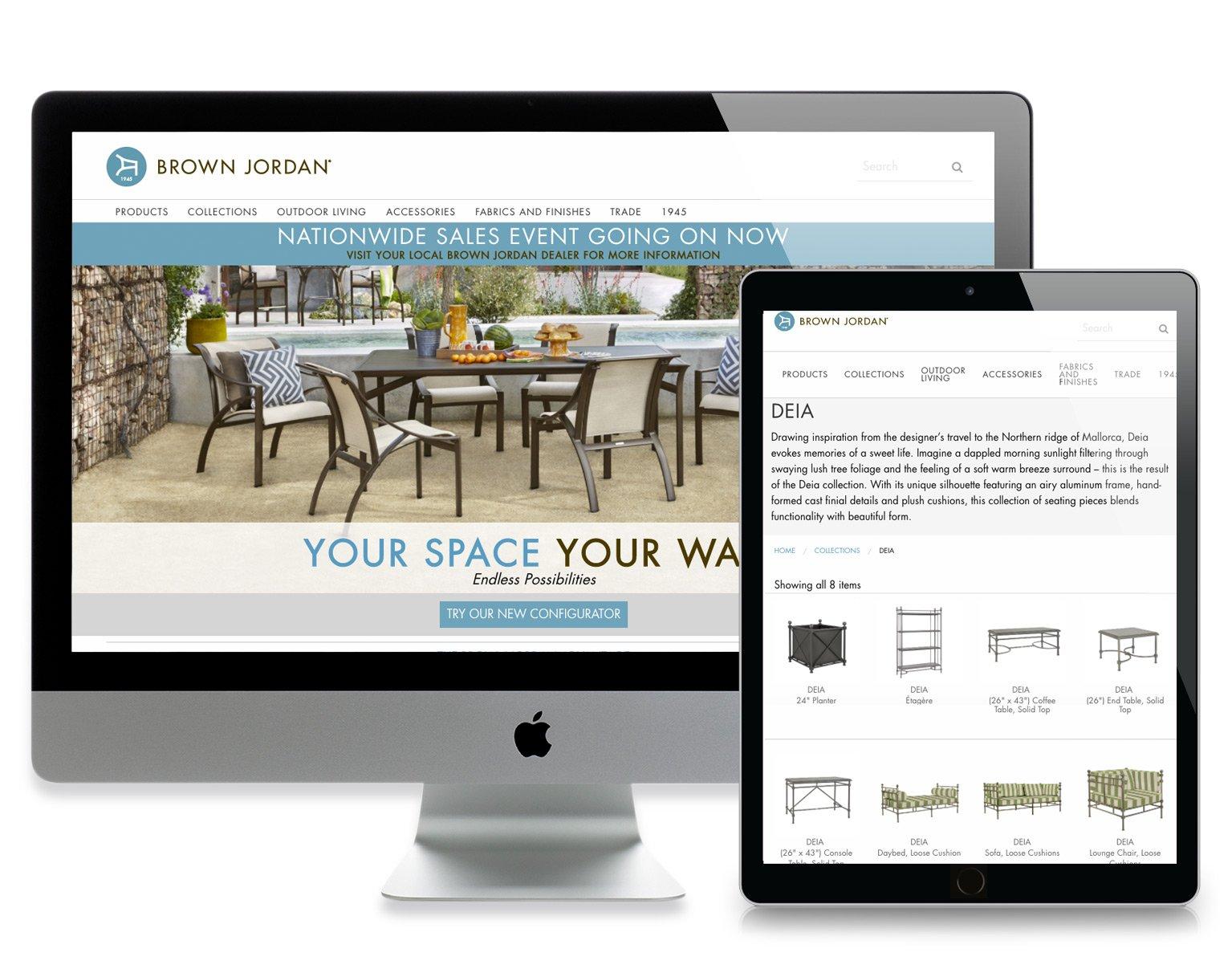 Summary
Brown Jordan needed a way to showcase its exceptional customization capabilities online. It's not uncommon for the company to have hundreds of options for an individual piece of furniture - for example, the item in different colors, fabric swatches or cushion detailing, among other options.
Deliver 1,200 configurable products to drive product-page conversion uplift and reduce production costs
First year cost savings after implementing Amplience Dynamic Media is 65% and subsequent years are 82%
Create rich custom configurators that visualize complex product categories to drive engagement, conversion and average-order-values
Challenges
Photographing every product in all possible variants was an unrealistic and cost prohibitive process, but the company wanted to allow customers to visualize its items in each option and enjoy a more personalized online experience. Brown Jordan began searching for a technology partner that could power this functionality and lay the foundation for future product customization innovations.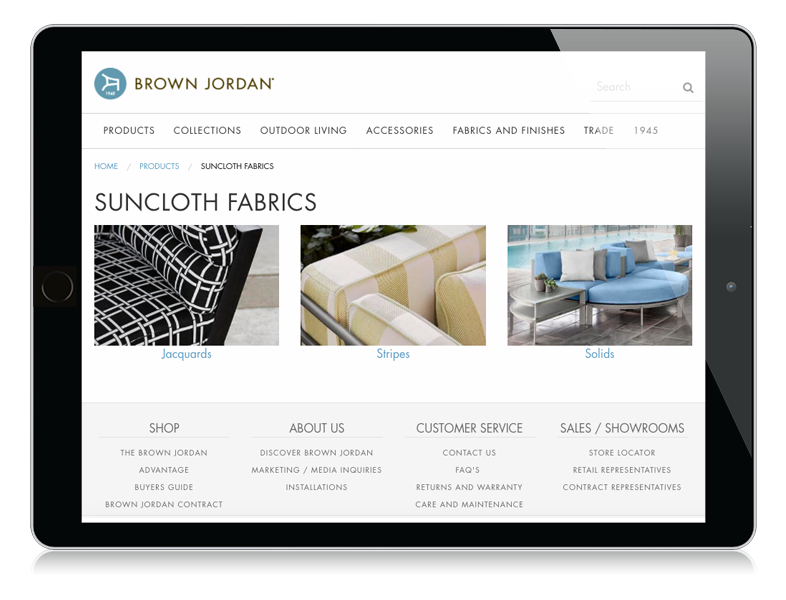 Solution
Brown Jordan evaluated several vendors but none of them provided the powerful configurable capabilities it required—with one exception.
Amplience enables Brown Jordan to streamline and automate the processes involved in creating engaging digital experiences, and enrich its online presence by rendering products in different colors and other variations.
Amplience's Content Hub dynamically generates image variants from existing photography, enabling on-demand image substitutions that allow shoppers to more accurately visualize and personalize products.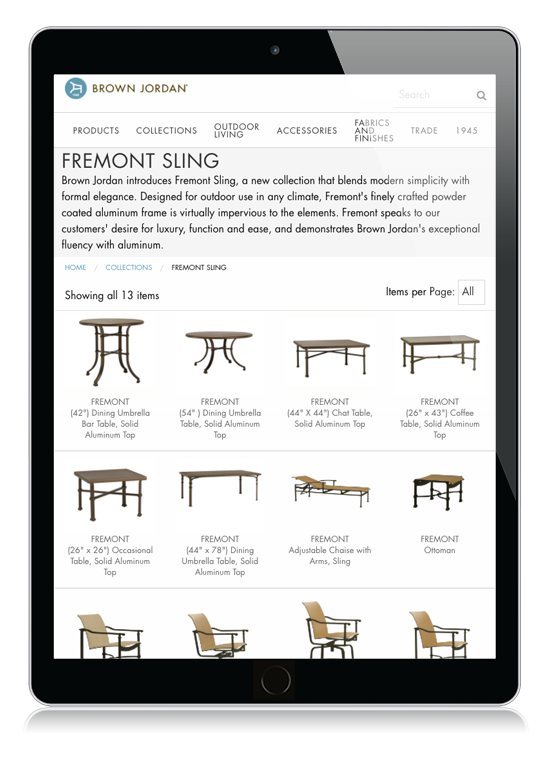 Results
The technology allows Brown Jordan to produce a tailored, high-quality customer experience while simultaneously reducing digital production costs. Rather than devoting significant cant time and resources to in-studio production, the Product Customization Solution turns reference product images into Scalable Vector Graphic (SVG) templates. From there, the images can be dynamically rendered on-demand in any color and option variant, through URL parameterization. This allows Brown Jordan's shoppers to visualize its products in more colors and other option variants than ever before. For example, changing the pattern of a sofa's upholstery and pairing it with different throw pillows and feature accents.
In addition to providing this seamless, interactive customer experience, the Product Customization Solution is intuitive for Brown Jordan to manage on the backend. The technology provides a comprehensive workflow with user task assignment and SVG approval status. Contact sheets can be easily generated showing the output of each SVG template, which can then be either rejected or approved by business users. This reduces production time and development costs, and enables the entire configuration process to operate efficiently.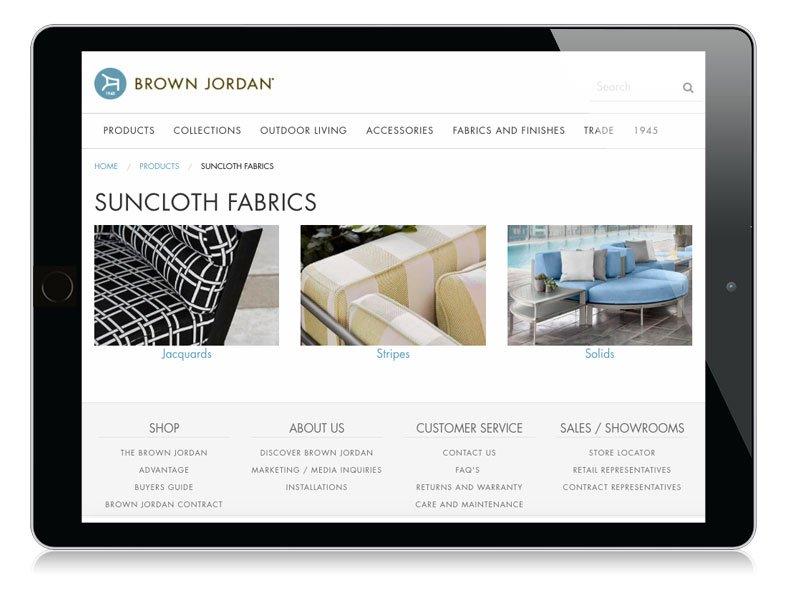 Brown Jordan Case Study (PDF)
Read the full case study to find out the whole story of how Brown Jordan enhanced their digital content usage with Amplience.
Download