Retailers have been taking advantage of User Generated Content for a long time now; evolving from user ratings and reviews, to retailers pulling images directly from social channels as part of their content mix. Now, UGC for retailers means using images and videos that customers have taken and shared on social channel as part of their website content. The benefits are clear: as L2 pointed out in its recent report on Instagram UGC, 55% of shoppers trust customer photos more than brand and professional photos.
With UGC images providing more credibility, lower costs, greater brand engagement, and crucially, more conversions, it's essential that retailers have a strategy in place for UGC. But there are a number of things to think about before you dive straight in.
How do you source the content?
Currently there are two main ways of sourcing UGC: via a feed, or through user upload.
Using a feed means that content will be fed automatically into your UGC management tool. This requires setting up an owned, branded hashtag, which users will need to use in order to get their content into your feed. To get consumers to use it though will require contacting users on an individual basis like in this West Elm example L2 highlighted: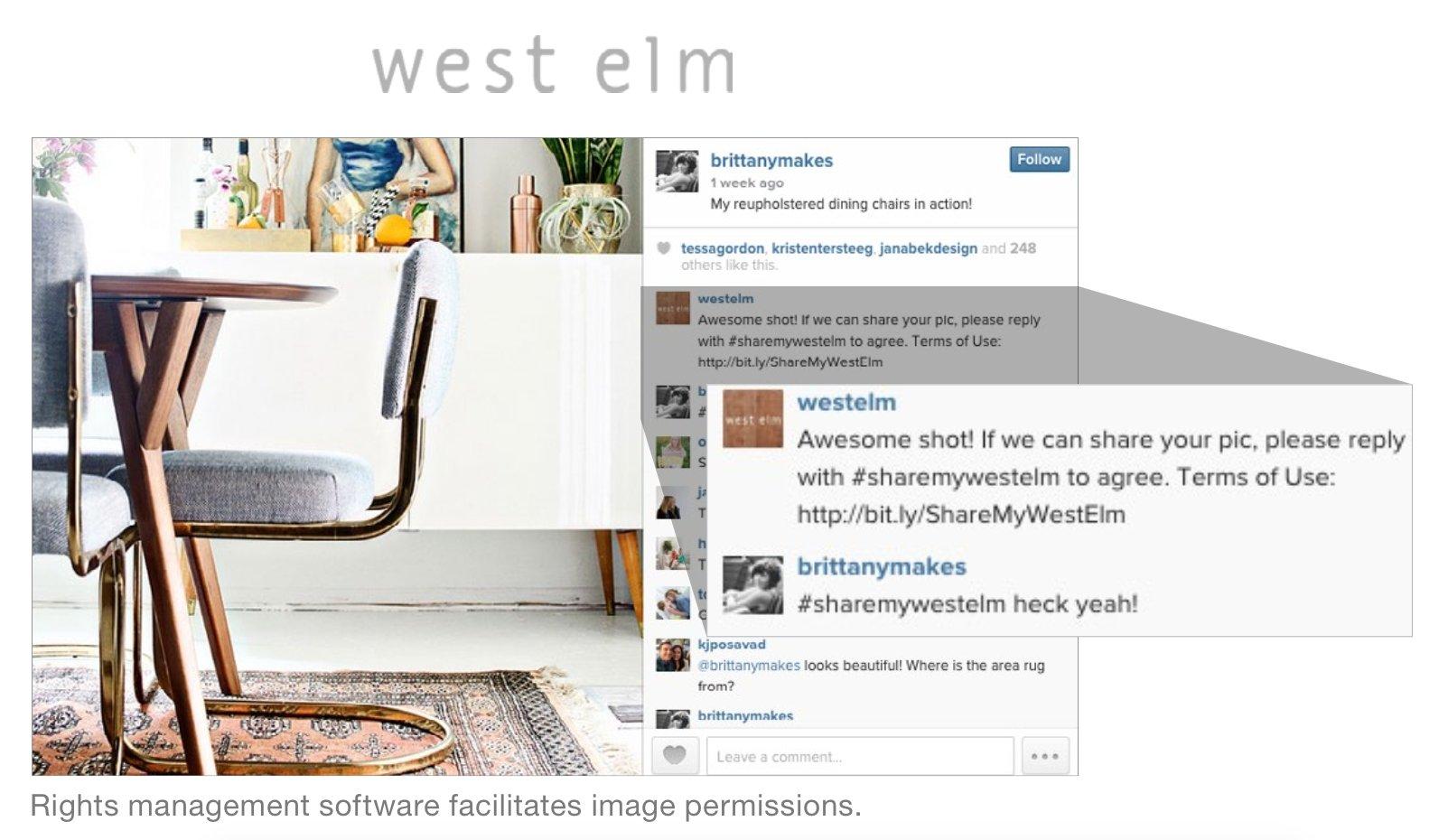 Direct upload means setting up a page on your site where users can upload their content directly to you via your feed management tool. This can be better for capturing people who are already engaging with your brand, and may mean spending less time reaching out to individual users, however you can lose the social connection this way.
Both options have their advantages, and it's worth considering how the user interaction fits in with your brand as a whole. If you're already quite active on social channels, and engaging with individual users, then a feed might be the best way forward. Otherwise, creating a direct upload page, perhaps with a competition to incentivise user uploads might work better.
Evergreen vs. Ephemeral content Depending on the content and your brand, UGC could be quite ephemeral and short-lived, or it could be evergreen, being useful for years.
Take something like Coca-Cola's "Share a Coke" campaign: Coca-Cola is iconic and doesn't really change much (aside from label and bottle redesigns). Therefore any picture of a consumer holding a Coke could last for an almost indefinite time.
On the other hand, if you have a rapid stock turnaround, like many high street fashion brands, then you will have to approach UGC differently because it might become rapidly out of date. A solution to this will be to build a process where you seek social content prior to product launch.
For example, you could send out new items to valued customers, asking them to share a photo of them using or wearing the product with you. That way you can bring social content into the product content mix from the beginning, and constantly update and refresh it.
Placement on site
UGC should be weaved throughout the whole customer experience, from landing page through to product page and everywhere in between. However, according to the L2 report, only 9 percent of brands place UGC on product pages.
Product pages are when shoppers are most likely to make the critical decision to add to basket, and thus ultimately purchase. It is essential that a retailer does all it can to inspire a customer to add items to their basket at this time. In fact, according to L2, '63 percent of consumers have postponed or decided against a purchase due to unhelpful product photos.'
Beyond that, retailers can also use UGC further up the conversion funnel to provide inspiration to shoppers who arrive on site. For example, see how Dune is using a UGC viewer that acts as another way for shoppers to navigate and discover products. Crucially, it also includes ways to purchase directly from the viewing gallery, to convert shoppers at the point of inspiration.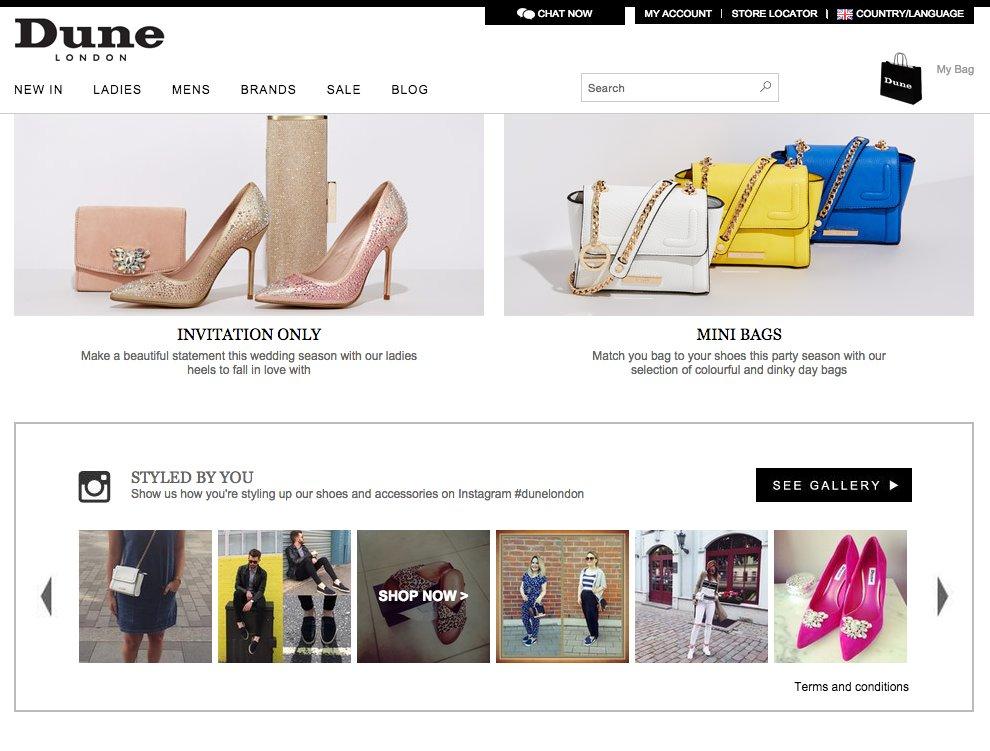 Informative vs. inspirational content
When UGC was just ratings and reviews, it acted as a way of informing potential customers whether what they were about to purchase was going to serve their purposes. However for some types of retailers, such as fashion or luxury retailers, UGC should be more about reinforcing the brand and providing inspiration.
To put it in terms of shoes: it depends whether your customers want to know whether the shoes are comfortable and practical, or if they really look that good. Obviously it depends on the kind of retailer you are, but working out the balance of form or function should help you decide what kind of UGC to seek out and promote on site.
By considering these aspects of your strategy, you should have a clearer idea of how you ought to gather UGC, what kind of UGC you want to see, and where you will put it on site. Ultimately, this will give your UGC strategy focus and a shape, which will mean that you are using it in the best way possible.
To find out more about how Amplience can help with UGC, take a look at our UGC solution here.
Back to top