Sportswear brands are seeing accelerated growth compared to the rest of the apparel industry. According to a report by NPD Group, the "activewear" market saw a growth of 7 percent in the year leading up to June 2014, while the rest of the apparel industry shrank by 1 percent. Sportswear has outperformed the rest of the apparel industry for the past three years, so clearly brands there are doing something right.
Part of this growth can be attributed to the image and lifestyle that Sportswear brands project. The NPD report points out that sportswear clothing is fashionable, but "also evokes a sense of athleticism and wellbeing which only adds to its appeal." So, how are brands evoking this online, and are there techniques that other retailers can learn from?
L2 recently released one of their excellent Digital IQ reports on Sportswear brands, which you can find here. I'll be exploring a few of the key insights that report highlights, and adding a few key insights from our experience with brands.
Rich product and lifestyle images
Most sportswear brands have an embarrassment of riches when it comes to exciting and engaging product imagery and videos. By their very nature, this imagery shows people in action using clothes, or equipment, and bringing this content to the front of a commerce channel is crucial. This projects an image of the brand, evoking the sense of athleticism that NPD identified, but also is incredibly compelling to a shopper.
Animal is able to bring this kind of imagery to the front and center with rich images that crop responsively. Showing surfers, skaters and other athletic users of its products, the headers give a real sense of Animal as a brand, projecting this to the customers.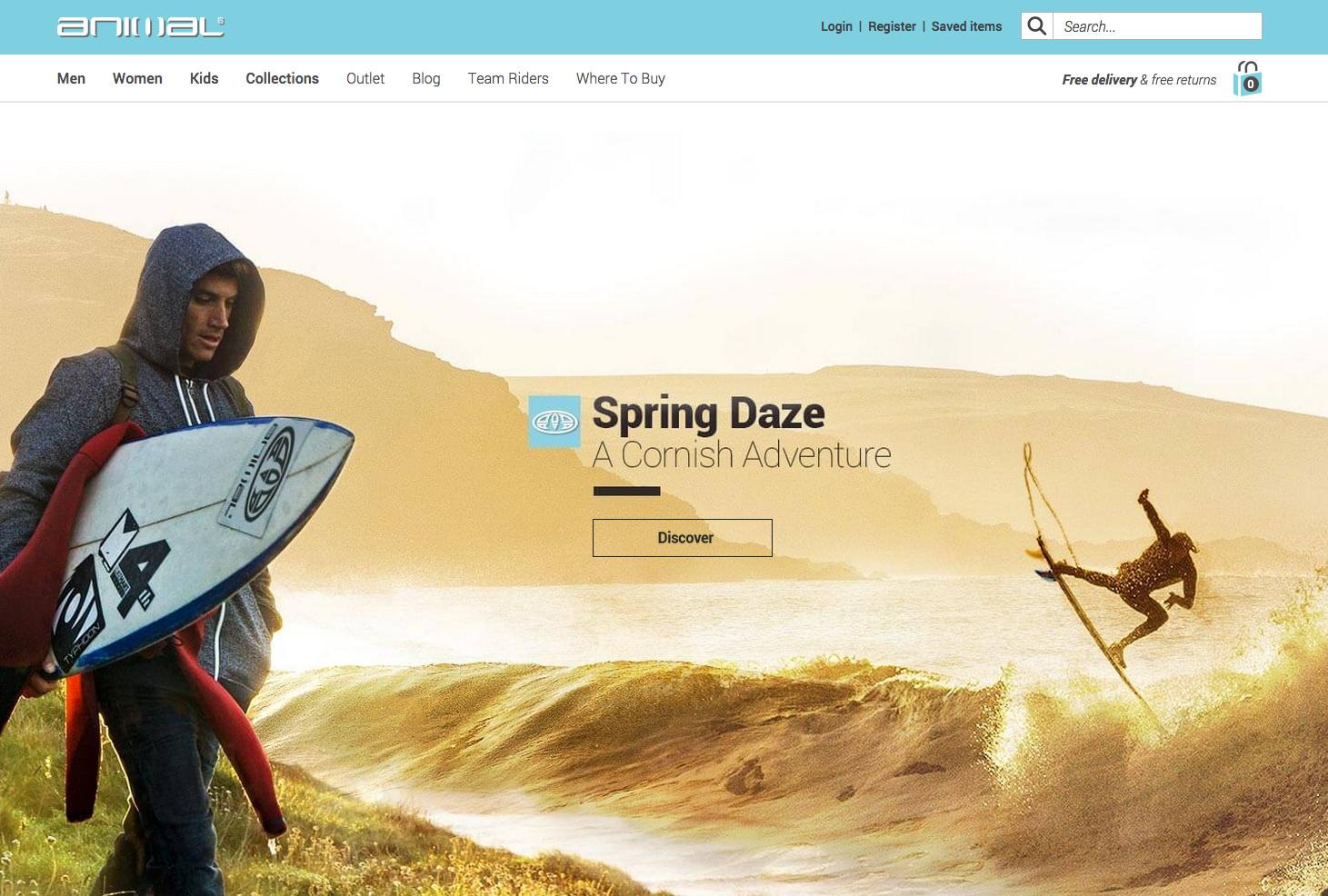 This approach continues to the product pages themselves, with massive, high-quality images that genuinely allow the user to explore every stitch of each piece of clothing. By taking care with these images and showing them prominently, Animal is able to create a brand experience that resonates with consumers.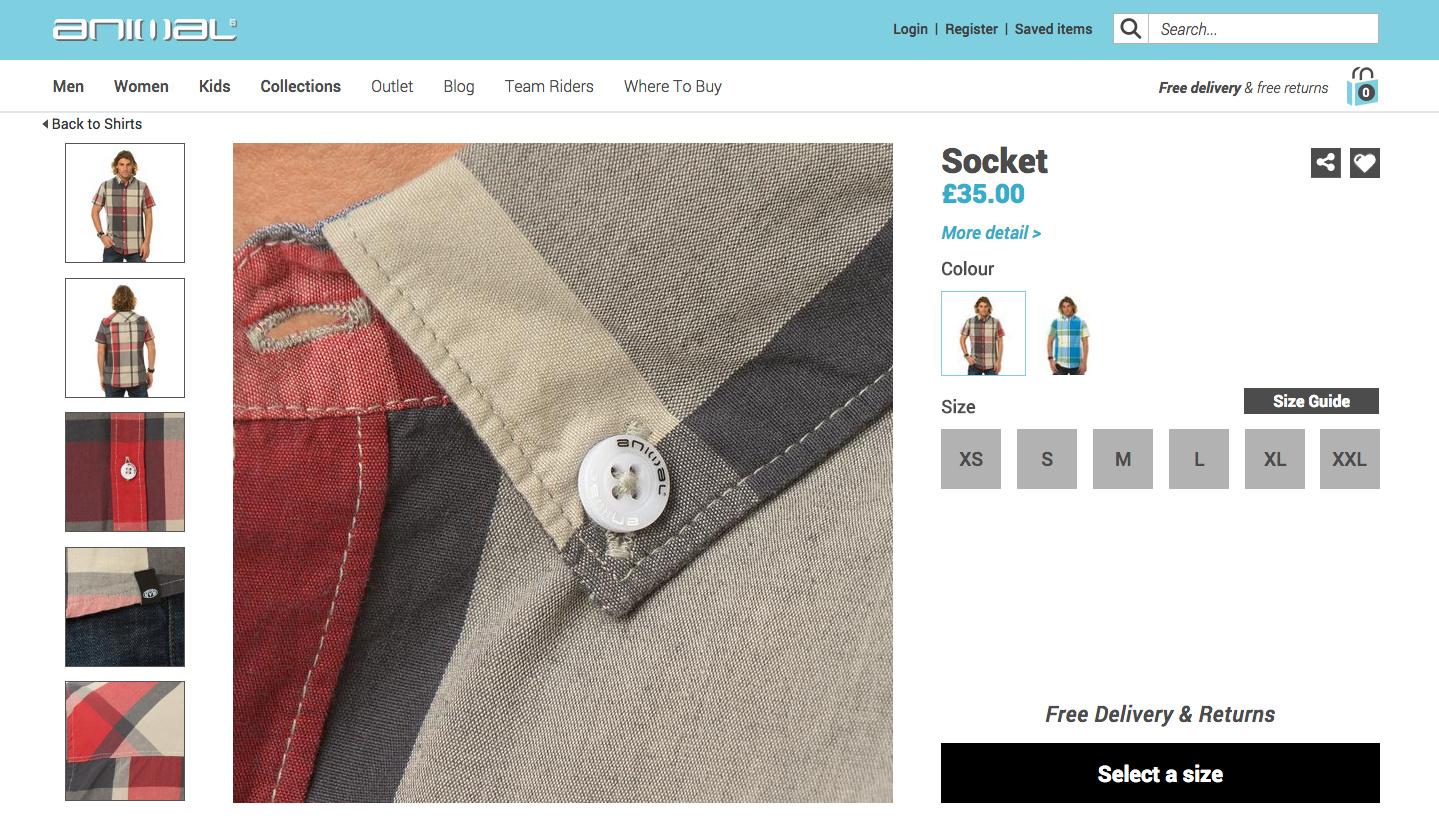 Content and Commerce
While brands are able to use brilliant images, what is proving more difficult for brands is connecting this content with the products featured in it, and using great images and videos to drive conversions.
L2 highlight Vans as one of the best examples of a brand that does this well. Vans creates athlete pages with interviews, biographies, and most importantly big images of products with the ability to add to shopping cart without leaving the page. This connected content allows brands to have the best of both worlds: improved brand value by creating an experience that resonates more with the audience; and improved conversion rates and average order values.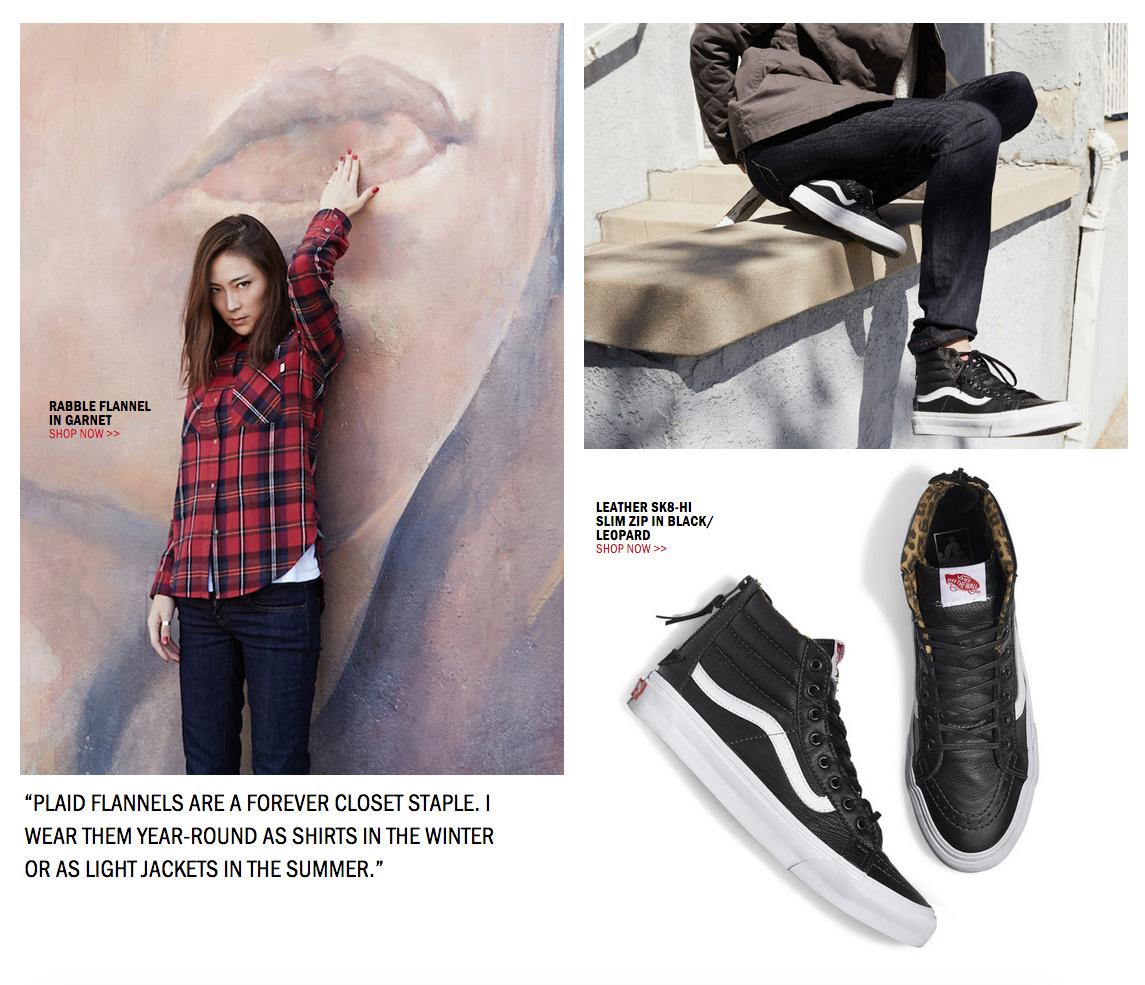 Another brand that does this well is Sweaty Betty, which builds inspiration pages that let consumers explore the parts of an outfit used for different activities. By using its fantastic rich images and videos, and adding hotspots, Sweaty Betty creates an engaging experience that users can interact with, and easily find products they want to buy.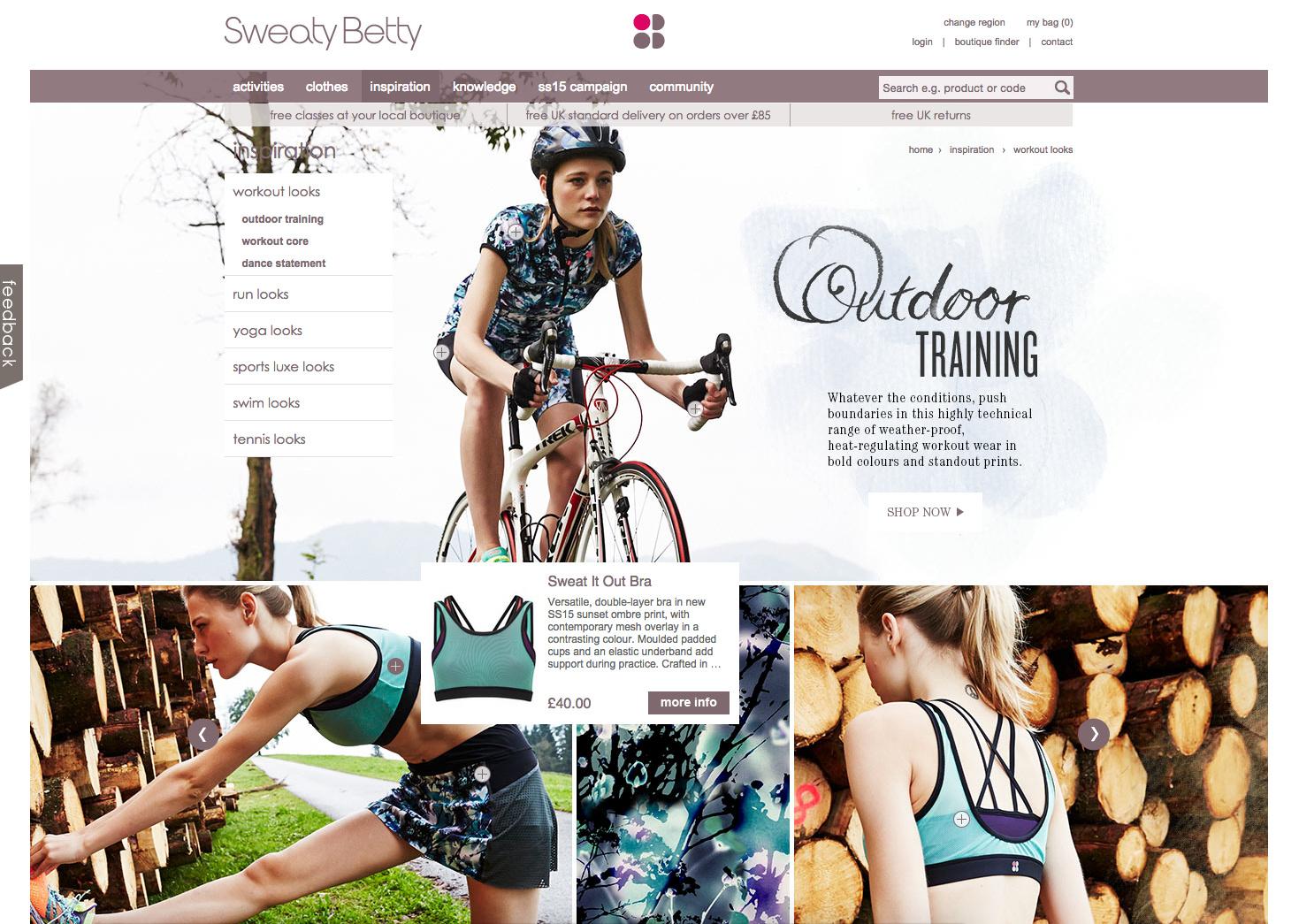 User Generated Content
For vital millennial customers, user generated content (UGC) is trusted more than traditional media for product information. L2 calculate that brand engagement rises by 28 percent when consumers are exposed to both UGC and professional content.
Despite its potency as a content-type, only 10 percent of sportswear brands incorporate these UGC images directly into their product profiles. This is not wholly surprising though, as there are only a few early adopters who are able to weave UGC into the customer journey. And, in 2013 no sportswear brands were using UGC at all, so this still represents a large jump in adoption for 2014.
Product visualization
Back when people were uncertain whether ecommerce would take off, one of the main concerns was that a website was never going to replace a physical store for how shoppers could interact with products. As time has gone on, websites are doing a better and better job of creating engaging online experiences in this way.
Quiksilver have taken this to another level with their Dreaming Jacket page. With huge close up images, highlighted features, and pictures in action, Quiksilver have come very close to creating an experience that is engaging for users, tells a story, and allows shoppers to add directly to basket. It's a brilliant visual realization of the product on show.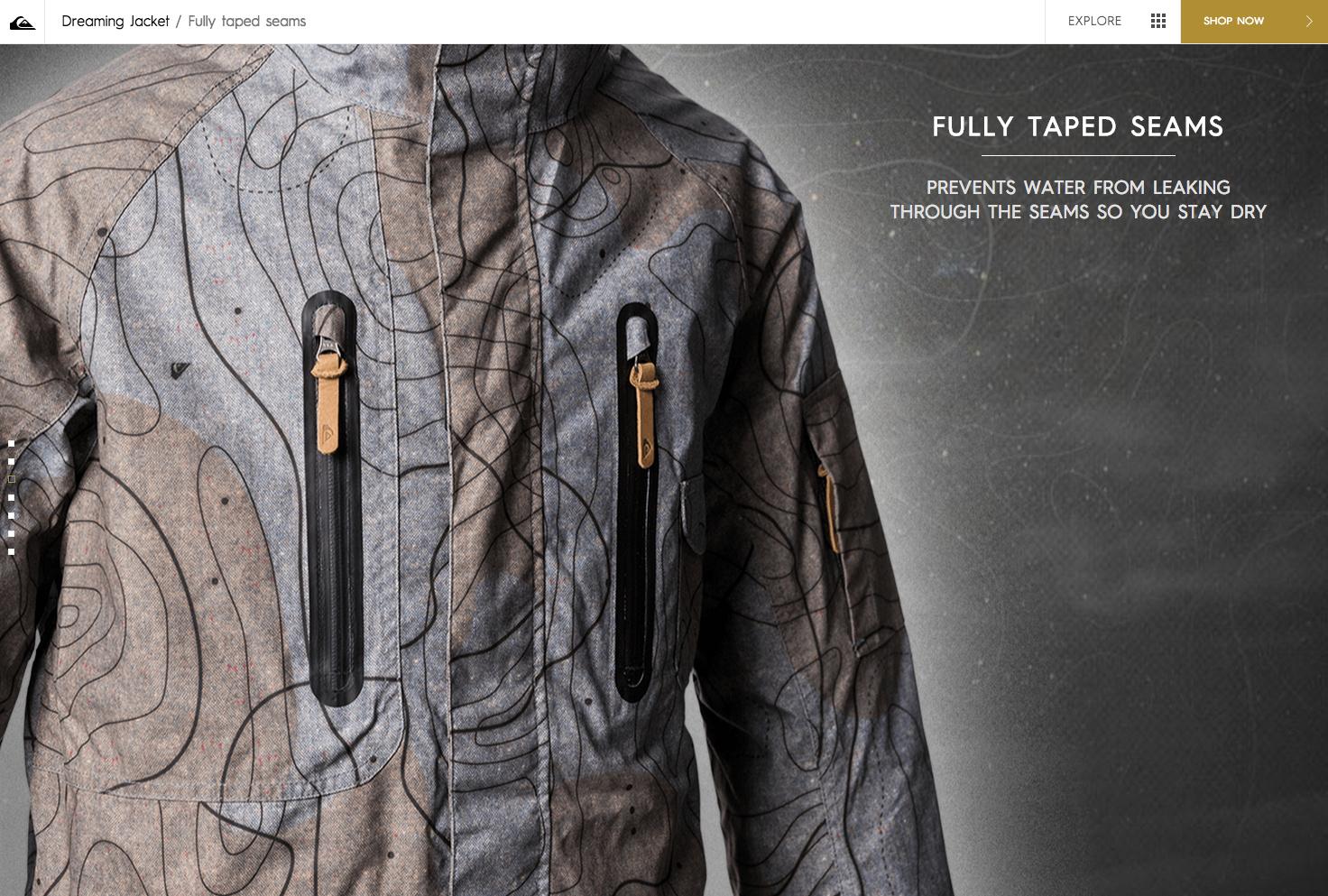 What does this mean for other retailers?
While brands that sell less "active" clothing might seem like they are at a disadvantage because their imagery will seem less exciting, it doesn't mean that they can't use what they have in the same way. If you are a retailer with a strong brand identity, then it should be enough to show your brand content in the ways described above. Using big branded images on the main pages, making lifestyle images shoppable, incorporating UGC, and focusing on creating product visualization will all help retailers to build compelling shopping experiences.
To find out more about how Amplience can help you achieve this, take a look at our solutions sheets on our site.
Back to top