The days of web architectures that abstract infrastructure and applications into logical tiers using on-premise server based systems are numbered.
In the last ten years the approach to website architecture hasn't advanced beyond the n-tier server-based architectures that abstract physical and application architectures into logical tiers. Typically, the lower tiers abstract the data elements of databases and back end systems integrations components; the upper tiers or presentation layer encapsulates the customer experience in the form of web pages by using server side scripting (Java, .Net, PHP, etc); and the middle tiers provide levels for encoding the application and business logic. Web architectures are ultimately designed to generate pages of HTML that are delivered dumbly to browsers for styling and simple creative treatments.
Example Web Architecture Blueprint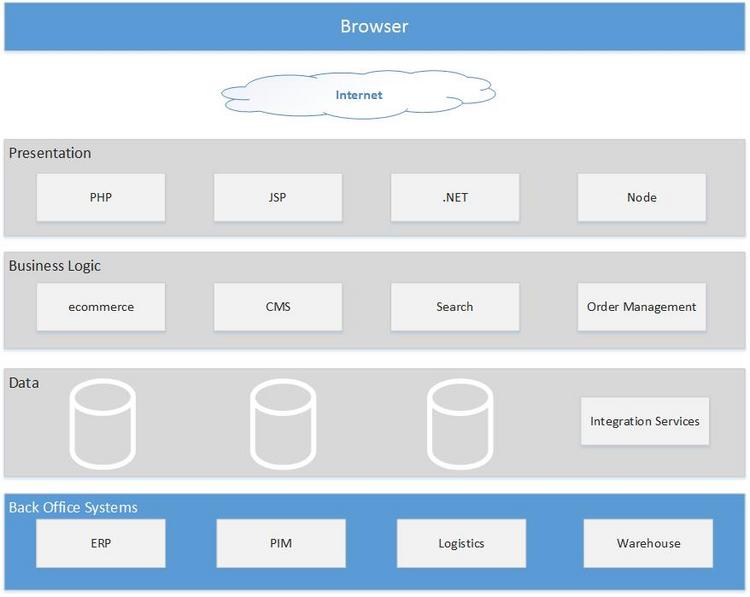 This architecture design pattern has served us well and has been responsible for delivering scalable architectures that deliver the largest sites in world. However, today's requirements have shifted far beyond delivering traditional web experiences to delivering experiences across a much wider heterogeneous digital landscape. This escalation in digital systems, the faster waves of digital technology innovation, and the business appetite for faster agile developments are forcing the industry to change. The industry is moving away from the legacy of web architecture to a broader world of digital architectures built from scalable cloud technologies, micro-services and new front end technology frameworks.
The requirements for the shift to Digital Architectures are:
Always connected – we shop across more channels than ever before – moving from smartphone to laptop or desktop at work, to smartphone in-store, and back to tablet again when we return home.
Constant change – Continual innovations across device technology and digital channels mean fast-evolving new methods for customer engagement – retailers must increase the pace of development or risk falling behind.
Complete Customer Experience – The customer experience now transcends the notion of channels with high expectations of consistent journeys. These pervasive experiences and deeper connections of customers to business processes are opening up of previously hidden backend systems and reaching into every customer interaction.
Personalization – Since ecommerce took off, personalization has been an ultimate goal. Now customers expect personalized and contextualized experiences. To date this has been mostly limited to smart recommendations, but to truly engage today's customers experiences need to provide personalized journeys, personalized content, and personalized offers.
Agility – pressures from every angle – increasing competition, emerging technologies, and changing consumer behaviors – are forcing ecommerce businesses to move faster, requiring more rapid and more frequent technology developments.
Digital Architecture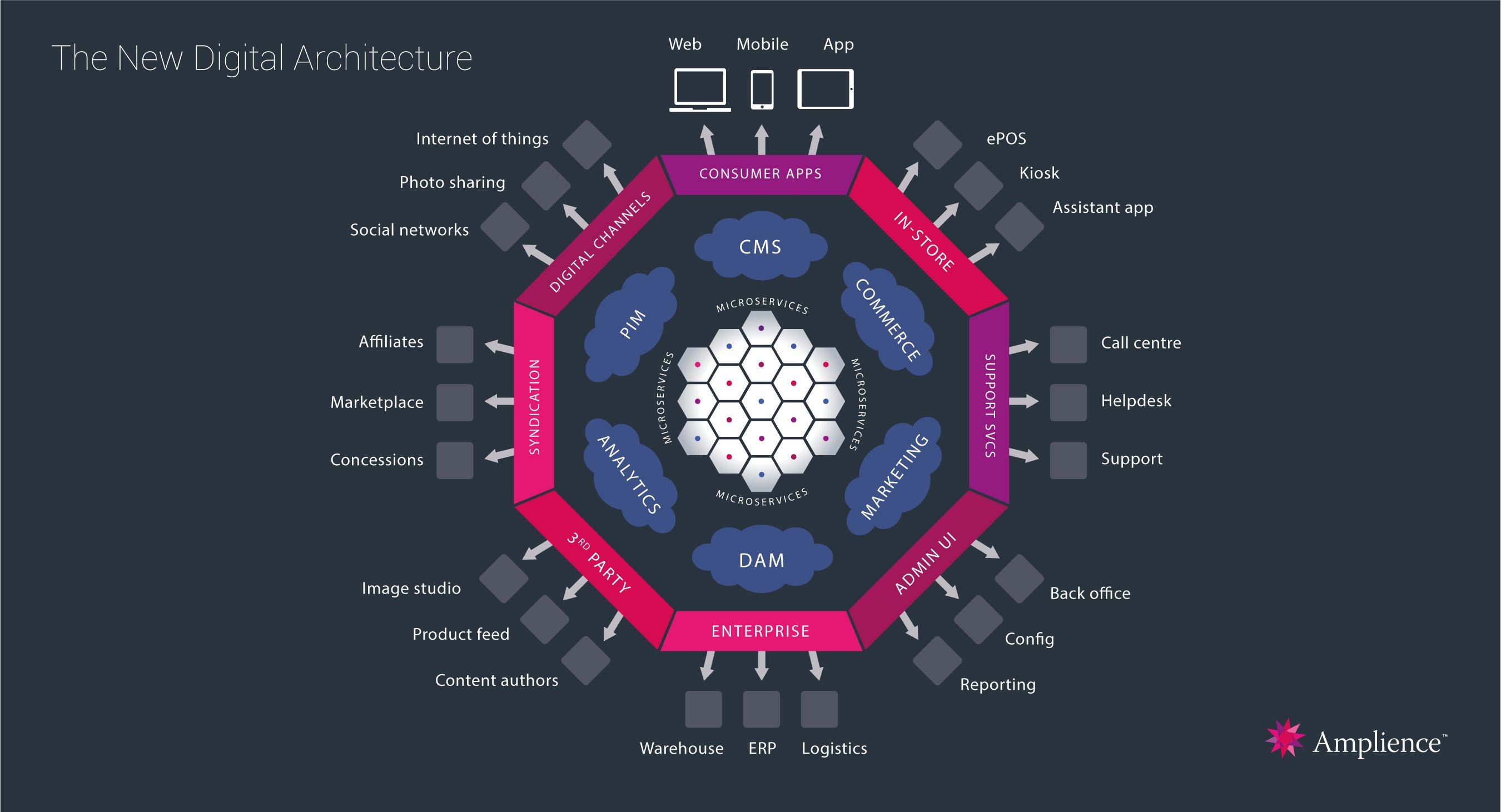 The technologies that are restructuring web architecture to digital architectures:
Cloud – provides better alternatives to building large scale on-premise platforms­, allowing businesses to focus on innovating their solutions without being bogged down with every aspect of a system implementation.
Presentation layer architectures – Evolutions in front end technologies are changing the way that application architectures are designed, liberating the presentation layer away from the server and onto the device facilitating faster more agile developments.
Micro Services architecture – Delivering business capabilities in the form of granular web-based services that allow for separating presentation from content and data is essential for the development of consistent digital experiences. Micro services remove technical dependencies, accelerating development through increased parallelism.
Managed micro services (e.g. headless content and commerce) – A new wave of cloud-based technology that wraps business systems with granular micro services providing even better ways to construct new experiences.
The challenge for technical organisations and architects is the move from designing systems predicated on the 'Technology Stack' – a technical blueprint for system components with constraints on the types of technology that can be adopted – to designing system ecosystems formed from business oriented cloud services.
John Williams, CTO, Amplience. Follow John on Twitter here or on LinkedIn here.
Back to top