With the right tools retailers have new capabilities to add meta-data into images and video to enable detailed analysis into the way content works to drive click-throughs, reduce abandon rates and increase conversion rates.
This heralds a huge step forward in the ability to optimize the role content plays in the purchase process.
New content measurement capability
This new capability brings with it the opportunity to learn much more about the different types of images that retailers can use across the customer journey, and build detailed knowledge of how each type can influence both site behaviour and purchase behaviour.
This is an important development, not least because as content demands grow, so do content budgets. Until now, content effectiveness couldn't fully be known. Content strategy is driven by convention, market norms, and creative subjectivity. All of these elements have their place, but the only way to get a grip on content budgets is to measure image performance and ROI.
Measuring ROI of images needs two types of data; the number of actions that are generated by the image and the cost of that image.
In this post, we're going to look at cost.
Building cost frameworks for each image type
No retailer is going to work out the cost of every image created, instead we recommend following a process where you classify your images into a range of types.
Typically, a retailer will use 8-20 different image types, so view this as a one-off project to define each image type your brand creates, and attribute costs to those.
You then have a cost model that you can apply to all future content that you commission or create, that will allow you to measure ROI, and establish which image types work the hardest in their given role.
Image cost variables
Any image can be measured using the following formula:

These represent each of the production components. The time spent by a photographer on a product shoot depends on the complexity of the product and its setting, and this can be converted into hours by product type. There is a material cost to the background, which can be calculated, from simple white colourama, to expensive sets or location settings.
The time taken by stylists and art directors can also be measured by shot type, as can the cost of the model, if and when they are required.
Finally, image genres will generally have a known post production process. From a quick tidy up of a product to remove dust and minor sample imperfections, to photo-shopping different images together to get a compound image.
Examples
Low cost image types: Cut out images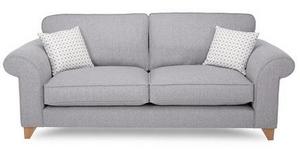 Cut out images are among the most basic image. No set is required so there is no background cost, and once an angle and lighting style has been defined and set up, it's quick for a photographer to take an image, although a stylist may be needed on more complex configurations to ensure that cushions are arranged accurately.
Even basic shots may require some post production, so the time taken and hourly rate of this work has to be factored into the overall image costs.
These types of images have many uses within a customer journey, and therefore are likely to be hard-working and very cost effective images.
Low cost image types: Detail images/cameos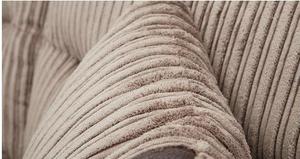 This is a simple format, but may take more photography time as it is a bespoke shot. There is no background to factor in, and a stylist is unlikely to be used in this type of image, so it is generally just the cost of the photographer's time to light and get the composition right.
Medium to High cost image types: Single product in room setting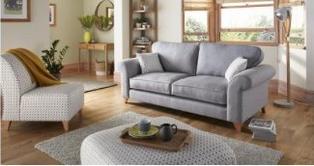 Two examples of roomset images which cost different amounts to create.
The image on the left is a simple roomset, and a smaller overall setting, so it is faster and cheaper to build, and quicker to prop, style and light. The right hand image, by contrast, is in a much more complex setting, which will cost more to build, and is also more complex to prop, style and light effectively.
There's a lot of money at stake here. Roomset images can cost in the region of £5K to create, simple cut outs can be as low as £20 per shot, and there are many different variations that retailers use, for different reasons.
Improving the customer experience and content ROI
Testing different content options and placements will help retailers learn how they can improve the ROI of existing image types, or help them switch to cheaper types of product content without risking a dip in site performance.
It will help them optimize the use and placement of content within the customer journey so that shoppers get the right type of content at the right time in their decision making process
Creating content innovation
The ability to measure the way images work within a site format and to evaluate their ROI will help brands and retailers make informed decisions about the types of content they create and prioritize.
This comes at a time when demand for content innovation is high. Paying greater attention to content performance will help brands and retailers split their budgets across different visual content types. It will identify shortfalls in performance and value for money, and will help fund research and testing into new content formats that could give them the edge over their competitors.
Back to top