I, like millions of Americans, am giddy that Amazon Prime Day is finally upon us. In addition to amazing deals, this Prime Day includes another bonus--Amazon is extending Prime Day to 36 hours, up from 30 hours last year.
Chances are, though, that if you're shopping for Prime Day deals, you will likely be doing so from a mobile device. As the 2018 Internet Trends Report by Mary Meeker of Kleiner Perkins highlights, we're doing a lot of shopping on our smartphones, with mobile shopping app sessions growing 54 percent year over year -- faster than any other mobile activity.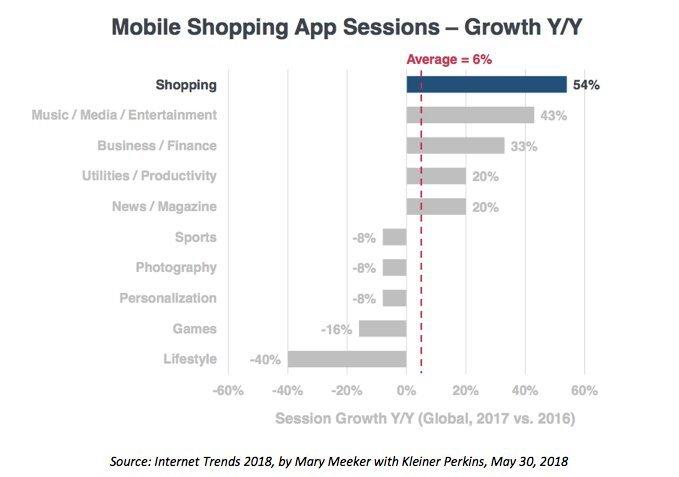 Mobile devices have become the power tool for shoppers both in stores and online. It's often where we discover new things, research items, seek out reviews or see what other people think of or look like with the item, price compare, check availability. You name it.
What's clear is that retail is increasingly a mobile-first world. The implications of this are actually quite significant because retailers have over several years invested in systems to provide personalized content on computers and laptops. These systems are not remotely optimized for mobile devices or any other new technologies for that matter (automated assistants like Amazon Echo, virtual reality, augmented reality, smart watches and whatever comes next).
The consequence of this is that the mobile experience is nowhere near what it should or could be. It's often more like a miniaturized version of the experience you would have in a browser on your laptop, which is frustrating and limiting.
While this may seem like a relatively minor issue, it's not. It matters and it matters a lot. While we're all spending a lot of window time shopping on mobile devices, overall mobile conversion is often very low. Some of that can be attributed to the fact that consumers use their mobile devices to do a lot of investigative work when they're shopping, and then actually make a purchase through other means. But any time you introduce friction into the purchase process, you risk losing out.
On the other hand, the traditionally low mobile shopping conversion means that there is tremendous upside for retailers who make this a focus -- optimizing content, the experience and payments for mobile. On a day like Prime Day, where deals abound and consumers are in the shopping spirit, a mobile first strategy will not only delight your customers, but light up your sales as well.
Back to top