What if there was a formula that would help you develop effective content models that you could scale across your business?
The Amplience Content Audit has been designed to do just that.
After researching a huge cross-section of content models that the biggest retailers use across a wide range of product categories, we learned that good content delivers across 4 major dimensions, which are as follows:
Brand
Product Information Quality
Rich Media Experience
Access
Brand: Making the brand consistent & relevant across the customer journey
As so much traffic flows away from the homepage, it becomes important to preserve the brand message across multiple customer journeys, and to consider how to make it relevant to shoppers at category level.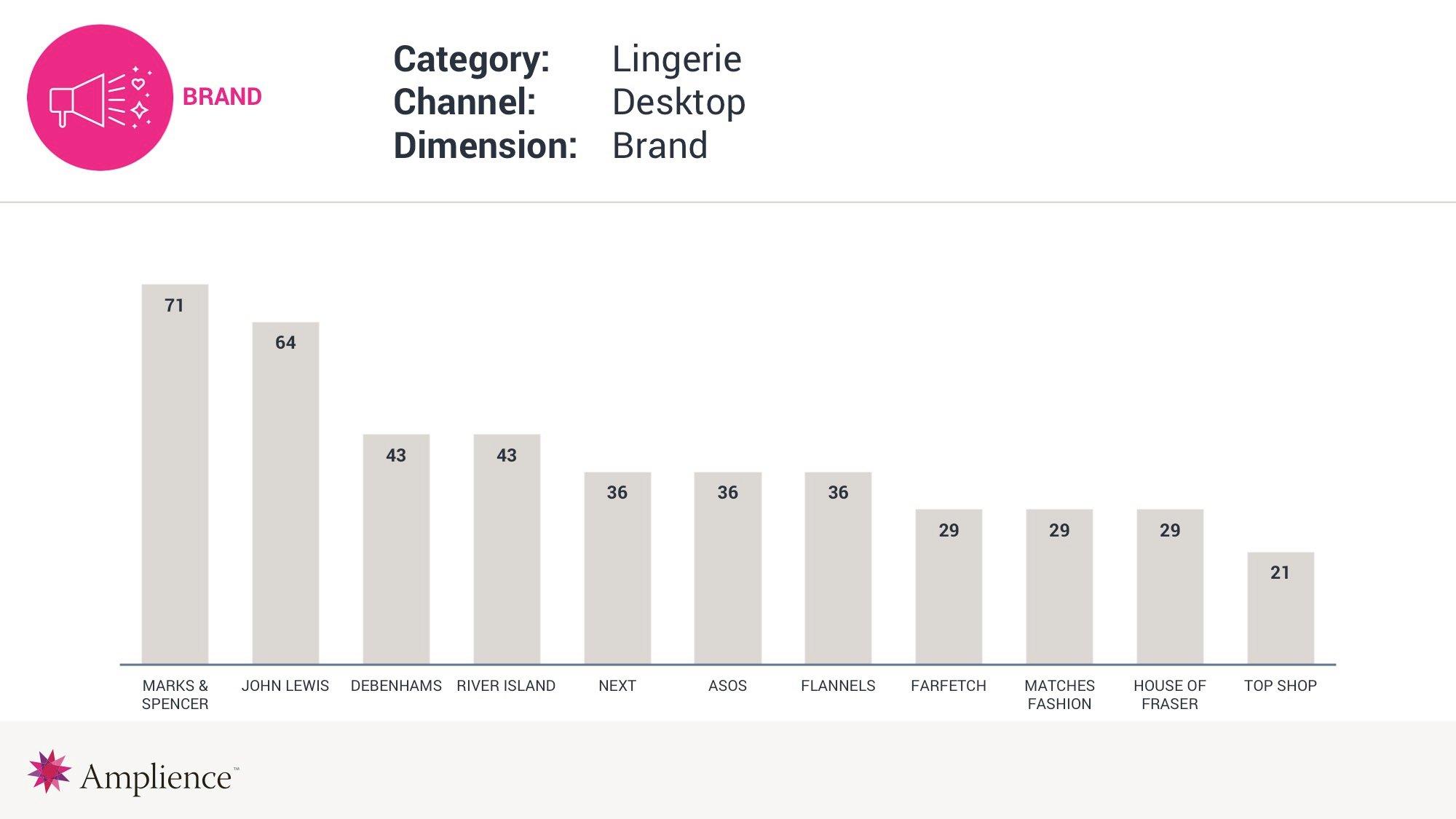 This graph, taken from our Lingerie audit shows a wide variation across different retailers against the Brand Dimension, which measures brand consistency and message relevance across the customer journey.
M&S scores highest with 71% and John Lewis follow with 57%. Interestingly our lowest cores come from the high-end fashion retailers Farfetch and Matches Fashion and this is a result of the lower levels of content on their sites in comparison.
Brand: Preserving the brand on mobile
We know that brands and retailers value the role of content, but our data has shown that content in general isn't being built into the mobile experience.
With less content, the opportunities to present the uniqueness of retailers' brand message across the customer journey is lost and this creates increasingly generic environments for shoppers using mobile and apps.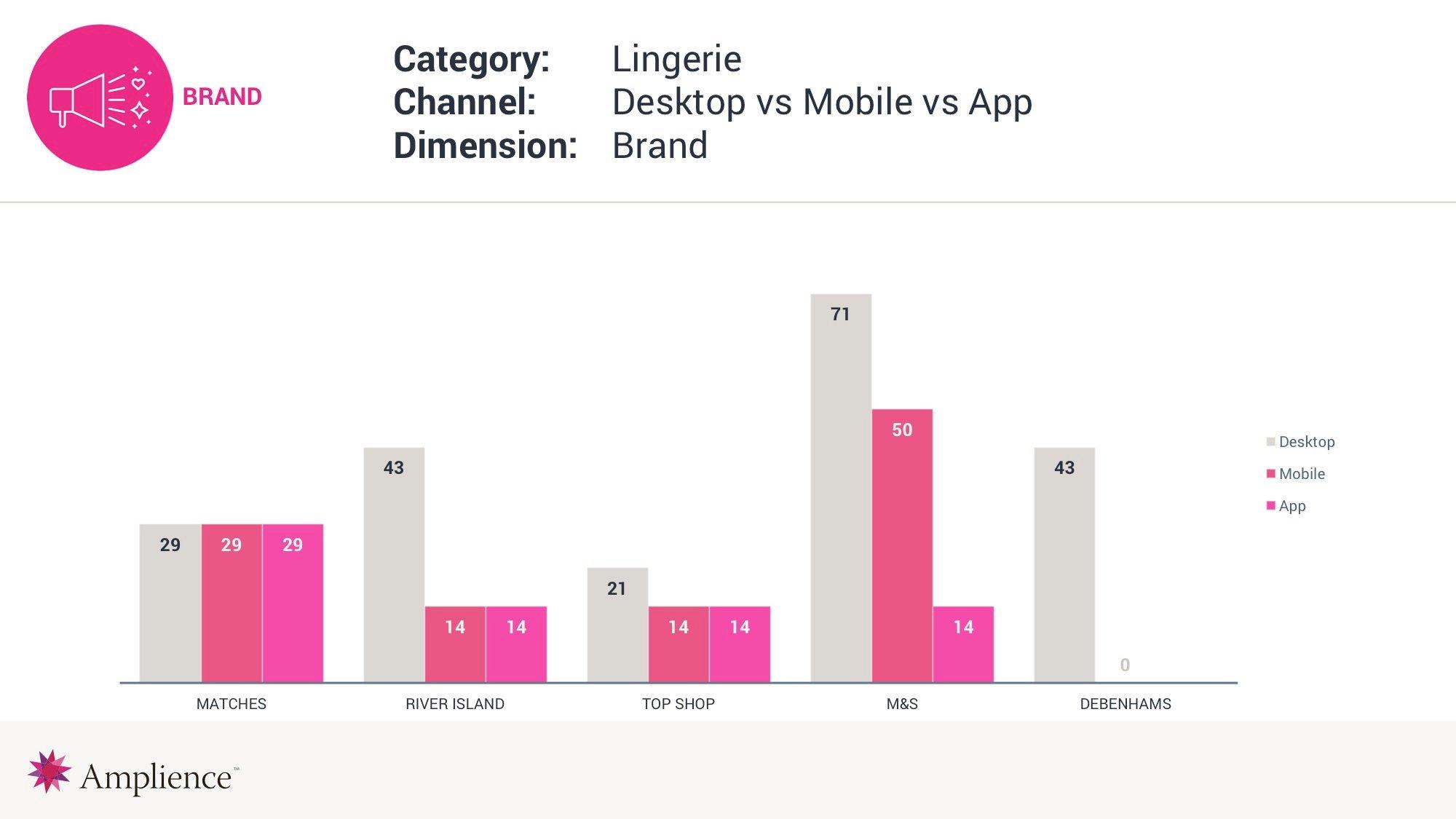 Most retailers don't have a consistent Brand score across desktop, mobile and app, but this is something that Matches have achieved.
For most retailers, like M&S and Debenhamsm, even with a good score on brand at desktop level, we see a fall across mobile and even further on app. Some retailers mobile experience has been stripped back to the extent that there is practically no content and therefore brand message.
Product Information Quality
For this dimension we measure the quality of the product information both at individual product level and its consistency across the range.
This is arguably the oldest form of digital retail content, and is certainly an area where there has been investment and improvements over the last few years.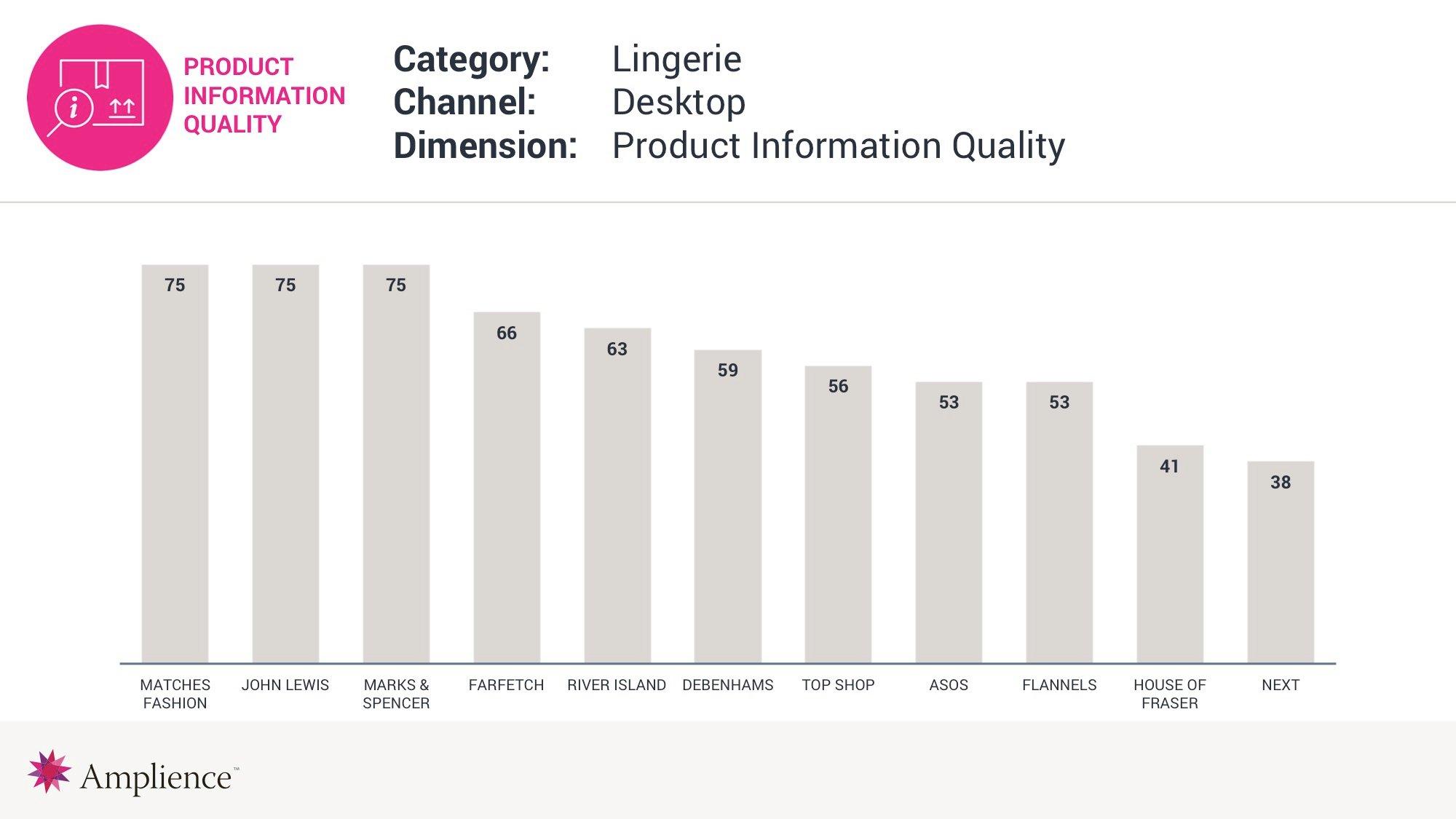 The data shows a big range in scores. The Lingerie audit scored Matches with a high 75%. By comparison, Next comes far behind with 38%.
The most common issue that the data shows up is the lack of consistency of product information across ranges. This means that when shoppers browse products from the same retailer, their product experience can vary widely from one product to the next.
This makes is harder for shoppers to understand the differences between product options, and affects how they perceive value across different price points.
Of course this is a legacy issues, but some retailers are working much harder at resolving this than others.
The data also identifies the different content models in use and gauges the standards of both images and written content.
By comparing each Product Information Quality data point across the competitive marketplace, a retailer can define their best-practice model which can be rolled out across the range as new content is commissioned.
Rich Media Integration
The Rich Media Dimension measures the type and variation of content across the customer journey and tracks the use of content technology to give shoppers a valuable and engaging experience, and to employ tactics that would help retailers to monetise content.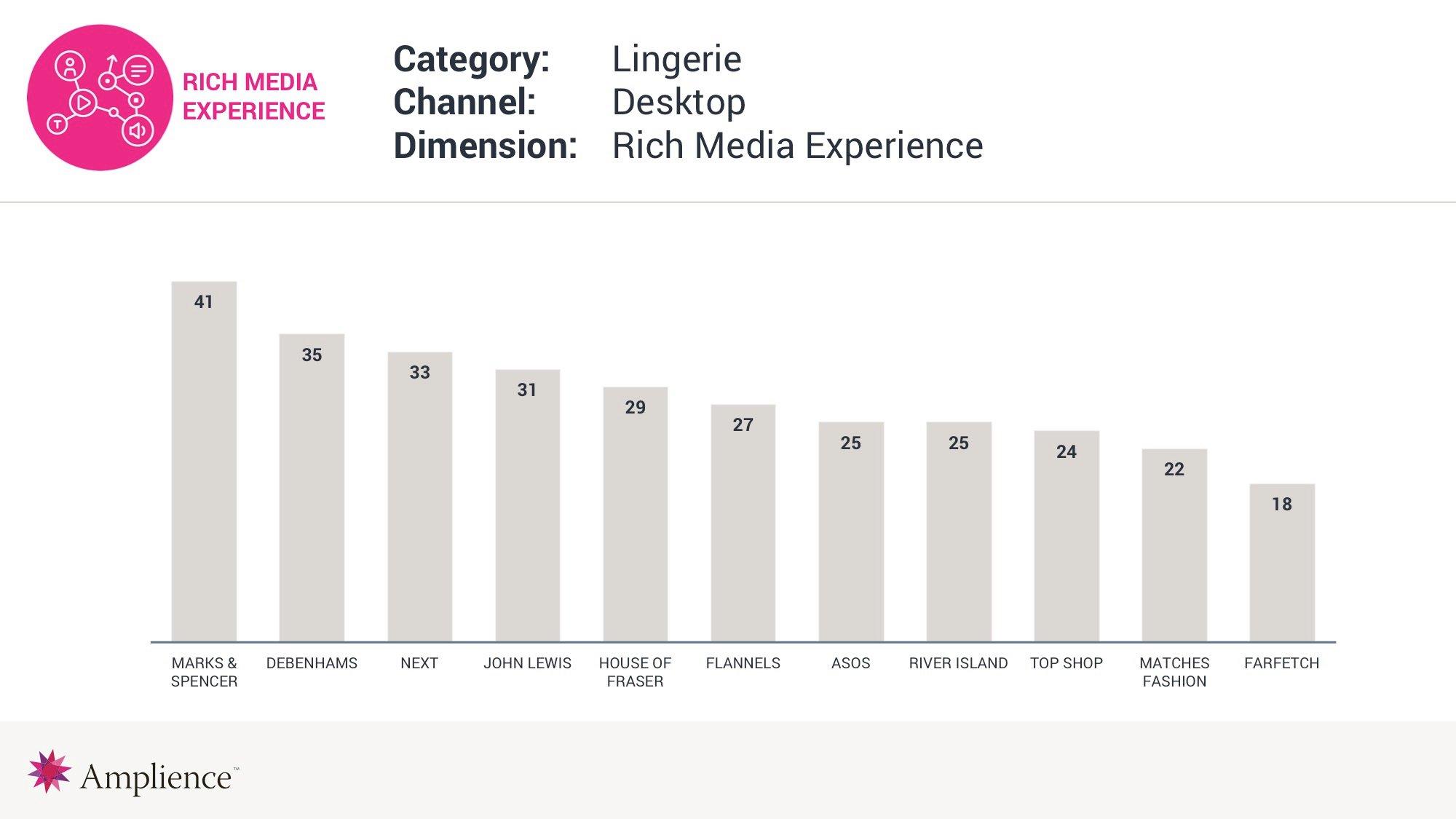 However, it's an area where most brands and retailers don't score well. There is little investment in shoppable editorial or videos. In the table above, the scores range from 41% from M&S, to 18% for Farfetch.
Video and even simple formats like GIFs are not routinely used across the shopping journey. There is little example of retailers promoting and positioning their wider range using clever and engaging formats that can engage shoppers and differentiate their experience from their competitors.
Access
Our final dimension measures how easy it is for online shoppers to find and access content in their shopping journey.
The data shows us that content isn't effectively planned and integrated into the natural customer journeys. This means that brands and retailers don't get value from the content that they invest in and shoppers don't benefit because they can't find it, or don't even know that it's there!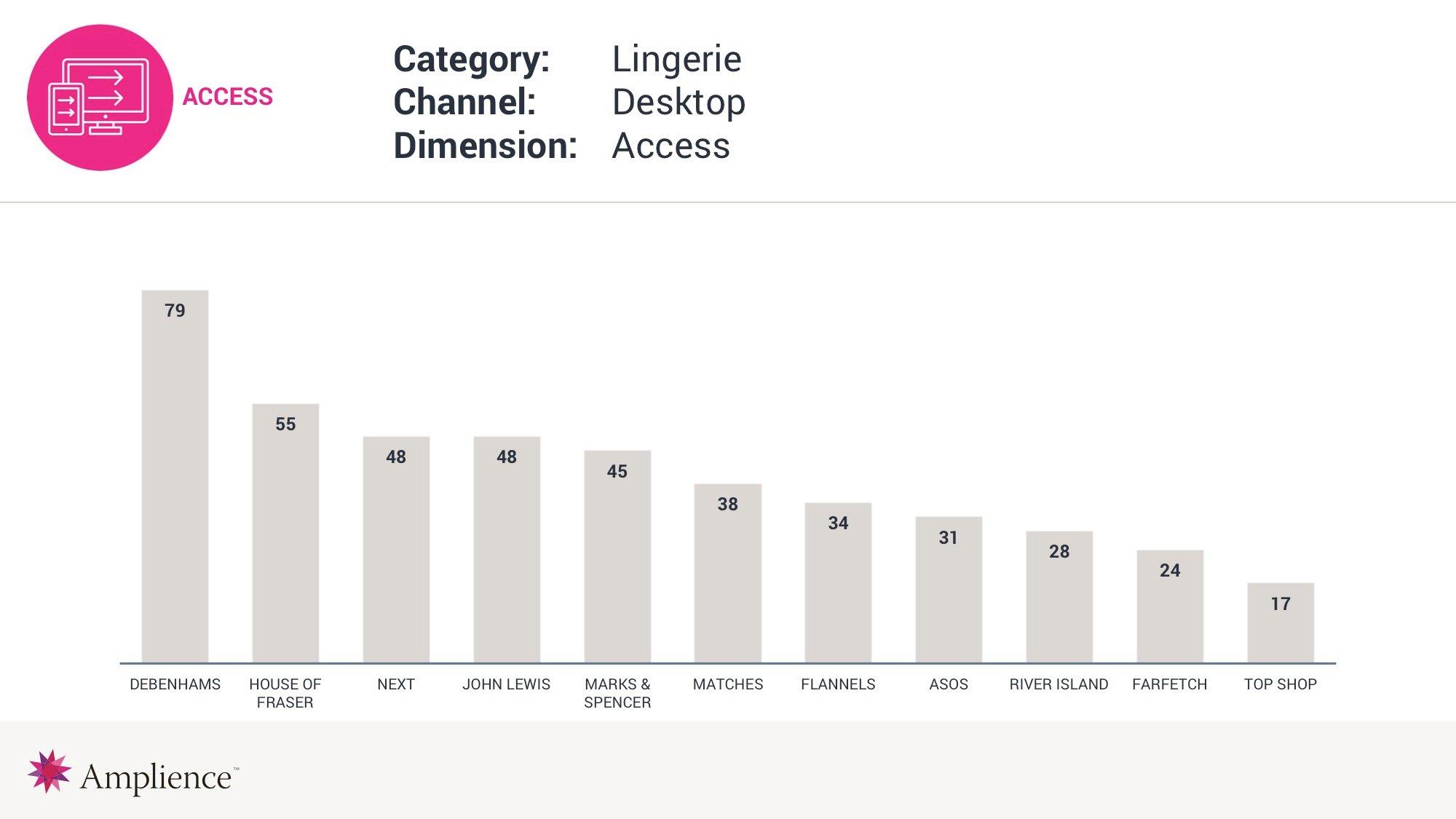 Access – Desktop vs Mobile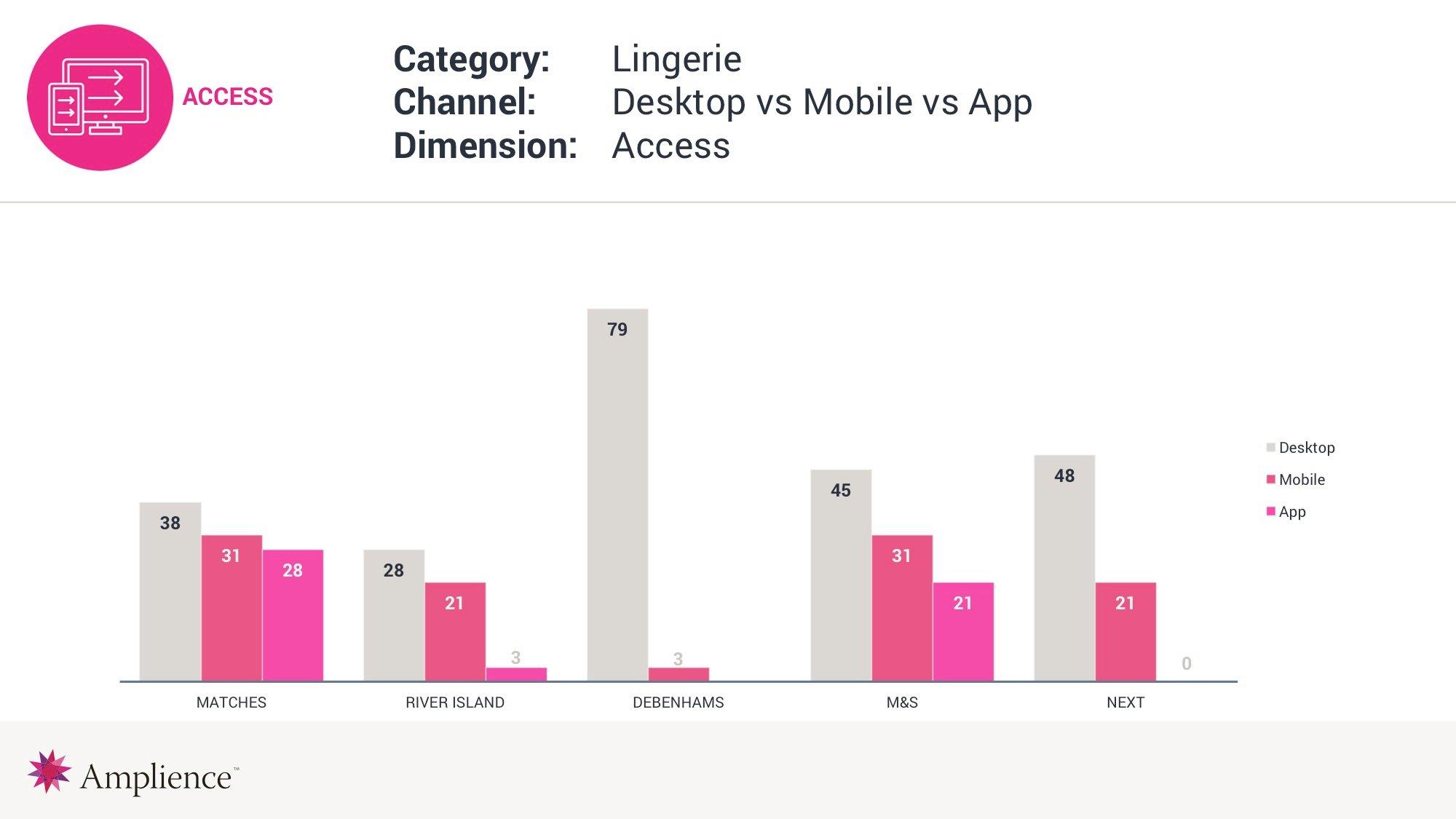 Access scores generally become worse on mobile. This is because less content is incorporated into the mobile experience, and when it is, it can be even more difficult for the shopper to find.
Defining content improvement models
The Amplience Content Audit gives retailers a comprehensive tool to define and build content improvement models that support both the brand and the customer needs.
It also provides focus on the product experience and the content variations that support it and ensure that content access is built into the full customer journey, so the shopper has consistent access to it.
The data driven process allows the retailer to measure the progress of their content improvements to a point that they are best in class and provide tangible differentiation against competitors.
For more information click here.
Back to top