The 'Digital Experience Platform' (DXP) is not a new idea, but it certainly seems to be increasingly in the conversation of late. In fact, DXP has been talked about and written about for years. I took a crack at defining this back when I was at Forrester over eight years ago[i] when I wrote "The Emergence of Customer Experience Solutions" [ii] My first line announced quite boldly that, "a new type of solution is emerging on the commerce technology landscape that promises to help eBusiness leaders drive customer targeting, content relevancy, and personalization on their sites and across digitally enabled consumer touch-points.[iii]" Hmm, not bad, still sounds pretty cool if you ask me, and even a bit retro with 'eBusiness' in there[iv]. The report even included one of my favorite graphics (see Fig 1).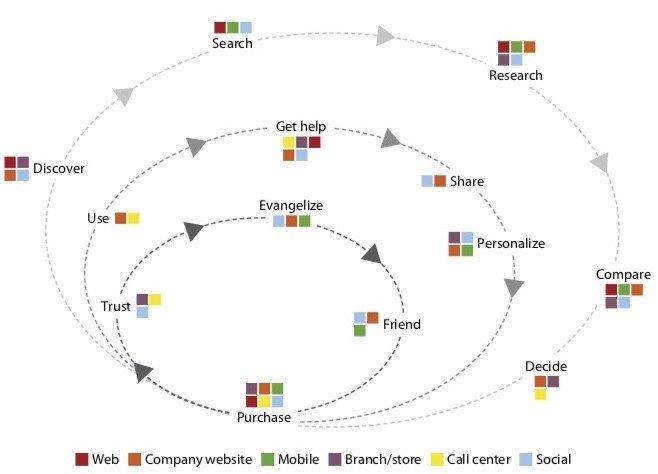 It's a risk when you read old work, but when I thought about what was bothering me about DXP I knew I had to go back and look at it. Honestly, I think it is still pretty good as a report goes. The thesis was and is plausible. But the thing is, as I re-read it, it became very clear to me that I was in fact wrong. Actually, very wrong. Here are just a few of the ways I was wrong about DXP[v]:
First, I presumed that an integrated suite would be the ideal way to solve for this. I did not appreciate the real challenges this would represent for businesses that implemented a DXP suite, at least those available on the market today. Today's businesses need far more agility, flexibility, and openness than integrated suites can provide. DXPs as they exist today are simply too big, too slow to evolve, and too complicated to implement and use to be effective. Large legacy single-tenant solutions that need to be planned, architected, implemented, tested, integrated, scaled, and maintained not just once, but repeatedly, become a show-stopper. Literally. Projects with bold visions that take a year or two to implement, while seemingly every day there is something that needs to change, evolve, and optimize. It begs the question, how can projects like this possibly work in this day and age[vi]? The answer of course is that it can't.
Second, I failed to understand how the market would respond – the DXP Wars. In my report I saw a convergence of (stay with me, this will take a while) commerce platform solutions, eCommerce search solutions, eCommerce product recommendation engines, web content management, web intelligence, marketing automation, customer service interaction management solutions all coming together to form a DXP. If this sounds like an enterprise M&A leaders shopping list, that pretty much sums up the take-away here. Most DXP offerings in the market today are a product of acquisitions – multiples of acquisitions to be honest. Arguably the first shot fired in the "DXP Wars" was Adobe, way back when they acquired Omniture in 2009. But Day Software (CQ5), later renamed Adobe Experience Manager, acquired right on its heels back in 2010 was when "shit got real". If "DXP Wars" sounds like a reality TV series for Strategy and M&A executives, that is plausible[vii]. Adobe has gone on to make a host of acquisitions, closely paced by Oracle, IBM, Salesforce, and SAP – where, yes, I could have also played my bit part in the reality TV- series[viii]. Every one of these players bought market share, did not do the hard work of integration, and either did not invest in these products after acquisition or certainly have not been able to make much progress[ix]. This has led the hype cycle[x] into the depths of despair, for good reason.
Third, this is stuff is really freakin' expensive to implement and the ROI is hard to quantify. In the recent Gartner "Magic Quadrant for Digital Experience Platforms" one can find this little nugget, "Through 2021, 85% of effort and cost in a DXP program will be spent on integrations with internal and external systems, including the DXP's own, built-in capabilities.[xi]" Many buyers of these solutions are naturally going to ask themselves, "Wait, wasn't I buying an integrated suite?" They won't ask anyone else that question, since naturally they fear looking like the fool - or maybe better said- the mark. And the Gartner report rightly goes on to add that a vast majority of those businesses implementing one of these market leading DXPs will rely on a system integrator (SI), agency, or consultancy to design, build and implement their digital experience strategies. More likely all three will be needed to implement these beasts, and that gets really freakin' expensive. I don't care how compelling the business case is, or how critical the sense of urgency is, it will be hard to justify a DXP implementation in the tens of millions of dollars and multiple years to license and implement and get value from these suites.
Fourth, I failed to understand how slow automation would happen. It seems this is now just called AI or the even sexier Machine Learning, but back then we were talking about automation in order to achieve scale. Savvy marketers always knew that there was a finite limit to the number of segments and rules-based 'customer journeys' one could manage. The number that always stuck with me – and I wish I remember who said it – was eight. Eight segments with campaigns and customer journeys. CXM requires automation and scale to be successful, especially with respect to content where a majority of the assets are unstructured. At Amplience, this is a huge part of what we are focused on, and frankly specialization is required to be good at automation, attribution and rich meta data creation across the three principal domains of commerce[xii] – customers, content, and product.
And finally, I failed to understand how the underlying technology landscape was going to evolve. When I wrote the report back in 2011, the cloud was certainly 'a thing'. I had shared a cubicle wall with the AWS team for a while when I was at Amazon, back when they were just getting started. I benefited from that early exposure to how the cloud would transform how companies large and small would build, run, and integrate software. And APIs were exciting tools in the online marketer and eCommerce playbooks by that point as well. But I certainly did not fully understand the extent to which cloud, SaaS, and APIs would lead to an entirely different way of constructing digital experiences. Nor did I appreciate the difficulties of evolving a single-tenant solution – or one that is essentially more a framework than software – to a multi-tenant SaaS solution. Turns out that is not only hard, but near impossible. That of course is reflected in the Bloomreach DXP solution. A single-tenant open-source Hippo CMS is the heart of that solution, paired awkwardly with the SaaS search product which really stands apart. And of course, there is no DAM or Dynamic Media capability with Bloomreach either. Adding API's on top of these kinds of solutions is an aim to keep up is of course necessary for these solutions, but it is like bolting treads on an old battleship that was built for the last war and repurposing it for a new kind of warfare.
OK, so I was pretty wrong about a number of things when I wrote that back in 2011. But I was also right about at least one thing:
There is a high demand for solution that can drive highly dynamic, unique experiences for customers. It is still true today that businesses – and all the people who run them - have largely grown accustomed to thinking of their experiences as made up of 'pages'. It is hard to change a core organizing concept[xiii] once it sinks in. While we have been talking about personalization for – digital terms - ages now, we are just now entering the era where truly components and content assets are served dynamically in order to personalize the experience down to the individual user and customer. To work these assets must be associated with rich metadata including language, size, campaign, category, brand, use, customer segment target, and duration and dynamically serve that content (see Figure 2) and stored in a new fashion that adds intelligence in the relationships between data and makes it query-able in a more performant and scalable way. This is what many today refer to as 'a graph' or graph database[xiv]. As I said back then, leveraging these this represents a significant paradigm shift. We are in a new era now folks.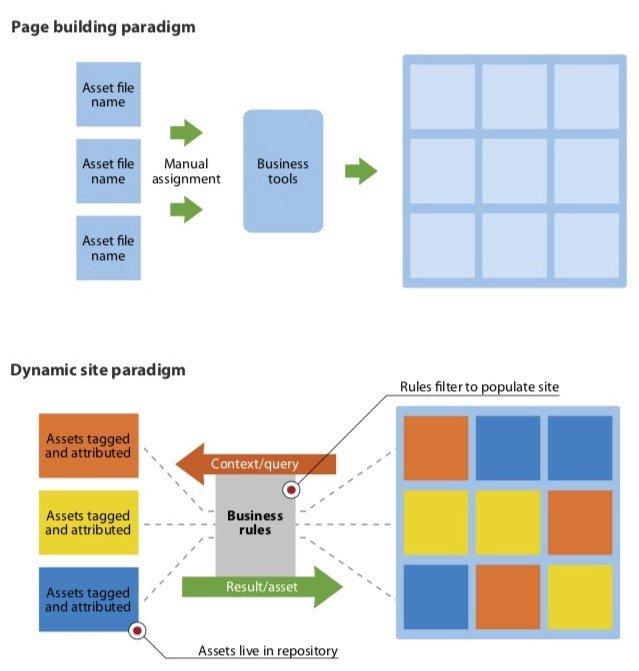 I still believe in the vison for DXP, but the way we get there is quite different than most of us anticipated. For businesses of any real size and sophistication it will require a very different solution architecture, one based on best-of-breed services, leveraging automation and machine learning, and with an agile API-first based approach to building out experiences that comprise marketing, content, commerce, sales, and service capabilities across touchpoints. At Amplience we are focused on building the leading headless, API-first, multi-tenant content system for the enterprise. We believe a solution such as ours will be vital to unlock the opportunities omni-touchpoint personalization and contextualization represent and will be the way the next-generation customer experiences are built. We focus on commerce for a reason, it requires scale and comes with complexity. We partner with others who also specialize in other domains and as our customer tell us, our customers will augment with their own services in order to differentiate their experiences as well. Customers today must also be pragmatic and make steps along the journey in a way that makes sense for their bottom-line and evolution, and that is why we are so focused on helping businesses get the most out of their existing investments and deliver in a rapid, agile fashion.
So, in a nutshell, we can drop the "P" in DXP, because it is clear we are not going to get there with a single platform or even integrated suite, but rather, it will take an ecosystem.
DXE anyone?
Brian Walker, CSO, Amplience
ENDNOTES & MUSINGS
[i] Wow, yes, time does fly. See: youngest daughter starting college in the fall. Go Oxy Tigers!
[ii] Hey, my product space names did not always stick, see: Agile Commerce Platform.
[iii] While I don't think I was far off, maybe the best definition today though comes from Gartner's recent "Magic Quadrant for Digital Experience Platforms" in which DXP is defined as, "an integrated set of core technologies that support the composition, management, delivery and optimization of contextualized digital experiences. DXPs entail a high degree of emphasis on interoperability and cross-channel continuity across the entire customer journey."
[iv] Forrester still calls the coverage area "eBusiness & Channel Strategy". Hey, stick with it long enough and it will come back in style. You wait.
[v] If you find more ways I was wrong, help me out and share it in the comments. But be gentle, I am very sensitive about being wrong. (See: my wife nodding)
[vi] Insert your favorite way to explaining the increasing speed of innovation in this omni-channel, omni-touch-point, virtual, augmented, connected, AI-driven, block-chained, ever-present, crazy mixed up world we live in today.
[vii] See "Enough Already: 17 Reality Shows Have the Same Word in Their Titles"- https://www.tvweek.com/broadcast/2013/03/enough-already-17-reality-show/
[viii] Adobe: Scene7 (2009), Business Catalyst (2009), Omniture (2009), Day Software (2010), Auditure (2011), Efficient Frontier (2011), Neolane (2013), Magento (2018, boy took a while to fill that gap), Marketo (2018). Oracle: ATG (2010), Fatwire (2011), Endeca (2011), Right Now (2011), Collective Intellect (2012), Eloqua (2012), BigMachines (2013), Responsys (2013), BlueKai (2014), Datalogix (2014), Maxymiser (2015). IBM: there were some earlier ones, but I am including Sterling Commerce (2010), Coremetrics (2010), Unica (2010), Datacap (2010), Tealeaf (2012), Silverpop (2014). Salesforce.com: Radian6 (2011), Buddy Media (2012), ExactTarget (2013), SteelBrick (2015), Demandware (2016), Krux (2016), CloudCraze (2018), RebelMail (2018). SAP (and yes, I am complicit): hybris software (2013), SeeWhy (2014), Abakus (2016), Gigya (2017), CallidusCloud (2018), Coresystems (2018), Qualtrics (2019)
[ix] If I am honest, this is totally understandable, and I mean no disrespect to the acquired companies and the good people who worked there, many of whom I know. New security, compliance, technology, and release processes all conspire to slow the train way down to a crawl. I know from experience that it is very hard to sustain the level of innovation you had before acquisition, and in a way, it is like gravity – and who are you going to blame for gravity?
[x] Hype Cycle is perhaps one of the best things research products Gartner ever produced. I would love to buy the analyst dinner who really coined that and talk about how they came up with that.
[xi] "Magic Quadrant for Digital Experience Platforms", February 11, 2019 by Irina Guseva, Gene Phifer, Mike Lowndes, Gavin Tay
[xii] At times I have referred to these as the 'three stools of commerce', but I don't feel like using the analogy this time.
[xiii] See: ebooks, horsepower
[xiv] A good place to start understanding graph databases is frankly Wikipedia: https://en.wikipedia.org/wiki/Graph_database
Back to top