There is a prevalent trend for consumers engaging in "Research Online, Buy Offline" (ROPO), also known as "webrooming". That is, doing their browsing online and then going into a store to make a purchase. DigitasLBi recently released some survey statistics suggesting that 86% of shoppers engage in ROPO. L2 also highlighted data from 2012, below, which suggests that this trend has grown rapidly in just a few years.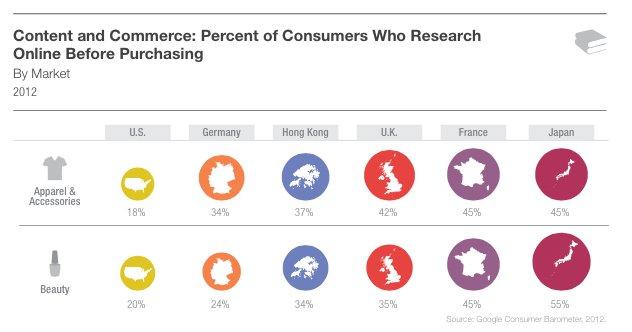 When laid beside the habit of "showrooming" (browsing in store and purchasing online), and the proliferation of different devices and channels, and a picture emerges of fragmented and complicated user journeys. The challenge for retailers to take advantage of this is to create consistently excellent content experiences across all channels, for all devices. We call this the Big Content challenge.
Meeting the Big Content challenge means creating great content that inspires customers from brand and lifestyle images and videos, to curated user-generated content. Then taking this content and weaving it throughout the customer journey, and ensuring that it works across all devices and channels.
This is important, because as Deloitte have highlighted, over 50% of sales will be influenced by a digital experience, including obvious online sales, but also offline sales. Furthermore, Deloitte have shown that using a device before and during in-store shopping increases the conversion rate by 40%. Having a consistently experience across all channels can make the difference between many more sales.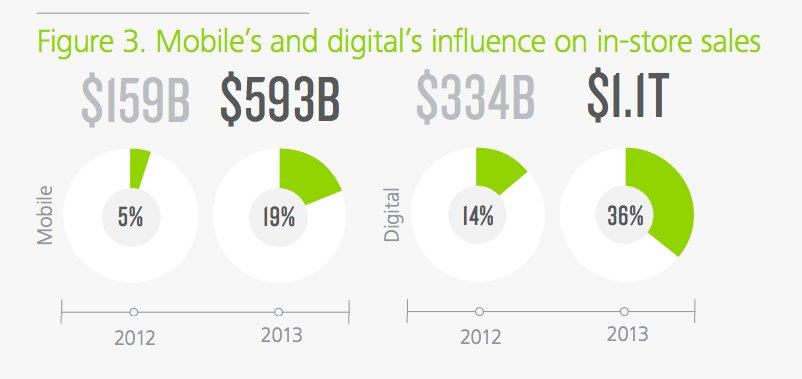 Source: Deloitte
Deloitte have also estimated that mobile and digital channels' effect on ins-store sales has nearly tripled between 2012 and 2013.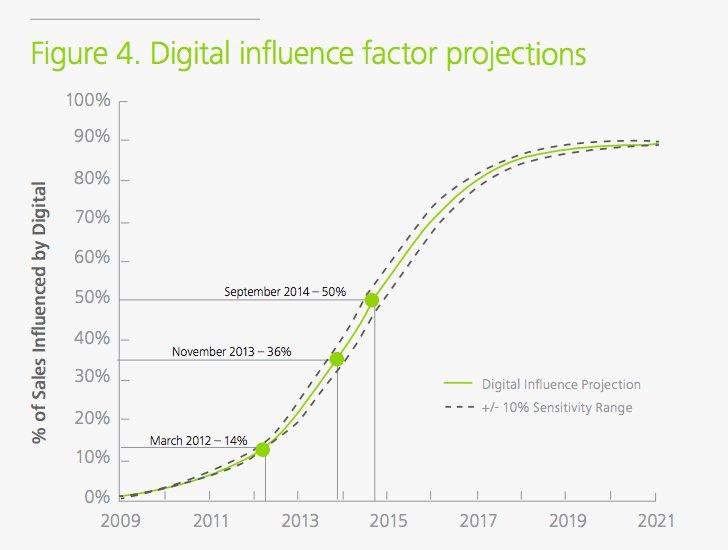 Source: Deloitte So, how do you ensure that you are doing this? First, you need to align your team around building this experience. This means bringing marketing and ecommerce teams together to work towards this common goal. It also means that you need to ensure you've invested in a platform that allows you to build and integrate great content throughout the customer journey.
And remember it's ultimately easier to build in a process where you create your mobile version as you are creating your desktop version. This ensures you are making a consistent experience, and also allows you to build a process that you can scale for new devices and channels.
This is what the AmplienceOne Big Content platform has been built for. It allows business users to create engaging, interactive content, including carousels, look-books, and eCatalogs. Users can also enrich existing pictures and videos with shoppable calls-to-action, which allows shoppers to add products to basket directly without interrupting the customer journey.
Furthermore, to help retailers understand tangible changes they can make to connect their content and commerce channels and ensure that they have great cross-device experiences, we have been developing the Big Content Index. This will objectively measure retailers ability to use great content in their online experience, and provide rankings and practical information that retailers can put into practice.
To find out more about how Amplience can help you ensure you are engaging all of your customers, regardless of what mode they are shopping in, take a look at our solutions here.
Sources:
L2: https://www.l2inc.com/research/content-and-commerce-2014
Deloitte: https://www2.deloitte.com/content/dam/Deloitte/us/Documents/consumer-business/us-rd-thenewdigitaldivide-041814.pdf
Back to top