By: Chris Haines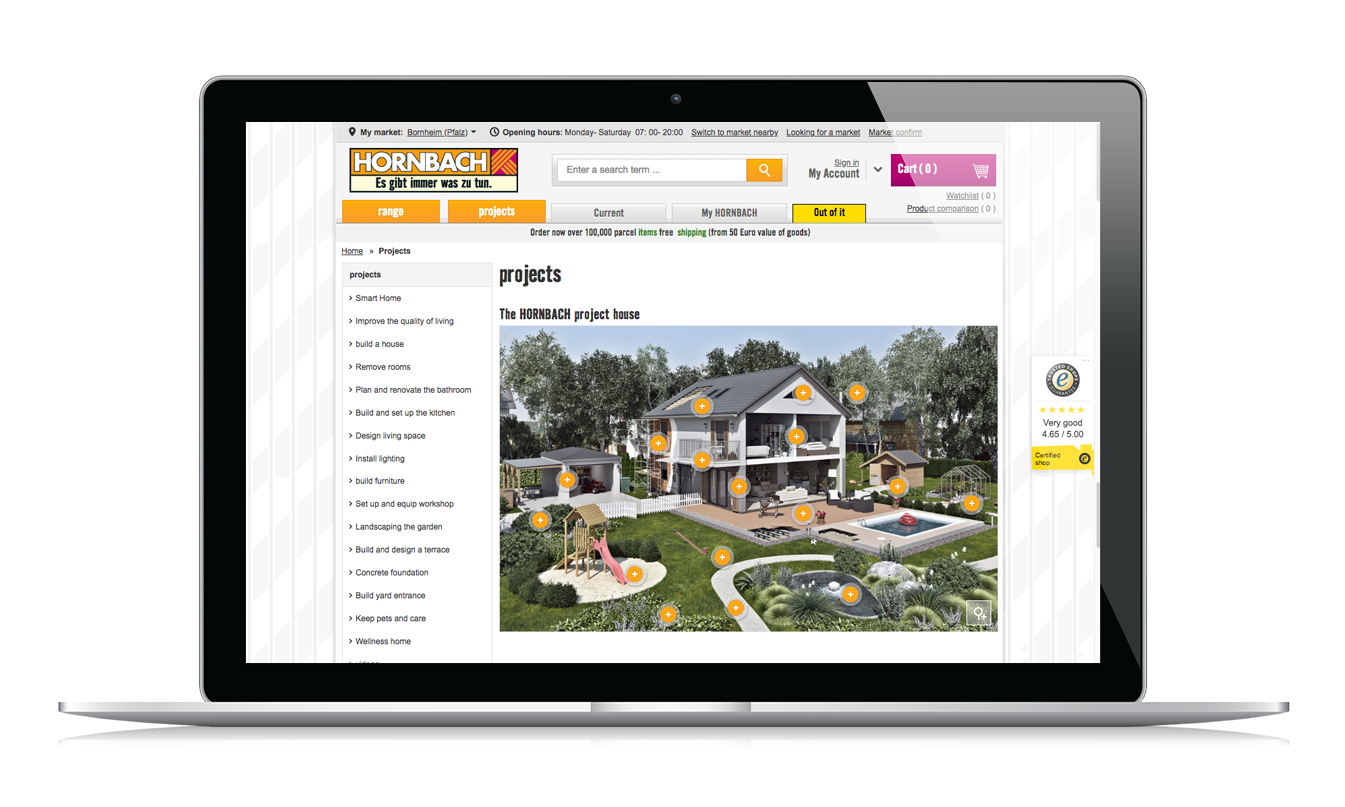 Among ecommerce retailers, the home improvement category is head and shoulders above the pack in creating volumes of engaging content. For many DIY brands, the how-to, project-oriented content alone would put related editorial brands to shame with the amount and quality of content available. Add to this consumer-focused content like buyer's guides and you'll see why home improvement leads the charge with content creation across all ecommerce categories. That said, the content is not universally discoverable, and in some cases, it's downright difficult to find and consume, particularly on mobile…
In a recent analysis of 13 global home improvement retailers, we analyzed 90 data points across four dimensions (Access, Brand, Product Image Quality, Rich Media Experience) to measure the availability and quality of content across desktop, mobile and app if available. We focused on three categories—lawnmowers, flooring and BBQ grills—to mimic the customer experience of shopping for a specific product and to determine how and where content formed a meaningful piece of that experience.
One disappointing trend we discovered in this analysis is that—aside from fully responsive sites—much of the access, and even existence of content degraded from desktop to mobile to app. Major retailer Lowes, for instance, doesn't offer any access to its content in the mobile experience and Home Depot and UK retailer Argos don't offer any on their apps. Some of this content scarcity is due to the nature of mobile, where landing pages like Department and Category are omitted as navigation takes customers directly to product landing pages. What that means from a content perspective, however, is that there are fewer chances to engage with educational information.
Apps might be a special case. Some brands utilize their apps primarily as a sandbox for experimenting with different kinds of experiences. Both Lowes and Home Depot offer in-store navigation through their apps as well as experimenting with Augmented Reality, so they may have made a conscious decision to forego site content. This seems to be a mistake given that ecommerce across the board is seeing an explosion in mobile traffic but conversion rates are not keeping pace.
Other potential reasons for the dearth of content on mobile are puzzling, especially when compared to the apparel category, where mobile experiences are often richer than desktop. H&M's Tinder-styled, mobile-only bikini finder is a great example. Given the amount of pre-purchase research consumers perform on their smartphones, there is all the more reason to make this content available, particularly through navigation.
One potential reason for content sparsity on mobile is that the content isn't designed and built to be published to multiple platforms so it doesn't render well on mobile. As you can tell by the formatting of Home Depot's washing machine buyer's guide, it appears to have been created first and foremost for desktop and its appearance on mobile is treated as a nice to have, if badly formatted for the device.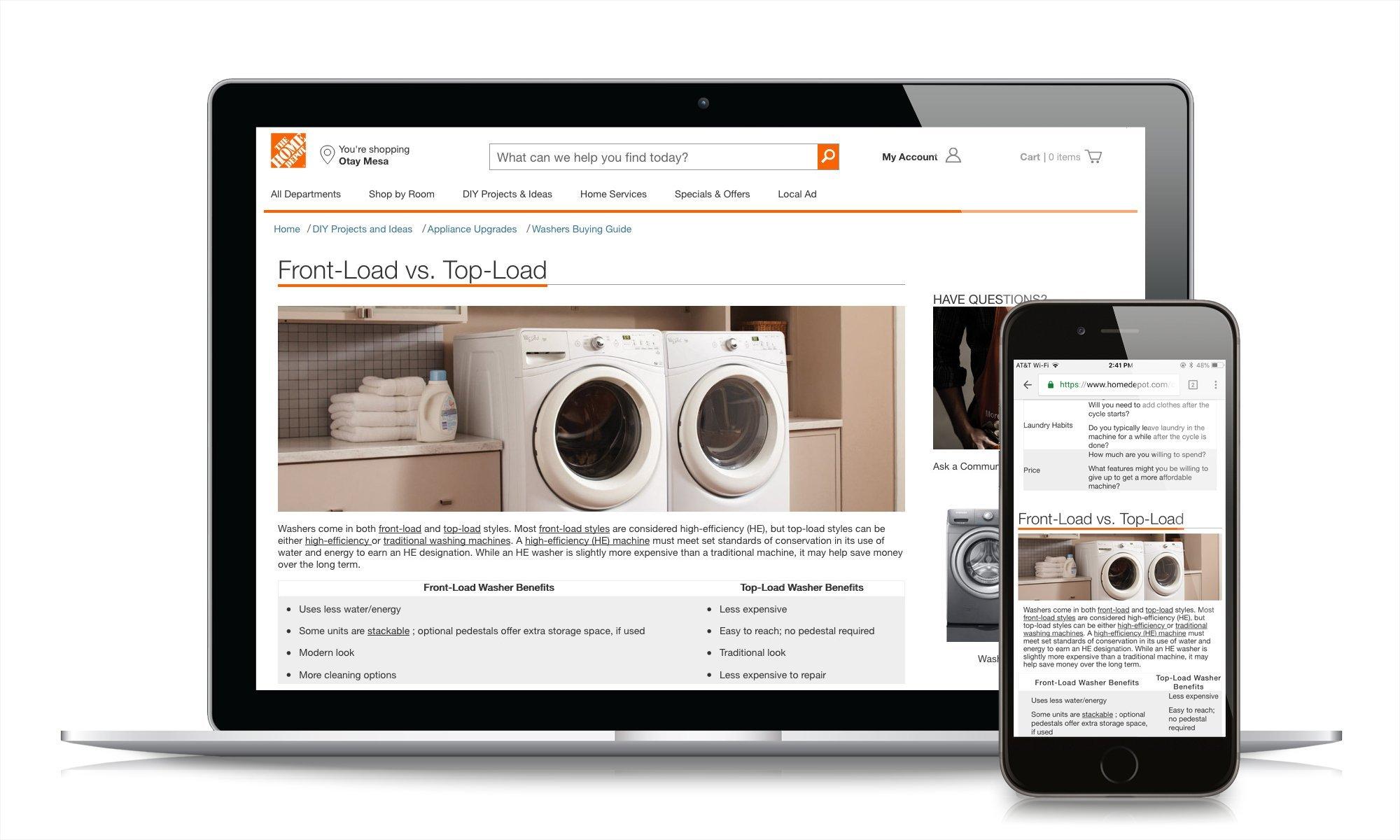 Once again, drawing from our experience of evaluating brands' content creation process, the reason for not publishing consistently across devices is that brands aren't utilizing purpose-built ecommerce tools that have that innate functionality. When teams have to republish content separately by device, the experience usually degrades.
Most of the EU home improvement retailers we evaluated offer fully responsive web sites so content availability was consistent between desktop and mobile. That said, very little of the content produced for mobile leverages the functionality of the form factor such as tapping and swiping horizontally to reveal additional content. The result is long pages of dense content that requires constant vertical swiping to consume it all.
If I were to advise a home improvement retailer on how to improve their mobile experience, there are two areas I would recommend that they lean into: leveraging purpose-built content management tools and defining a comprehensive category-level content strategy.
Purpose-built tools and workflow
As we've seen, even when content like buyer's guides exists, it's often formatted in an awkward manner that may work well on desktop but not on other devices. Add to this that content availability degrades substantially from desktop to mobile to app and we have to assume that these retailers are not leveraging purpose-built tools. Today's retail-focused Content Management Systems take a Create Once Publish Everywhere (COPE) approach, which reduces the level of effort to publish to multiple platforms and provides the means to format content by device.
Comprehensive category-level content strategy
Given the fact that not a single retailer offered access to content consistently throughout the customer journey, we have to assume that none have activated cohesive content strategies by product category. This is perhaps the most serious miss that we identified throughout this investigation. By putting themselves in the position of the shopper, brands can identify the many touchpoints—including in-store—where actionable content can help the customer make the correct purchasing decision. The impact of this is substantial. Not only do you build brand loyalty and repeat customers by offering educational content, but this is the best opportunity for reducing product returns.
An educated customer is a happy customer.
To learn more about Amplience Content Audits click here.
Back to top