Storytelling is the back bone of a content strategy, and when developing a category-level content strategy, there are three areas to focus on; the brand story, the customer shopping mission and the product story.
The Amplience Content Audit measures the strength and frequency of the brand message across a category level customer journey, and the table below is taken from the Amplience Content Audit for Jeans.
Compared to other categories we have reviewed, Jeans have low scores for the Brand Dimension. The Brand Dimension measures brand consistency and message relevance across the customer journey.
Low scores mean the brand story is not told effectively and consistently across the customer journey, i.e. it's not going deep enough at category level.
This is a function of familiar site models that have invested in beautiful home pages and inspirational blogs, with functional and generic product content sandwiched in between, with little to link them together.
Interestingly, we've found this to be a feature of many higher-end brands, while the high-street invest more in creating a better balance of content to support the journey.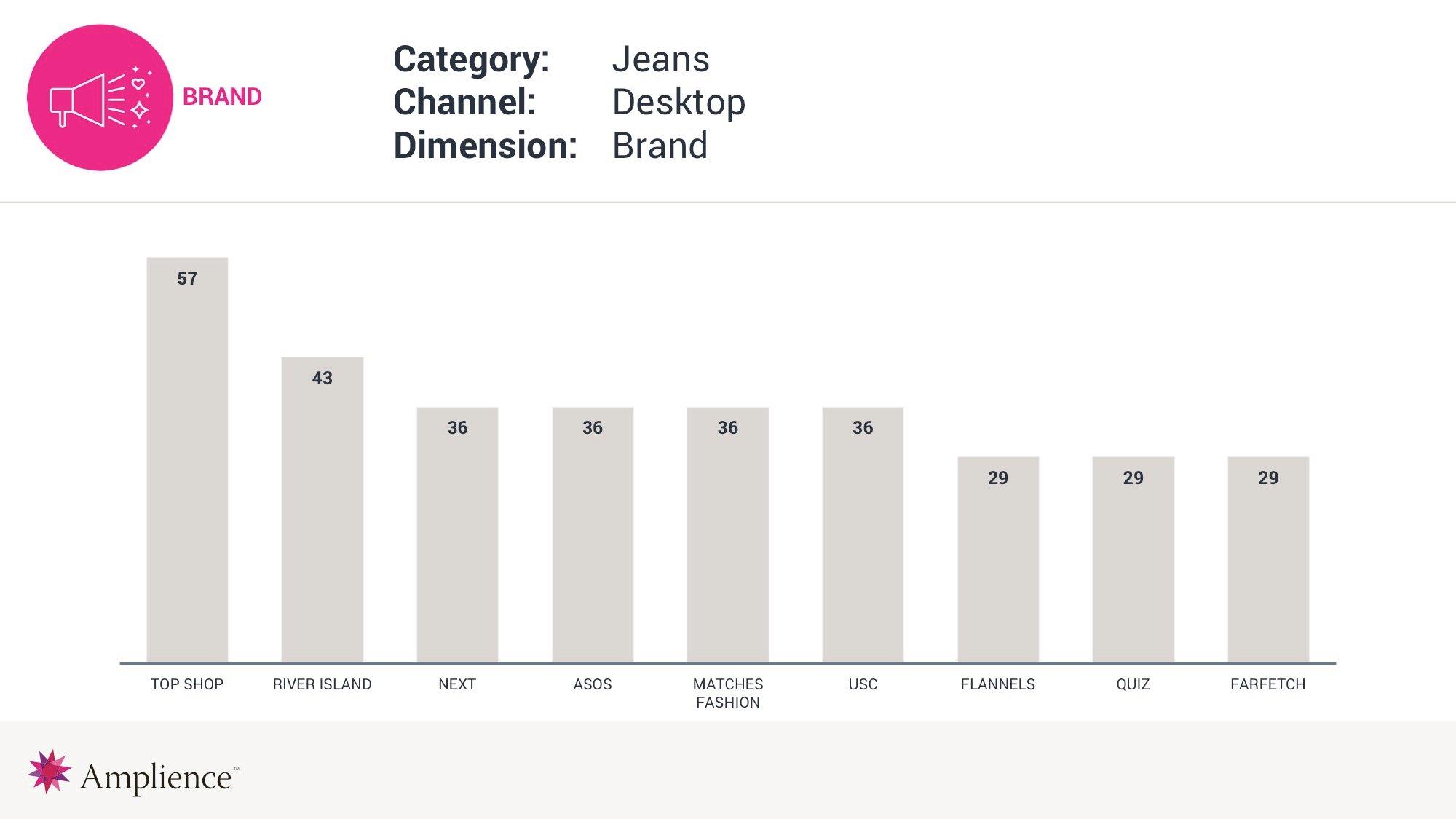 Bringing the story into the product pages
Our Product Information Dimension measures consistency and quality of image at PLP level, and quality and consistency of visual and text content at PDP level.
Product content is an essential component of your product story. Product stories should be geared towards helping shoppers understand and navigate your range, easily compare different product options, and give confidence to the final decision-making stage.
Product information standards are generally good across the board these days. It's not difficult to build a product information model and roll it out across the range.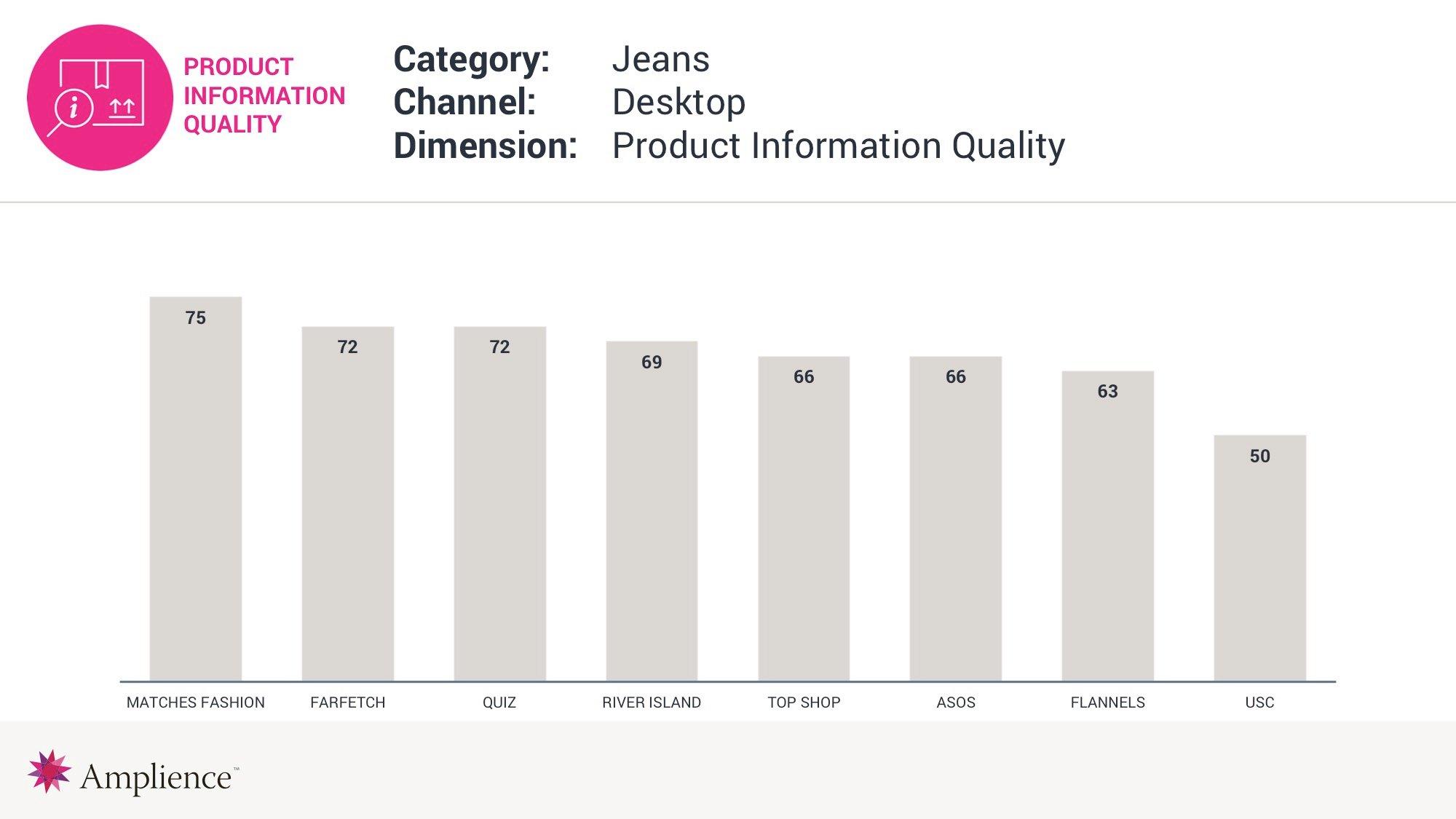 While these scores are good and in-line with other categories we've audited for the Amplience Content Audits, two areas where we often see underperformance is in the poor image quality at PLP level (a technical issue), and the lack of consistency content standards across the range.
Falling short in these areas means your customers will find it more difficult to browse and compare the range easily.
Rich Media Experience – reflecting customer missions
If the story-telling trio of brand, customer and product is going to be implemented effectively, longer forms of content need to be integrated into the customer journey.
When this is done well, customer missions can be acknowledged and supported. Ranges can be explained. The brand has ample opportunity to build a contextual dialogue with the shopper.
The Amplience Content Audit for Jeans shows minimal investment in category-level content, which means the story-telling in this category is compromised.
Overall, we see little Jeans content on homepage or department landing pages. Buyers guides were not routinely incorporated. (Only Top Shop included one, as well as a jeans navigation panel and landing page, which explains their top score).
On average, the scores are around the mid-20s for desktop, dropping into the teens for mobile and single digits for apps.
If we consider the volume and opportunities to see content, alongside natural search traffic patterns, shoppers are getting a very functional shopping experience for this category, right across the market.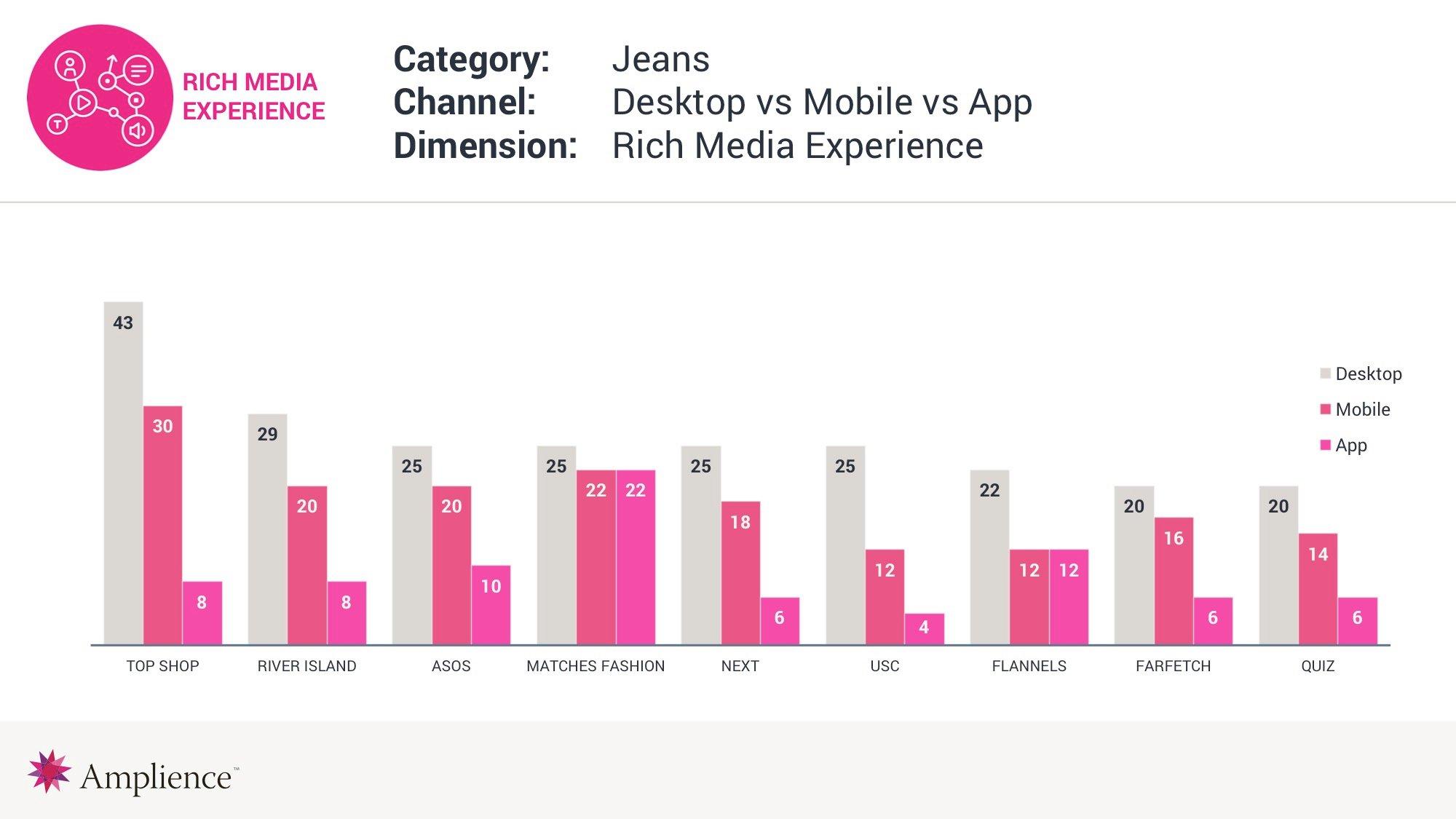 Driving conversion with rich media
We know that placing content in multiple locations across a shopping journey, to build frequency of message exposure to shoppers, increases conversion.
Shoppers who see the content featuring a product are more likely to buy it.
Incorporating video, GIFs and shoppable editorial features deepen engagement and provide purchase prompts and opportunities throughout the journey.
The place to start when building and testing a new content strategy is with products that have the best story potential. Jeans are an emotive and essential wardrobe staple for all of us, so are a perfect testing candidate.
Access
Reasonable access scores such as these are attributed to the fact that much of the content that is created, primarily on homepage and blogs is technically accessible within the customer journey, i.e. can be linked to via page footers.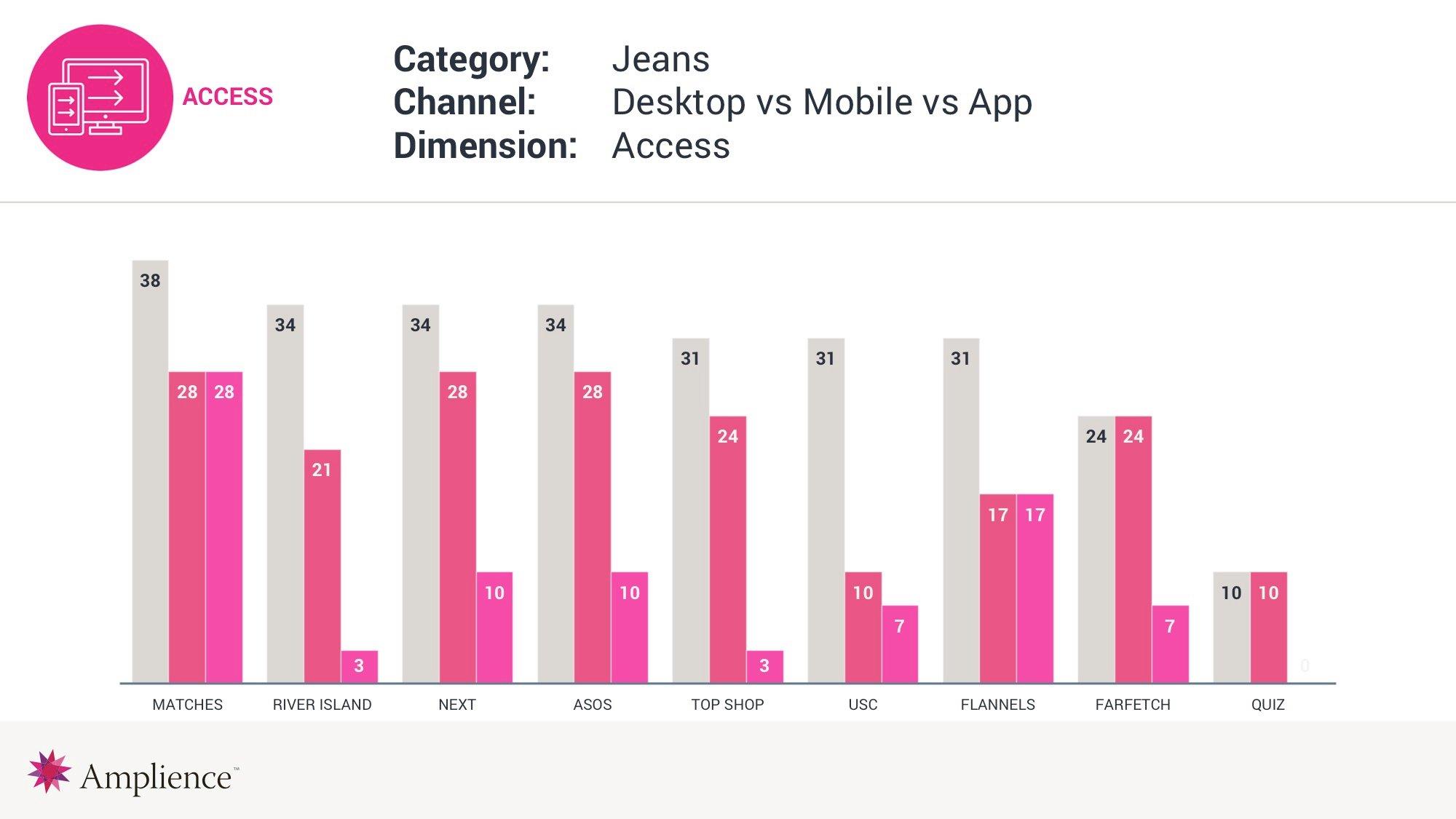 When we go deeper, we rarely see evidence of an access strategy, where category- relevant content is properly signposted and integrated into the customer journey.
In the absence of an access strategy, neither shoppers nor retailers get full value from content, and its power to enhance conversion rates and engagement, isn't being effectively harnessed
Amplience Content Audits
The Amplience Content Audits create an unique framework for developing effective content strategy models, and realising your category-level story telling potential.
For more information click here.
Back to top