Eyeshadows are simple products with 3 key components; seductive packaging, continuous updates to seasonal colour palettes and evolving formulas that give make up addicts better staying power and more colour density.
So we were surprised by the variation we saw in the content strategies of some of the world's most well-known cosmetics companies.
An Amplience Content Audit scores how effectively a brand's content is driving commerce, and uses 90 data points across four major dimensions; Brand, Product Information Quality, Rich Media Experience and Access.
An Amplience Content Audit focusses on individual product categories, as this reflects how customers shop and is the best way for us to see how content is incorporated into customer journeys.
The latest Amplience Content Audit scores the eyeshadow product category, and compares customer shopping experiences across some of the world's best-known cosmetics brands to see how they perform.
So how did they all do?
Dimension Brand: Measuring the strength of the brand across the customer journey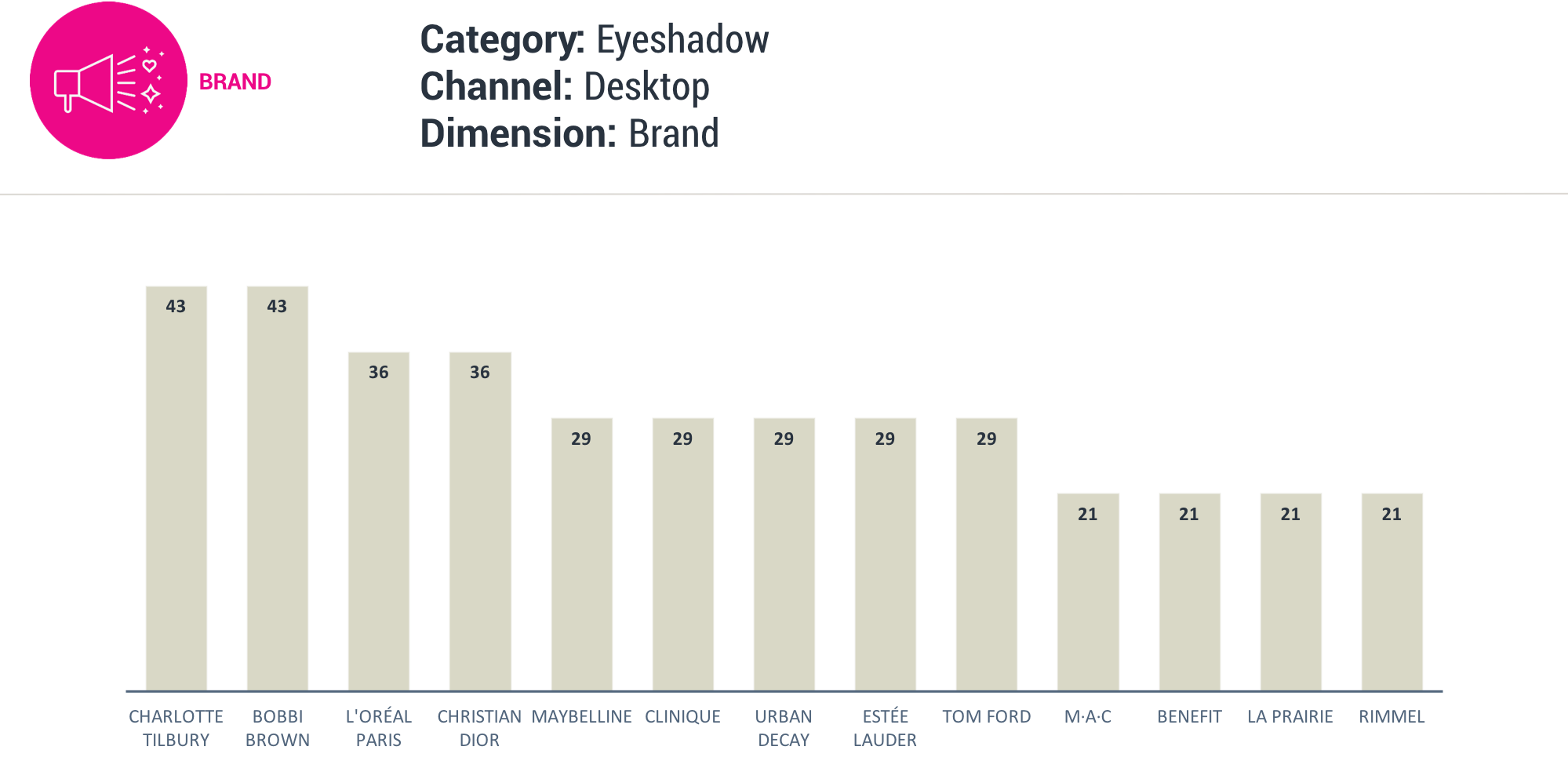 The dimension brand scores retailers on the presence and relevance of brand across the customer journey. Brand story should be embedded across the full customer experience, and brand message carried consistently throughout the site.
Charlotte Tilbury and Bobbi Brown scored highest at 43% with Mac, Rimmel, La Prairie and Benefit scoring less than half of the leaders, with a joint score of 21%.
The main cause of low scores is having very little content to support the shopping mission. Rimmel supported the customer journey only with the homepage, a simple PLP and a product detail page. Their blog was simple and outdated. In contrast, higher scoring retailers like Charlotte Tilbury clearly highlighted their brand throughout each page and regularly posted new content. By mentioning awards, extra services, and brand values (for example, no animal testing), retailers can give shoppers more reason to engage and connect to their products.
Dimension : Product Information Quality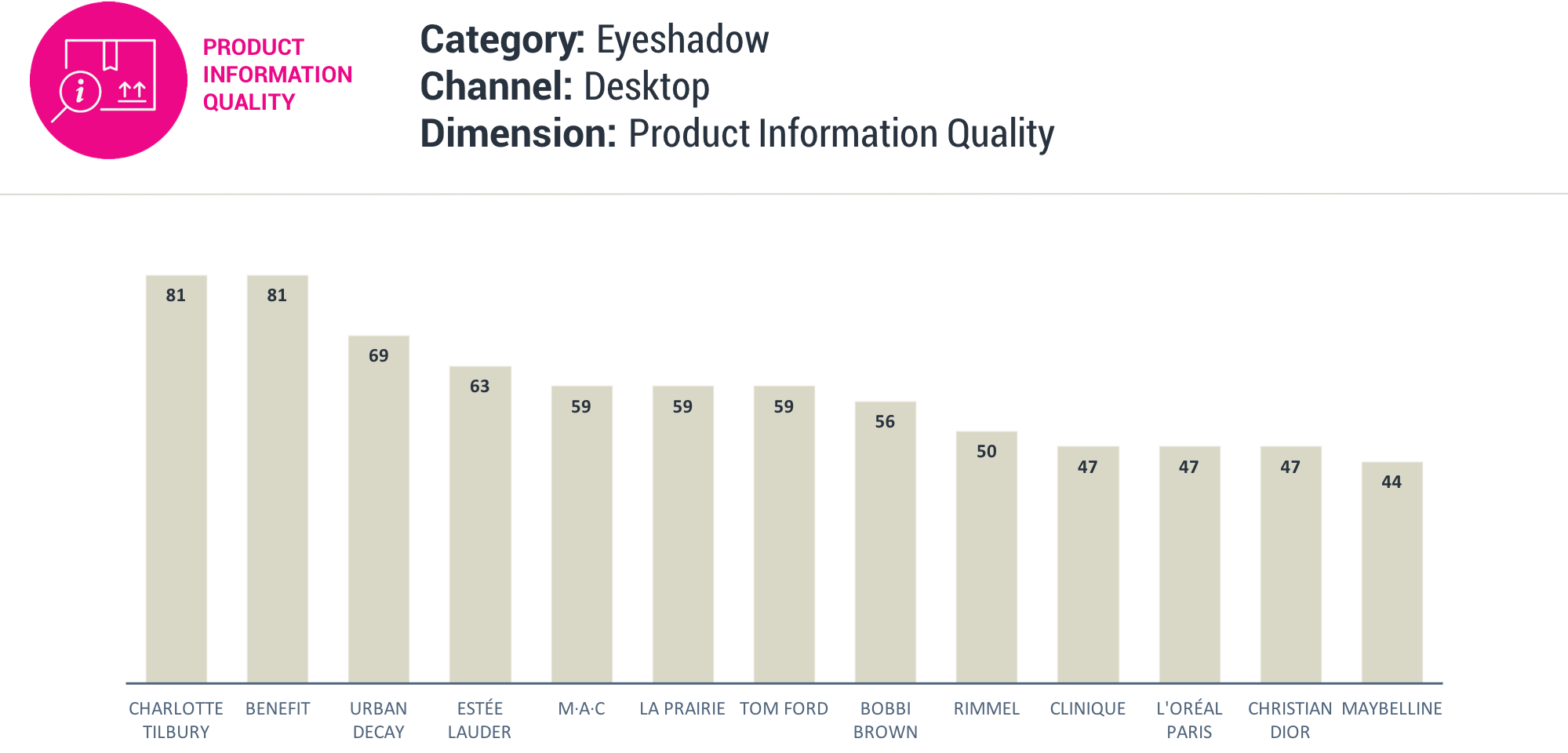 We score product information in 2 ways. Firstly, we score the quality at an individual product level for both written and visual content. Secondly, we look at the consistency of the content across the range and for the hero images a customer sees when they browse the range.
Charlotte Tilbury lead again, sharing the top score of 81% with Benefit. Maybelline score lowest with 44%.
The lower the score, the less information the retailer gave about its products. While Benefit included multiple model images, video, and size by weight, other retailers like Christian Dior didn't include information such as ingredients, and typically showed only one photo per product.
Dimension: Rich Media Experience
The Dimension Rich Media tracks the amount of different content types that a brand or retailer creates for a category-level shopping mission. The eyeshadow audit found that most retailers had no relevant department landing page and none had a category landing page, which in some retail categories is used to guide the customer's shopping mission, provide range information and display brand messages.
Rich Media also tracks the use of technology that allows retailers to create shoppable posts and videos, and place these at many points in the customer journey.
The Content Audits we have carried out to date highlight a low uptake of rich media, and we also found this with the eyeshadow data.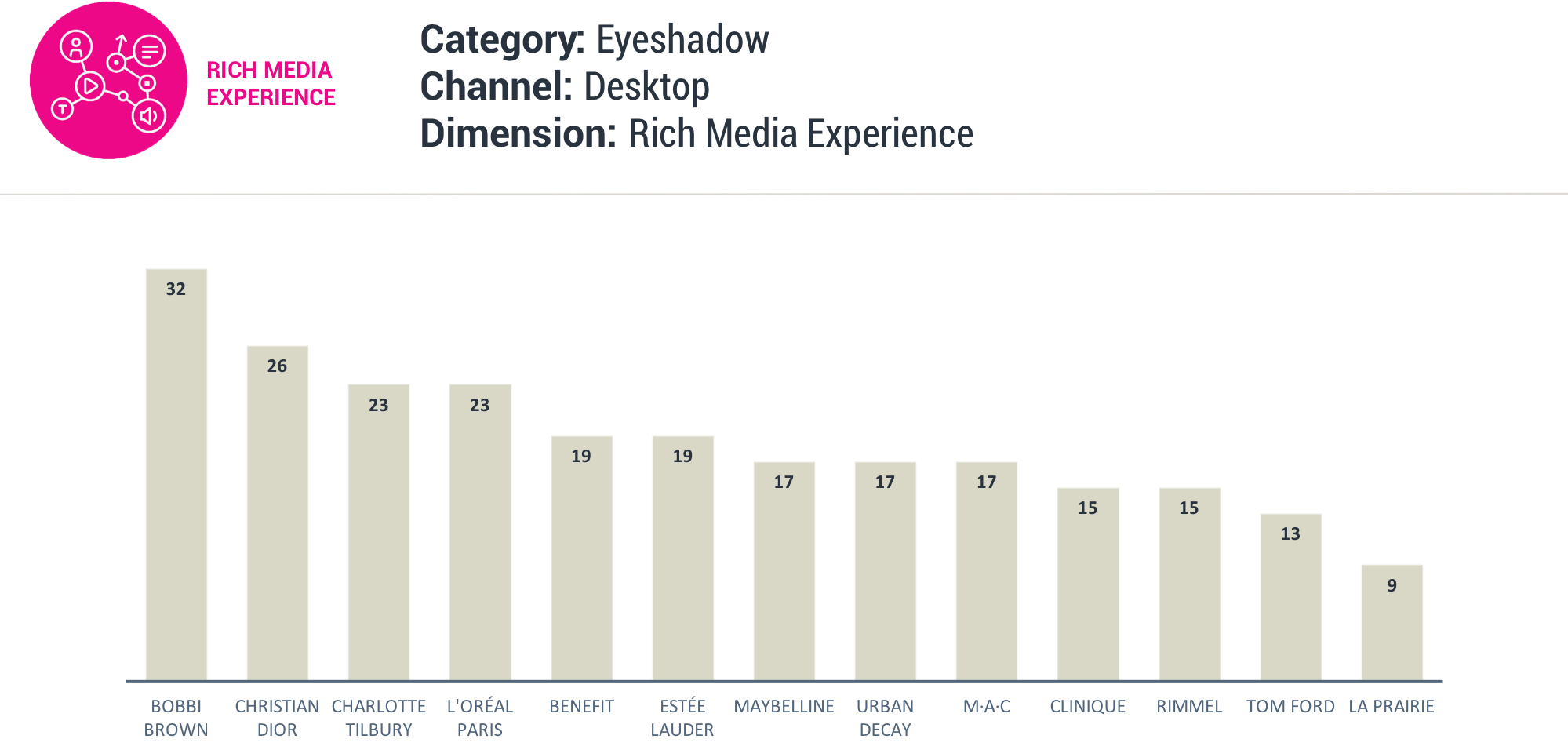 For a highly visual product like eyeshadow, we expected better use of video and other rich media. Many brands use engaging content on their social media channels, but this content wasn't integrated into the site experience.
Low scores across the audit were caused by a low variation in the types of content used. The lowest scoring retailers used very little rich media on the pages where it was included. With the lowest score in this audit, La Prairie had no video on its PLPs or PDPs. In contrast, Bobbi Brown featured video, GIFs, rollover visuals and a simple buyer's guide.
Some examples of the types of rich media found are shown below. Charlotte Tilbury combines Rich Media and Access through shoppable videos. Video tutorials on Bobbi Brown have a list of the products underneath, with quick buy links so viewers can add to the basket while watching the video.
An interesting trend throughout cosmetics is to include user generated content outside of the blog, typically through an Instagram gallery. Bobbi Brown, MAC, and Charlotte Tilbury made this a clear part of their content, even including the galleries on PDPs.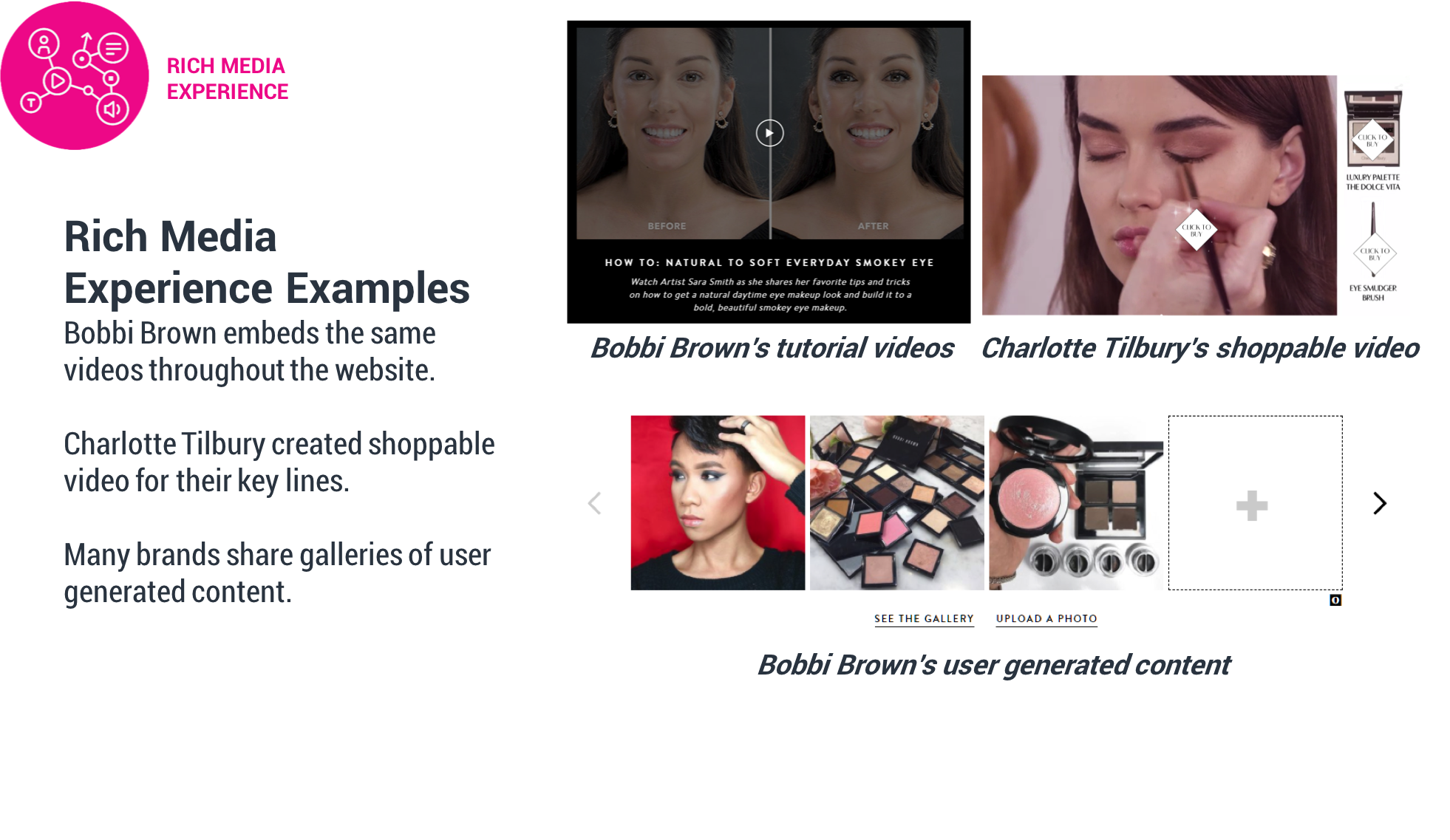 Dimension: Access – ensuring shoppers are aware of content and can find it
The dimension Access measures how easily customers can find content that supports their category shopping mission. Low scores mean the information either does not exist or it is difficult to find information that does exist.
Interestingly, luxury brands which position their products based on their expertise and product quality, often have poor Access scores.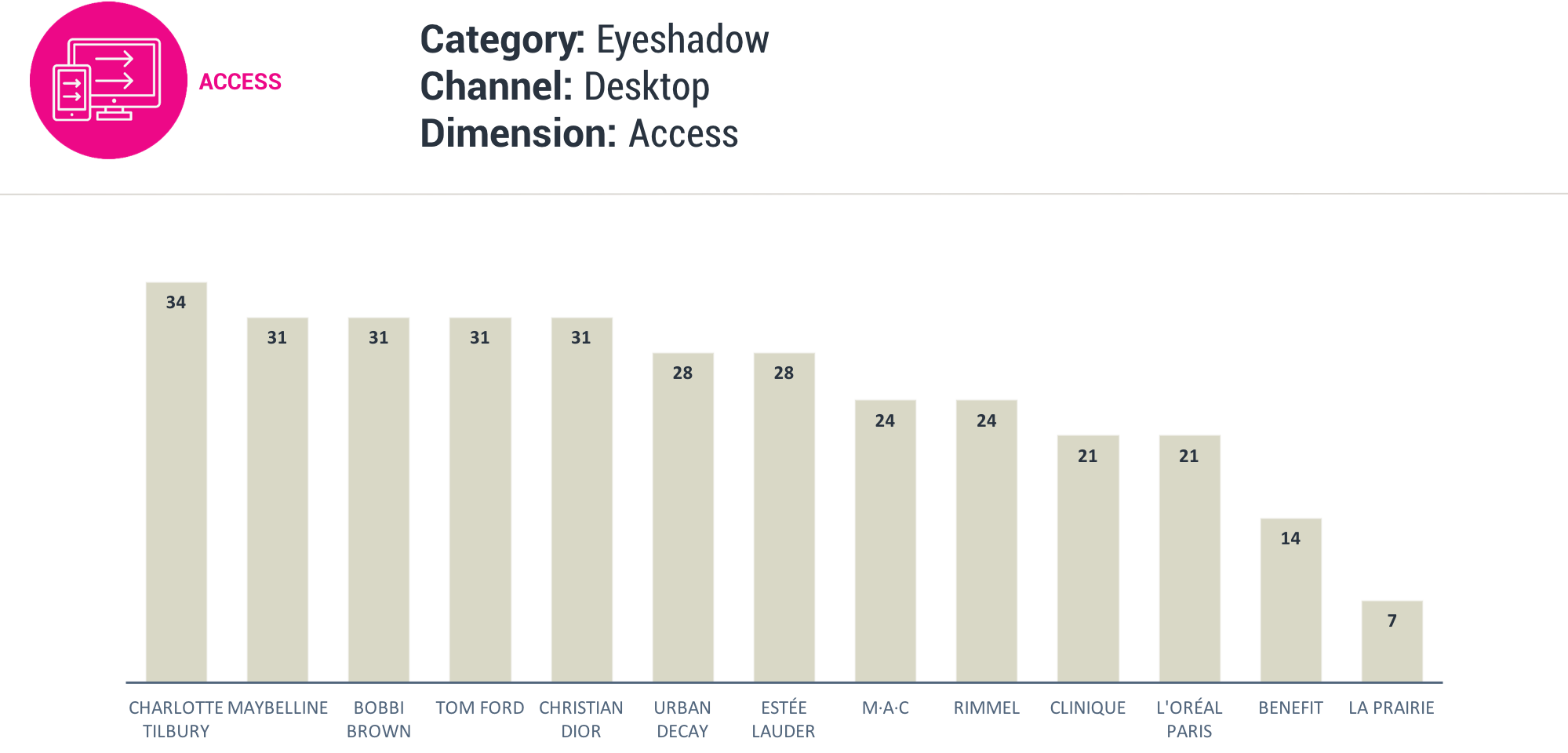 Driving conversion with Access
When we drive deeper into each audit, we rarely see any evidence of an Access strategy. Category-level content is often poorly integrated and difficult to find.
In the absence of an access strategy, neither shoppers nor retailers get full value from content. This translates to lower conversion rates and less engagement.
We know that placing content in multiple locations across a shopping journey, to build frequency of message exposure to shoppers, increases conversion.
Shoppers who see the content featuring a product are more likely to buy it.
The easier your content is to find and use, the more shoppers will engage with your brand and purchase your products.
Finding the content gold standard
Together, the four Dimensions of Brand, Product Information Quality, Rich Media Experience, and Access provide valuable insight into which areas of a retailer's content strategy could be improved.
A visual styling product like eyeshadow has a lot of opportunity to be both engaging and exciting online. The online customer experience in cosmetics is often missing content types, such as buying guides and category landing pages, meaning retailers could be missing opportunities to engage with shoppers and convert them into buyers.
From our audit, we now know world-renowned brands have surprisingly low variety in their content types. Cosmetics retailers are investing in video, celebrity endorsements, and other campaigns without bringing this content into their sites.
The Amplience Content Audit is a valuable tool that retailers can use to define and scale effective content right across their range.
Back to top