We live in a mobile first world. 90% of ecommerce growth comes from mobile, yet mobile conversion rates are falling.
There are a number of factors that contribute to this conversion decline. One of them is the quality of the mobile shopping experience. To understand more about this, we've compared the desktop and mobile shopping experiences of some of the most well-known global cosmetics brands.
We do this using the Amplience Content Audit. We've developed a data-based methodology of scoring brand and retail content effectiveness within online shopping journeys.
The Audit process scores content across 90 data points and four major dimensions; Brand, Product Information Quality, Rich Media Experience and Access.
In this report, we dig deeper into the differences between mobile and desktop scores achieved by each cosmetics brand, and learn more about how content contributes to a good mobile shopping experience.
Each Amplience Content Audit focusses on a single product category, reflects real-life shopping missions and evaluates how effective content is when viewed through the lense of the shopper.
To compare cosmetic brands, we selected to audit the eyeshadow product category. Eyeshadows are a relatively straightforward product featuring rich storytelling components such as alluring packaging, seasonal colour palettes and evolving formulas.
So how did the customer experience rank when comparing the desktop and mobile shopping experiences?
Dimension Brand: Simple content comes at a cost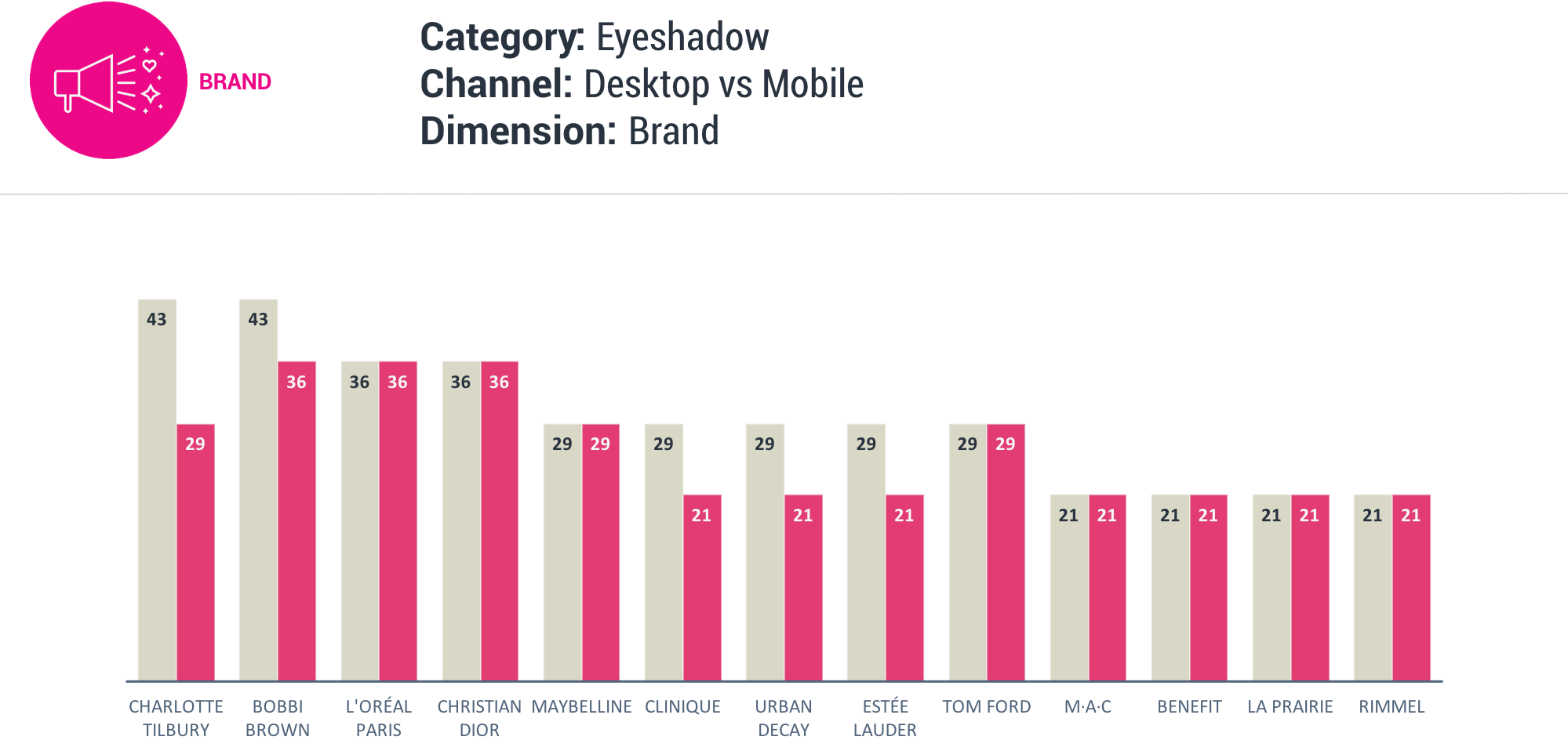 The dimension Brand scores retailers on the presence and relevance of their brand across the customer journey.
Overall, cosmetics retailers score below average on Brand, compared to other retail categories. The main reason for this is that they use less content. With fewer pages in the shopping experience, retailers and brands lose opportunities to bring their stories to life in the context of the category. The variation in brand experience between homepage and product page can be quite stark, resulting in a fairly generic product experience between retailers.
From the above chart, we can see that most retailers score similarly across desktop and mobile. This is due to the content-lite approaches that these retailers are taking.
Charlotte Tilbury and Bobbi Brown achieved the highest Brand score with 43% on desktop. But on mobile, Charlotte Tilbury was in fourth place. This was because some information was stripped from mobile journeys, such as the department landing page.
In the example below, we can see how Clinique's product lister page varies on Desktop vs Mobile. Most of the information at the top of the page has been removed and this shows how information about the brand USPs and current offers is commonly omitted from the mobile experience.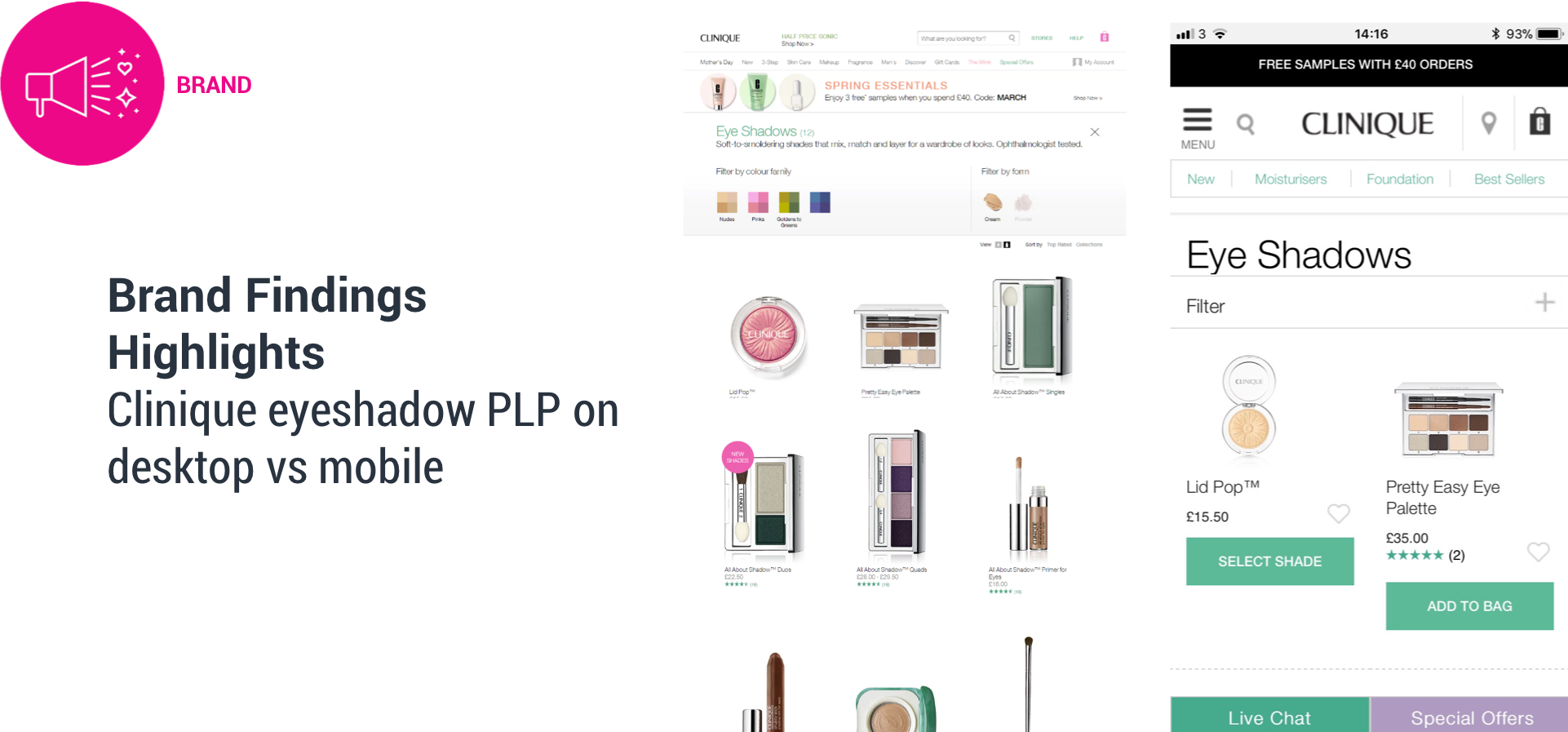 Dimension Product Information Quality: Do shoppers get the same quality across devices?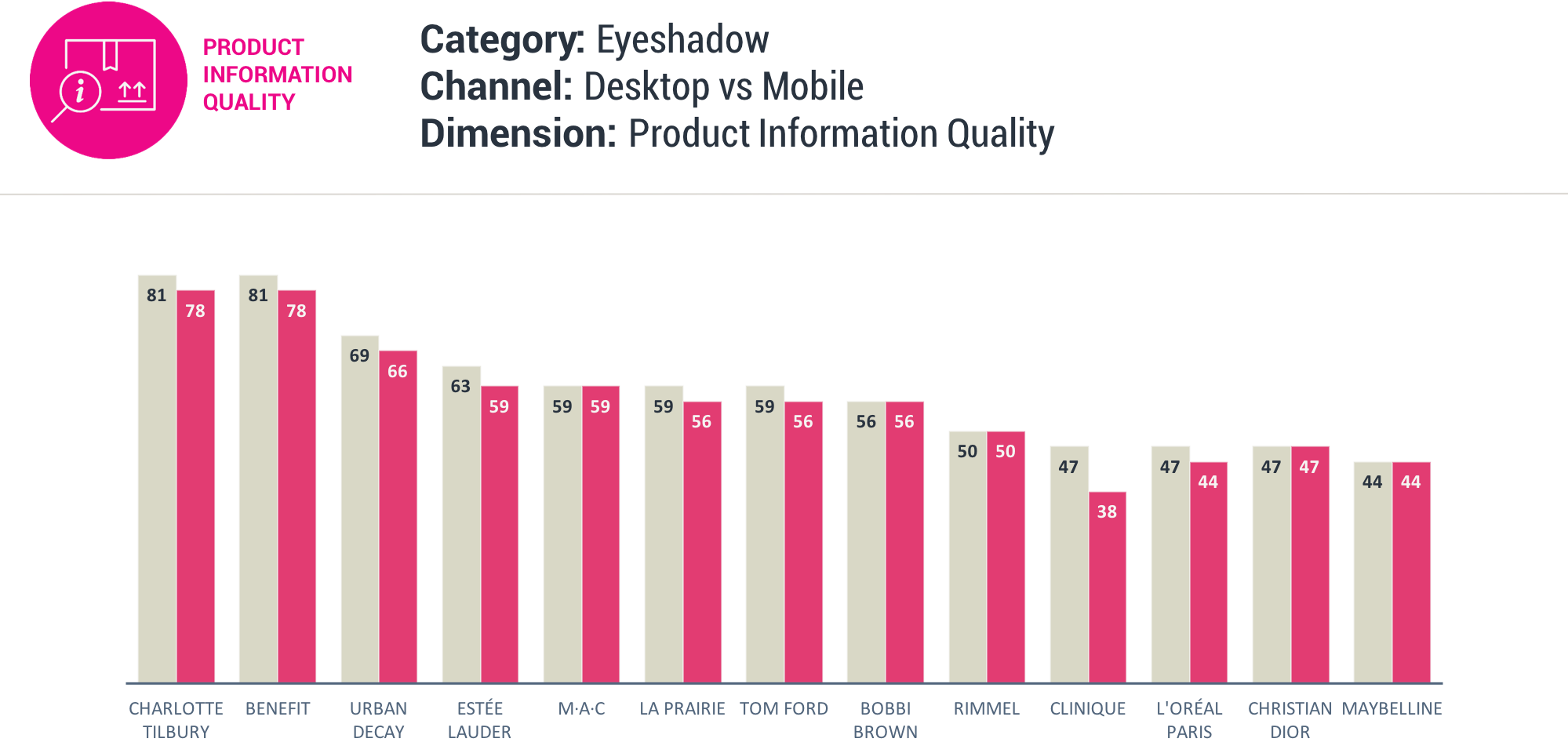 The Dimension Product Information Quality looks at the individual product level and at the consistency of content across the range.
We check if shoppers are given enough visual and written content, and if the shopping experience is consistent enough to allow shoppers to compare product options easily.
We saw a big variation in these scores across the cosmetics brands, but generally the desktop score is similar to the mobile score. On desktop, Charlotte Tilbury and Benefit lead with the top score of 81%. Maybelline's score of 44% is the lowest. When we see scores dip on mobile, it's because the retailer simplified their product pages.
Once again, Clinique's approach to mobile was to strip information from the product pages. Below is an example of the same product page on Desktop vs Mobile.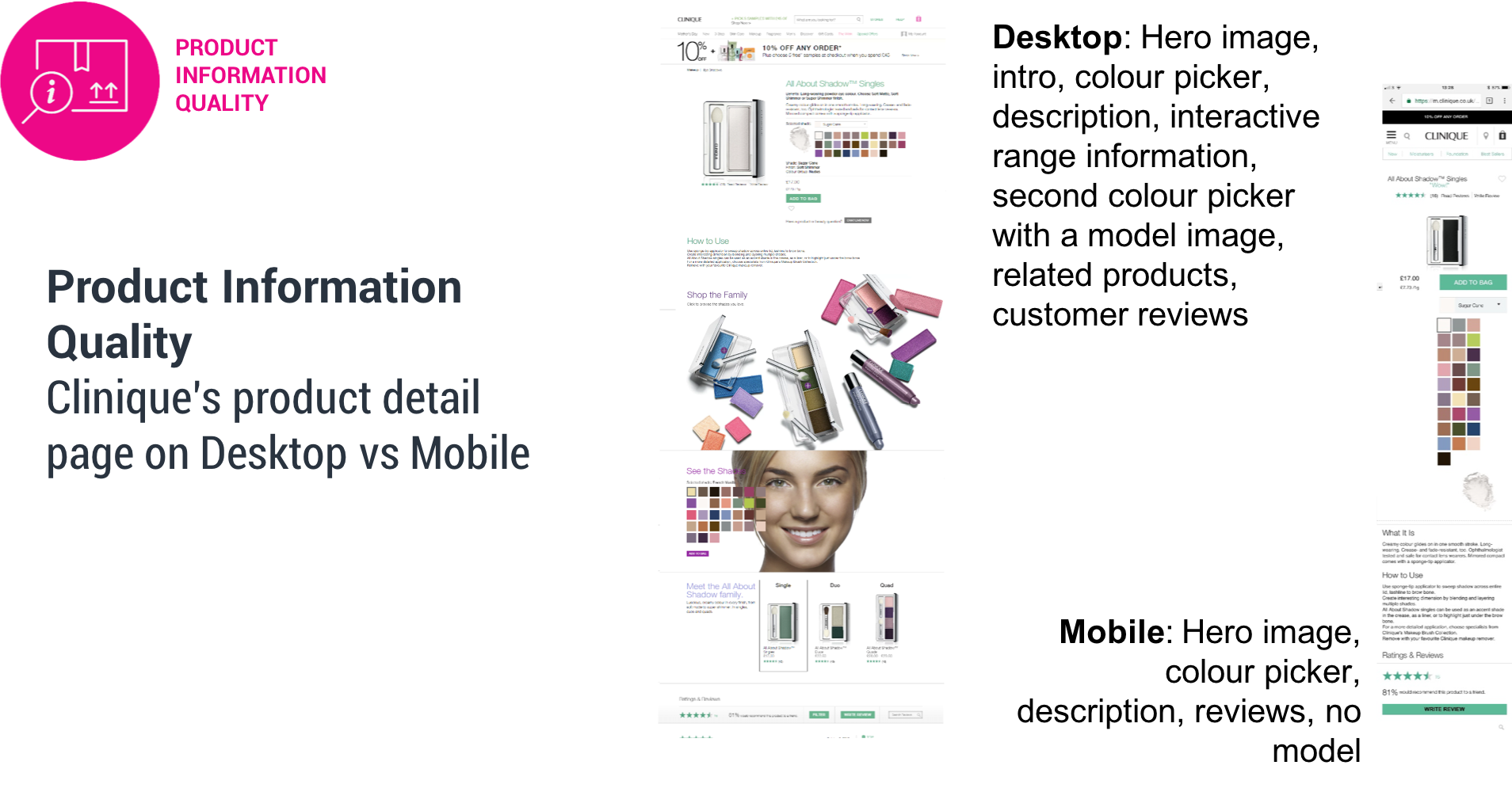 When we see mobile scores lower than desktop for this dimension, it's generally because of poorer visuals – many images were tiny on mobile without the option to zoom.
Dimension Rich Media Experience: We're not engaging shoppers on the device they're most engaged with
The dimension Rich Media Experience tracks the number of different content types used in a category-level shopping mission.
Amplience Content Audits typically highlight a low use of rich media formats across the customer journey, and the eyeshadow product category is no different, as the data shows.
We found that most of these cosmetics brands had no department landing page (DLP) for eyeshadows, and none had a category landing page (CLP). It can be argued that the inclusion of these page types is not always necessary for every product type, but we track this in the audit process as it gives us a benchmark for the use of DLP & CLPs across all categories.
They are important pages to track because they contribute to the brand experience, help customers navigate the range and provide signposting to blogs & editorial features.
Rich Media also tracks the use of technology to create shoppable posts and videos, and how these are placed at key points in the customer journey. Rich Media has a proven ability to drive commerce with content, so the fact this is rarely supported is surprising.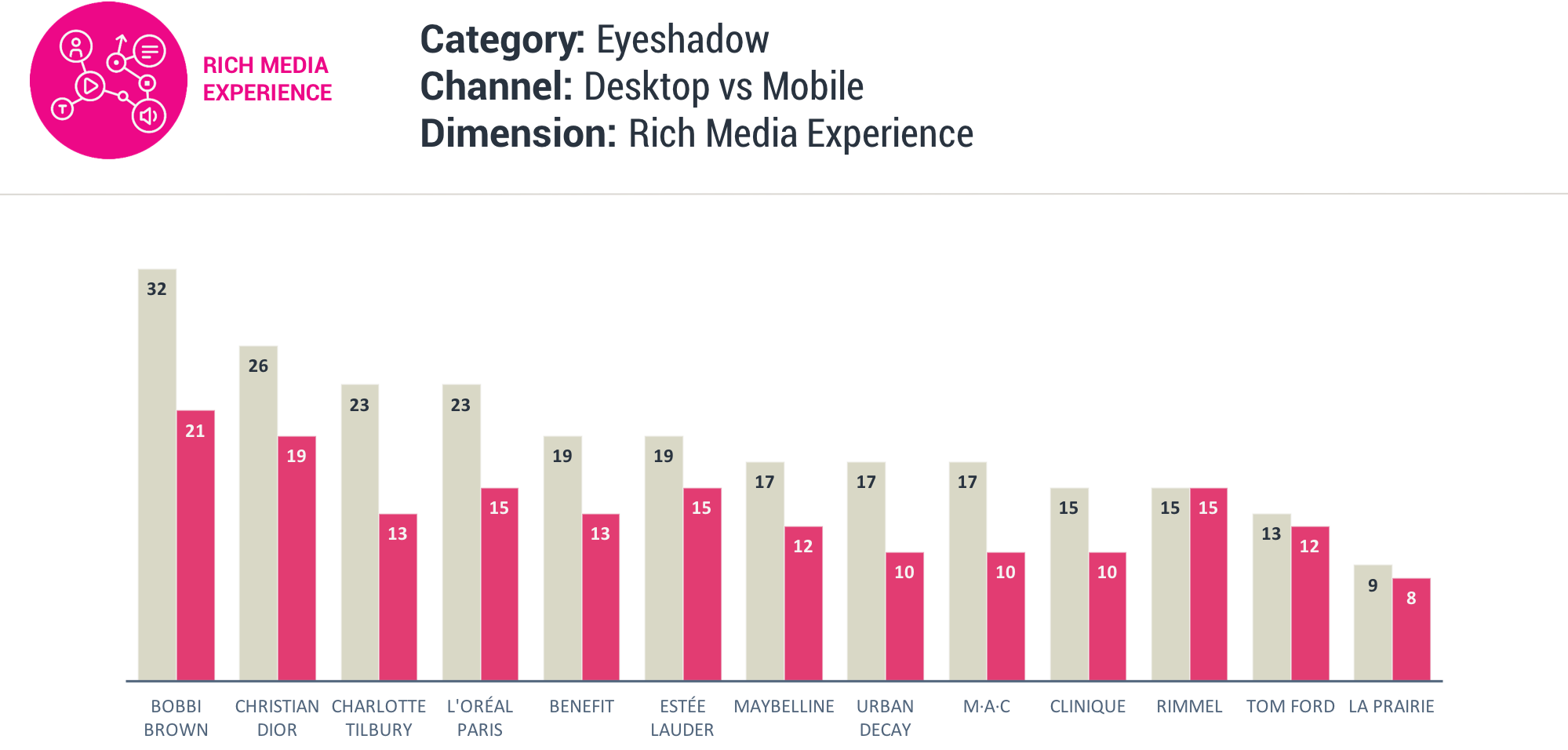 For a highly visual product like eyeshadows, we expected better use of video and other rich media. Even more surprising was how much the mobile experience differed to desktop. Despite similar scores across devices in Brand and Product Information Quality, there were big differences in how retailers scored across devices in Rich Media.
Low scores across desktop were caused by low variation in the types of content used. On mobile, some retailers removed even more content. The lowest scoring retailers used minimal content on the pages they did include, whether mobile or desktop.
When simplifying pages for mobile, rich media such as banners, videos and interactive elements are often removed. This lowers the score. For example, Charlotte Tilbury removed the department landing page from the mobile experience.
Dimension Access: Helping shoppers find content so it can drive conversion
Access measures how easily customers can find content that supports their category shopping mission. Low scores mean category level content is poorly integrated and difficult to find, which becomes worse on mobile devices (see chart below). We rarely see evidence of a considered access strategy for any retail category.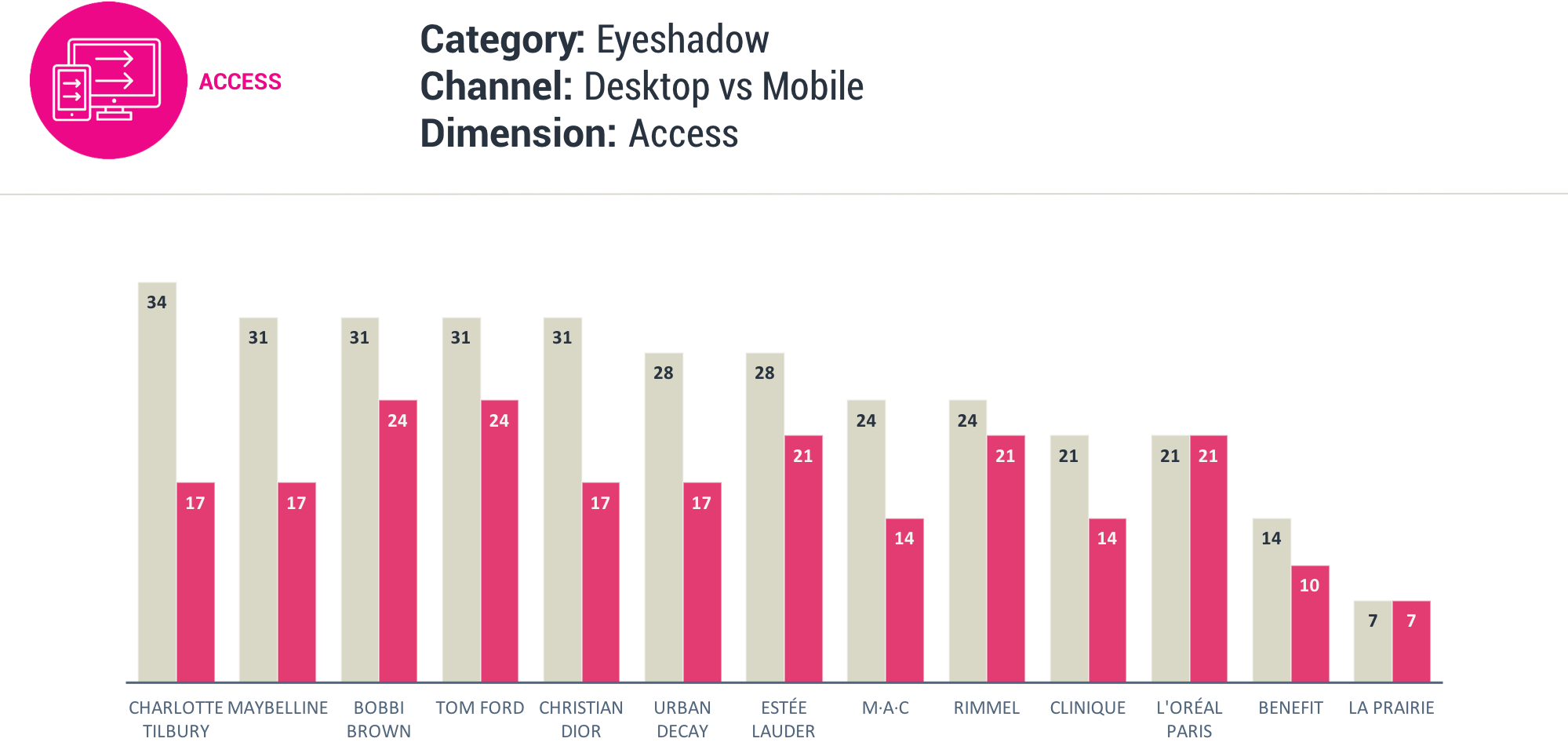 Access is key to maximising the value of content and it's potential to support the conversion process. We know that increasing the frequency of message delivered to shoppers (via content) has an impact on conversion and AOV, so integrating content into the customer journey at multiple touchpoints is important if wanting to drive ROI from content investment.
We know there is a fear of distracting from the transaction, particularly on mobile. But the flipside of this is that you fail to create a meaningful brand experience. The brands that are really innovating in the mobile shopping experience are in the minority. We feel there is a need for much more debate about the role of content within the context of delivering shopping experiences in a mobile first world.
Finding the gold content standard for mobile
Amplience Content Audits, featuring the four Dimensions of Brand, Product Information Quality, Rich Media Experience, and Access provide valuable insights into where and how, content strategy can be improved.
Persuasive content designed to produce sales of eyeshadow should be visual, engaging, informative deliver the rich storytelling. We see this type of content outside of mobile and website, produced by influencers and delivered specifically on social media, yet these 'external' content experiences are very different to a brand's site experience. Customers who navigate from social to site are getting a very inconsistent experience.
The Amplience Content Audit gives retailers a broader context to evaluate and define a mobile-first content gold standard, using a clear framework that protects brands from adopting a desktop-first content model as the default.
Back to top