by John Williams, CTO at Amplience
Amplience delivers content and media for some of the world's largest eCommerce sites. After analysing the data for the Black Friday period aggregated from all of our Content Delivery Networks (CDNs), we gained some surprising insights.
On Black Friday alone, Amplience delivered over 145 TB of content – and at its peak, requests for content exceeded 100,000 media objects per second. When we compare this to the previous Friday (November 20th) we discovered both the number of requests and the content delivered on Black Friday was over 2.5 times greater than 'normal' – indicating a remarkable increase in traffic on retailers websites.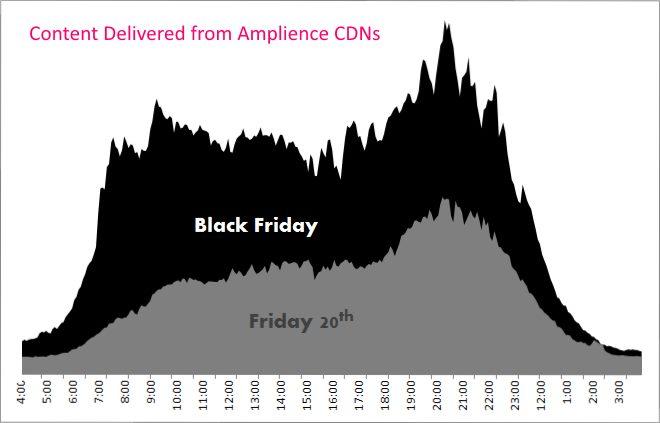 Another point to highlight is the sudden sharp rise and traffic peak in the morning, shown in the graph above. This is not the typical trend we see on normal trading periods throughout the year. After deeper investigation, we found indicators in the data that point to email campaigns significantly contributing to this increase (i.e. users receiving promotional emails first thing in the morning, and clicking through to campaign landing pages).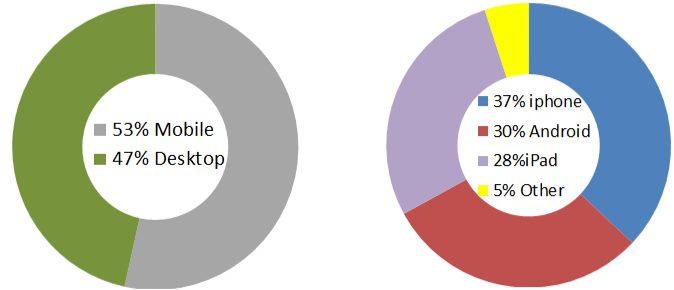 Another surprising insight: we delivered more content to mobile devices than to desktop (53% of all content delivered was to a mobile device). Breaking this down further we found that 28% of mobile content was delivered to iPads, which constitutes 14% of all content delivered. At this point we can't distinguish traffic from Android or Windows tablets, but the data clearly reinforces what we already know about the importance of responsive and adaptive content and media for eCommerce.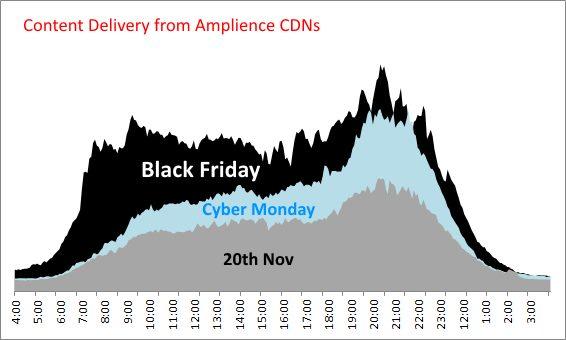 Now, if we compare Cyber Monday to Black Friday, you'll see that the shape of the traffic profile for Cyber Monday (above) is generally the same as a normal day like November 20th, but at much higher volumes. At its peak we were serving around 60,000 requests per second.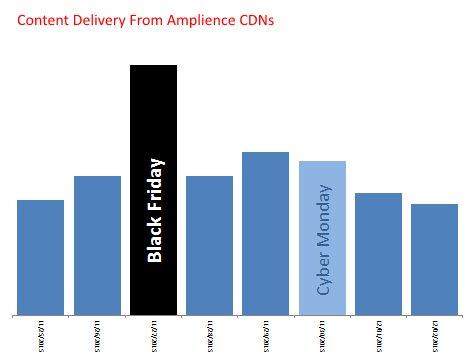 If we then take a look at the whole week, aggregated by day, Friday is huge as expected. What's surprising is that Saturday's traffic returns to normal, only to bounce back on Sunday to greater levels than the elevated traffic of Cyber Monday.
Looking at this graph, should we start calling it Cyber Sunday?
Back to top