How are the big apparel brands using content online?
Fashion is a $1.2 trillion global industry and athleisure is a growing global trend.
So how are big apparel brands using content to sell athleisure online?
The Amplience Content Audit is a tool that we developed to score content effectiveness against 90 data points within 4 major dimensions; Brand, Product Information Quality, Rich Media Experience and Access.
Today, hoodies are a ubiquitous product. The identifiable brand design elements are a big purchase driver, but shoppers also care about the appearance, quality, fit, and – in the case of athleisure where moisture and temperature control can also be key – how suitable it is for their purpose.
When we audit content we evaluate it in the context of the customer journeys for individual product categories, because this reflects how customers shop. This allows an audit to provide deep and specific insights into the way content is incorporated into customer journeys, both for broader content strategy and specific content campaigns.
When we scored global apparel brands like Nike and Adidas, we found a huge variation in the quality of content and types of content being used. From our audit, it's clear that retailers could be missing opportunities to convert customers and the audit is a valuable tool to help brands and retailer build a best-in-market content model.
So, what does the customer journey look like in athleisure?
Dimension: Brand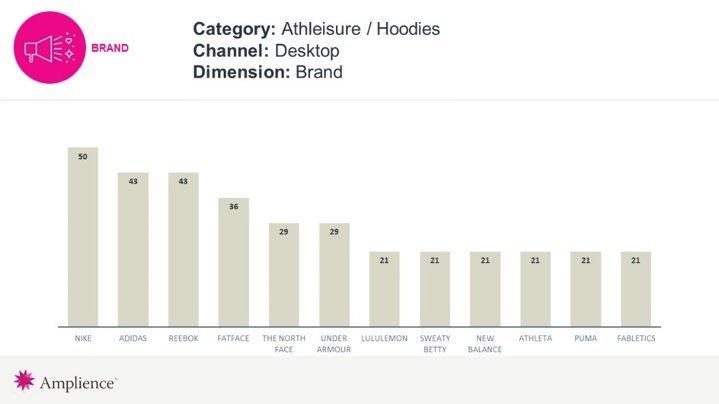 The dimension brand scores retailers on the presence and relevance of brand across the customer journey. We check for brand across the full customer experience, to ensure that the brand message is carried consistently through the site.
Given that brand in this product category is such an important element, it's interesting to see the variation in score.
On Desktop, Nike scored scored highest at 50% with half of the audit faring below average with a joint score of 21%.
Across athleisure, sparse copy and a low variety of content types (such as department landing pages or buying guides) caused a low score.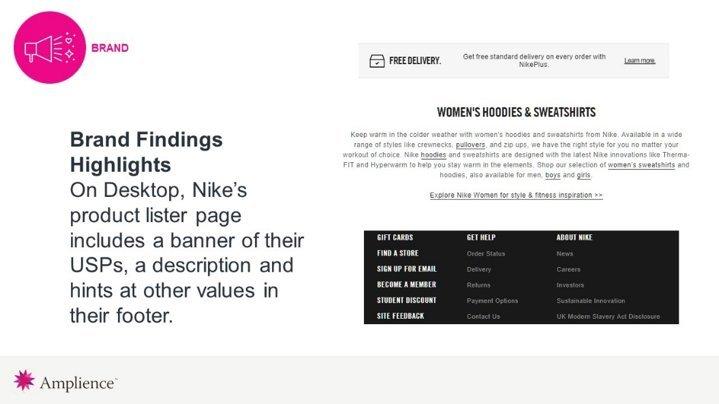 Nike high score is helped by using banners which incorporate their USPs, therefore reinforcing their brand message, and by including additional information in copy and the page footer. Other brands like Lululemon, Athleta, and Puma had sparse content which did little to differentiate their brand or highlight what they could offer to the shopper.
Dimension: Product Information Quality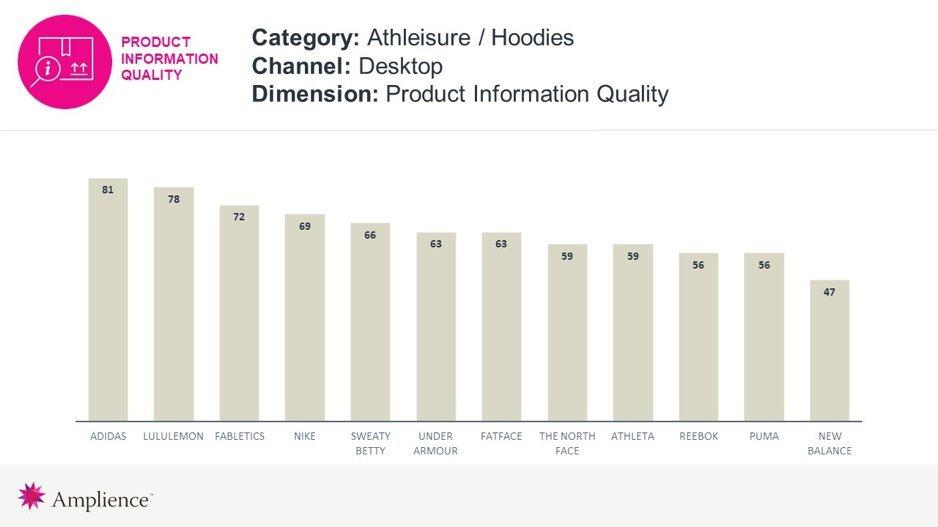 We score product information in two ways. Firstly, we score the quality at an individual product level for both written and visual content. Secondly, we look at the consistency of the content across the range and for the hero images a customer sees when they browse the range.
Adidas scored highest in this dimension at 81% by using several forms of media – images, video, and content to deliver a strong product experience. They are one of the few retailers to include full cleaning & care instructions on the product page.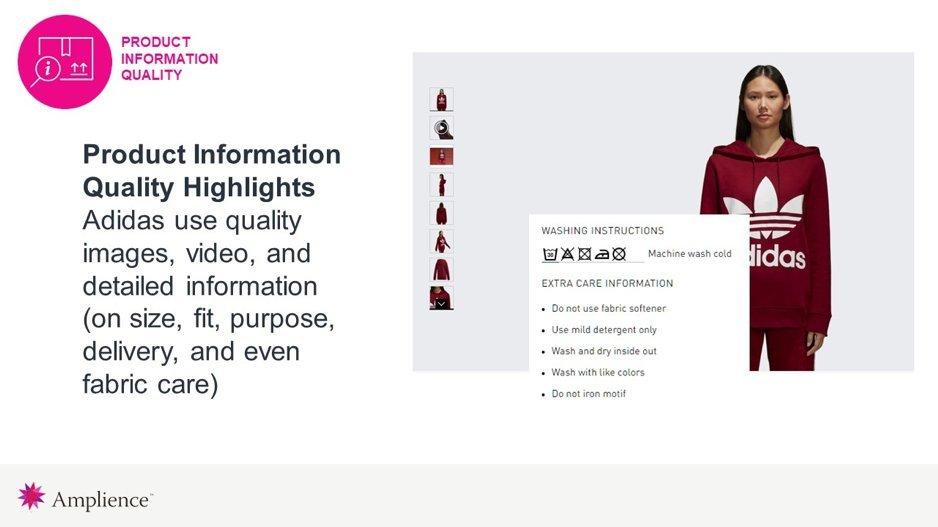 The lower the score, the less information the retailer gave about its products. New Balance scored the lowest at 44%. They included only two images per product, did not have model images or video, and didn't provide the same level of information in their product descriptions. This can make it difficult for the shopper to compare products.
Dimension: Rich Media
There are many different types of content that a brand or retailer can use to support a category-level shopping mission. Rich Media tracks key content types throughout the customer journey. The hoodies audit found that half of retailers had no relevant department landing page and none had a category landing page. In some retail categories these pages guide the customer's shopping mission, provide range information and display brand messages.
Other examples of Rich Media are the use of technology that retailers can use to create more interactive experiences, such as shoppable blog posts and videos.
Across all retail categories, our Content Audits reveal a surprisingly low uptake of rich media. We also found this across athleisure and especially in the category of hoodies.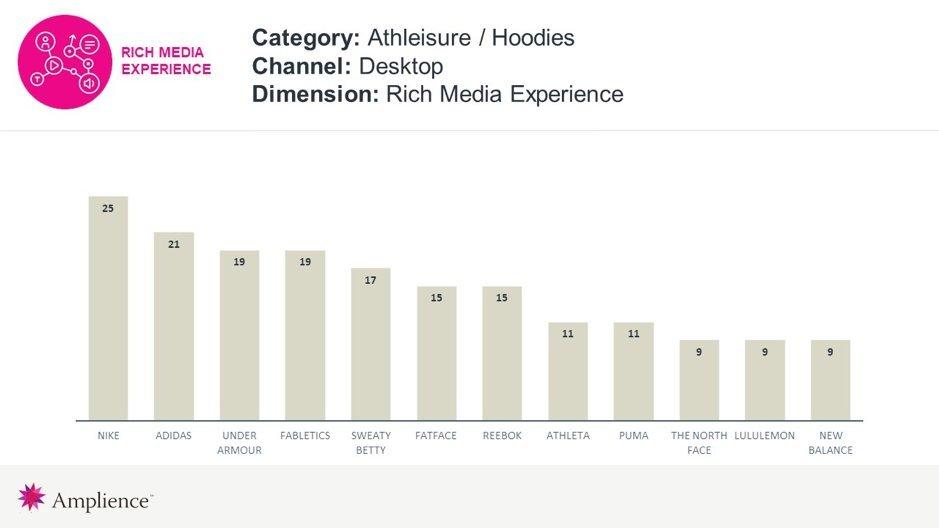 There was a big variety of scores across hoodies. Nike got the top spot again with a score of 25%, so there is still a lot of room for more rich media. The North Face, Lululemon and New Balance have a joint score of 9%.
Low scores across the audit were caused by low variation in the types of content used. The lowest scoring retailers used little rich media on the pages they did include. As the lowest score in this audit, New Balance didn't include any video, buying guides, shoppable features, or blog posts.
Despite fabric texture being an important element of hoodies, particularly for athleisure, few retailers took advantage of quality video and zoom to show this level of detail online. Nike and Adidas did use video which helps show the fit and drape of the fabric in ways still images can't.
Other brands made poor use of zoom. The North Face, for example, used zoom on images that were too grainy to even make out the brand's logo.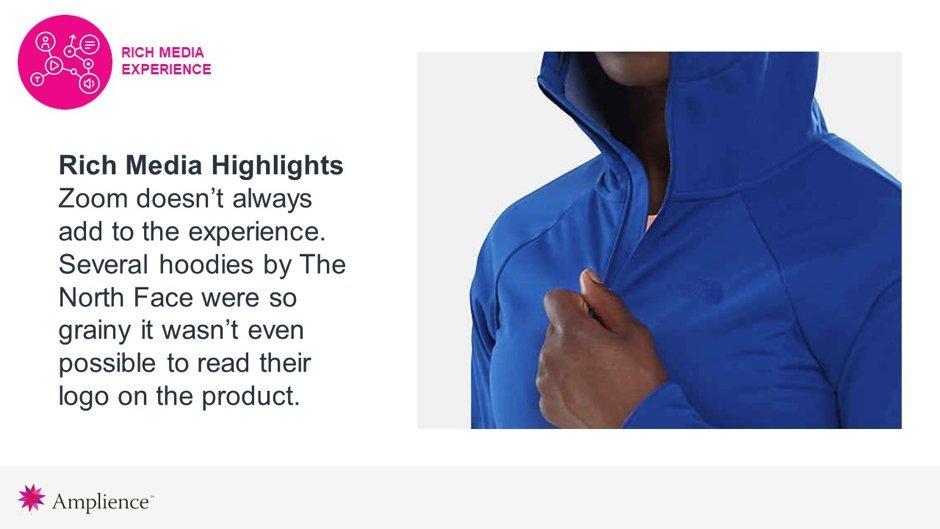 Dimension: Access
Access measures how easily customers can find content that supports their category shopping mission. Low scores mean the information either does not exist or it is difficult to find information that does exist. In the absence of an access strategy, neither shoppers nor retailers get full value from content. This translates to lower conversion rates and less engagement.
FatFace scored 41% for the top Access score in this audit , while New Balance had the unusually low score of 0% simply because they use so few content types across the shopping experience.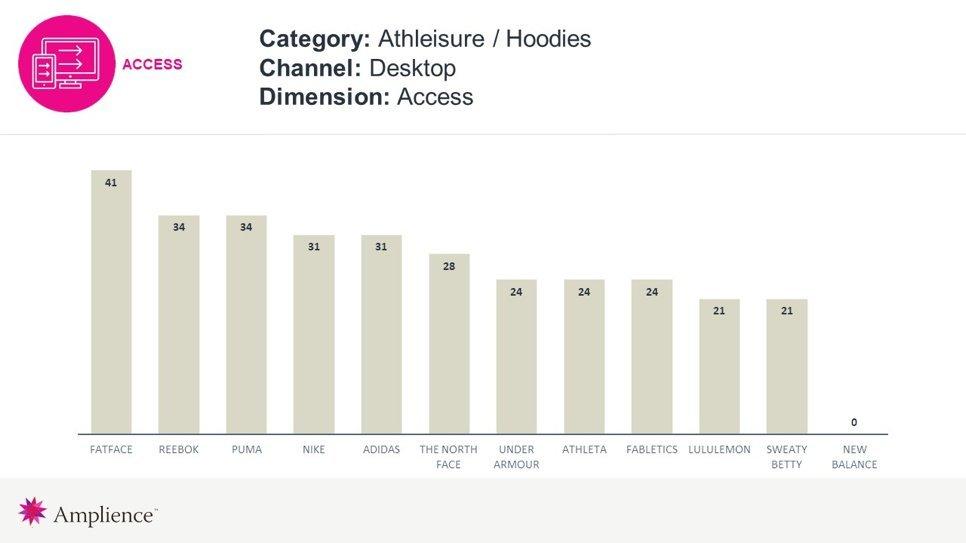 When we drive deeper into each audit, we rarely see any evidence of an Access strategy. Category-level content is often poorly integrated and difficult to find. For example, blogs often don't have a search function despite having dozens of posts to browse.
Interestingly, luxury brands which position their products based on their expertise and product quality often have poor Access scores.
In this audit, New Balance stripped out most content types from the customer journey and made this particular category difficult to find.
The New Balance homepage didn't link to hoodies, they do not have a blog, and they only use a simple product listing page and product detail page to show their hoodies range.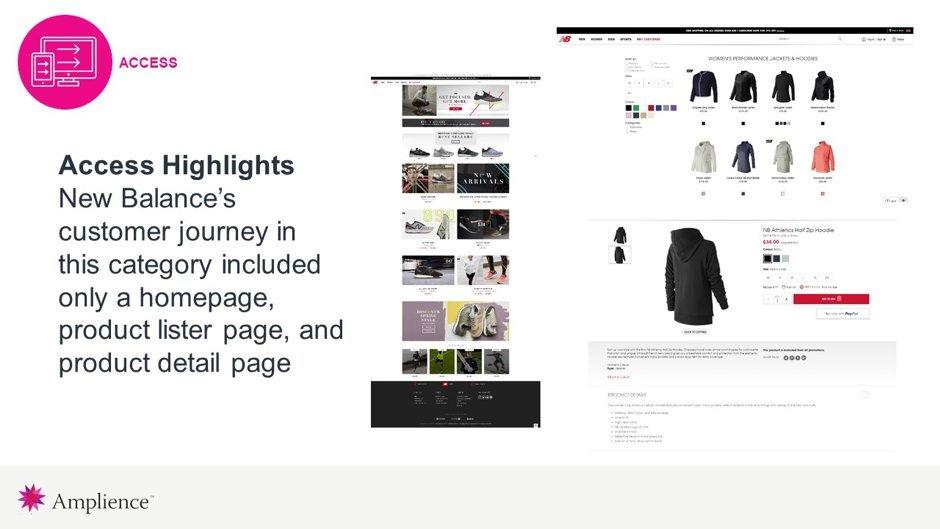 In contrast, FatFace makes use of a blog, a department landing page, and relevant content on the homepage in addition to their product listing and detail pages.
Shoppers who see the content featuring a product are more likely to buy it. Retailers can use content like homepage features or a department landing page to highlight their most important shopping missions and showcase their full range.
The easier your content is to find and use, the more shoppers will engage with your brand and purchase your products.
Finding the content gold standard
By looking at a category-level shopping journey, the four Dimensions of Brand, Product Information Quality, Rich Media Experience, and Access give real-world insight into which areas of a retailer's content strategy could be improved.
Although every category will have its own customer needs and strategy, the rule of continued exposure applies to everyone. Placing content in multiple locations across a shopping journey builds frequency of message exposure to shoppers, which increases conversion.
Like any item of clothing, hoodies are bought by customers not only for their practical use but to express style and personality. Athleisure items support the customer's lifestyle. Retailers can use content to bring this across and engage with shoppers.
Were you surprised by any of these scores?
The Amplience Content Audit is a valuable tool that retailers can use to define and scale effective content right across their range.
Back to top