The data we can use to improve mobile shopping experiences
Whilst we know that mobile sales are growing, we also know that mobile conversion rates are falling, and left unchecked, this will eventually have a big impact on the bottom line.
To alleviate this situation, we need to find ways to improve mobile conversions, and one strategy is to understand the mobile shopping journey to focus on how we can improve the customer experience right the way through it.
The Amplience Content Audit is an effective tool for exactly this. We can accurately score the quality of the mobile shopping experience. By comparing the mobile and desktop customer journeys, we get powerful insights into how and where we can strengthen mobile content strategies.
The Amplience Content Audit scores category level content for brands and retailers. The Audit process scores content across 90 data points and four major dimensions; Brand, Product Information Quality, Rich Media Experience and Access.
The data in this report is taken from our latest audit of the ATH Leisure product category of Hoodies, and we've scored the content experience of 12 brands including Nike, Adidas, and Puma.
So, what can we learn about best practice mobile shopping experiences from this data?
Dimension Brand: The lack of brand strategy across mobile creates a generic product experience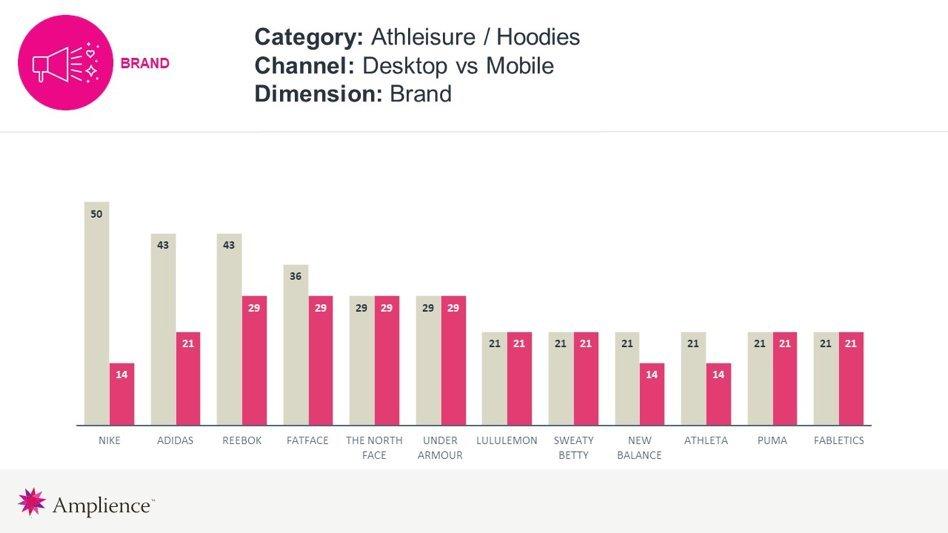 The dimension Brand scores retailers on the presence and relevance of their brand across the customer journey. We look closely at this because it is a key indicator of the quality and consistency of the brand message away from the homepage.
ATH Leisure apparel retailers score below average on Brand, compared to other retail categories. The main reason for this is that they use a minimal amount of content.
With fewer pages in the shopping experience, retailers and brands miss out on opportunities to bring their stories to life in the context of the category.
Without a considered and consistent brand experience, the product experience becomes generic across retailers.
From the above chart, we can see that most retailers score similarly across desktop and mobile. This is due to the content-lite approaches that these retailers are taking. But there are some strong differences in Nike, Adidas and Reebok on mobile.
Nike had the highest Brand score on Desktop, with 50%. There were brand messages in the top of the page, throughout the copy, and in the footer. For example, three areas of the product listing page for hoodies mentioned several USPs, from free delivery to the innovative fabrics they use.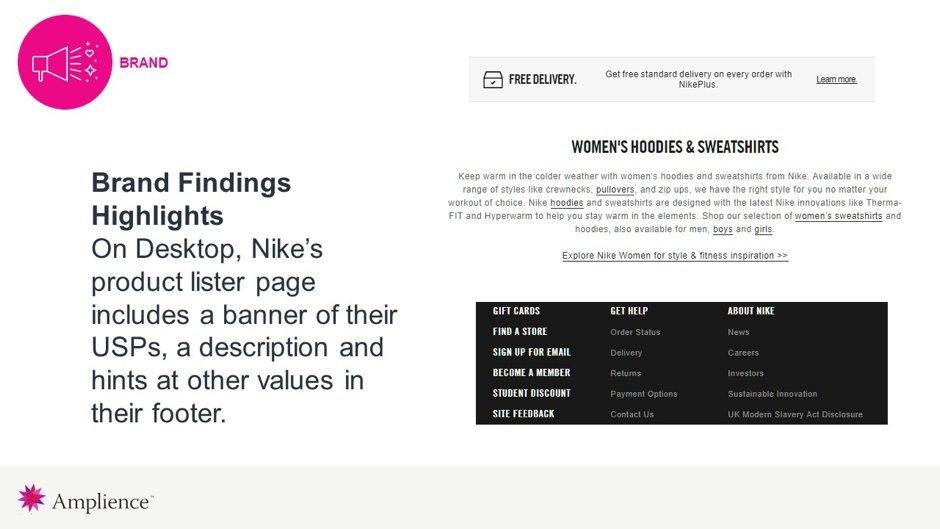 But on mobile, Nike removed the brand messaging. On some pages, it was difficult to tell you were on Nike's site and not another retailer. They removed the banner, description, and footer content leaving just the product titles.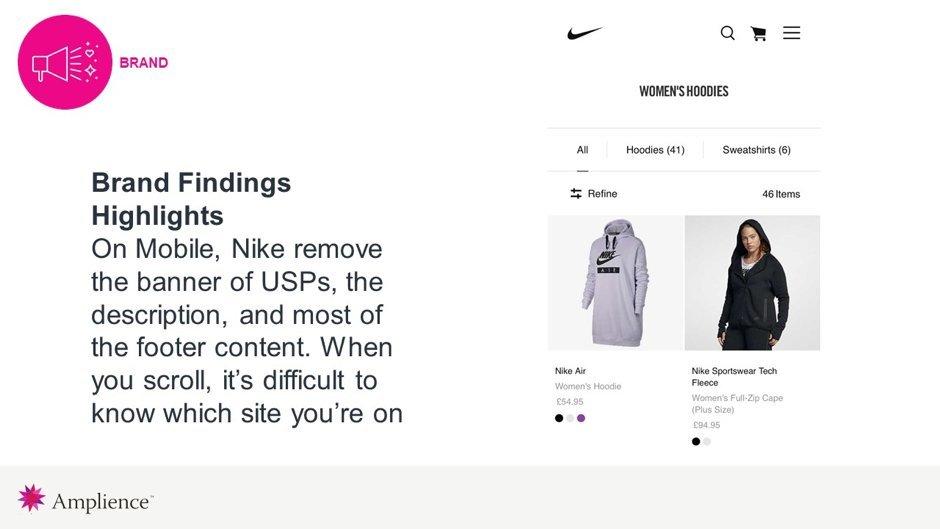 Product Information Quality: Consistent mobile experiences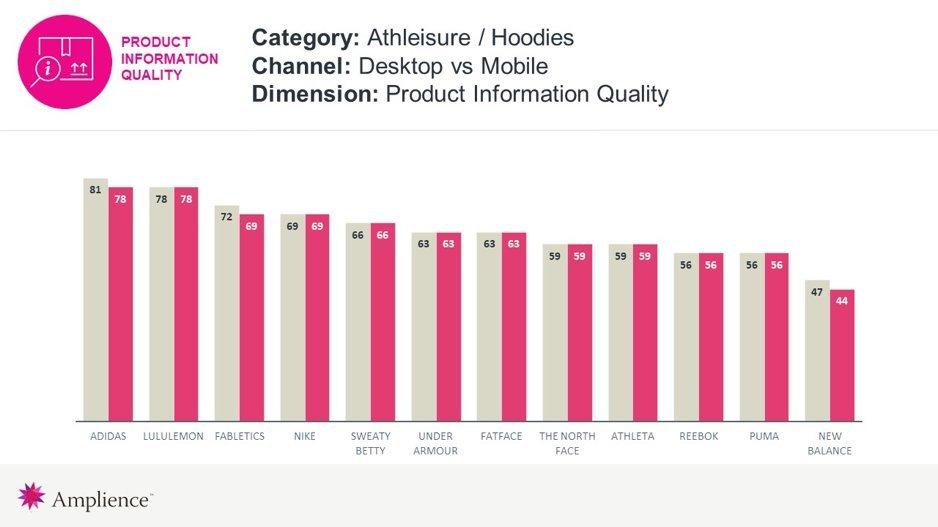 The Dimension Product Information Quality looks at the individual product level and at the consistency of content across the range.
We check if shoppers are given enough visual and written content, and if the shopping experience is consistent enough to allow shoppers to compare product options easily.
For most retailers across all sectors, product information quality is the dimension that is most consistent across desktop and mobile.
When we do see mobile scores lower than desktop for this dimension, it's generally because of poorer visuals – specifically images that are very small when viewed on mobile.
What is more interesting for this dimension, is the range of scores achieved.
Clothing should be a relatively straightforward product to display online, but there is a wide variation in how well retailers score. This comes down to the quality and detail included in text, for example whether or not they include fabric care details, and number and quality of product images.
Dimension Rich Media: We're not engaging shoppers on the device they're most engaged with
Technology gives retailers many options to use rich media formats to create engaging site experiences, but across the audits we find low uptake on the use of video, shoppable features, and other interactive content. Hoodies as a category have less rich media than most retail categories that we have reviewed.
As a dimension, Rich Media Experience tracks the number of different content types used in a category-level shopping mission. This includes types of page as well as the content within each page.
In the hoodies audit, we found that half of the retailers had no department landing page (DLP) for women or clothing, and none had a category landing page (CLP). Although not every page type is always necessary, these are key pages that benchmark all categories.
Landing pages for departments and categories contribute to the brand experience, help customers navigate the range and provide signposting to blogs & editorial features. They are opportunities to guide the experience.
Rich Media has a unique ability to link content with commerce – such as shoppable video – so the fact this is rarely supported means early adopters have an advantage.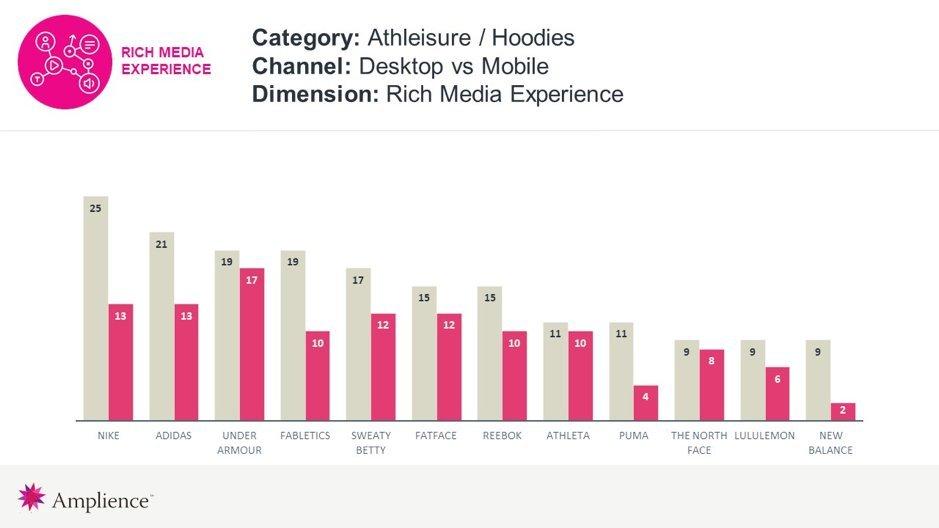 Low scores across desktop were caused by low variation in the types of content used. On mobile, retailers removed even more content. The lowest scoring retailers used minimal content on the pages they did include, whether mobile or desktop.
Nike, for example, scored 25% on Desktop but only 13% on mobile. They lost points for removing video, banners, and limiting the zoom functionality on mobile. By having a low score in the first place, every change has an impact.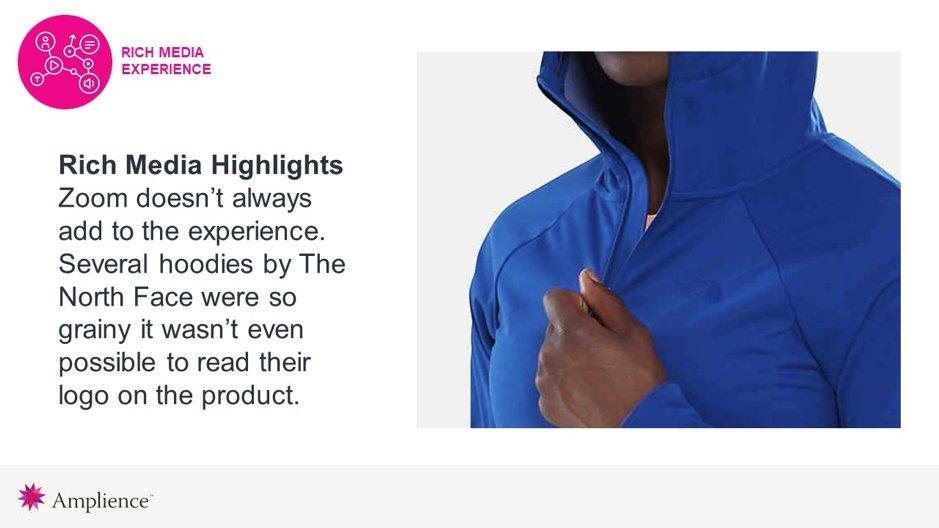 When simplifying pages for mobile, rich media such as banners, videos and interactive elements are often removed. This lowers the score. For example, Fabletics removed zoom, landing page banners, and the images on the navigation menu.
Dimension Access: Helping shoppers find content to drive conversion
Access measures how easily customers can find content related to the category we are scoring. Low scores mean category level content is poorly integrated and difficult to find, which becomes worse on mobile devices.
We rarely see evidence of a considered access strategy for any retail category. Across hoodies, there was a huge variation in how retailers approached access.
FatFace got the top Access score of 41%, but New Balance got 0% - a rare score caused by both limited content in the first place, and minimal links to reach the content they did have.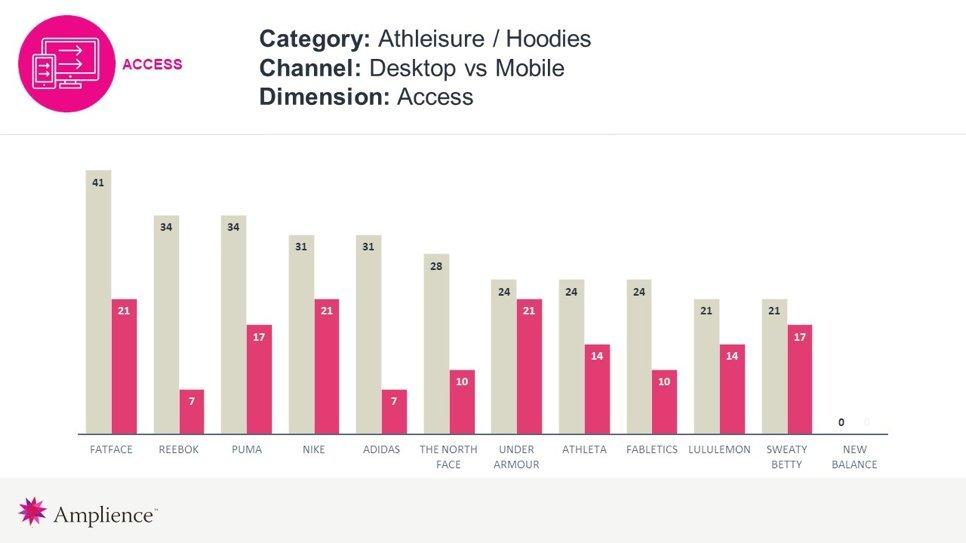 Access is key is you want to build a conversion response to content. We know that increasing how often a message is shown to shoppers impacts conversion and Average Order Value, and site engagement. Integrating content into the customer journey at multiple touchpoints is important if you want to drive ROI from content investment.
Below, you can see the difference in the Reebok navigation on Mobile vs Desktop, based on the homepage experience. On mobile, the secondary navigation in the top right is removed – this takes away the link to the blog, which is almost impossible to find on mobile. It also means the link to the department landing page is hidden, which makes it harder to find too.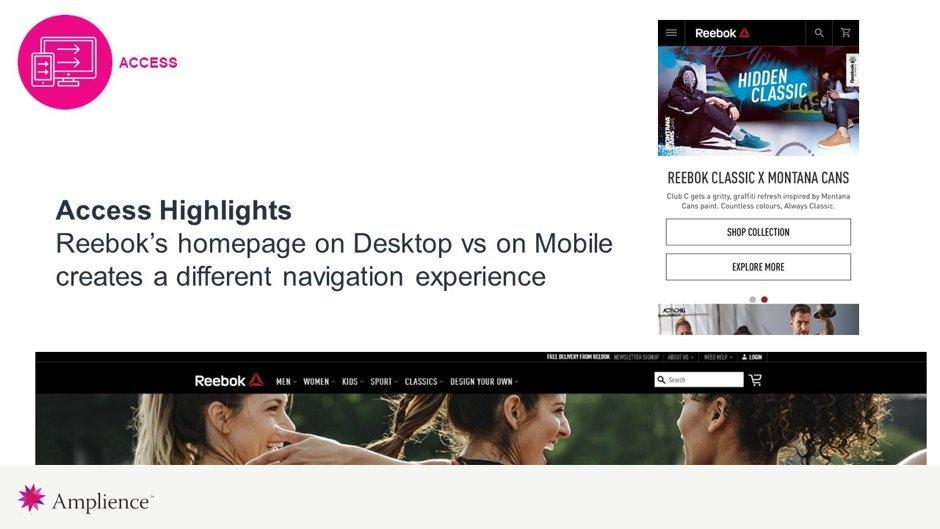 A shopper looking for hoodies on Reebok's website has to go through four taps on mobile to get to the hoodies product listing page, which only takes one click on desktop.
The brands that are really innovating in the mobile experience are in the minority, and we feel there is a need for much more debate about the role of content on mobile and the techniques available to integrate it effectively.
Finding the gold content standard for mobile
Whatever the category, the four Dimensions of Brand, Product Information Quality, Rich Media Experience, and Access provide valuable insights into where and how, content strategy can be improved.
We know there is a fear of distracting from a transaction, particularly on mobile. But simplifying the customer journey too much risks losing a meaningful brand experience. The dipping conversion rates across mobile show retailers need to act.
Hoodies are both a style choice and a lifestyle choice, so there are many great opportunities to build engaging and relevant experiences through content to support the site experience and purchase process. Although retailers are taking advantage of Facebook, Twitter, and Instagram they often don't bring this quality experience to their own sites on mobile, which creates inconsistent experiences across platforms.
The Amplience Content Audit gives retailers a broader context to evaluate and define a mobile-first content gold standard, using a clear framework that protects brands from adopting a desktop-first content model as the default.
Back to top